How deep can the Miami Heat go in the playoffs? A mid-season review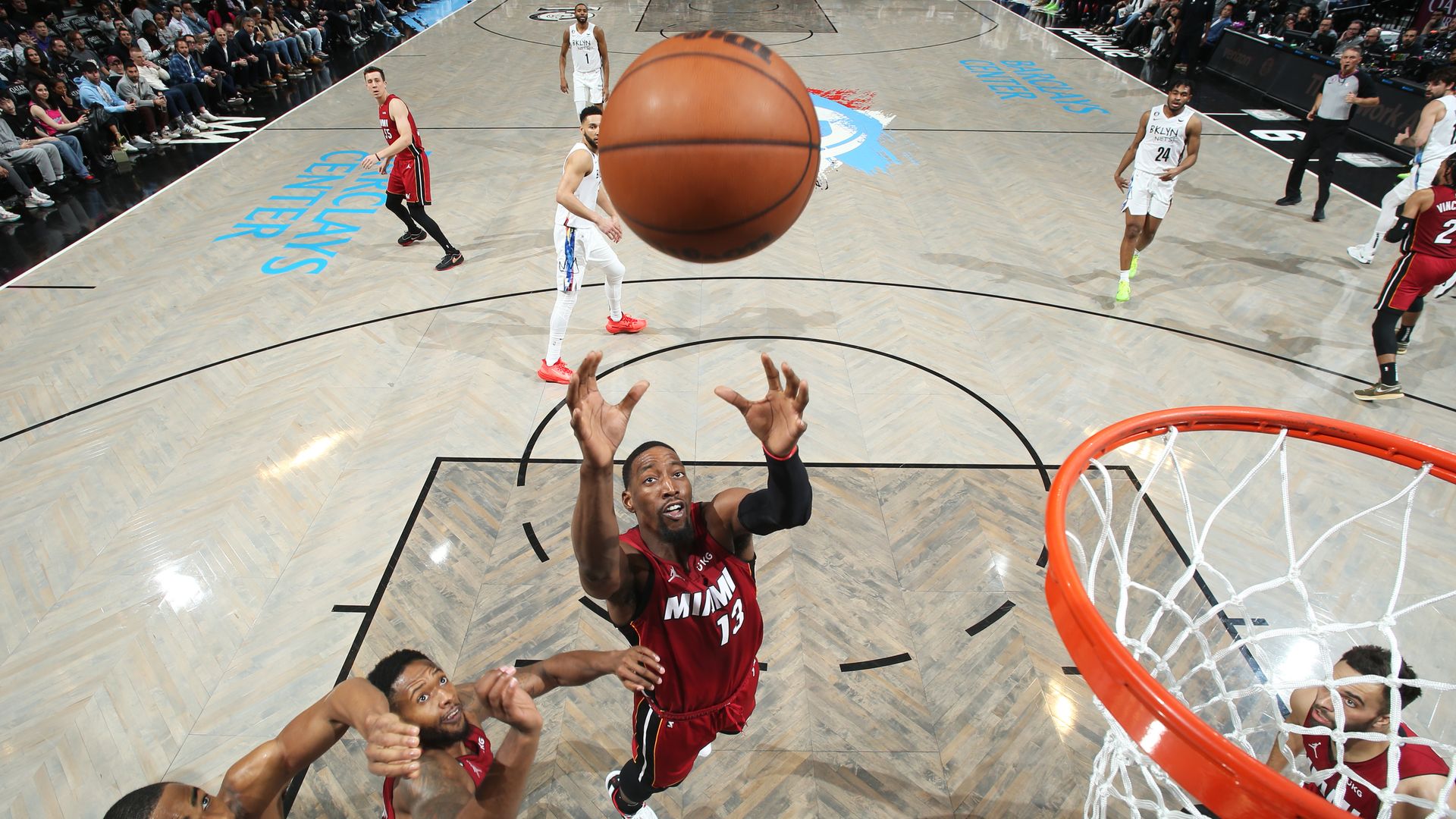 The Miami Heat enter the All-Star break this weekend, giving the team a week of rest before its next game — and an opportunity for fans to catch their breaths.
You may have been too busy watching the World Cup, NFL playoffs or the latest HBO show to keep up with the almost nightly Heat games. But worry not. We have a mid-season cheat sheet for any guilty fans out there.
Catch up quick: The Heat are 32-27 and would make the playoffs as the 7th seed in the East if the regular season ended today.
Miami is probably not a championship contender this year, with Boston and Milwaukee clearly the top dogs in the East.
Yes, but: Rumor has it that a couple former All-Stars who are slightly past their primes (Russell Westbrook and Kevin Love) could be possible free agent targets before the playoffs begin in April.
State of play: Every Heat game has the potential to be a nail-biter. So far this year, Miami has played in the most clutch games — those where the scoring margin is within five points with 5 minutes or fewer remaining in the game.
Center Bam Adebayo, the only Heat player named to the All-Star Game, is playing great this year, averaging 21.6 points, 10 rebounds, 3 assists, 1 steal and nearly a block per game.
We sought insights from Heat insider Greg Sylvander, co-host of "Five on the Floor," a daily Heat podcast by Five Reasons Sports Network and FanSided.
Editor's note: Some answers have been lightly edited for clarity and length.
Q: How do you see the Heat stacking up against the top teams in the East, and do you see us making a playoff run?
A: The Heat have shown they can beat anybody and also lose to anybody. … I believe if healthy, they will be a tough second round out in the East. They will likely need something unforeseen to transpire to defeat Boston or Milwaukee in a 7-game series.
Q: What do you like about watching this Heat team this year?
A: Bam Adebayo. He's becoming one of, if not the best, two-way player in the league and that has been incredible to see develop.
Q: Is there still a chance that Miami signs a buy-out player before the deadline, and what are some of our needs right now?
A: The Heat plan to be aggressive in the buyout market and have as much spending power as any team. However, history tells us buyout additions rarely make a huge impact so we should temper expectations. They need front court help, shot creation and 3-point shooting.
Q: If this isn't our year to compete for a championship, what are some of the off-season moves Miami may consider to compete in the future?
A: I believe this summer the Heat will look hard at retooling the roster around Butler and Adebayo. I would expect this summer to be active for the franchise.
What we're watching: Along with watching Adebayo play Sunday in the All-Star Game, you can also catch Heat guard Tyler Herro compete in Saturday's 3-point contest.
More Miami stories
No stories could be found
Get a free daily digest of the most important news in your backyard with Axios Miami.