Ask Axios: What's happening at A.D. "Doug" Barnes Park?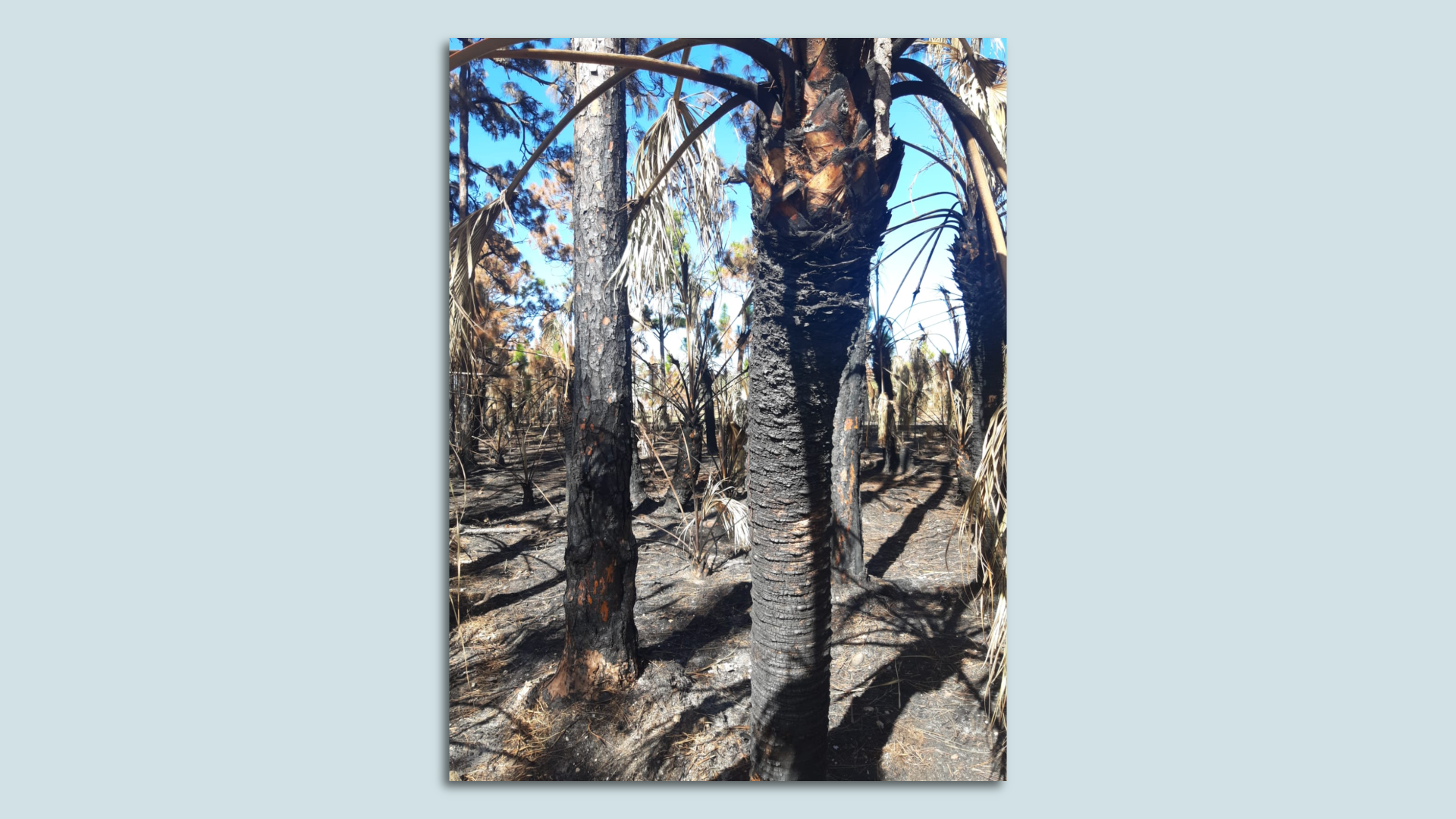 If you've visited the 65-acre A.D. "Doug" Barnes Park off of Bird Road recently, you might have noticed these charred trees.
An Axios reader sent us this photo, asking what's going on at the park named after the first director of Miami-Dade County's Parks and Recreation Department. So we dug into it.
What's happening: Jenny Stern, natural areas manager for the county park system, told Axios that her department conducted a prescribed burn across about four acres of the park's pine rockland, which was permitted by the Florida Forest Service.
Why it matters: Pine rocklands are "the most critically endangered habitats" in Miami-Dade, Stern said.
"Without fire, we would lose our pine rocklands to other successional habitat types," she explained.
Context: Pine rocklands are found only in South Florida and the Bahamas. The forest habitat once took up 186,000 acres in Miami-Dade but today, less than 2% remains outside of Everglades National Park, according to Tropical Audubon.
The habitat is home to endangered species like the Eastern indigo snake and Florida bonneted bat. It's the only place in the world with plants like milk pea and milkwort.
The habitat is dependent on fire, which causes pinecones to disperse their seeds and reduces exotic plant species.
When lightning does not ignite fires naturally, burns are prescribed every two to seven years.
Of note: Stern said her department sends out a newsletter every six months to neighbors of preserves where burns take place, and calls people on the day of a burn if they request it. Local schools are also notified.
What we're watching: Four environmental groups are suing the National Park Service in an effort to protect pine rocklands habitat in another part of our metro.
The groups allege NPS skipped steps in a review process that paved the way for Miami Wilds, a water park planned next to Zoo Miami that contains the dwindling habitat, Miami Today reports.
Shoutout: Do you have any questions you want answered about our community? Email us!
More Miami stories
No stories could be found
Get a free daily digest of the most important news in your backyard with Axios Miami.