How ranked choice voting upended the Boulder mayor's race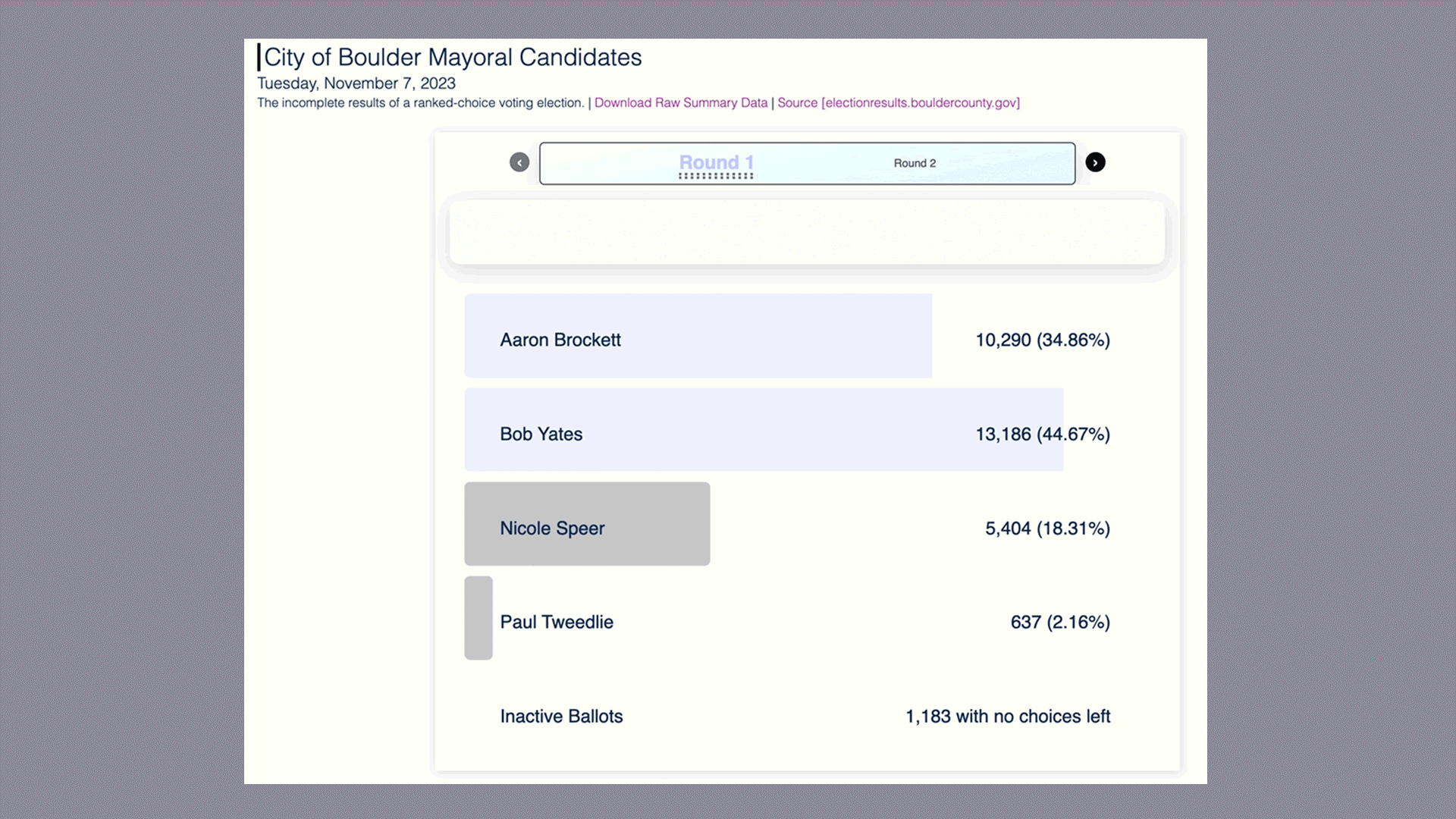 The city of Boulder, a bastion of progressive politics, hub for Democratic socialism and ivory tower of liberal ideology, almost elected a former Republican as mayor.
Driving the news: At least, that's what the results from Tuesday's election looked like for nearly 24 hours as city Councilmember Bob Yates, a registered Republican until May 2022 when he became unaffiliated, stood at the top of the field with a narrow lead.
Reality check: Then ranked choice voting came into play.
What's happening: Incumbent Mayor Aaron Brockett, a self-described liberal Democrat, moved ahead with a 497-vote lead in the latest tally Wednesday afternoon and is expected to win the city's first ranked choice election.
His margin of victory is expected to grow as the final few thousand votes are counted, and apportioned by first and second choice between the top two vote-getters, as the system dictates.
The second-choice votes for third-place finisher Nicole Speer, a councilmember endorsed by the local chapter of the Democratic Socialists of America, are overwhelmingly favoring Brockett.
Why it matters: Beyond creating a momentary frenzy about the possibility of Boulder electing a former Republican, the election is a fascinating study into the impact of ranked choice voting, which is being considered by Denver and other Colorado localities.
It shifted Boulder's municipal politics to the left, a dynamic observers expect to continue.
What they're saying: "Ranked choice voting really made a difference and changed the outcome of our mayor's election," Speer told Axios Denver in an interview Wednesday.
"What ranked choice voting allowed us to get was someone who is a more center-left candidate," she said.
Between the lines: Yates, who once described himself as a "progressive Republican," set a record in the 2019 election for council when he received the most votes of any Boulder candidate in 14 years.
Even though the city is liberal, the voters who cast ballots in off-year municipal elections tend to be older and more conservative — voters who aligned with Yates' support for limits on development and growth. He did not return messages seeking comment for this story.
Zoom in: Yates and Brockett won seats on Boulder City Council in 2015 and 2019, with Yates receiving more votes than Brockett each time.
Brockett planned to draft Speer and pick up progressive voters — he said he even knocked on the doors of voters with Speer's signs in their front yards, asking to be their second pick.
But it remained unclear whether voters would pick a second-choice candidate under the new format.
The bottom line: Brockett acknowledged that without ranked choice voting, he may no longer be mayor. "Certainly ranked choice is very different from a plurality winner" system, he said.
More Denver stories
No stories could be found
Get a free daily digest of the most important news in your backyard with Axios Denver.