5 takeaways from new Denver Mayor Mike Johnston's inaugural address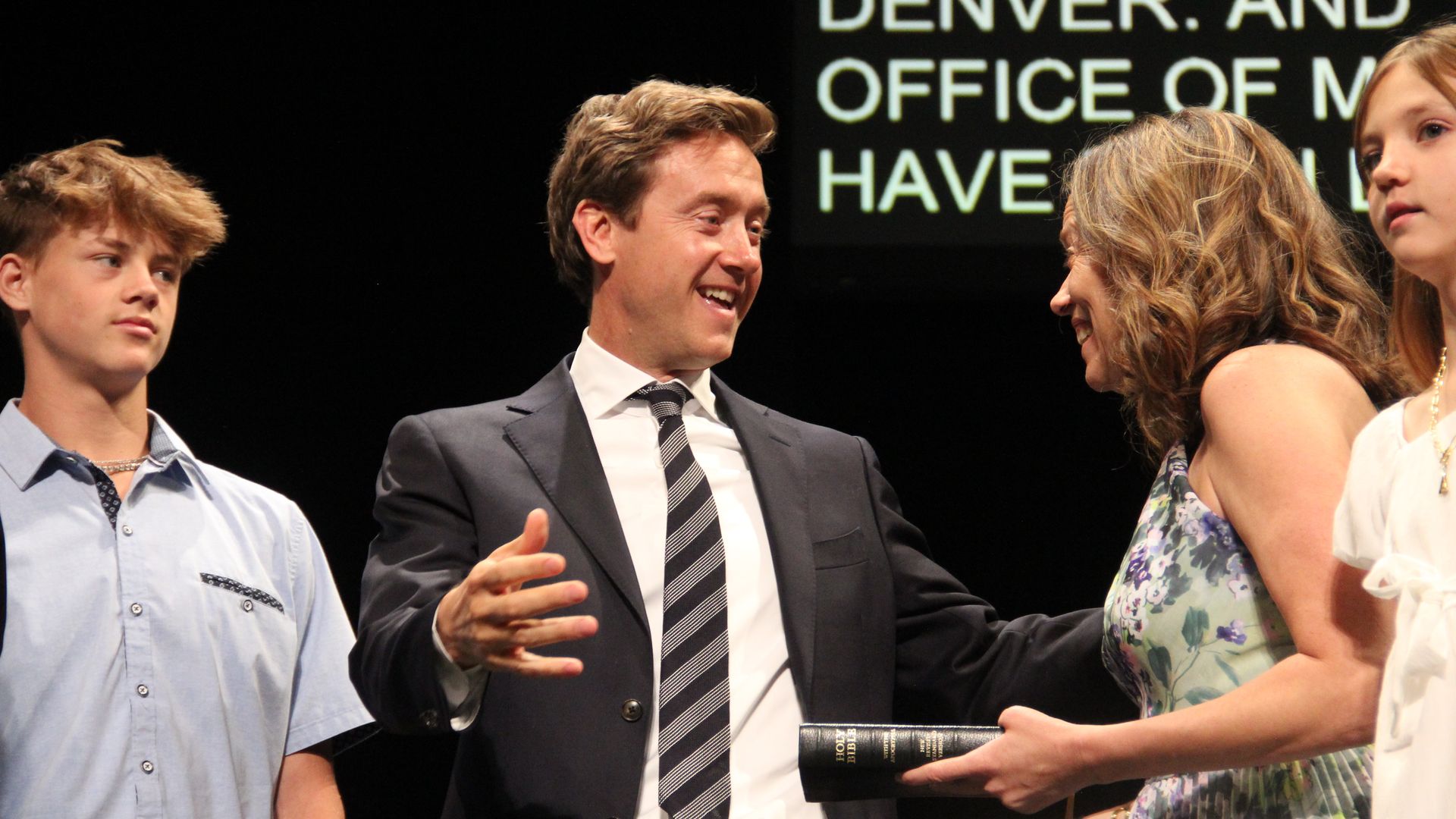 Denver Mayor Mike Johnston committed to pursuing "a new dream" in his inaugural address Monday after being sworn into office.
Johnston identified affordability, rising homelessness, pervasive crime and a struggling downtown as top challenges facing his administration.
Here are five key takeaways:
1. An optimistic outlook: Johnston's vision for the Mile High City was infused with optimism and hope, but also tempered by the reality that Denver is bruised and divided.
"Instead of turning to each other, we turned on each other; instead of reaching out a hand, we pointed a finger," he said. "But today's question is not how we found ourselves here, but how we find our way out of here."
2. A national appeal: The former Colorado senator — who unsuccessfully ran for governor and a seat in the U.S. Senate, and who pundits predict will seek the presidency — emphasized the importance of democracy, bipartisanship and the country being "founded on the belief that good people can come together to solve hard problems."
His calls for unity resonated with many of his new colleagues, including freshman council member Shontel Lewis, who is backed by the Democratic Socialists of America.
"We may not agree on everything, but we can find … some alignment somewhere, so I'm excited about that opportunity," she tells us of the more centrist Johnston.
3. Public safety: As a father of three, Johnston called for safety in schools and across the city. "Some of us have waited, heart racing too fast to breathe, for a text back from a [child] who is inside a school with an active shooter. 'Just please, God, text me that you're OK,'" he said in his speech.
His comments were commended by Denver Public Schools Superintendent Alex Marrero, who told us he hopes to work closely with the Johnston administration to better protect students.
4. Protests begin: Despite Johnston's focus on unity and housing people in need, protesters gathered outside the Ellie Caulkins Opera House, chanting "people over profit" and calling for solutions to stop the displacement of those living at an emergency shelter that the Denver Housing Authority is closing.
Shelter resident Zoe Avalon told the Denver Gazette that Johnston has been initially responsive to residents' concerns, but without a better plan in place, "those are words."
5. Best moment: Colorado Poet Laureate Bobby LeFebre gripped the room as he delivered his poem, "Questions for the Moment," which called on Johnston to imagine a new city "at the intersection of empathy and innovation."
"Open the door to possibility. Leave no one behind," LeFebre instructed.
More Denver stories
No stories could be found
Get a free daily digest of the most important news in your backyard with Axios Denver.