32 ways Democrats changed Colorado in the 2023 legislative session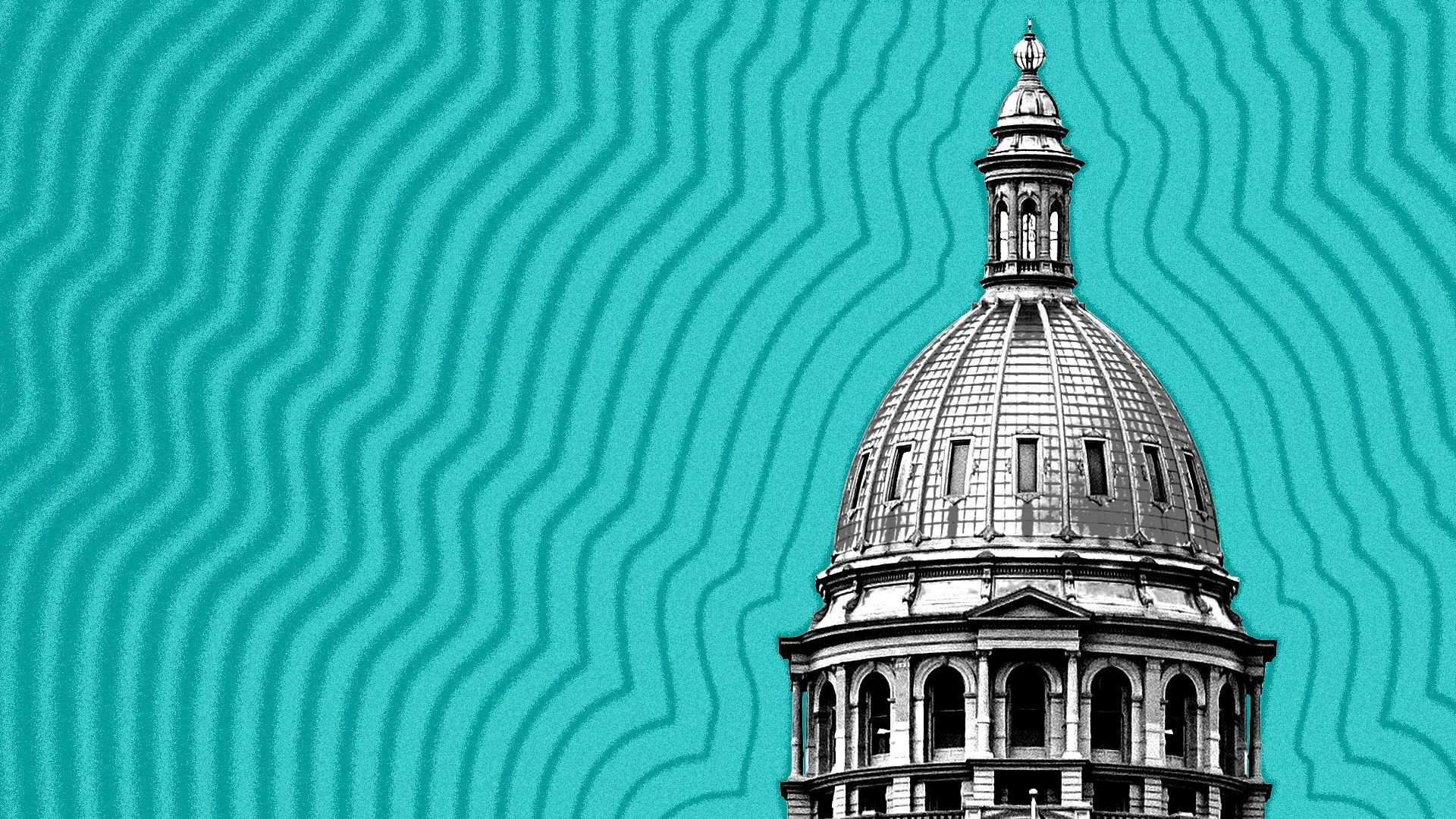 Colorado lawmakers introduced more than 600 bills this legislative session and many made it to the governor's desk in the 120-day term that ended Monday.
Why it matters: The legislation will impact the daily lives of people living in Colorado, from limiting the ability to purchase guns to making adult education free.
What to know: Here's a rundown of what happened this session and what the new laws will mean for you.
3 must-know things
🍄 The guidelines for legalized psychedelic mushrooms — including growing, selling and purchasing — are taking shape. The first licenses for facilities where you can ingest psychedelics will come by 2025.
🔫 It's now harder to buy a firearm. New laws raise the minimum age to buy a gun to 21 from 18; require firearm buyers to wait three days before receiving their purchase; and make it easier to seek an order seizing a gun owner's firearms.
🚗 A crackdown on rising car theft is here. New laws make it a felony for repeat criminals and allocate $5 million to a dedicated auto theft prevention fund.
Health care
🏥 Hospitals can no longer charge facility fees for preventive care visits and must post notices about these often-overlooked charges.
💉 The price of a two-pack of EpiPens is capped at $60 for those with insurance. Those without can apply for a low-cost program.
📈 The interest charged on medical debt is capped at 3%, instead of the current 8%. Other legislation also prevents medical debt from being listed on consumer credit reports.
💊 You can pick up prescription drugs as easily as grabbing a bag of chips under a new law that allows automated "vending machines'' in pharmacies, hospitals and health clinics.
Environment
🐺 The federal government must give Colorado a waiver before the reintroduction of wolves into the Western Slope can take place. Another bill sets aside $175,000 to compensate ranchers whose livestock and animals are killed or injured by wolves.
🚙 Drivers can soon buy a "Born to Be Wild" special license plate with the revenue going toward managing gray wolves.
🐴 The state can create a nonprofit entity known as the Wild Horse Project to prioritize a healthy herd of wild horses rather than efforts to eliminate or cull the herds.
Education
🏈 Public and private colleges have the green light to solicit opportunities for student athletes to earn money for the use of their name, image or likeness.
🧑🏼‍⚕️ Schools can hire licensed therapists even if they are not licensed by the state Department of Education to address a shortage.
🖍️ An estimated $2.5 million in bonus payments will be given to Colorado preschool providers to incentivize them to participate in the state's preschool program.
🔎 Schools will need to do more to investigate harassment and discrimination complaints and accommodate students who experience the behavior.
🔒 A new Office of School Safety will help schools streamline security protocols and better respond to a crisis or emergency event.
🏫 A new education program for adults will let people 21 and older earn their high school diploma in person for free.
Public safety
🛥️ Boat operators must be at least 14 years of age, and a safety course is required for those who are younger than 18.
👻 So-called "ghost guns" that can be assembled at home are no longer legal and owners must register the firearms and complete a background check.
🚨 The false reporting of a mass shooting is now a felony crime. This bill also makes it easier to charge individuals for a false emergency claim.
Housing
🚪 Renters receiving public assistance can't be evicted by their landlord unless a mediation between the two is held first.
1️⃣ A local government gets the first bid when a multi-unit housing complex is up for sale as a way to create affordable housing.
✅ If you're looking to rent an apartment, you can use the same background check to apply to multiple listings, as long as it's within 30 days.
Money
🛍 Small businesses with less than $500,000 in annual sales will no longer have to collect the 27-cent retail delivery fee.
☎️ Phone calls for people in prison will be free by July 2025 to help inmates better maintain connections with family and friends.
🐈 Landlords must limit their pet fees. Renters' monthly dues for their animals will be capped at $35 per month or 1% of their rent, whichever is more, and pet deposits can't exceed $300.
⚖️ It will be harder for employers to skirt the state's existing equal pay law by requiring state labor regulators to investigate and enforce violations.
🚜 Farmers can legally fix their own equipment after a law mandating manufacturers provide access to parts, tools, software and manuals for repairs.
Colorado is the first U.S. state to pass such a law.
💰 Casinos can extend $1,000 or more in credit to gamblers, repealing a previous prohibition on the practice.
Other
🏠 A state-run insurer-of-last-resort will be created to provide property insurance where coverage is not available, such as in areas vulnerable to wildfires.
🤝 Most schools and government workers can now join a union and receive workplace protections, though the entities are not obligated to negotiate a collective bargaining agreement.
🚻 Each new public building will need to include a non-gender restroom.
🚫 Politicians can block people on their social media accounts, as long as it's not a government-controlled account.
More Denver stories
No stories could be found
Get a free daily digest of the most important news in your backyard with Axios Denver.