Denver could crack down on "junkers" and abandoned vehicles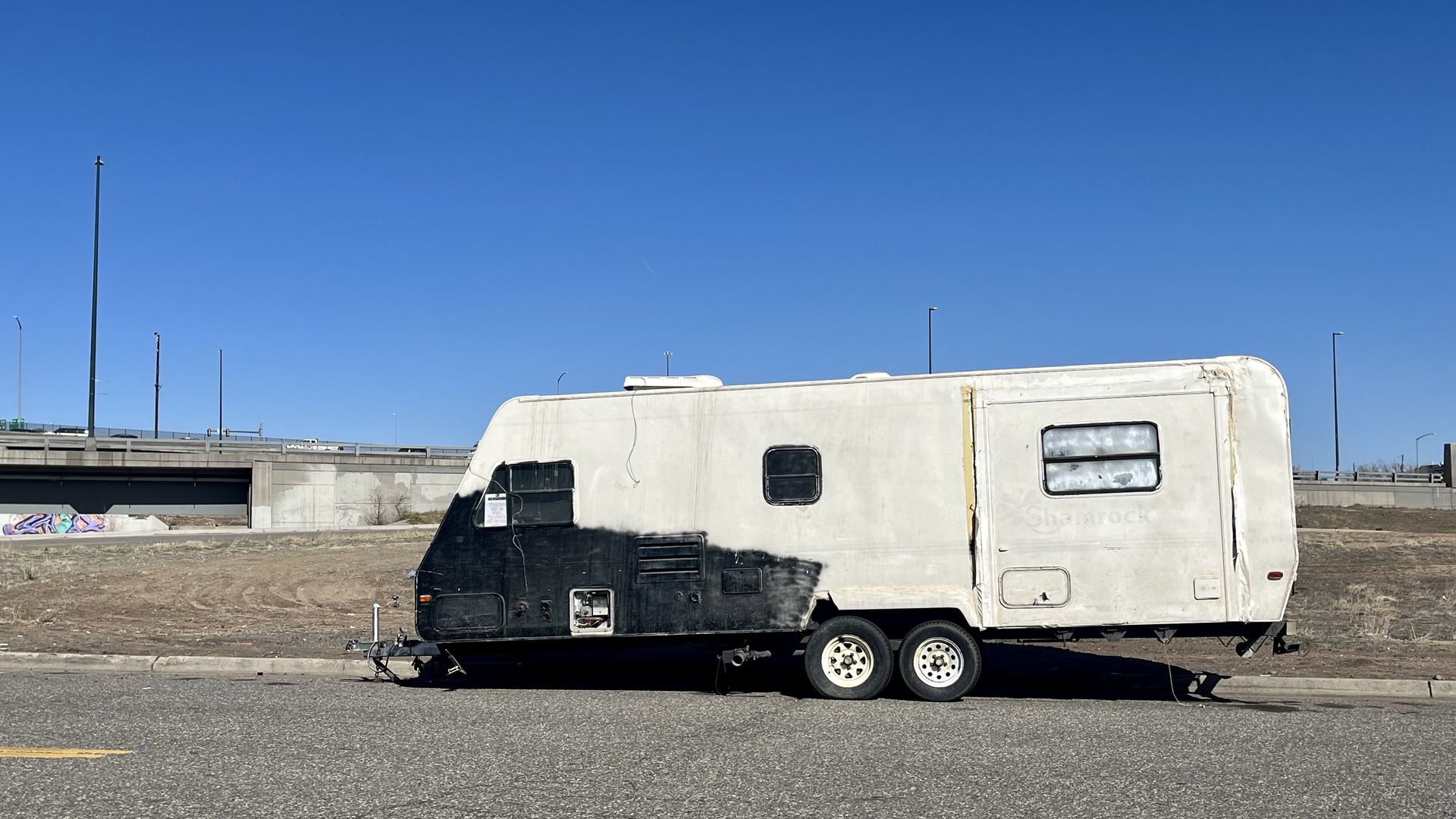 A crackdown on abandoned and unsightly cars, trucks and RVs could be coming to Denver.
Driving the news: The city is weighing whether to make it harder for "junker" vehicles to stay parked in the same place for long periods of time.
The proposal — backed by council members Kendra Black, Jolon Clark and Paul Kashmann — comes in response to a recent spike in complaints over large abandoned vehicles clogging up city streets.
Details: The measure, introduced Tuesday in the Land Use, Transportation & Infrastructure Committee, would expand restrictions for large vehicles in all city zones — not just residential, as is currently the case.
The new rules would increase the distance that a vehicle of any size must move after 72 hours to 700 feet, the average size of a city block. That's up from the existing requirement of just 100 feet.
The proposal would also broaden the definition of a "junker" to include non-motorized pull-behind trailers. As of now, the city limits the definition to a motor vehicle that is apparently inoperable and extensively damaged.
Of note: The plan would make it easier for city officials to enforce the law and tow away cars of non-compliant owners by removing some mandates around providing notice, including the requirement that a driver's license information must be collected if a person is found with the vehicle.
What they're saying: Sometimes the culprits "are big corporations who are just using our public right of way to store fleet vehicles," Clark explained Tuesday. But other times, it's "an old trailer that isn't attached to anything, that caught on fire," and is "completely unusable."
In all instances, Black noted, "We've learned … enforcement is really challenging."
The other side: Some council members, including Robin Kniech and Jamie Torres, are taking issue with the proposal's 700-foot requirement because it would apply to all cars, not just junkers.
Given soaring vehicle break-ins, it's going to be a "big challenge" to make residents move their cars to a potential place they can't keep an eye on, Kniech said.
Reality check: It's currently illegal for anyone to keep a car parked on a residential street in the same place for more than 72 hours — but the city doesn't proactively enforce that rule because the policy is complaint-driven, say officials with Denver's transportation department.
Between the lines: Some advocates for people experiencing homelessness tell Axios Denver they oppose the plan for appearing to target low-income residents living in RVs.
Many of those residents, primarily in South Denver, "keep getting complaints on them," Denver Homeless Out Loud spokesperson Benjamin Dunning told us.
When that happens, police often come. "And if [their vehicle] has an engine problem and they can't move, it gets towed and all their belongings go with it," which can have devastating results and push even more people into homelessness.
What's next: The proposal advanced on Tuesday to the full council and isn't likely to pass unanimously unless amended. A final vote is expected in the coming weeks.
More Denver stories
No stories could be found
Get a free daily digest of the most important news in your backyard with Axios Denver.