The National Western Stock Show is here to stay — with or without 2E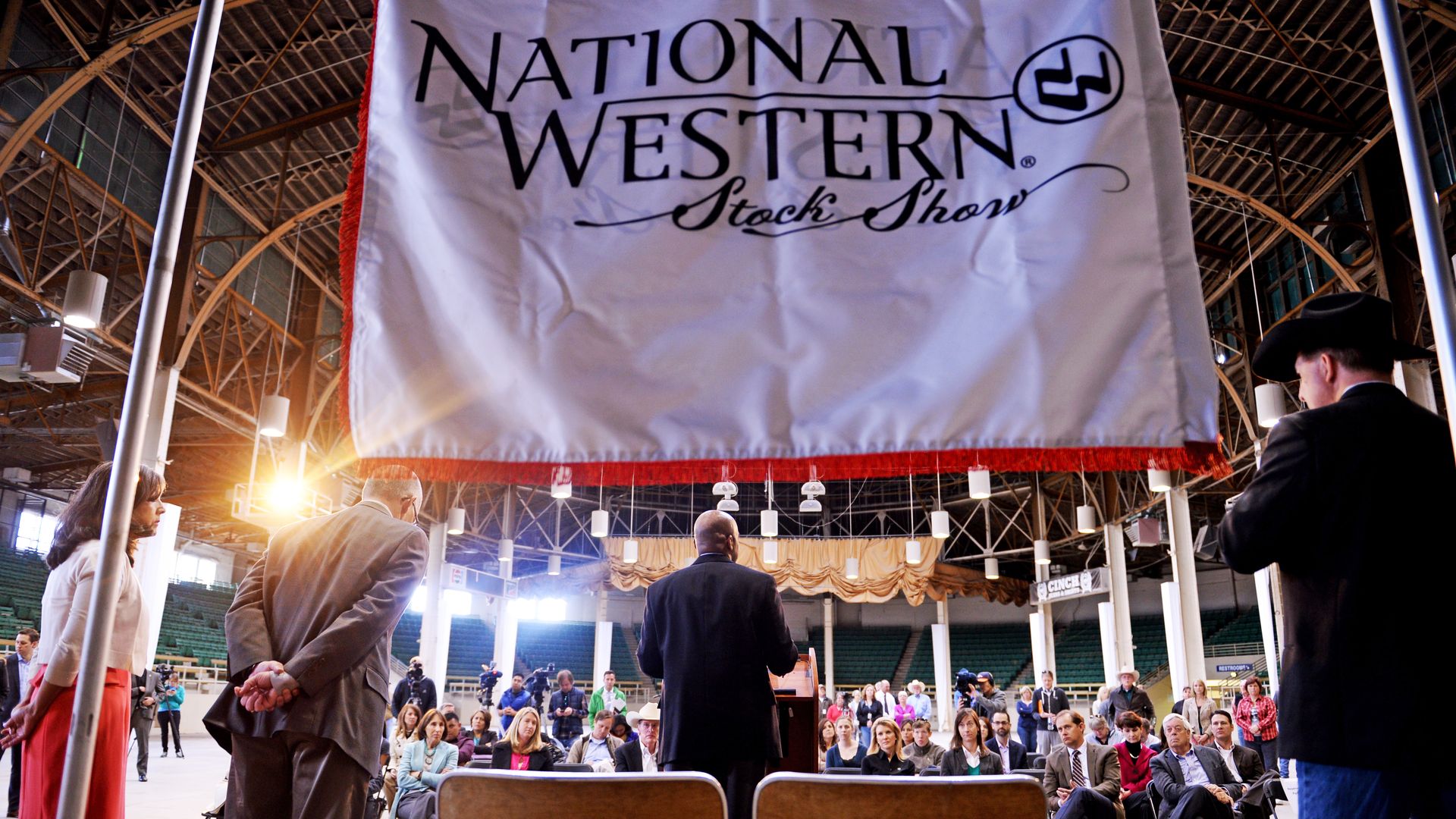 What you see isn't always what you get when it comes to the 2021 political mailers touting Ballot Measure 2E.
Be smart: 2E is Mayor Michael Hancock's pitch to put $190 million in bonds toward a new "state-of-the-art" arena on the National Western Center campus and convert its 112-year-old former arena into a public market.
State of play: Mailers trumpeting 2E are inflating the importance of the project, claiming the arena will save the National Western Stock Show.
"Your support will help build a new multi-use arena that will keep the Stock Show in Denver" and "keep an important part of Denver's Western legacy," reads one mailer sent to voters.
Reality check: "I wouldn't word it that way — there's a misconception there," Paul Andrews, CEO of the National Western Stock Show and a supporter of 2E, tells Axios.
"The Stock Show has a 100-year agreement with the city of Denver to produce the National Western Stock Show right here at I-70 and Brighton Boulevard," he says.
Details: 2E mailers also claim the new arena will be "the major driver" for a community investment fund that "directly" benefits the surrounding neighborhoods.
Yes, but: Denver City Councilperson Candi CdeBaca, whose district includes the National Western Center, tells Axios that "using our community needs as justification for this bond measure is deceptive."
The Globeville and Elyria-Swansea neighborhoods were left out of the planning process, she says. And the community didn't ask for the arena.
Should construction proceed, she argues the facility ought to be funded with tourism tax revenue — not through incurred debt as a part of the bond, which would raise property taxes.
Flashback: Denver voters in 2015 approved a ballot measure to fund a massive overhaul construction of the National Western Stock Show complex with tourism tax dollars, the first two phases of which are underway.
But after a pandemic-induced nosedive in Denver's tourism revenue, development plans that included the arena were put on hold. Now proponents say the projects left in the backlog, including the center, should be paid for with bonds before interest rates rise next year.
What's more: Earlier this year, state lawmakers passed a bill to funnel $25 million to ensure "the Crown Jewel of Agriculture" stays in Colorado.
The move came after COVID-19 caused the National Western Stock Show to be canceled for the first time in more than 100 years, prompting Oklahoma City to announce its own stock show in Colorado's absence.
The bottom line: With or without a new arena, the National Western Stock Show isn't going anywhere, industry experts say.
More Denver stories
No stories could be found
Get a free daily digest of the most important news in your backyard with Axios Denver.