Meet the candidates: Denver school board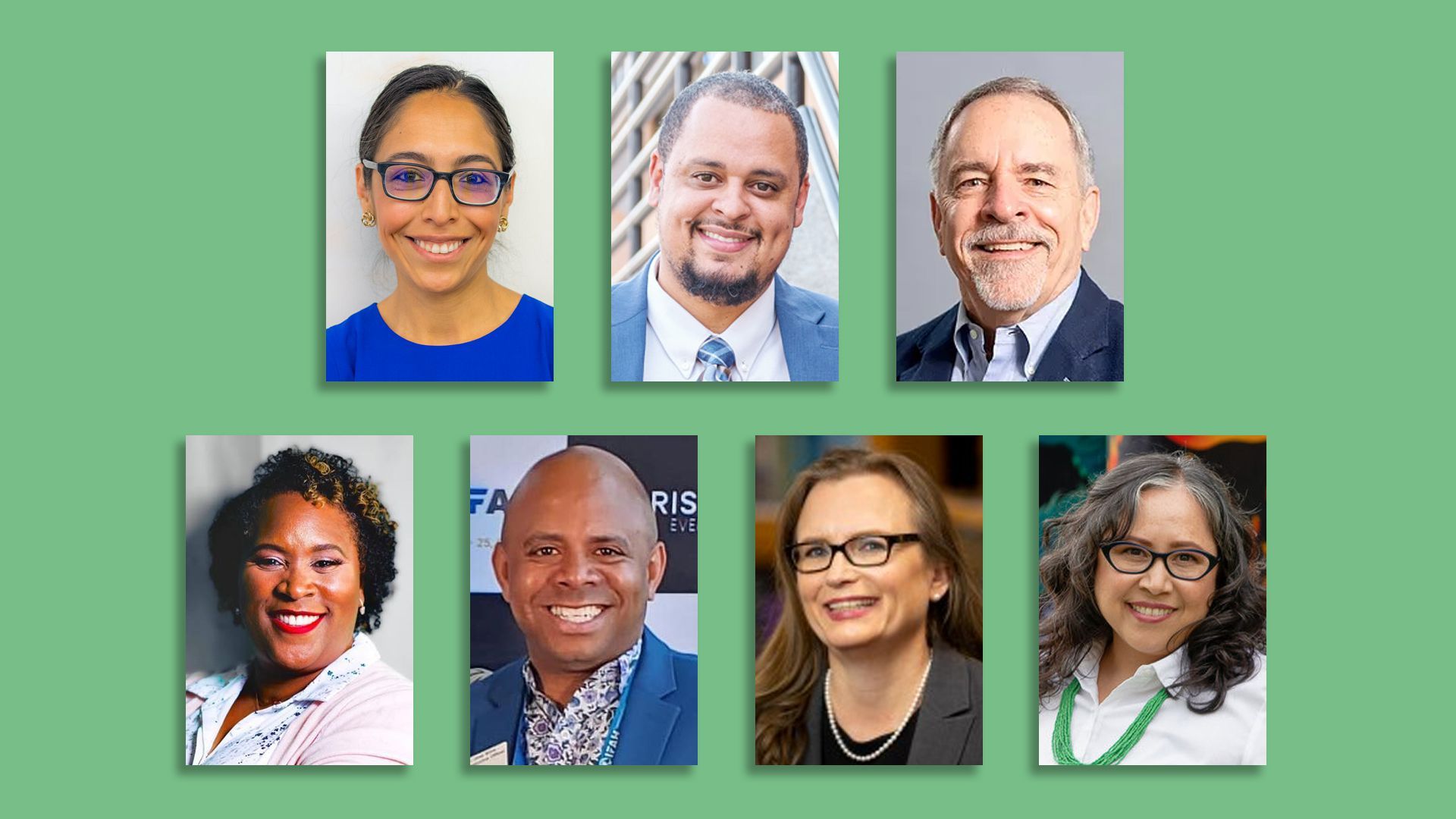 A majority of the Denver school board seats are at stake in the 2021 election — including three that represent neighborhood districts, Chalkbeat reports.
What's happening: The races cover a vast swath of the city — southwest's District 2, the southeast's District 3 and northeast's District 4.
Two are open seats, and one features an incumbent seeking another term.
Of note: The entire district will vote on the open at-large seat.
District 2
Xóchitl "Sochi" Gaytán, 46, real estate agent
She says her experience as an undocumented child in the district informs her perspective.
Wants to see COVID-19 vaccination clinics in schools, as well as a nurse and mental health professional in every school.
Expressed concern about "big box" charter schools and unaccountable innovation schools.
Karolina Villagrana, 33, educator
She is focused on declining enrollment and wants to see community input, but did not provide specifics on how to address the downturn.
Supports using money previously spent on law enforcement in schools for mental wellness.
Wants to mandate equity plans for Black students in every school.
District 3
Mike DeGuire, 76, former principal and teacher
Believes more infrastructure, such as air flow and ventilation, is needed to mitigate the coronavirus.
Supports spending federal pandemic relief dollars on mental and social needs of students and staff.
He says the current school choice system does not work and needs an overhaul.
Carrie Olson, 58, incumbent board member and adjunct professor
She says more needs to be done to address financial and staffing shortages at neighborhood schools.
Touted the current board's work to follow public health guidelines and upgrade equipment.
She supported removing police officers from schools.
District 4
Gene Fashaw, 37, math teacher
Believes the district's biggest concern is equity and more attention is needed on improving outcomes.
He says the key to improving student achievement is prioritizing their mental health.
Criticized the district for looking to armed security guards to replace police officers, saying more counselors are most needed.
Michelle Quattlebaum, 51, school community liaison
She says the district's top concern is recruiting and retaining non-white teachers.
Supports educational choice but wants to see more accountability in innovation schools.
Wants ongoing cultural competency training and certification for staff.
Jose Silva, 41, nonprofit leader
He says the budget is his top concern and pledged to lead a fiscal audit, saying the district spent millions "on frivolous partnerships."
Wants the district to partner with organizations like his, the Colorado Association for Infant Mental Health, to better focus on mental wellbeing.
Argues his expertise in diversity and inclusion will allow him to lead a re-evaluation of the districts equity policies.
Read more about the candidates from our partners at Chalkbeat
More Denver stories
No stories could be found
Get a free daily digest of the most important news in your backyard with Axios Denver.