Colorado GOP still looking for a winning U.S. Senate candidate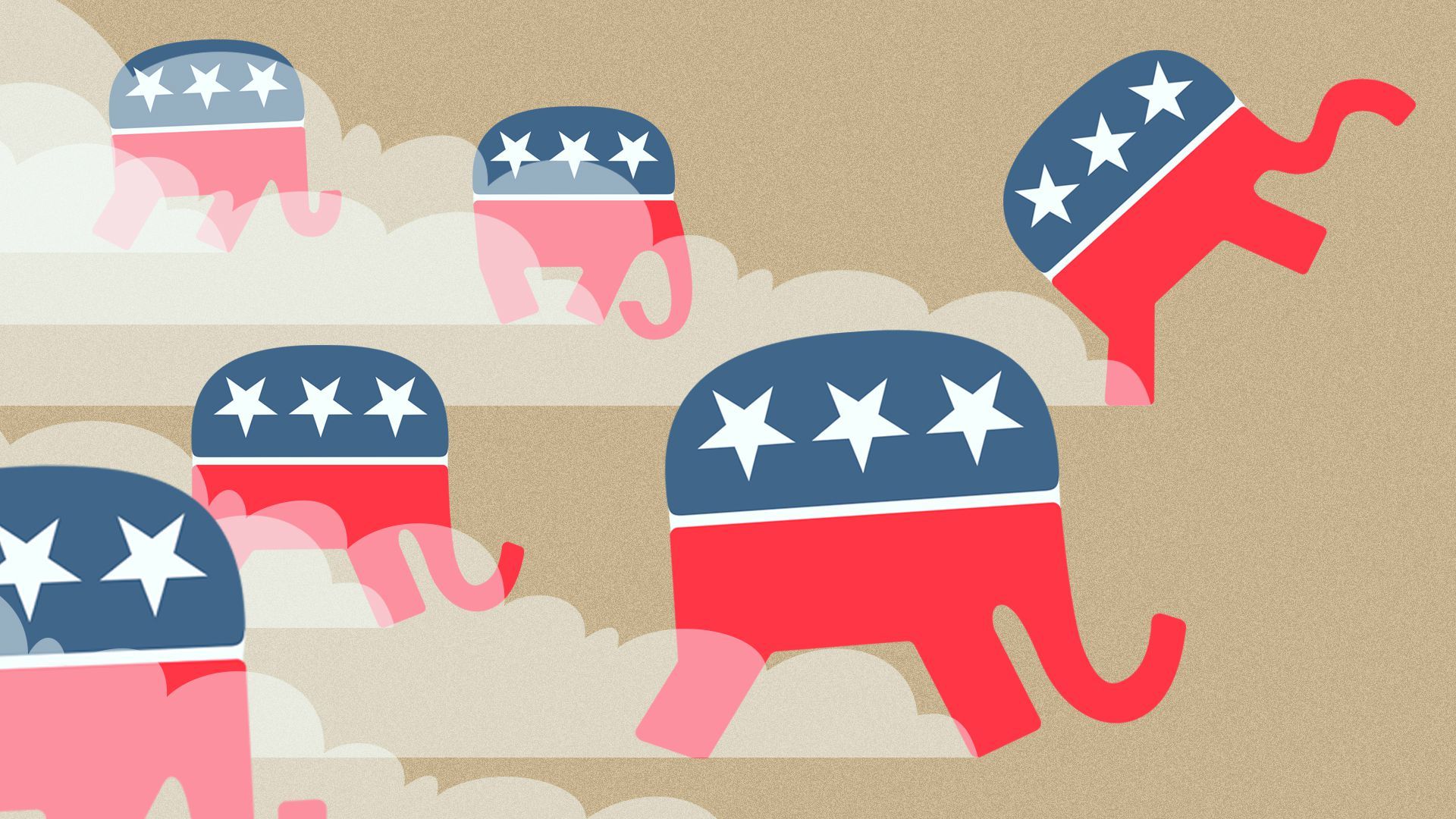 The herd of Republican candidates storming into the U.S. Senate race is kicking up so much dust it's clouding the party's chances of winning a crucial seat in the 2022 election.
State of play: Nine GOP contenders have filed paperwork to run for the party's nomination — and a chance to challenge Sen. Michael Bennet — and more candidates are expected to enter in coming months.
Why it matters: The free-for-all is guaranteed to create a messy intraparty battle that will pull the candidates further from the mainstream Colorado voter and burn resources needed to compete against the Democratic incumbent, according to interviews with more than a half-dozen strategists watching the race.
State of play: President Biden's falling approval ratings and Democrats' inaction in Washington are helping fuel interest in Colorado's Senate race.
The midterm also historically favors the party out of power.
Yes, but: No one in the Republican field is a prominent political name, and none is battle-tested at the state level, where the well-funded Bennet has won three elections — two general and one primary — in a dozen years.
It's a stark contrast to 2014 when then-U.S. Rep. Cory Gardner declared his candidacy and essentially cleared the field on his way to upsetting Democratic incumbent Mark Udall.
The current dynamic leaves the door open for nontraditional candidates to emerge, but it also could give the advantage to far-right conservatives and Donald Trump loyalists who can successfully woo party activists but not general election voters.
This is what worries some Republican strategists, who still lament the limp Republican campaign that allowed Bennet to win in 2016, a strong GOP year.
"There is no Cory Gardner sitting out there waiting to get in," said Greg Brophy, a former Republican state senator and lobbyist. "So you have a whole bunch of people, and we are going to see what kind of campaign they can put together."
Meet the candidates:
The field includes political newcomers, castoffs and Trump acolytes, a mix that will put increased focus on the party's core values and allegiance to the former president.
Joe O'Dea: The first-time candidate put more than $100,000 into an early advertising blitz and hired top-tier GOP consultant Josh Penry. Both elevate him to the top of the field, despite the fact O'Dea backed Democrats in prior elections.
Eli Bremer: The 2008 Olympian and former Air Force officer raised a ruckus and made enemies as the past chairman of the El Paso County GOP. But he's leading the pack in early fundraising and putting together a statewide organization.
Ron Hanks: The first-term state lawmaker crossed the police line at the Jan. 6 U.S. Capitol riot and is a prominent voice of support for QAnon and election conspiracies.
Peter Yu: He ran for the U.S. House in 2018 and lost. In the Senate race, it didn't take him long to find controversy for comments in which he appeared to dismiss racism against Asian Americans.
What to watch: Two other candidates, Erik Aadland and Gino Campana, are touting support for Trump and looking to get noticed.
Of note: One reason incumbent Bennet will prove difficult to beat ... his massive campaign war chest.
By the numbers: He raised $2 million through Sept. 30, according to newly filed campaign finance reports.
He reported $3.5 million in cash in the bank — more than eight times as much as the three Republican candidates who reported fundraising last Friday.
The cash race is an instrumental part of building a campaign organization that can run a statewide race — and a way to demonstrate viability to Republican power brokers in Washington who will decide whether to invest in the 2022 contest.
The other side: Bremer raised the most on his side at more than $250,000 since entering the race Aug. 10.
Other candidates, including O'Dea, Hanks and Campana, did not have to file reports because they joined the race after the reporting period.
Editor's note: This story has been updated to clarify that U.S. Sen. Michael Bennett has won two general elections and one primary, totaling three statewide races.
More Denver stories
No stories could be found
Get a free daily digest of the most important news in your backyard with Axios Denver.