What's at stake in the 2021 election in Colorado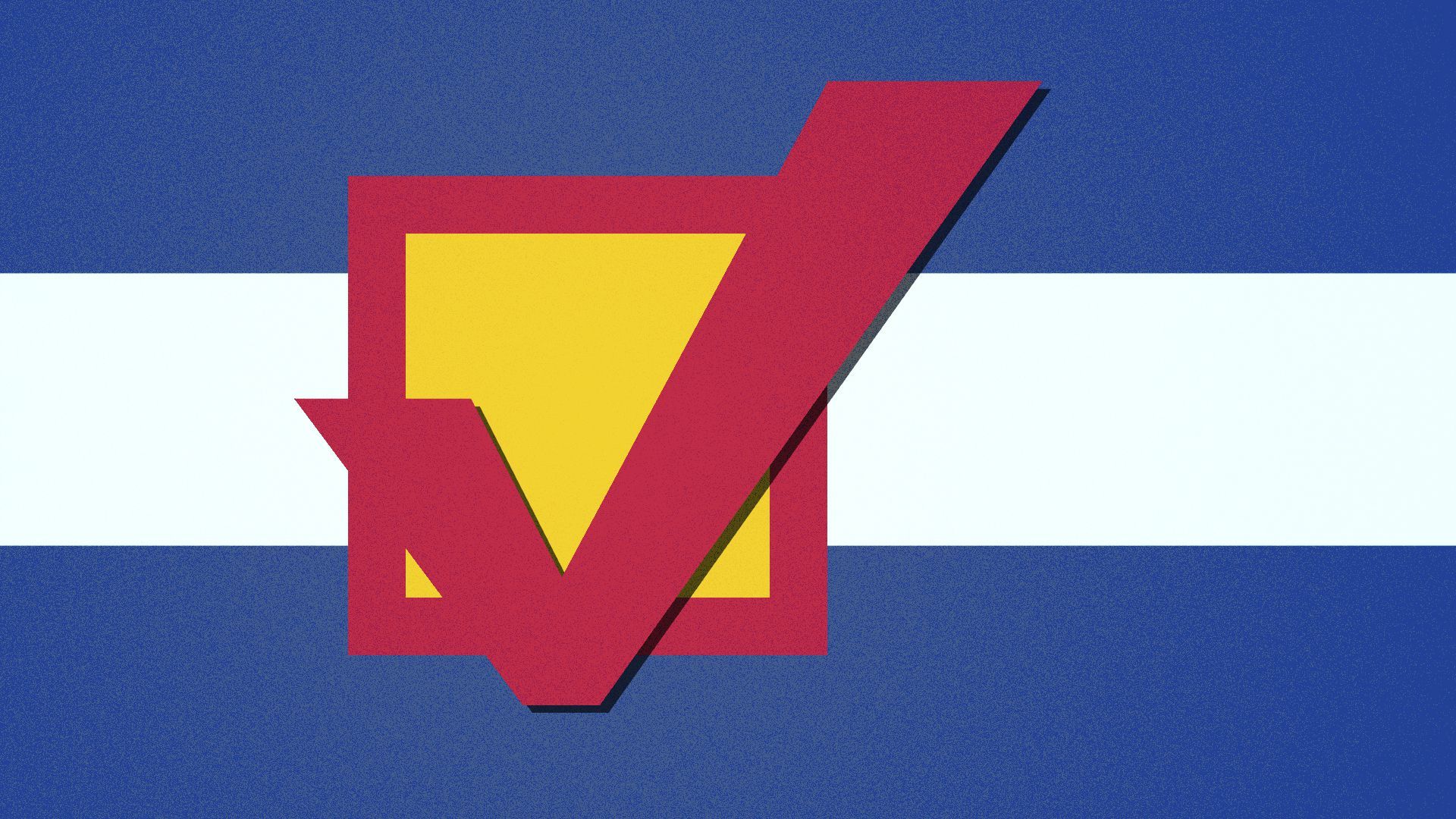 Off-year elections are typically low-interest, low-turnout and low-stakes contests.
That's not the case this year.
State of play: The 2021 election will render major verdicts about the political landscape, population growth and appetite for taxes in Denver and statewide — and each holds major implications for the future.
Between the lines: The debate is embedded in the three statewide and 13 Denver questions on the November ballot — which gets mailed to voters today.
Three collective themes emerge:
A new conservative strategy: The GOP holds fewer statewide offices in Colorado now than at any time since 1936, so Republicans are shifting directions to focus on winning ballot measures that call for lower taxes, school choice and tougher law enforcement.
Denver's future: Our mid-tier city is looking for distinction but struggling with growth. A $450 million bond package would include a new arena and broader makeover, while an abandoned golf course is generating conflict about open space and development.
Pot's promise: Two interests want a piece of the millions in tax revenue generated from legal marijuana — for statewide after-school learning programs and pandemic preparedness in Denver. The industry says higher taxes could hurt sales.
Details: The measures backed by conservatives appear on both state and local ballots.
In Denver, measure 303 pushed by the Denver GOP leader would force the city to clean up illegal homeless camps and allow residents to sue if not cleared. And ballot question 304 proposes lowering and capping the city's sales tax at 4.5%, a $55 million annual tax cut and reduction in services.
At the state level, Amendment 78 and Proposition 120 would respectively require most state dollars be spent through the legislature and lower certain property taxes. Proposition 119 would increase state marijuana taxes to 20% to generate $138 million for parent-selected student tutoring programs.
What they're saying: Tyler Sandberg, a GOP consultant who's working to pass Prop. 119, said the measures are part of a concerted strategy that builds on his party's success with two ballot questions in 2020.
"Conservatives are here to play and engage in the ballot process in a way they haven't before," he said.
Details: The five bond questions in Denver, 2F to limit group housing and dueling 301 and 302 open space measures reflect a city that is split on how to grow.
What they're saying: Mayor Michael Hancock says the $450 million borrowed will help revitalize the city. The Park Hill Golf Course is a massive tract of land poised for new houses and shops. But neighborhood organizations want investment in current communities, not new development near them.
"There are a lot of people saying they want to take a position and send a message to a lot of the big-money people," said former Mayor Wellington Webb, a supporter of 301 to preserve the Park Hill Golf Course space.
Details: Marijuana taxes are an easy target. In addition to the statewide tax hike, Denver ballot measure 300 would increase local cannabis taxes 1.5% and generate at least $10 million a year for pandemic research. The measure is being pushed by an organization outside of Colorado.
What they're saying: Mason Tvert, a marijuana industry leader, said it's hard for the industry to counter both measures and risk being against education or pandemic prevention.
The measures "may be well intentioned, but they are really trying to capitalize on this very young and fragile industry," he said, suggesting it could push some buyers to the illegal market.
More Denver stories
No stories could be found
Get a free daily digest of the most important news in your backyard with Axios Denver.