Comfort corners the Wash Park market
As the saying goes, everything old is new again.
Driving the news: After sealing its doors for four months and offering curbside-only service for more than another year, Devil's Food Cookery at Myrtle Hill quietly invited its South Gaylord friends and neighbors back inside its pastel-hued, wood-framed dining room a few weeks ago.
Staffing proved problematic as the pandemic turned the service industry's workforce on its head.
"So many people were reopening and didn't have enough staff," Devil's Food owner Angela Pilloud noted. "Restauranteurs were crying every night about being overworked. So, I just told everyone we would wait."
Yes, but: The pandemic wasn't solely to blame for the eatery's hiatus.
The 22-year-old South Gaylord spot has reemerged with a subtle facelift — courtesy of Pilloud's husband, who has an industrial design background. The duo, for years, has toured the country, collecting design elements for its spaces — including the antique tin-ceiling tiles and 100-year-old barn wood in Devil's Food Bakery, the coffee and pastry shop only a hop, skip and a jump from the Cookery.
"There was an old vintage hardwood table up front, and in its place my husband built a custom bar," Pilloud says of the restaurant's new installations. Fresh tiles with delicate blue brushstrokes sit on the sunlit-soaked entryway wall.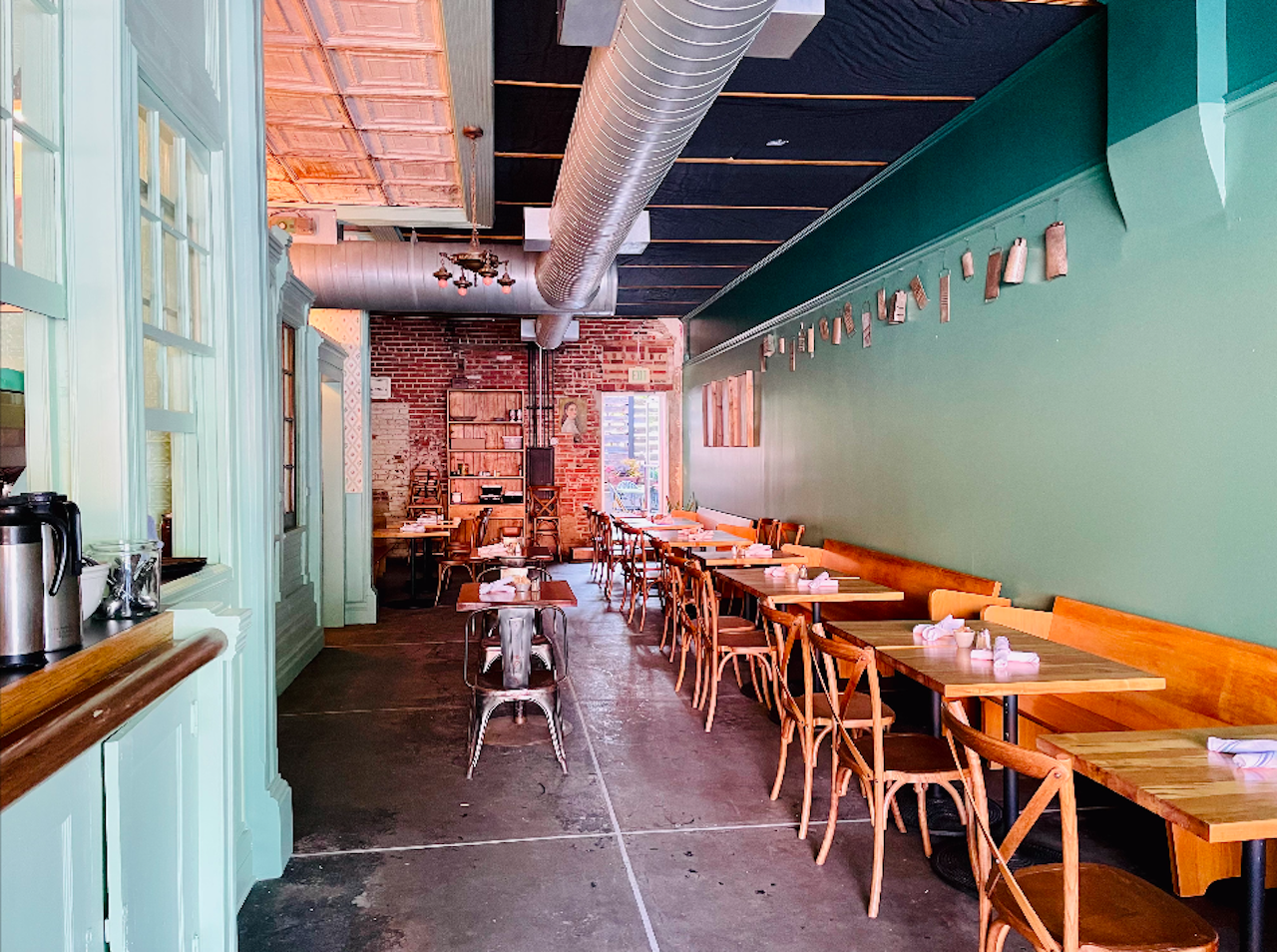 And the restaurant's heaping plates stacked with classics like fried chicken and fluffy, syrup-soaked waffles, gooey apple and brie sandwiches and grilled shrimp with cheesy grits are back, while soul-warming French onion soup has been added to the mix.
What she's saying: "There was a silver lining to COVID," Pilloud says. "We couldn't be open, and we wanted to do the refresh, but we're open 7 days a week." So the natural pause brought on by the pandemic proved valuable to her process. "I opened Devil's Food when I was 30. Now, I'm over 50 — so I felt like a change. I get bored."
The business owner kept herself busy in the interim, opening Fern & Louis, a flower shop in the Rosedale neighborhood, where she's lived for nearly 20 years, with fresh bouquet bunches and an eclectic mix of snacks, gifts and knick-knacks, all elegantly displayed and softly begging visitors to take them home.
What's next: Now — "We're going to open a bigger version of that down here on Gaylord," Pilloud says, noting the opening date is a moving target, as her husband designs and builds the space from scratch.
More Denver stories
No stories could be found
Get a free daily digest of the most important news in your backyard with Axios Denver.