Colorado athletes to watch at the Tokyo Olympics
Colorado counts 34 athletes in the Olympic Games in more than 14 sports and 23 disciplines, according to Team USA.
Why it matters: We love to cheer for our hometown heroes as they go for the gold!
By the numbers: Colorado's athlete count is the third most in the nation — behind California's 126 and Florida's 51, according to an Axios analysis.
The athletes self-report their hometowns.
In reality, dozens more Olympians live in Colorado because they train here — and the same goes for athletes from other countries, too.
Meet the athletes here:
The sports are arranged in alphabetical order.
Cycling and mountain biking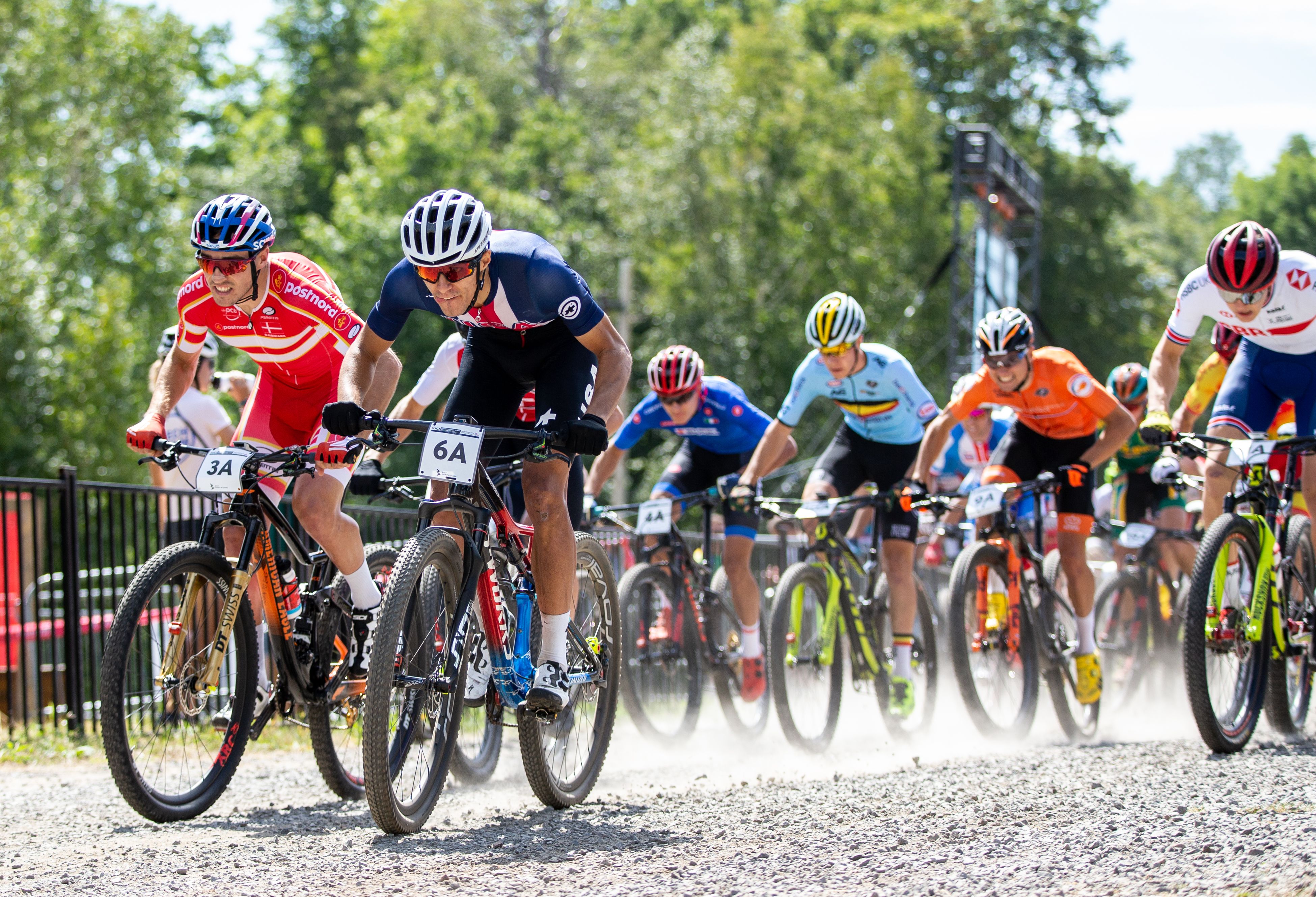 Three Colorado cyclists will compete for the U.S. team in the Olympics.
What to know: The cross-country mountain bike competition is 4 to 6 kilometers on narrow dirt single-track trails, with 150 meters of vertical ascent and descent that organizers say is harder than previous Olympic courses.
The competitors: Durango's Christopher Blevins and Boulder's Erin Huck will race for the U.S.
Blevins, 23, is competing in his first Summer Games after starting racing at age 12. His pre-race routine is pancakes and coffee three hours before the start and then meditation.
In 2018, he finished second at the cross-country world championships.
At age 10, he fractured his skull in a BMX crash and lost hearing permanently in his left ear.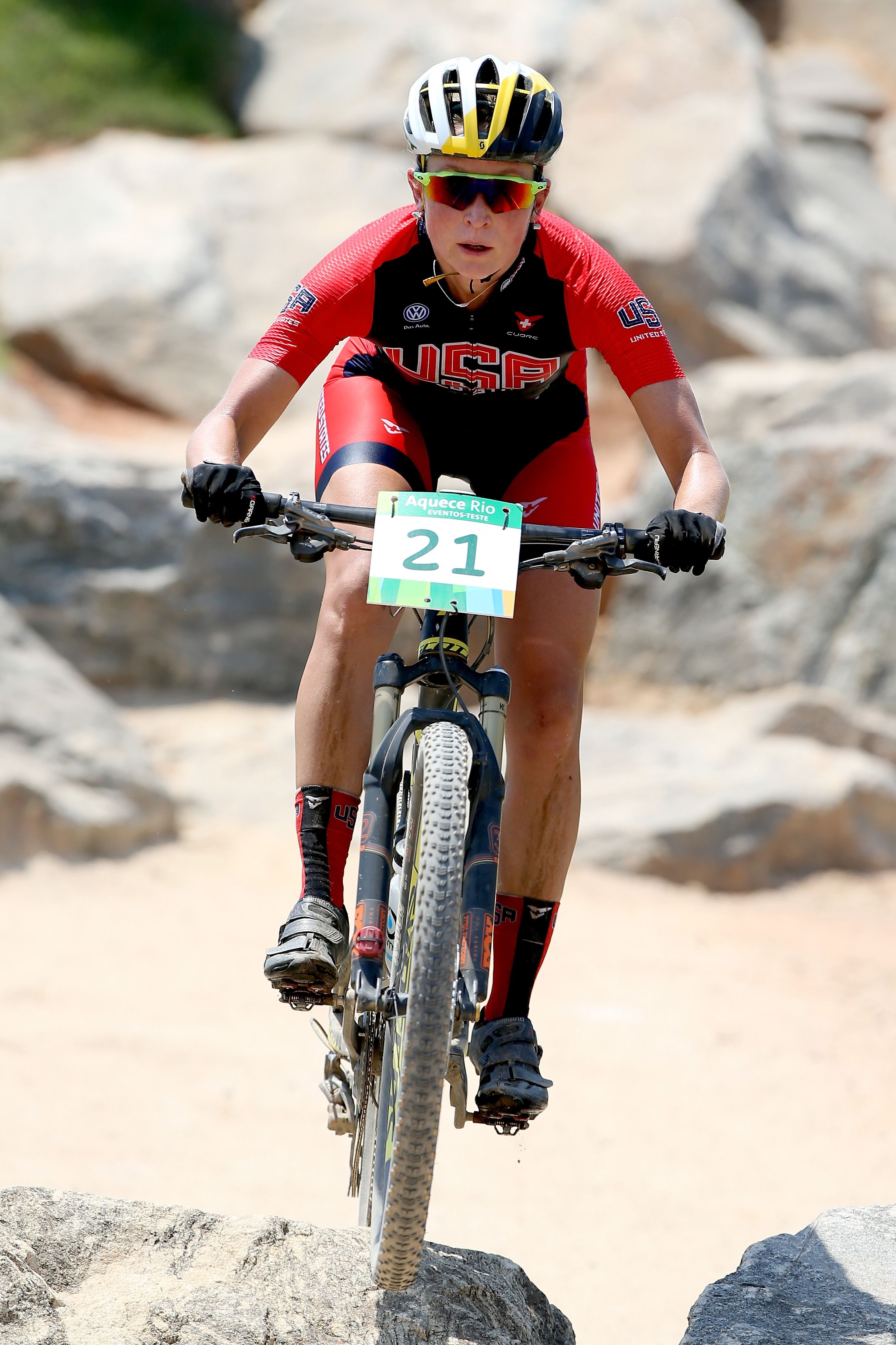 Born in Estes Park, Huck, 40, is competing in her second Olympics after first joining the international race circuit for the U.S. in 2012.
She ranked 20th in the world entering the Summer Games.
Her pre-race ritual is to paint her nails based on the name of the color, such as "petal to the metal."
Of note: Huck's slot on the team came after Denver's Chloe Woodruff withdrew. The two were in contention for the final team spot and Woodruff won. Huck contested the selection by requesting an arbitration hearing.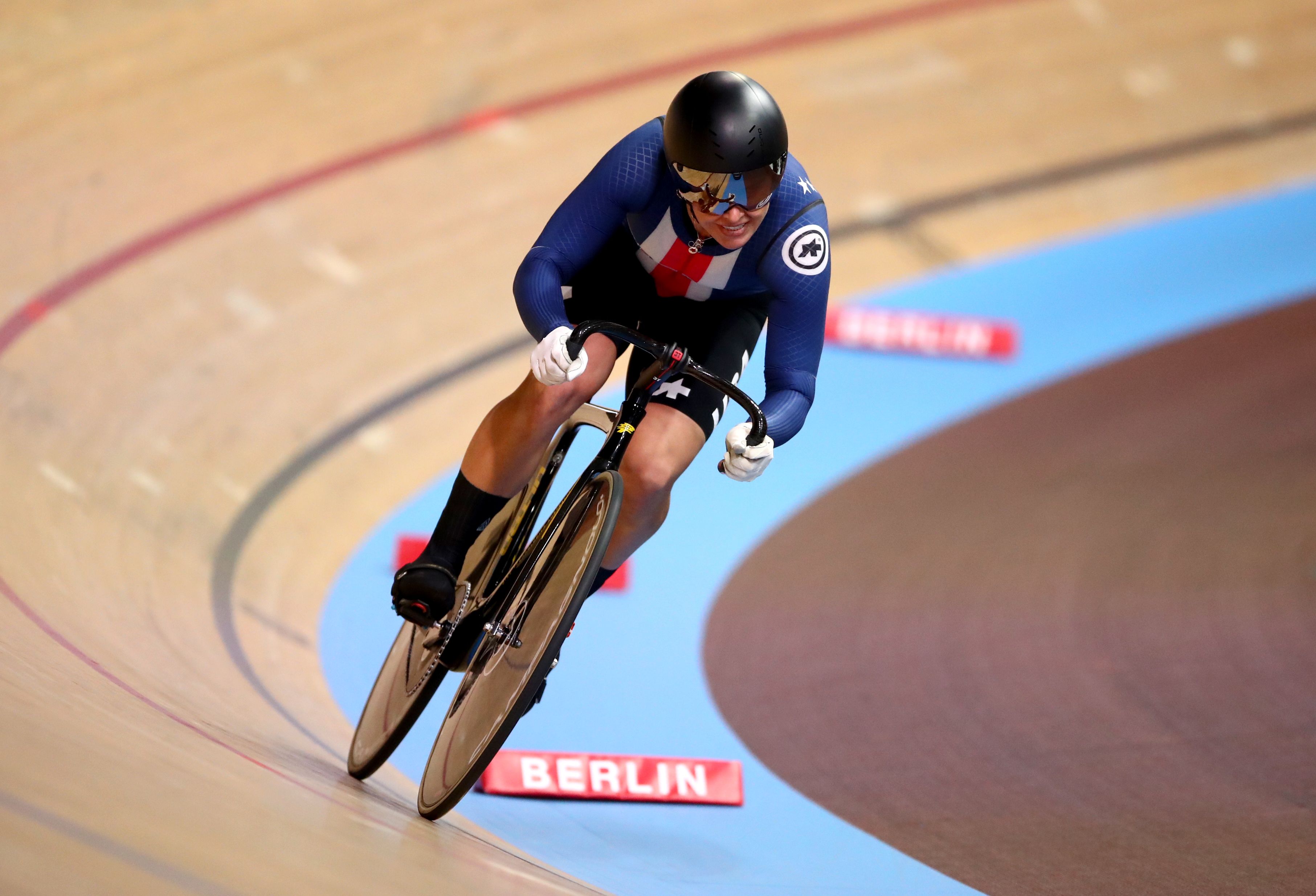 Maddie Godby, who grew up in Louisville and lives in Colorado Springs, will represent the U.S. in two additional cycling disciplines: keirin and individual sprint. This is her first Games.
What to know: In the keirin, riders follow a mechanized pacer that rises to 50 kilometers per hour (about 31 mph) and then sprint the final three laps for the win.
The individual sprint is a 200-meter race, or three laps, featuring two riders competing in best-of-three heats.
About her: Godby, 28, is a 17-time national champion and holds three team records. She raced one year on the road, starting at age 17, before testing out the velodrome in Colorado Springs.
The University of Colorado-Boulder graduate's favorite post-ride snack is a big bowl of watermelon.
Men's gymnastics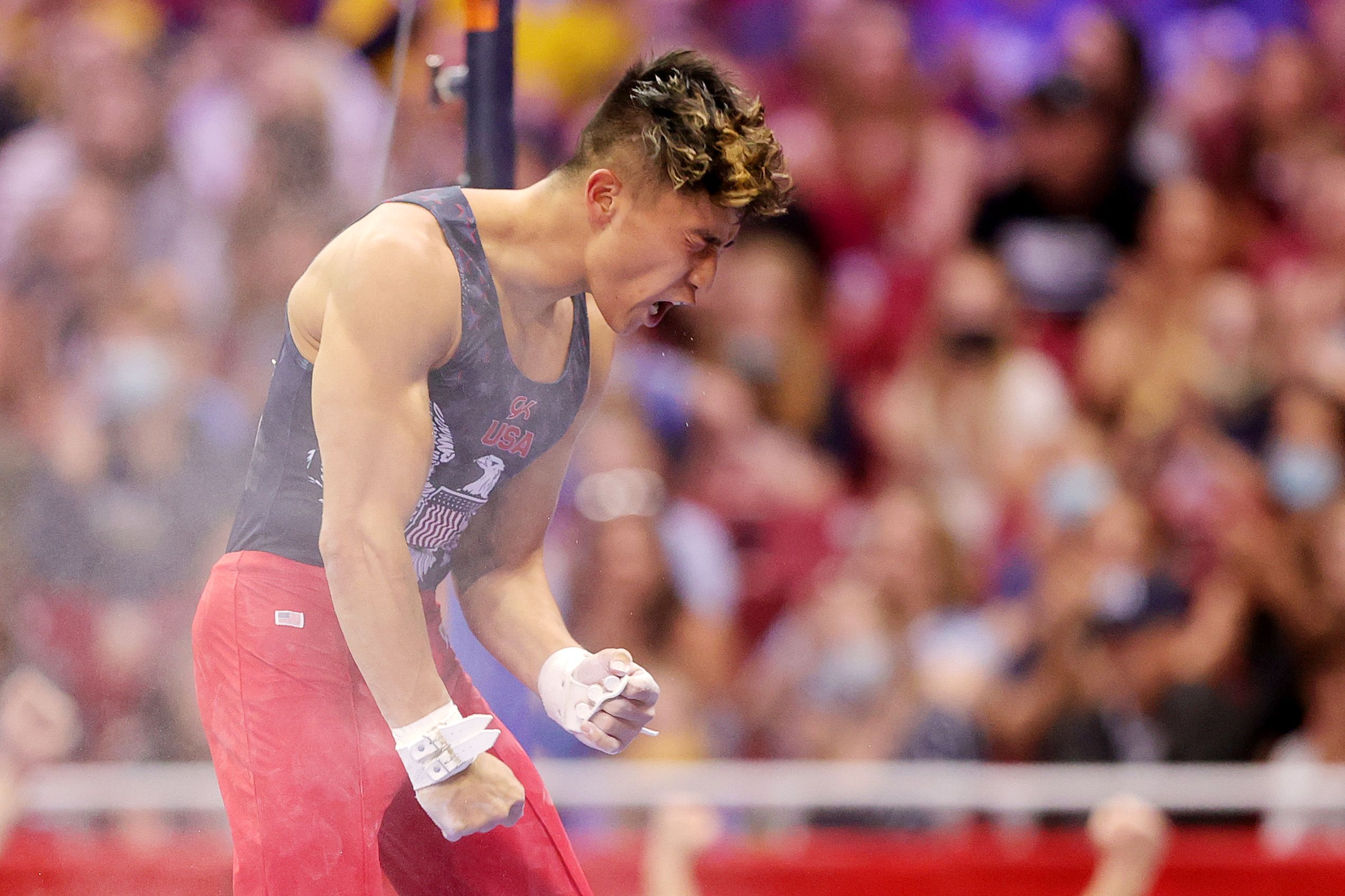 Yul Moldauer adds a punctuation mark to his successful gymnastics routines: a loud clap that creates a big cloud of chalk.
It came often in the recent U.S. Olympic trials. The Arvada resident and Golden High School alum finished second overall, top three in four events and first in parallel bars.
This is his first Olympics after narrowly missing the cut in 2016.
About him: His Fort Collins parents adopted him from South Korea as a baby, and he had medical issues after being born to a chemically dependent mother.
Of note: The 24-year-old trains at 5280 Gymnastics in Wheat Ridge. But during the pandemic stay-at-home order, his one-car garage at his house near the University of Oklahoma, where he attended college, became the training room, complete with a pommel horse and rings.
Heptathlon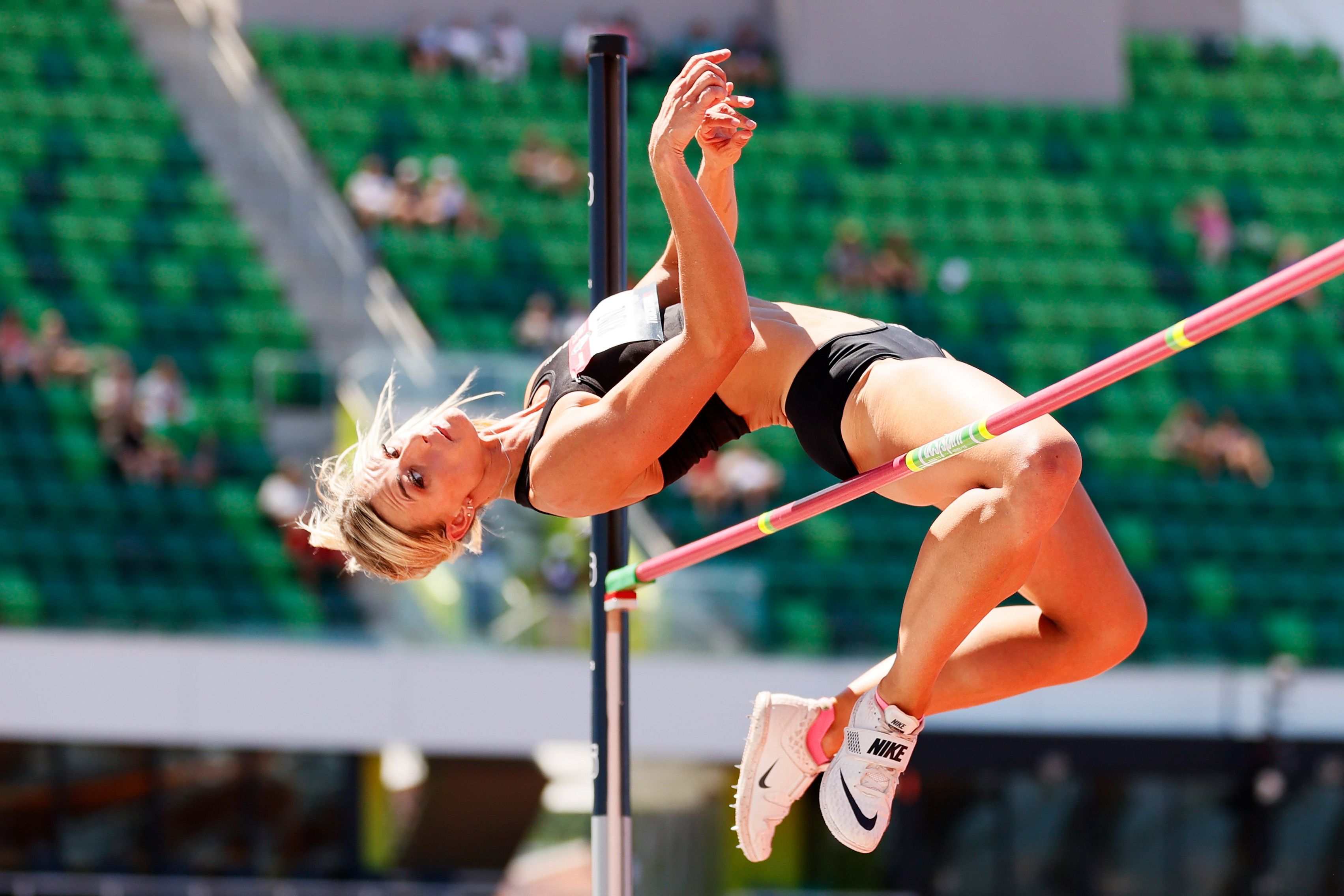 Annie Kunz, who grew up in Wheat Ridge, holds the world's top score in heptathlon. Now she's trying to do it again in the Olympics.
What to know: The seven-event heptathlon takes place over two days of competition and features 100-meter hurdles, high jump, long jump, shot-put, javelin throw, 200-meter sprint and an 800-meter run.
The winners of the heptathlon and decathlon (for men) are considered the world's greatest athletes.
About her: Kunz, 28, played soccer and ran track at Texas A&M University before committing to track and setting her sights on the Olympics. She trains in California.
She placed 13th at the world championships in 2019 before winning gold in the U.S. indoor competition and Olympic team trials in 2020.
Of note: Her father, Terry Kunz, won a Super Bowl with the 1976 Oakland Raiders.
Modern pentathlon
The U.S. Olympic team in the modern pentathlon is all Colorado.
What to know: The pentathlon features five sports: pistol shooting, epee fencing, 200-meter freestyle swimming, show jumping, and a 3,200-meter cross-country run. Contested since 1912, it is designed to showcase the skills of a 19th-century cavalry soldier.
Meet the athletes: The U.S. is sending one man and one woman and both are Army sergeants stationed at Fort Carson in Colorado Springs.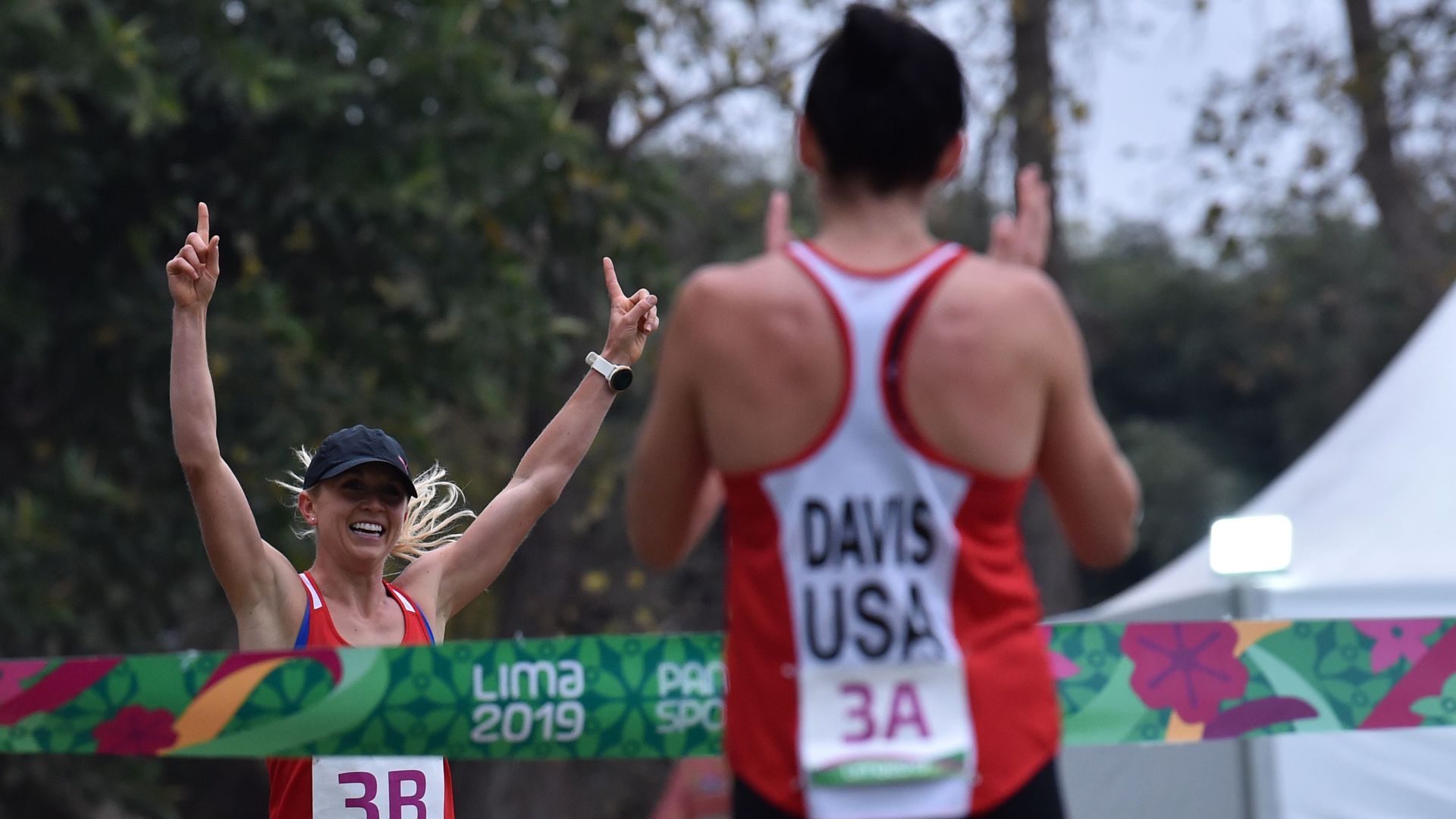 Samantha Schultz: Better known as Sammy, the 29-year-old from Littleton attended Chatfield Senior High School. She is a seven-time national pentathlon champion making her Olympic debut in the Tokyo Games.
Schultz joined the Army, and its World Class Athlete Program, in 2017.
She won a gold medal in pentathlon relay at the 2019 Pan American Games and a silver in the individual competition.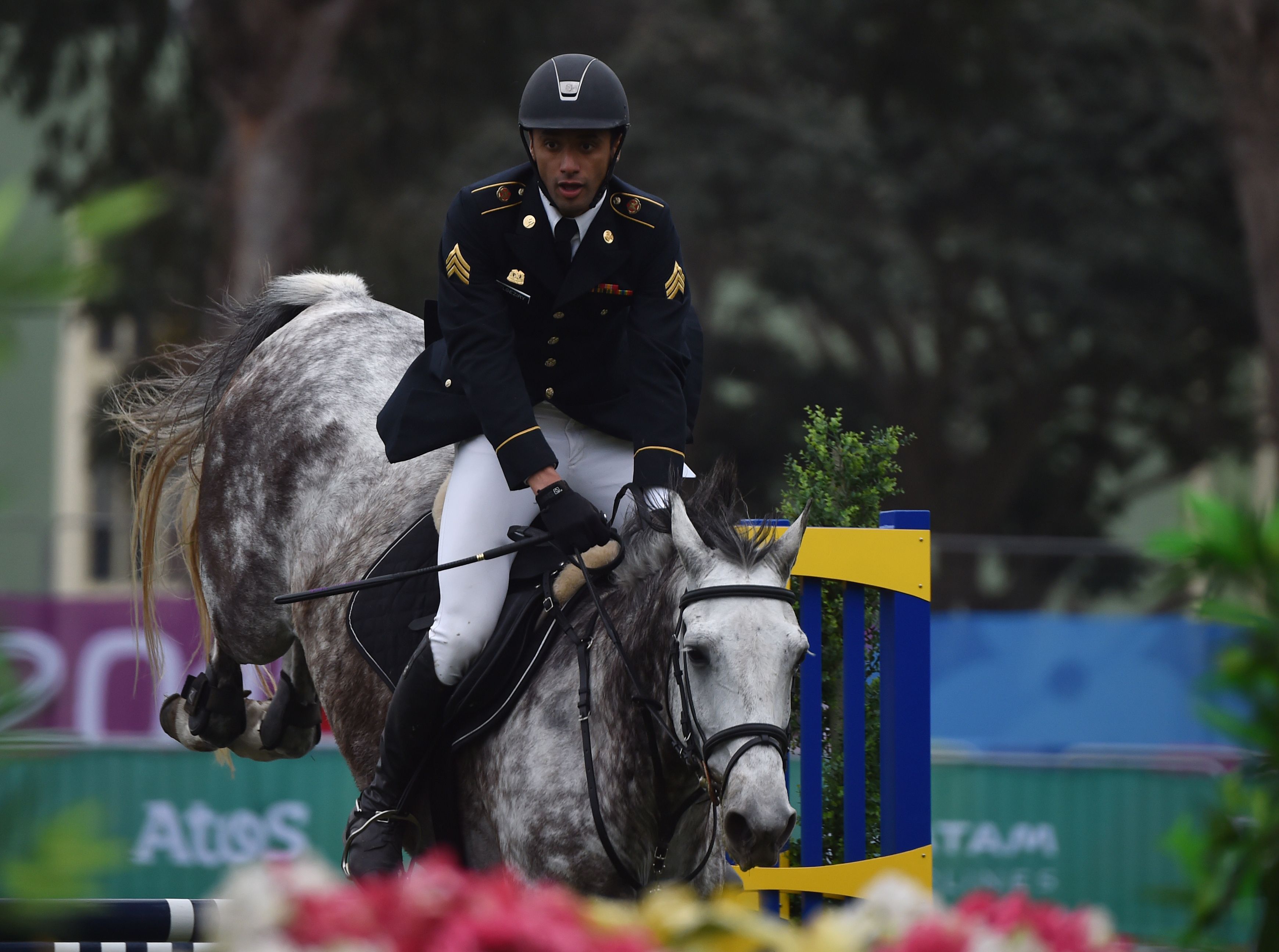 Amro ElGeziry: The 34-year-old is competing in his first Olympics for Team USA, but competed in the three prior games for his native Egypt. He became a citizen in 2017.
He is the reigning men's national champion.
His wife is Isabella Isaksen, also a soldier-athlete, who competed for the U.S. in 2016, and his two brothers have competed in the Olympics for Egypt.
Women's rowing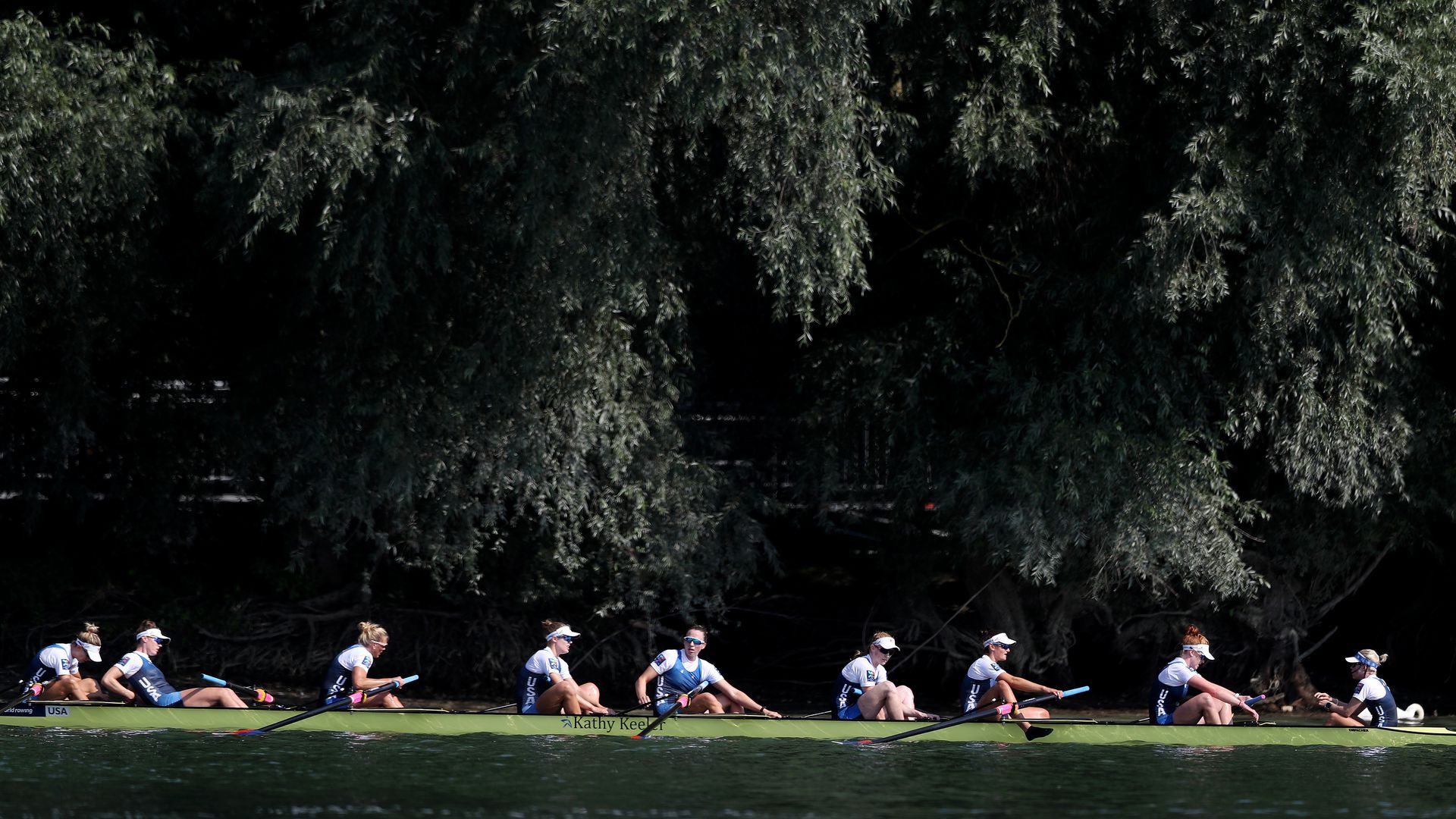 The women's eight rowing team is feeling the pressure.
State of play: The U.S. team, one of the most decorated in sports, is vying for its fourth consecutive gold medal, which would set a new Olympic record.
Jessica Thoennes of Highland Ranch is one of seven first-time Olympians in the boat.
Meet the athletes: Thoennes, a Mountain Vista High School grad, walked on to the esteemed University of Washington rowing team — her first competition experience in the sport.
In the women's four, Evergreen's Kendall Chase is rowing for a medal.
What to know: The women's four is back at the Olympics for the first time since 1992, the only other time it was competed at the Games. The U.S. took home silver that year.
The 26-year-old Chase attended Mullen High School and rowed for the medal-winning University of California team. She earned honors as a Colorado sportswoman of the year in 2015 and 2016.
For every regatta, she travels with her good luck charm: a stuffed Timon from "The Lion King," who wears a USA jersey.
Shooting sports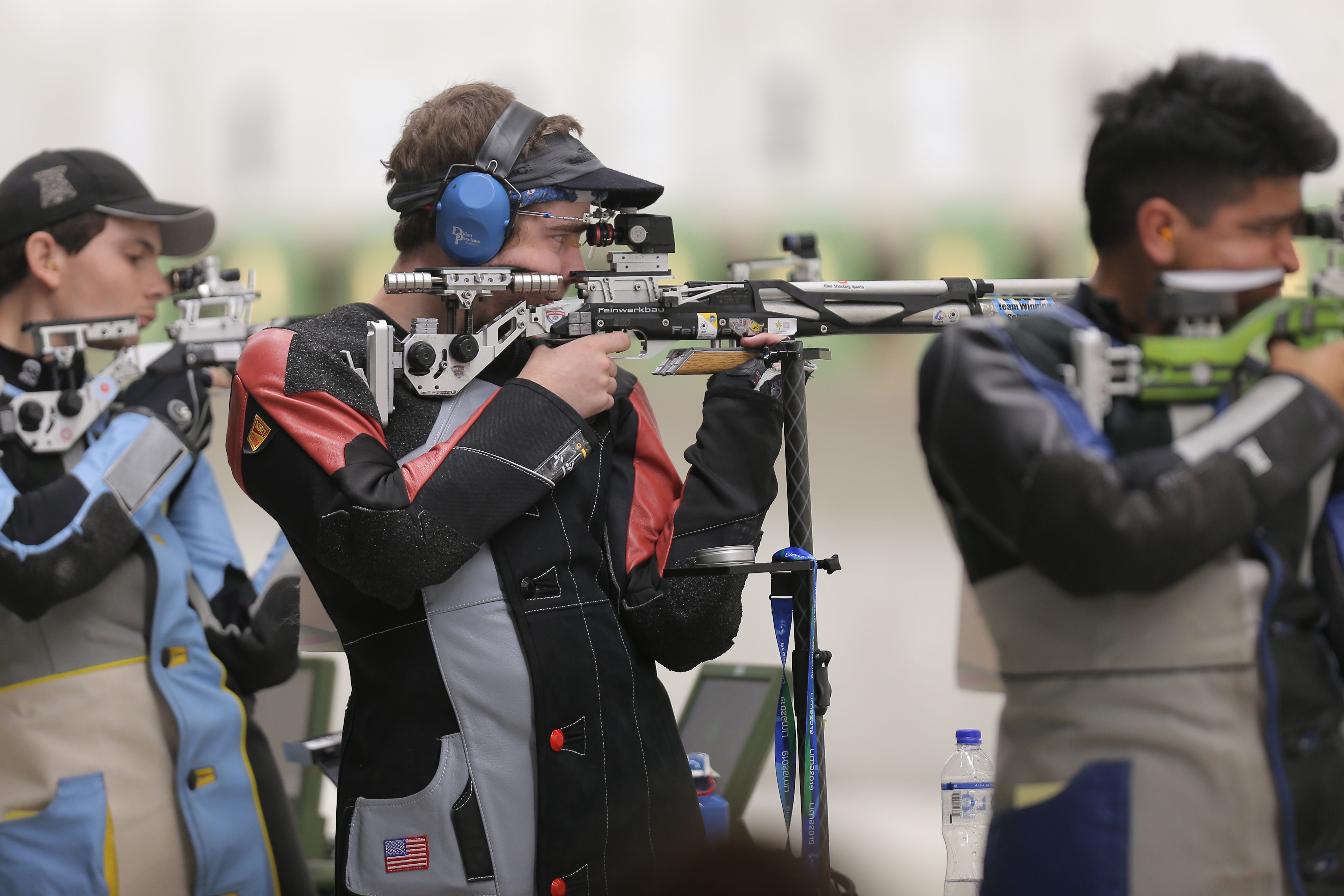 To qualify for the Tokyo Olympics, Lucas Kozeniesky tied the world record in the air rifle competition. Now, he's setting his sights on a new mark.
"Men's air rifle has never had a medalist, we've had a finalist but never a medal, so I'm looking to conquer that this year," he told a TV station in Colorado Springs, where he lives.
What to know: The competitors stand 10 meters from a target with 10 rings. The center is 0.5 millimeters — smaller than a pencil tip.
In the first round, they fire 60 shots within 75 minutes.
The finals round is up to 24 shots, first in a series and then on command.
Meet the team: The men's team is Kozeniesky and Will Shaner, a Colorado Springs native.
Kozeniesky, 26, competed in the 2016 Games and finished 21st. He is a three-time national champion and enters the Olympics with gold medals in the individual and team events from the 2021 World Cup shooting competition.
Shaner, 20, shares the 2021 World Cup team medal and is an All-American college shooter at the University of Kentucky. He started at age 9 in a 4-H program in the town of Rifle and is the youngest U.S. Olympic qualifier in the sport.
Of note: Kozeniesky's company, Team Winning Solutions, trains young shooters in Colorado Springs.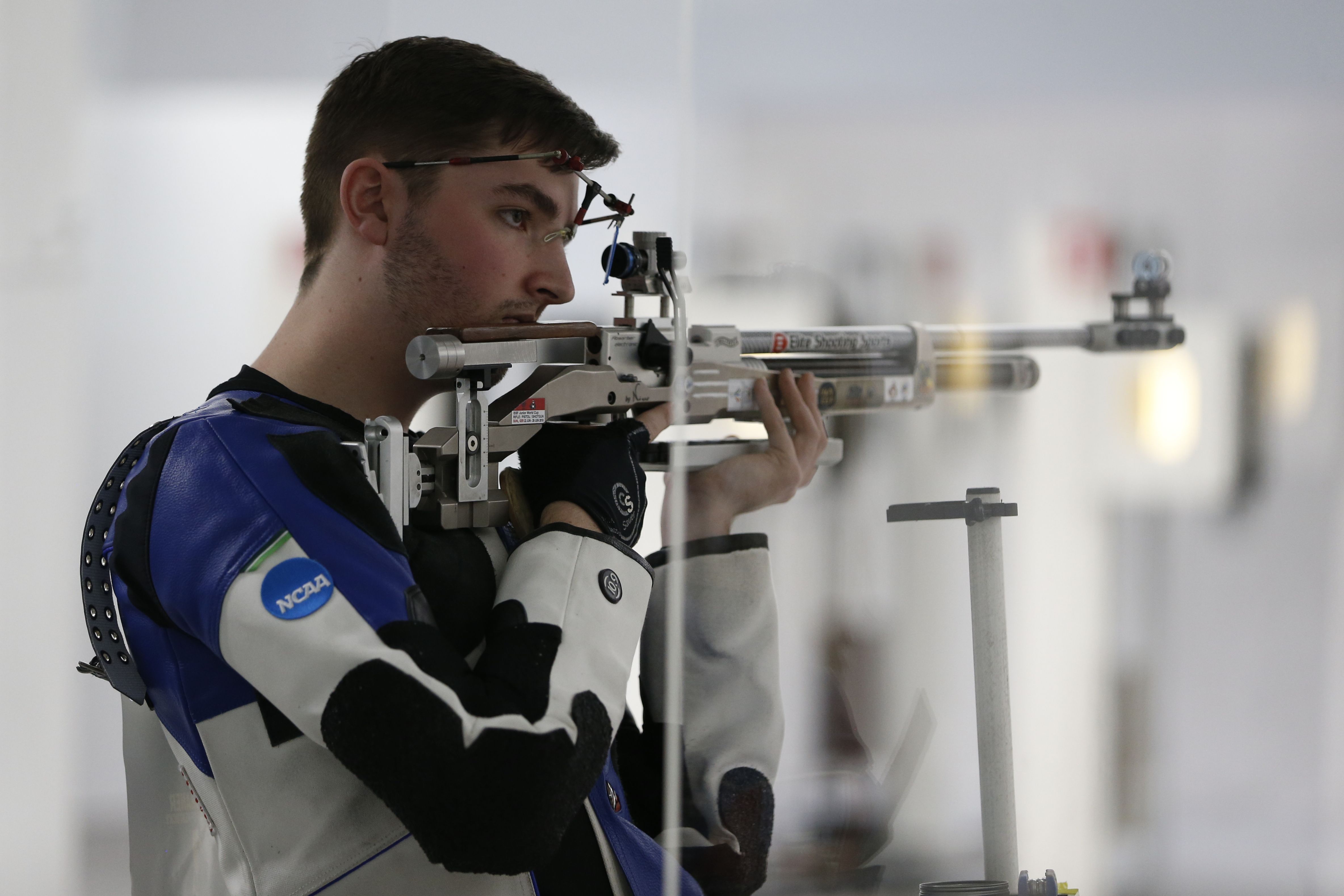 In skeet shooting, Amber English will compete for the U.S. team.
What to know: The shooters get one shot at 25 clay discs released from various directions and compete in multiple rounds, all subject to the weather conditions.
About her: The 31-year-old Colorado Springs native is part of a shooting dynasty. Her father, mother, uncle and aunt all competed at the top ranks.
Her father, who served as president of USA Shooting and director of the Olympic Training Center in Colorado Springs, died unexpectedly in 2016.
This is her first Olympics but she is a four-time world cup winner.
Slalom canoe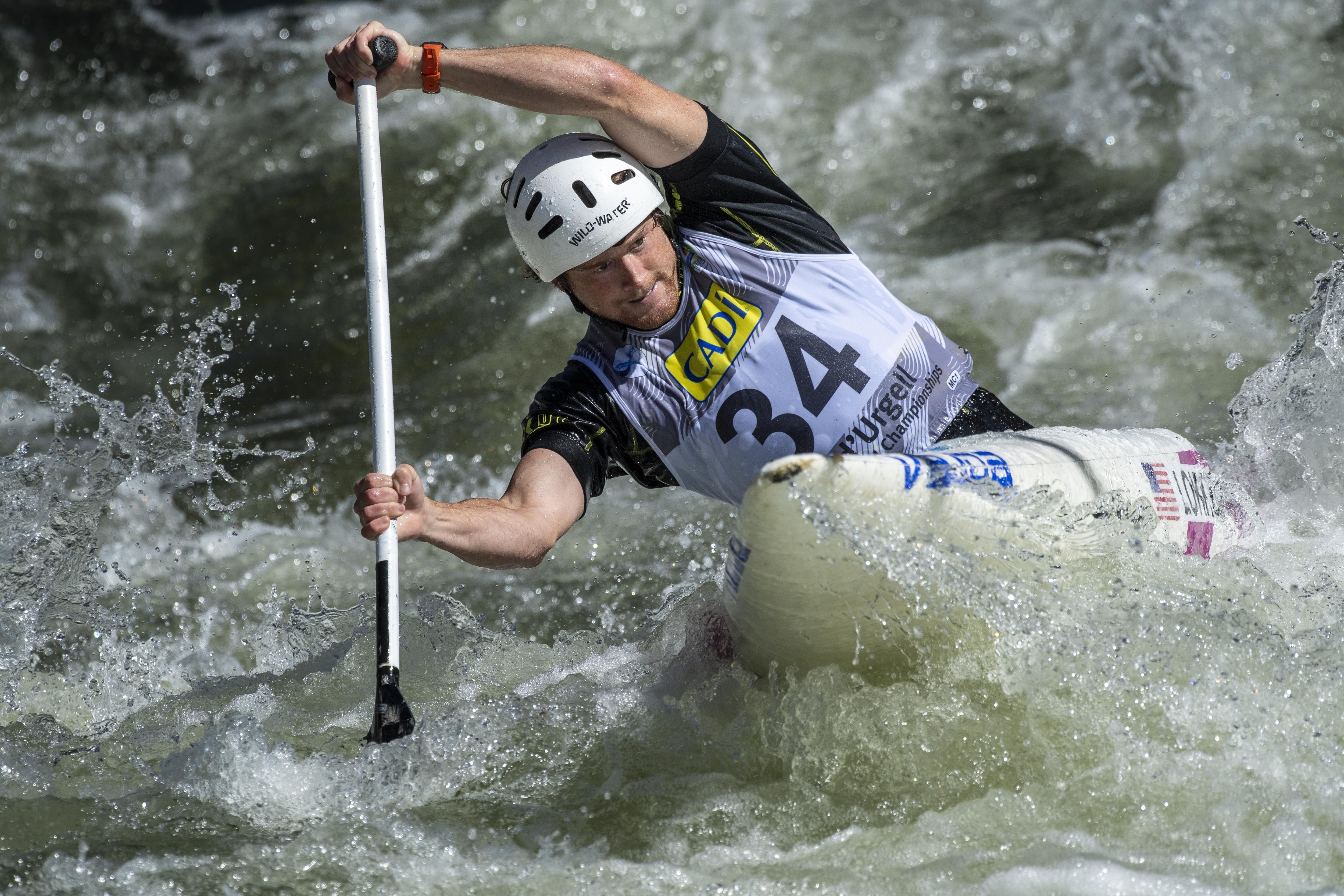 Durango native Zachary Lokken — known as "Bug" — is representing Team USA in the men's slalom canoe.
What to know: Once called whitewater slalom, the race involves paddlers navigating 18-24 gates hanging over the water. The fastest time wins and penalties are assessed for touching or missing gates.
State of play: Lokken, 27, started paddling on the Animas River at age 7 and began racing three years later.
He began competing internationally at the top level in 2008 and won gold in the 2019 Pan American Games.
He lives in Charlotte now and trains full time at the U.S. National Whitewater Center.
Of note: His father and brother will be at the Games as officials for the slalom races.
Women's soccer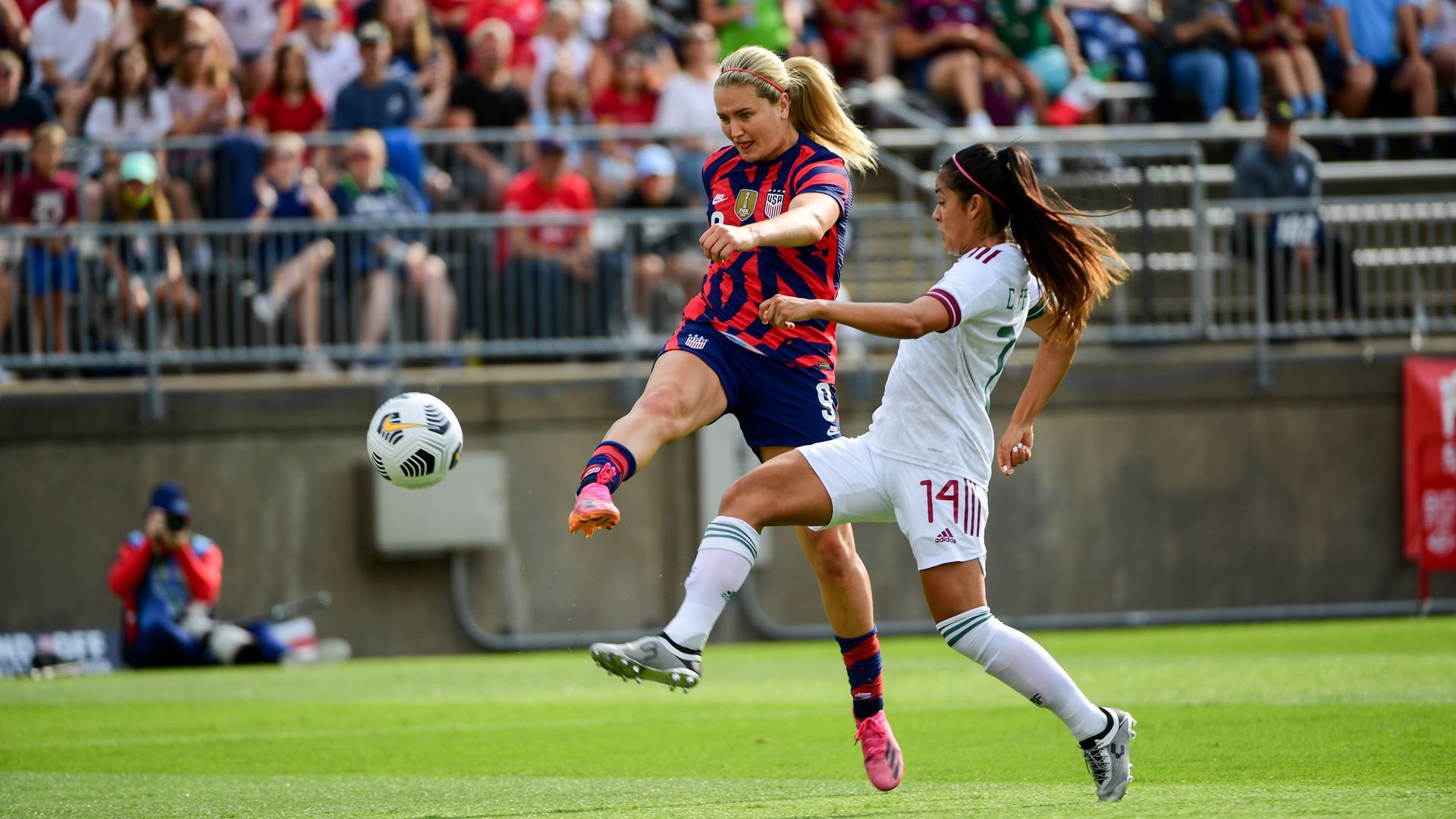 The most recognizable summer Olympic athlete from Colorado this year is probably Lindsey Horan.
What to know: The 27-year-old midfielder from Golden will play for the second time on the U.S. women's soccer squad.
Horan plays for the Portland Thorns in the National Women's Soccer League when not representing the national team.
She was the first American woman to sign a professional contract right out of high school.
Of note: Horan spent the pandemic lockdown in Denver, working out at home and seeing family. She missed a U.S. national team match in November because she tested positive for COVID-19.
Sport climbing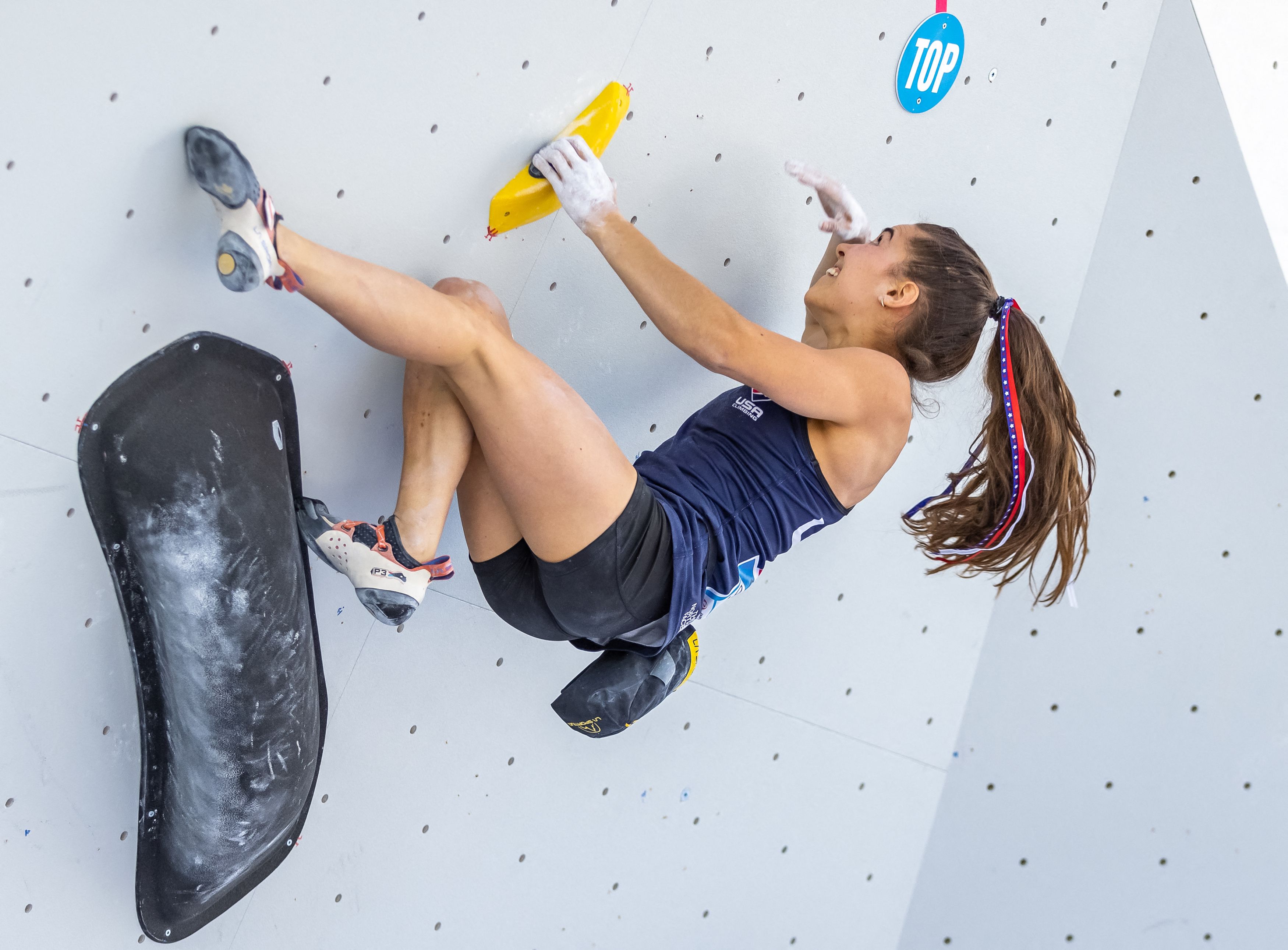 One of the new Olympic sports this summer is perfect for Colorado: sport climbing.
And not surprisingly, the state is well represented with two of the four climbers on the U.S. team: Boulder's Brooke Raboutou and Broomfield's Colin Duffy.
What to know: The competitors will tackle three disciplines: bouldering, lead and speed for a combined score.
In bouldering, climbers will attempt to finish as many routes (known as problems) as they can on a 16-foot wall in four minutes.
In lead climbing, they will climb as high as possible in six minutes on a 50-foot wall.
In speed climbing, they will race up a 50-foot wall with 31 holds. The path is mapped ahead of time and the athletes will practice at home memorizing the moves. It will take less than 10 seconds.
Worth your time: Watch Raboutou climb in this interactive graphic that explains the sport.
Meet the athletes: Raboutou and Duffy both trained at ABC Kids Climbing, an elite training gym in Boulder, and both are coached by Brooke's mother, Robyn Erbersfield-Raboutou.
Raboutou, 20, began climbing at age 2 — the product of two world champion climbing parents.
The University of San Diego student is one of the most watched athletes at the Games after being featured in Rolling Stone, Teen Vogue and on "The Ellen DeGeneres Show."
At age 11, she scaled a climb rated 5.14b — the youngest person in the world to do so — and starred in a popular series on YouTube.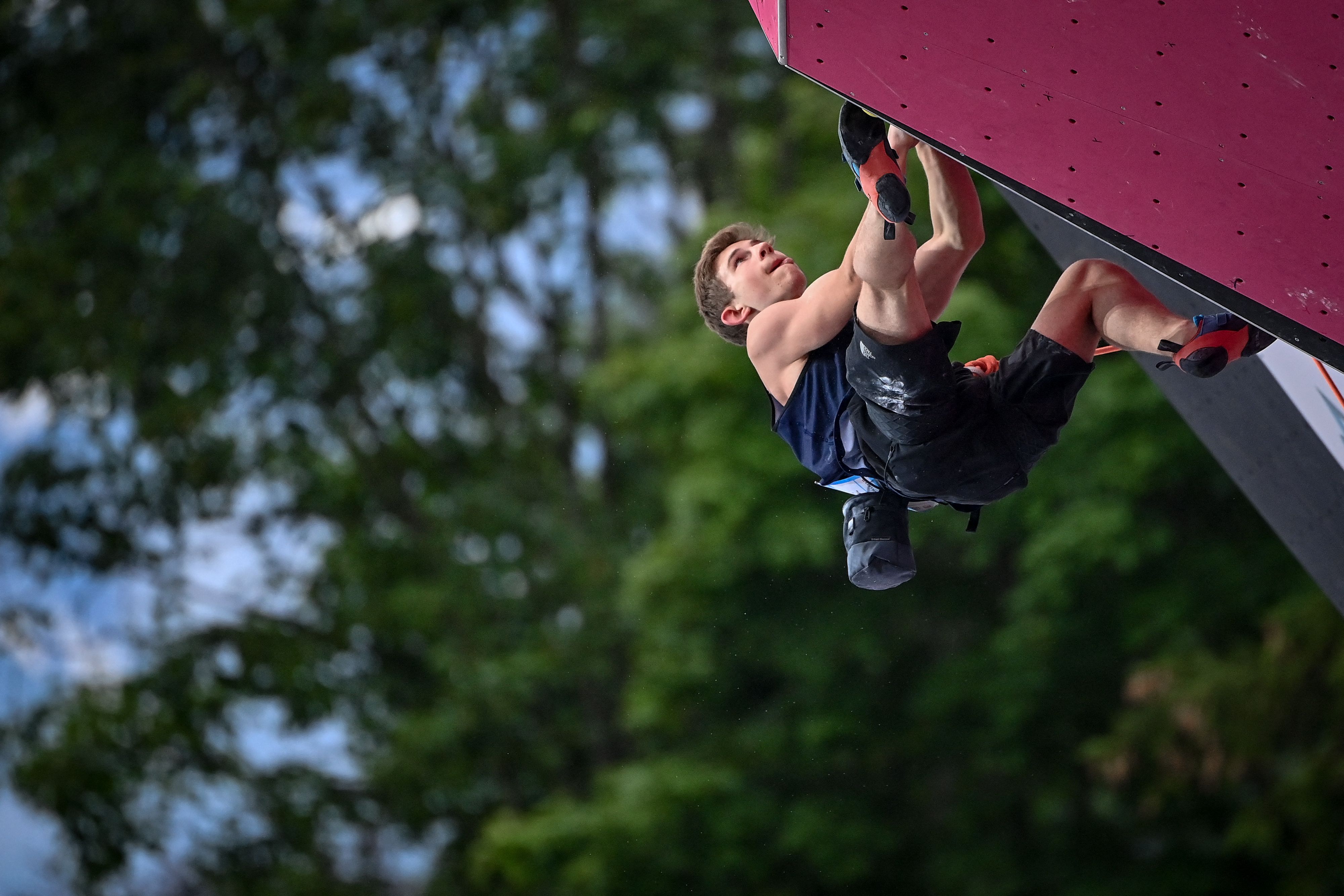 Duffy, 17, is the youngest climber in the Games and began climbing as a child.
He won the Pan-American Championships in 2020 to qualify. It was his first adult competition.
In youth competitions, he finished at or near the top for three years in a row starting in 2017.
He is passionate about rescuing animals. His dog is named Lucky and his cat is Sparky.
Taekwondo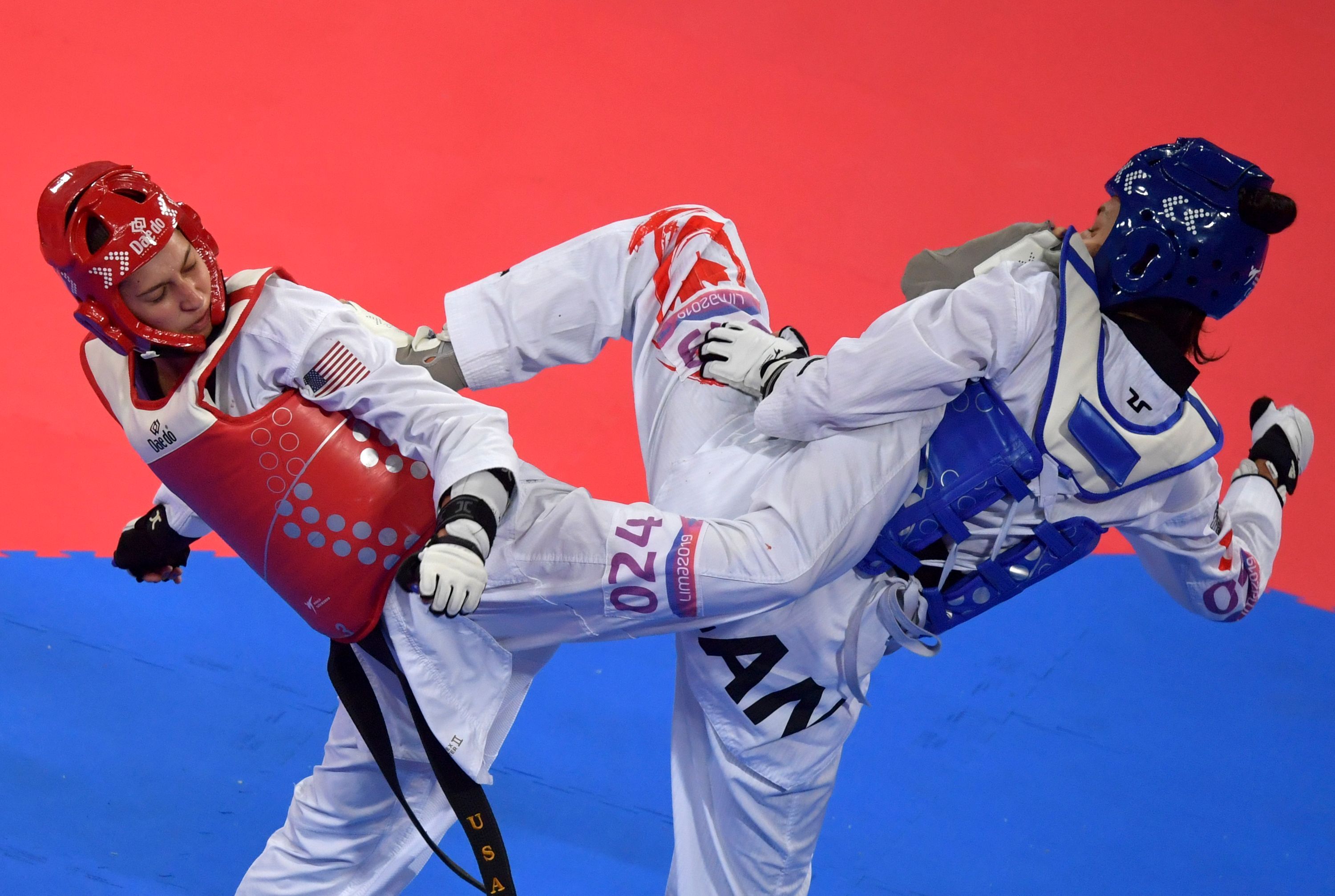 Anastasija Zolotic will kick your butt. And she's only 18.
The rising star is one of two U.S. Olympic competitors in taekwondo.
What to know: U.S. athletes have medaled in the martial arts competition at every Games since the sport was added in 2000.
About her: The Florida native moved with her family to Colorado Springs just before age 17 to train for the Tokyo Games.
Zolotic is tall (5-foot-11) and aggressive in her style. She's ranked seventh in the world in the 57kg (126 pound) class.
She started in an after-school program and became the youngest athlete to ever medal at a senior grand prix event. She also took home a junior world title.
Her superstitions: A lucky belt and blue-painted nails.
Track and field (discus throw)
Two Colorado athletes will compete in the discus throw as the U.S. team is poised to win medals in the field events.
What to know: The discus throw dates back to ancient Olympic competitions.
The men throw a 2kg disc (4.4 pound) and the women a 1kg (2.2 pound) disc from a throwing circle.
Each gets eight attempts to throw it as far as possible.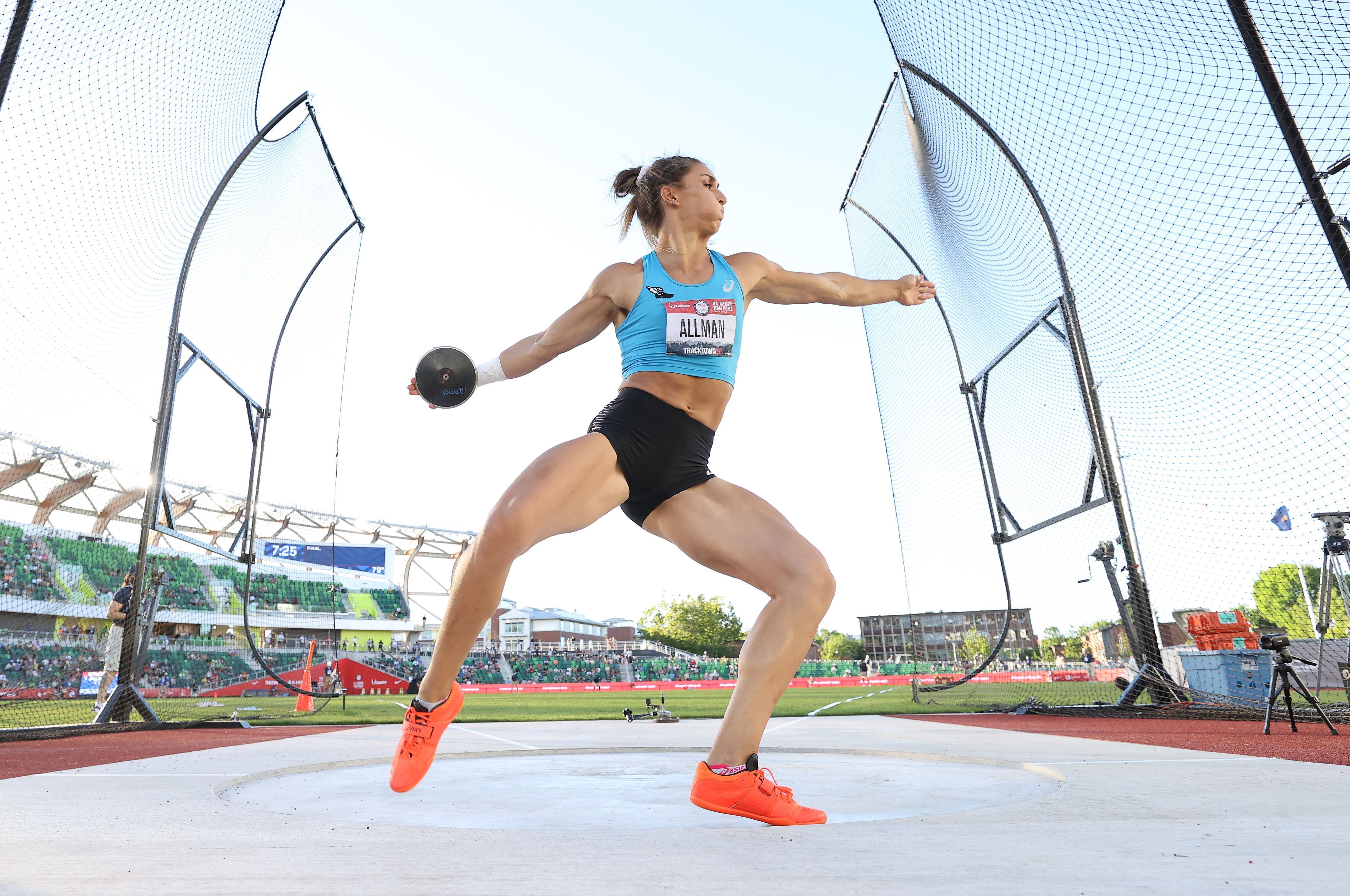 Meet the athletes: Valarie Allman, 26, holds the American record in discus and is expected to medal in Tokyo.
She grew up in Pennsylvania but considers Longmont home.
Allman enters her first Olympics with a gold medal in the 2019 world championships and the second best throw in the world this year.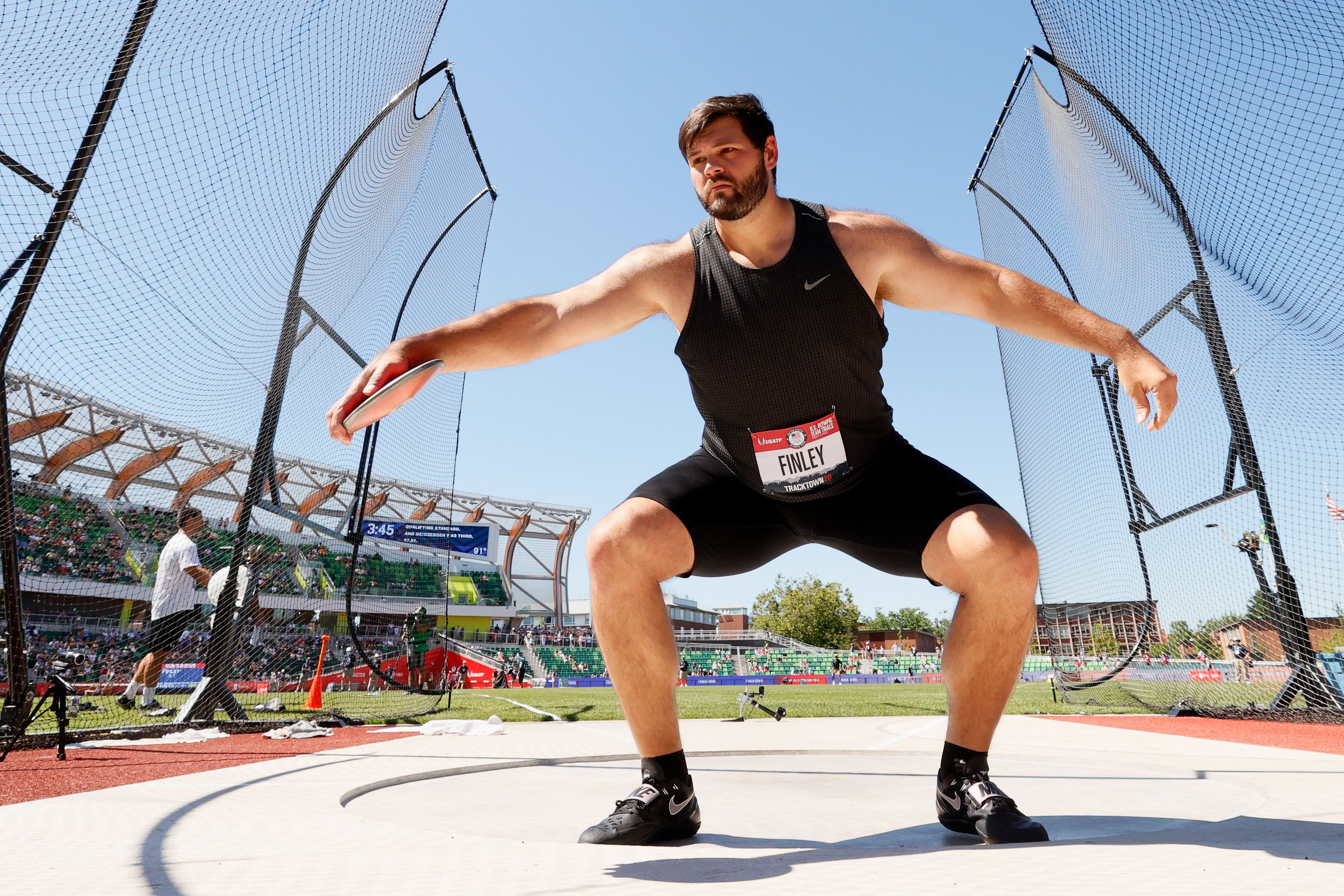 On the men's side, Mason Finley, 30, returns to the Olympics after an 11th place finish in 2016.
Finley attended high school in Buena Vista, where he was crowned a national track and field athlete of the year. He's the top U.S. qualifier.
His father threw discus for the University of Wyoming.
Track and field (running)
Three Colorado athletes who will compete at the Olympics can run — a long ways, and fast.
What to know: The long-distance events include ones we're familiar with: 5,000-meter is a 5K or 3.1 miles, and 10,000-meter is the 10K or 6.2 miles.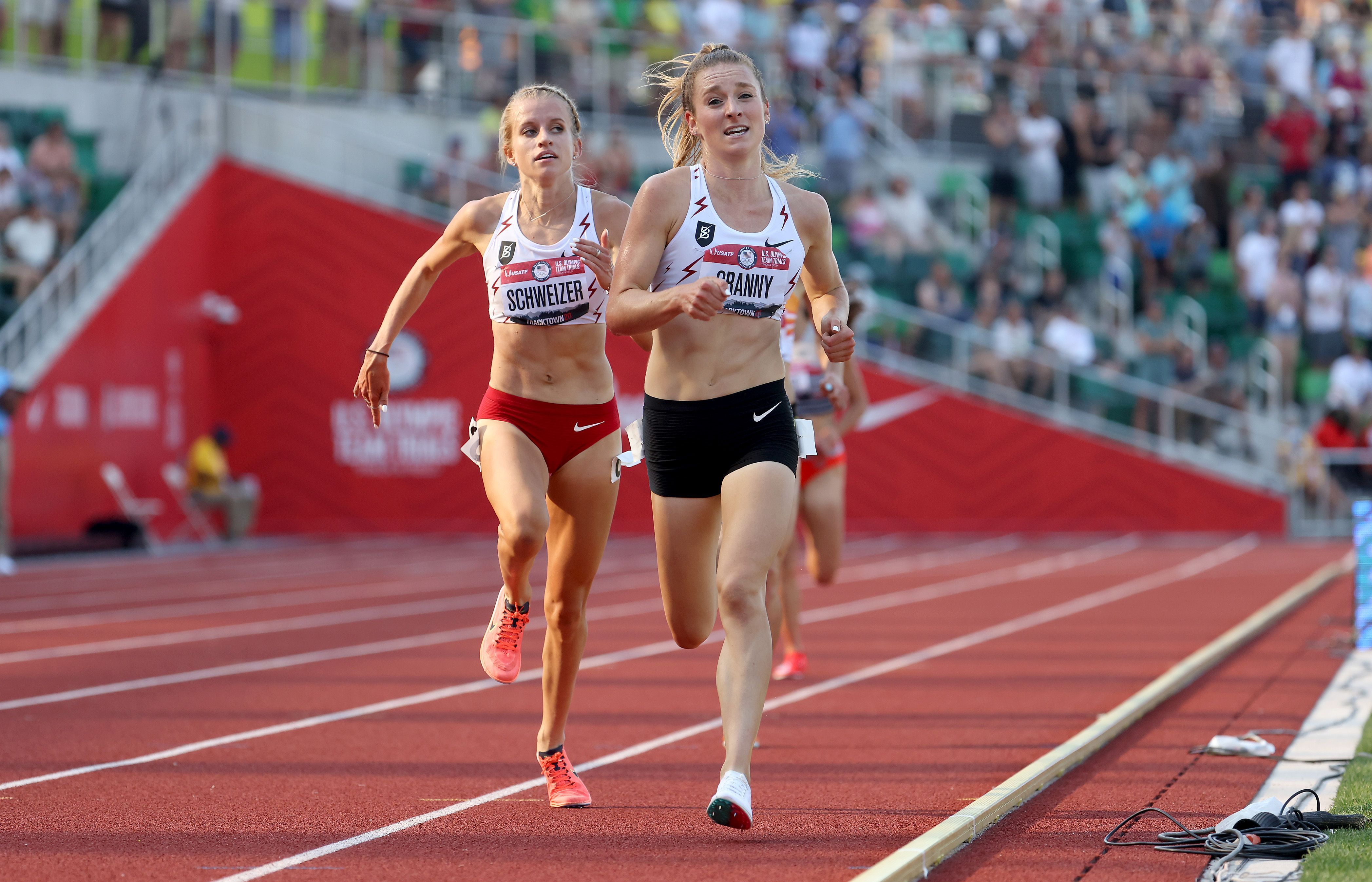 Meet the athletes: Elise Cranny, a Niwot High School track star, will run in the 5,000 and 10,000 for the U.S. team.
The 25-year-old is headed to her first Olympics and was a 12-time All-American at Stanford University. She runs with the Bowerman Track Club.
Cranny finished at the top in the U.S. trials for the 5,000.
Her parents were competitive triathletes.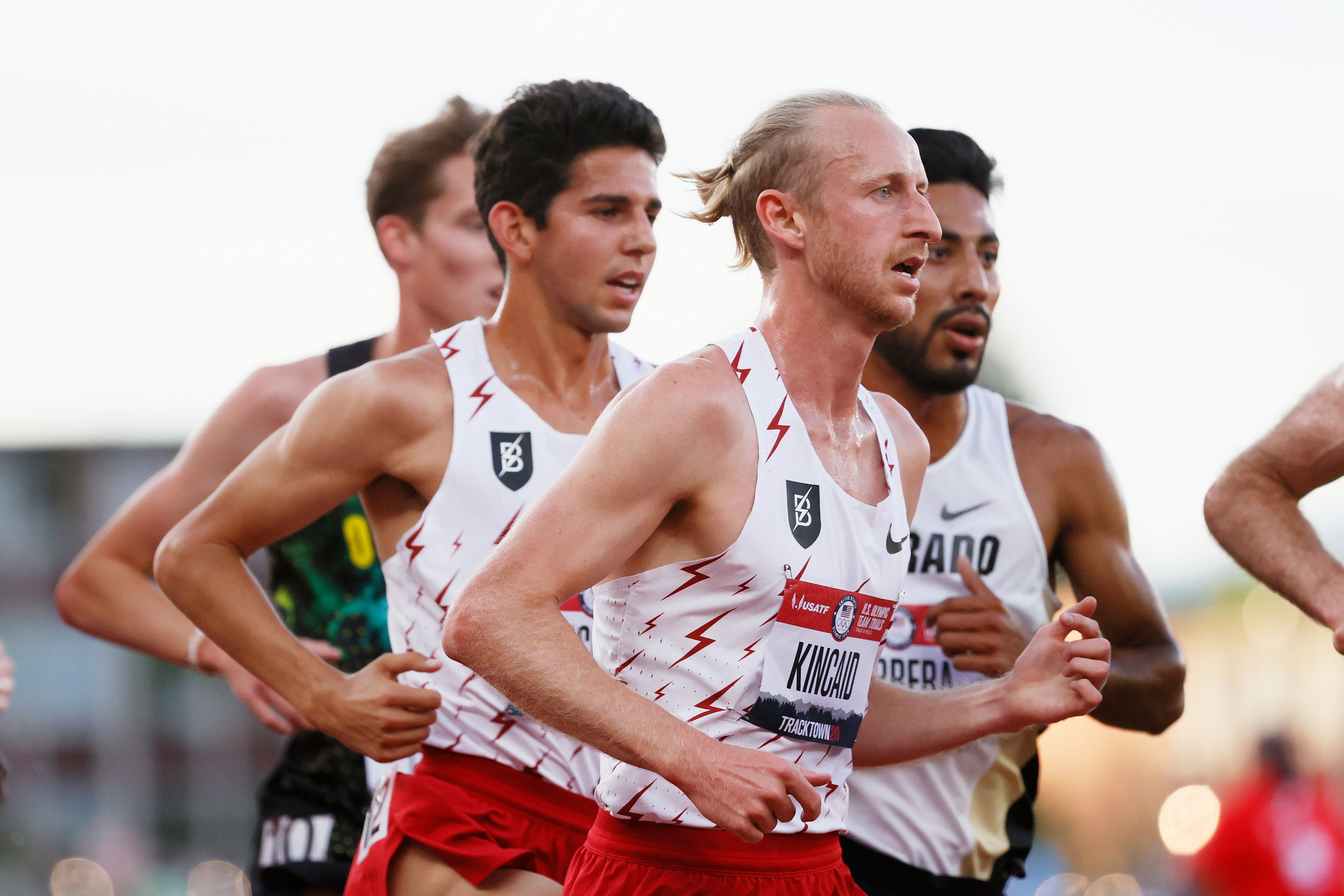 William "Woody" Kincaid, a Littleton native, will run the 5,000 and 10,000 for the men's team.
The 28-year-old won the U.S. trials in 10,000 and placed third in 5,000.
This is the Columbine High School graduate's first Olympics. He's also a member of the Bowerman Track Club.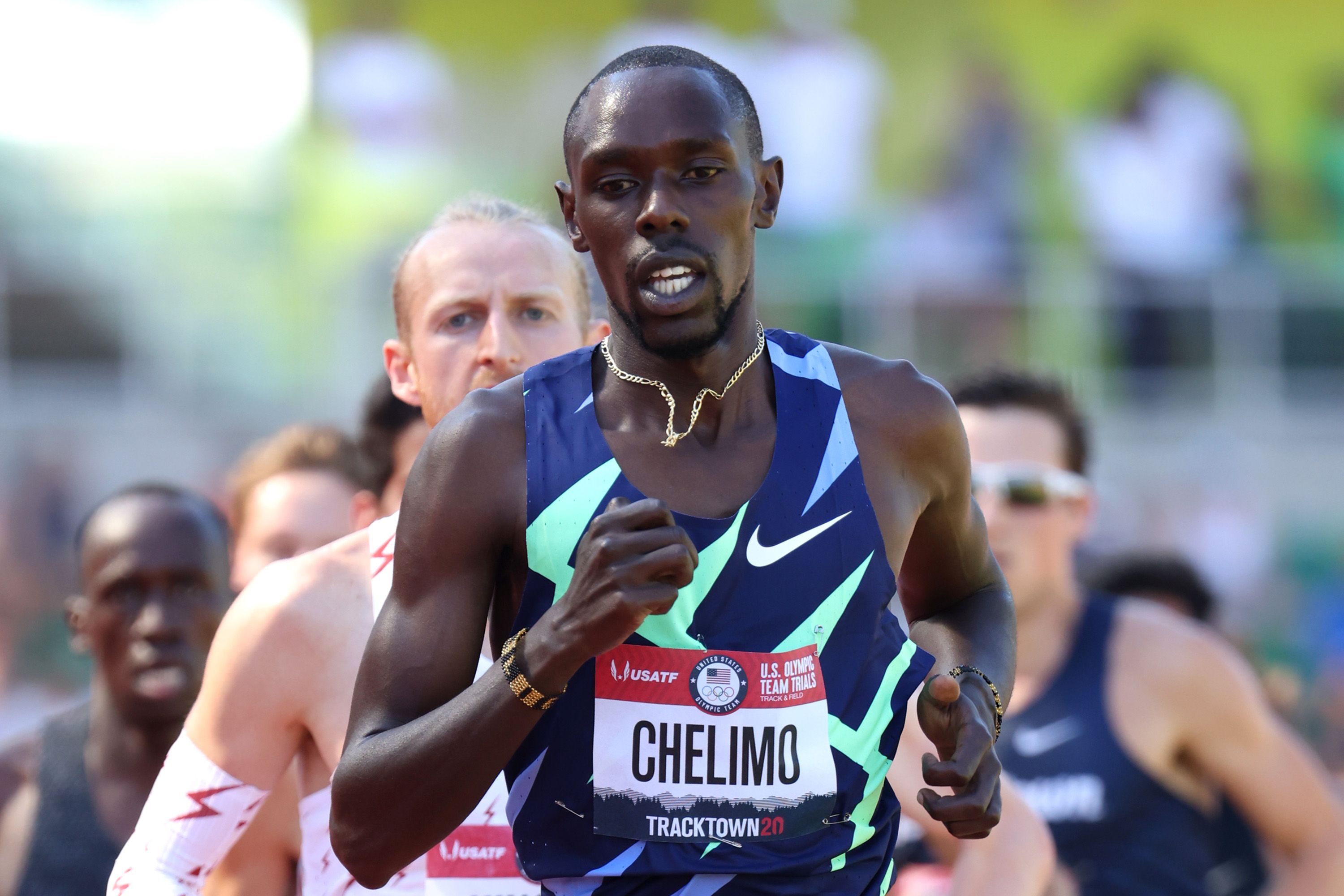 Paul Chelimo, 30, is a Kenya native who joined the Army's elite athlete program and gained U.S. citizenship.
He is the reigning Olympic silver medalist in the 5,000.
In March, his brother died unexpectedly in Colorado Springs, where Chelimo trains.
Track and field (steeplechase)
This quad of Colorado contenders can take anything life throws at them — and with record speed.
What to know: The four are competing in the 3,000-meter steeplechase, races that require runners to leap over barriers backed with small pools of water. (Yes, it's a bit strange. And very splashy.)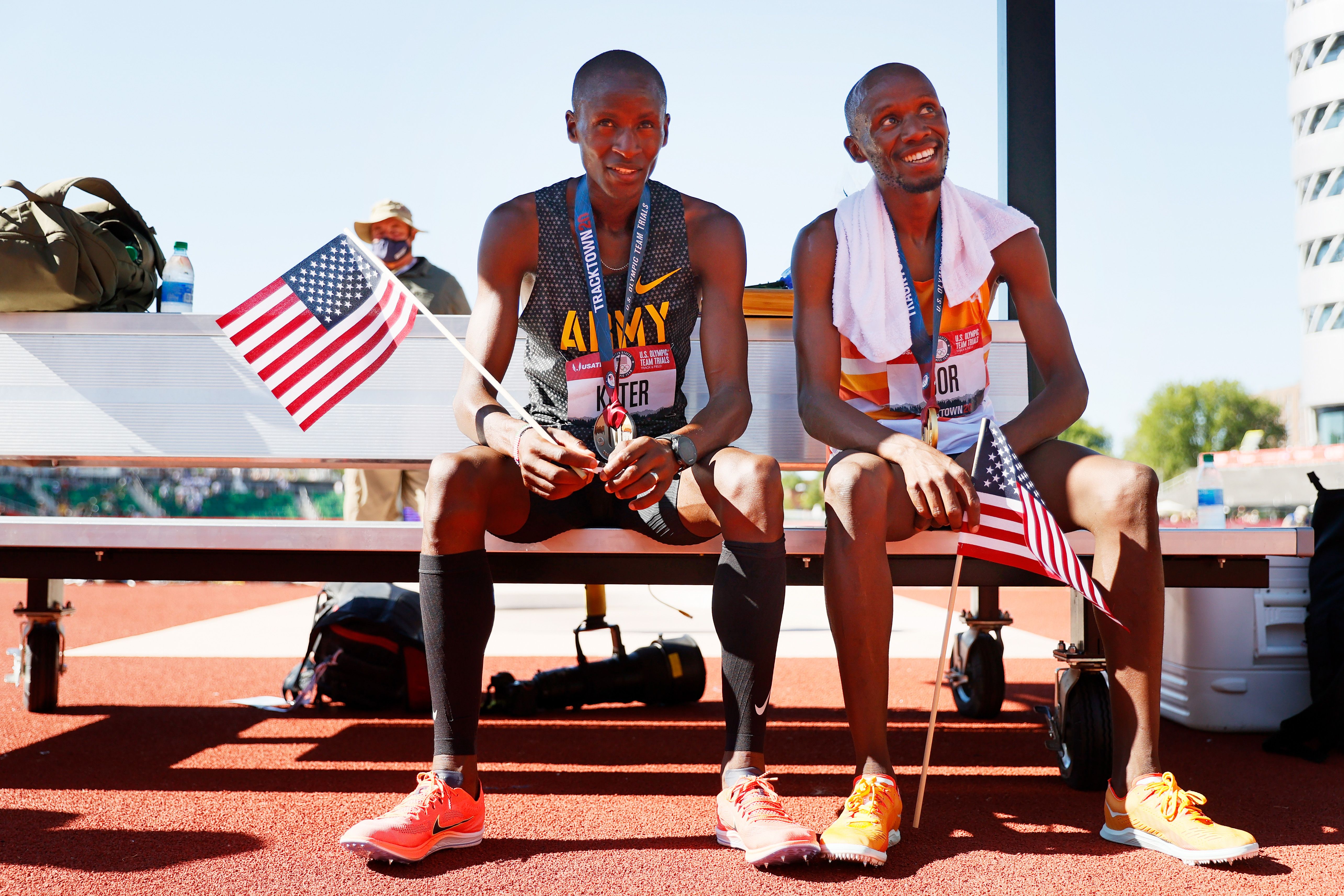 Meet the athletes: Hillary Bor, 31, is a two-time Olympian who lives in Colorado Springs. This past June, he placed first in the 3,000-meter steeplechase at the U.S. Olympic trials.
He was born in Kenya and gained American citizenship after joining the U.S. Army. He is currently a sergeant serving at Fort Carson.
Benard Keter, 29, is a soldier-athlete with the U.S. Army World Class Athlete Program and a resident of Colorado Springs.
He is originally from a small village in Kenya, where he was scouted to attend Texas Tech University on a track and field scholarship.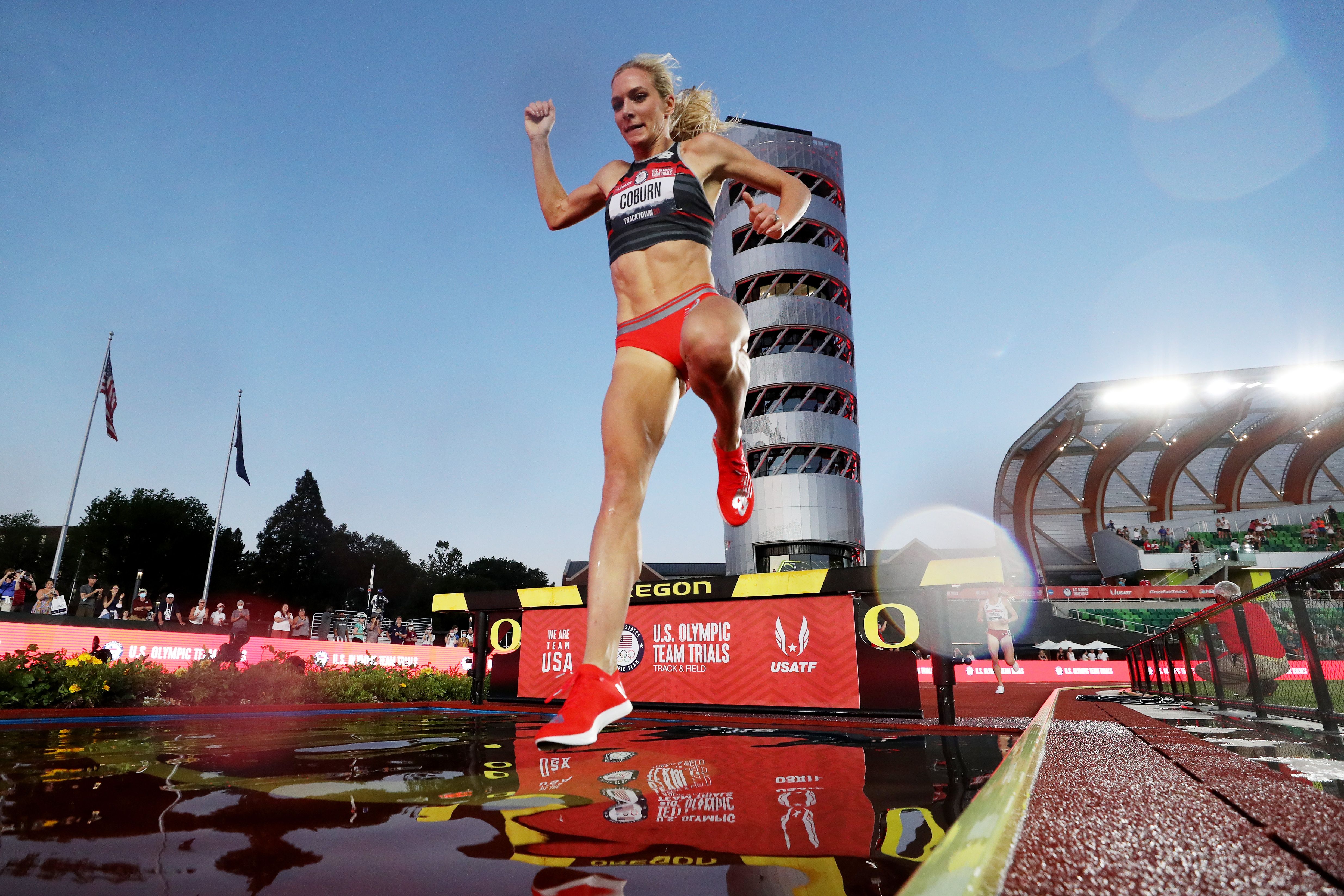 Emma Coburn, 30, of Crested Butte, is a three-time Olympian known for being the youngest U.S. runner to compete at the 2012 Olympic Games, when she was 21.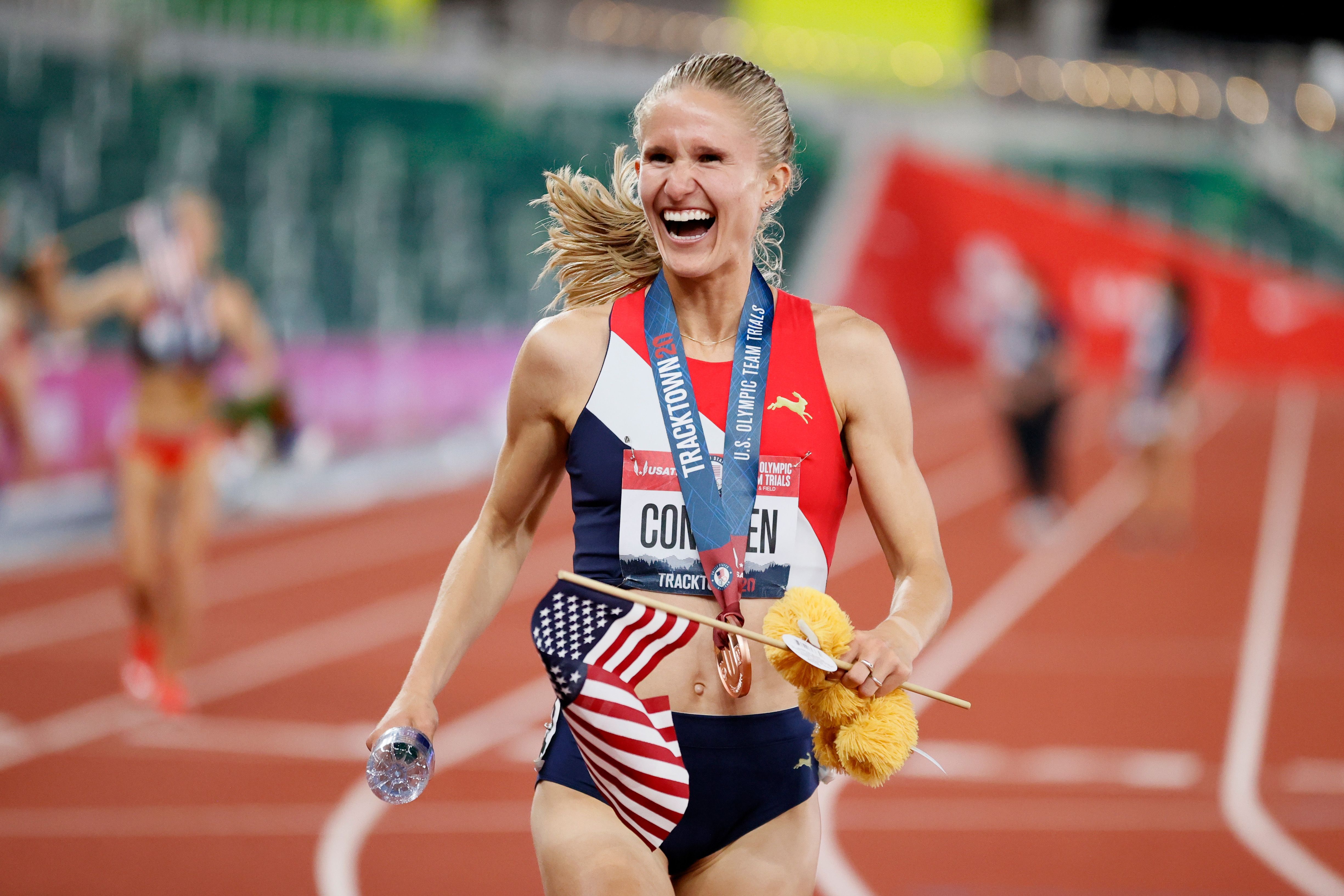 Val Constien, 25, is an Edwards native and one-time Olympian who works as a customer support agent with a running tech company.
The University of Colorado Boulder graduate is not only an athlete, but also a talented musician who plays the piano and French horn.
Triathlon
Colorado is sending two athletes to compete on the U.S. Olympic triathlon team.
What to know: The competition includes women's and men's individual triathlons along with a triathlon mixed relay — a new race making its Olympic premiere in Tokyo.
The individual triathlon is a 1,500-meter swim, 40,000-meter bike and 10,000-meter run.
The mixed relay includes four-member teams, with two women and two men. Each athlete swims 300 meters, cycles for 8,000 meters and runs for 2,000 meters before tapping in the next teammate to continue the race.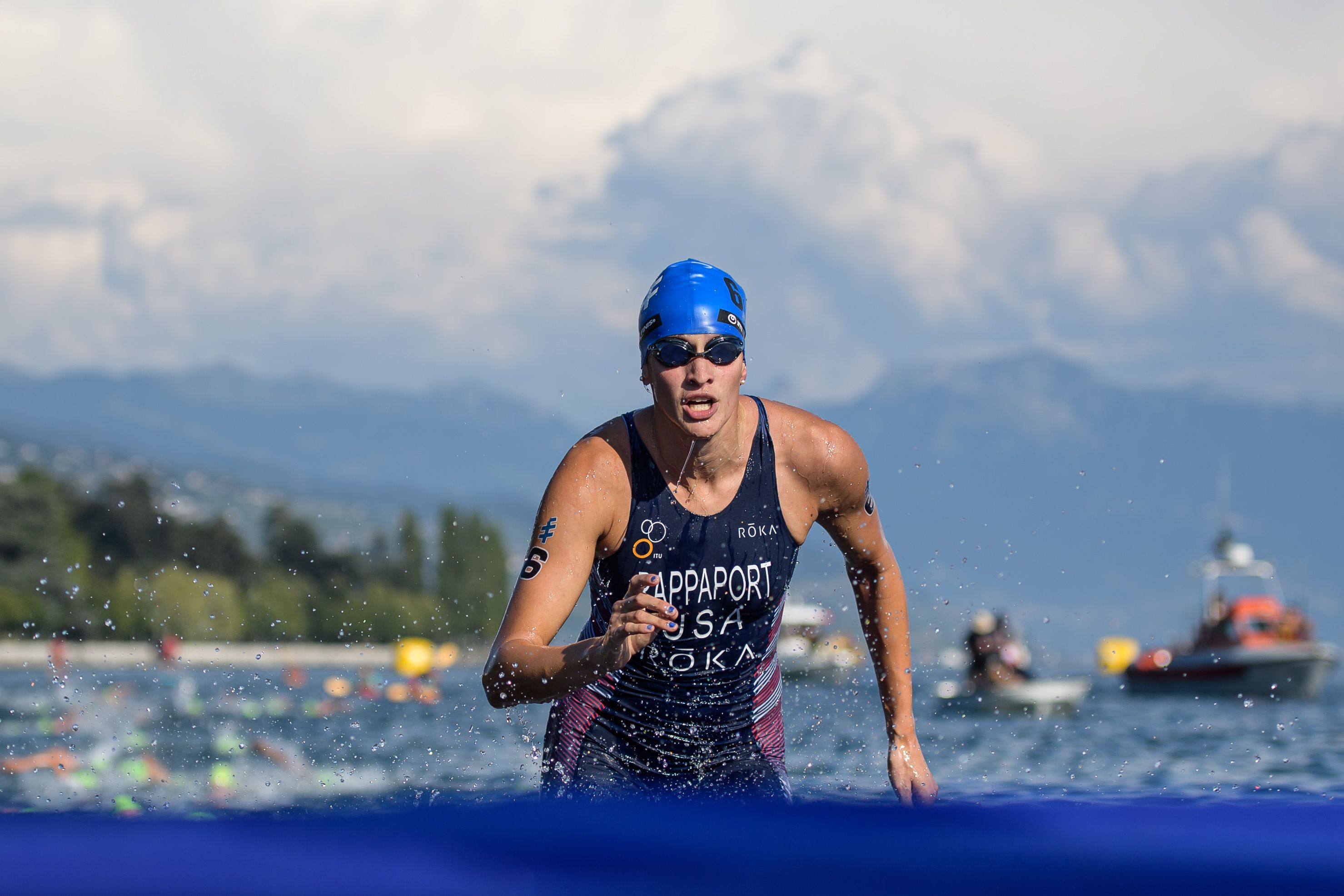 Meet the athletes: Summer Rappaport of Thornton headlines the women's U.S. National Team as the title-holder of 13 World Cup medals and five World Series medals, including one gold.
She is a graduate of Mountain Range High School in Westminster.
She turns 30 July 25, two days before she competes.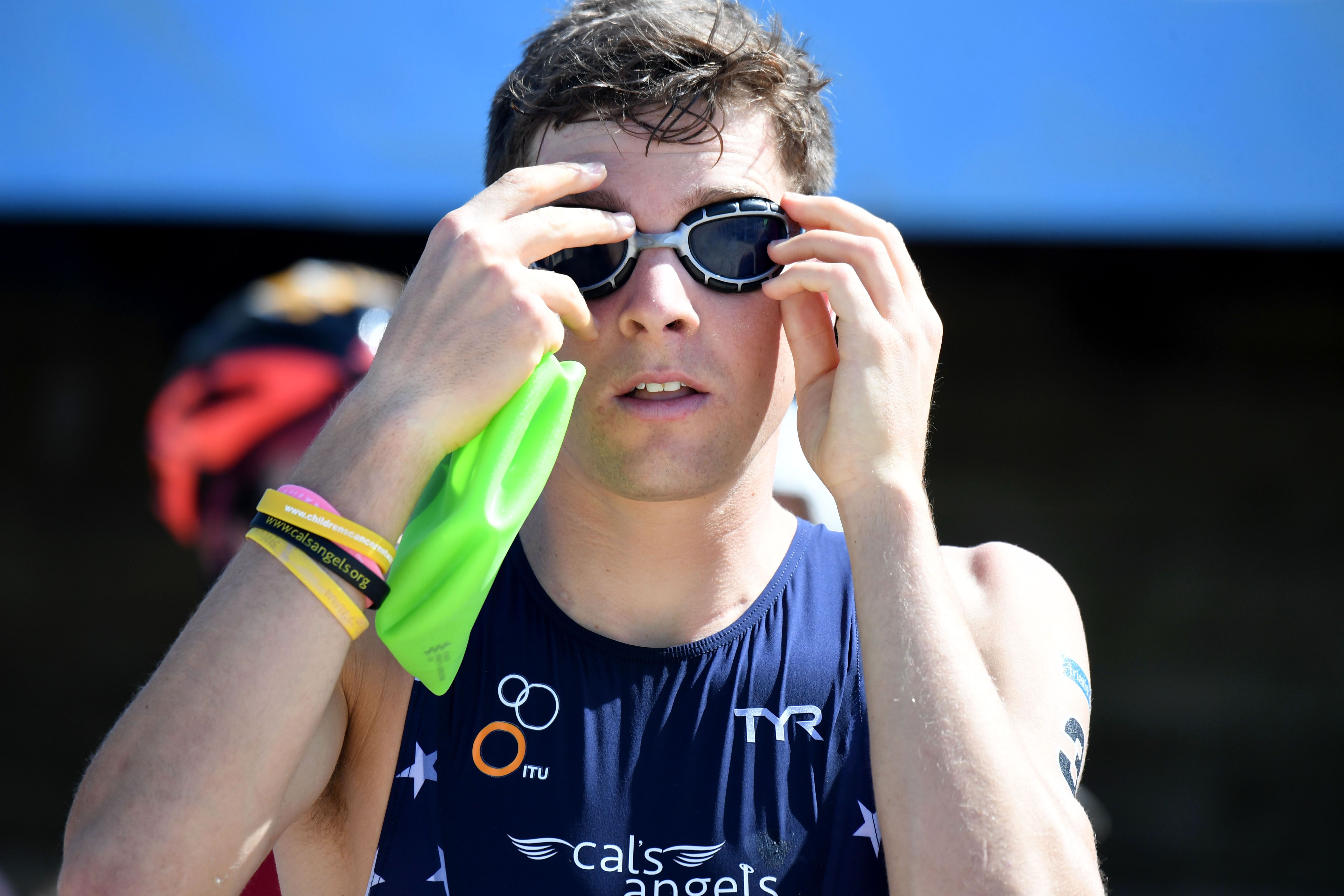 Kevin McDowell — a native of Geneva, Illinois, who calls Colorado Springs home — is a seven-time World Cup medalist and was USA Triathlon's Junior Athlete of the Year in 2009 and 2010.
The University of Colorado-Colorado Springs graduate recently celebrated 10 years cancer-free after overcoming a battle with Hodgkin's lymphoma.
He turns 29 Aug. 1.
Volleyball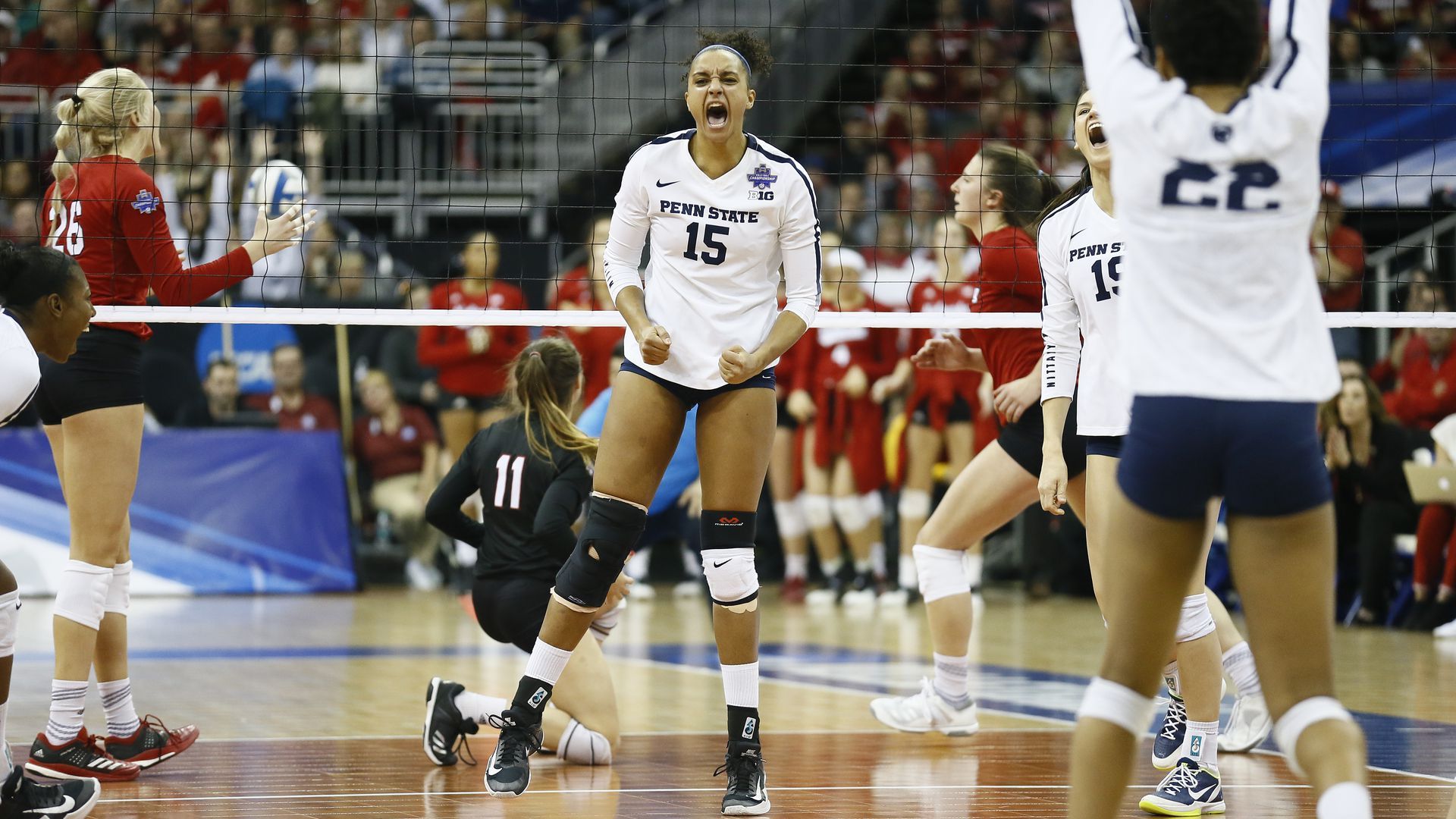 One of the first sports to play at the Summer Games in Tokyo is volleyball, and the women's team features two stars from Colorado making their Olympic debuts.
Haleigh Washington: The 25-year-old middle position player set state records at her Colorado Springs high school and led Penn State University to the 2014 NCAA championship title as a freshman.
A member of the national team since 2018, the 6-foot-3-inch Washington plays professionally in Italy.
She was named best blocker at the 2019 Volleyball Nations League, where the U.S. won gold.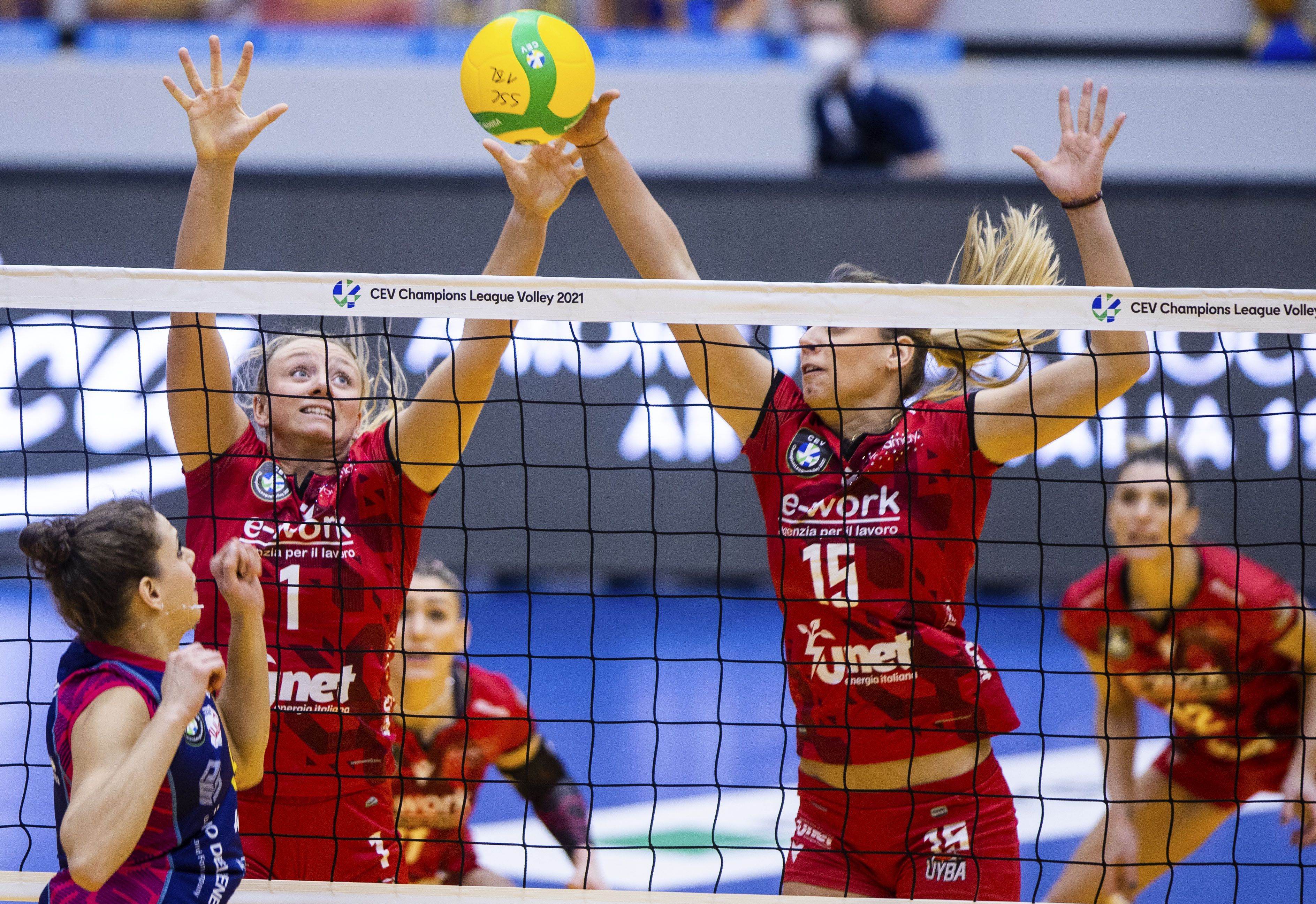 Jordyn Poulter: At 23, the 6-foot-2-inch Poulter is the youngest player on the roster. She was honored as the nation's top setter at Eaglecrest High School in Aurora and an All-American at University of Illinois.
She joined the U.S. team in 2018, the same year she began to play professionally in Italy.
In 2019, she helped the U.S. get silver at the 2019 NORCECA Continental Championship and was named best setter.
Wrestling
Colorado will send four wrestlers to the Olympics — two men and two women.
What to know: The men are both competing in the Greco-Roman discipline while the women will tackle freestyle, all in different weight classes.
The two styles are similar in scoring and format, with competitors trying to pin their opponents or score points with moves based on difficulty.
The difference in Greco-Roman wrestling is that it prohibits holding an opponent below the waist and use of the legs for offense or defense.
Of note: Greco-Roman wrestling is one of the nine original sports featured at the first Olympic Games.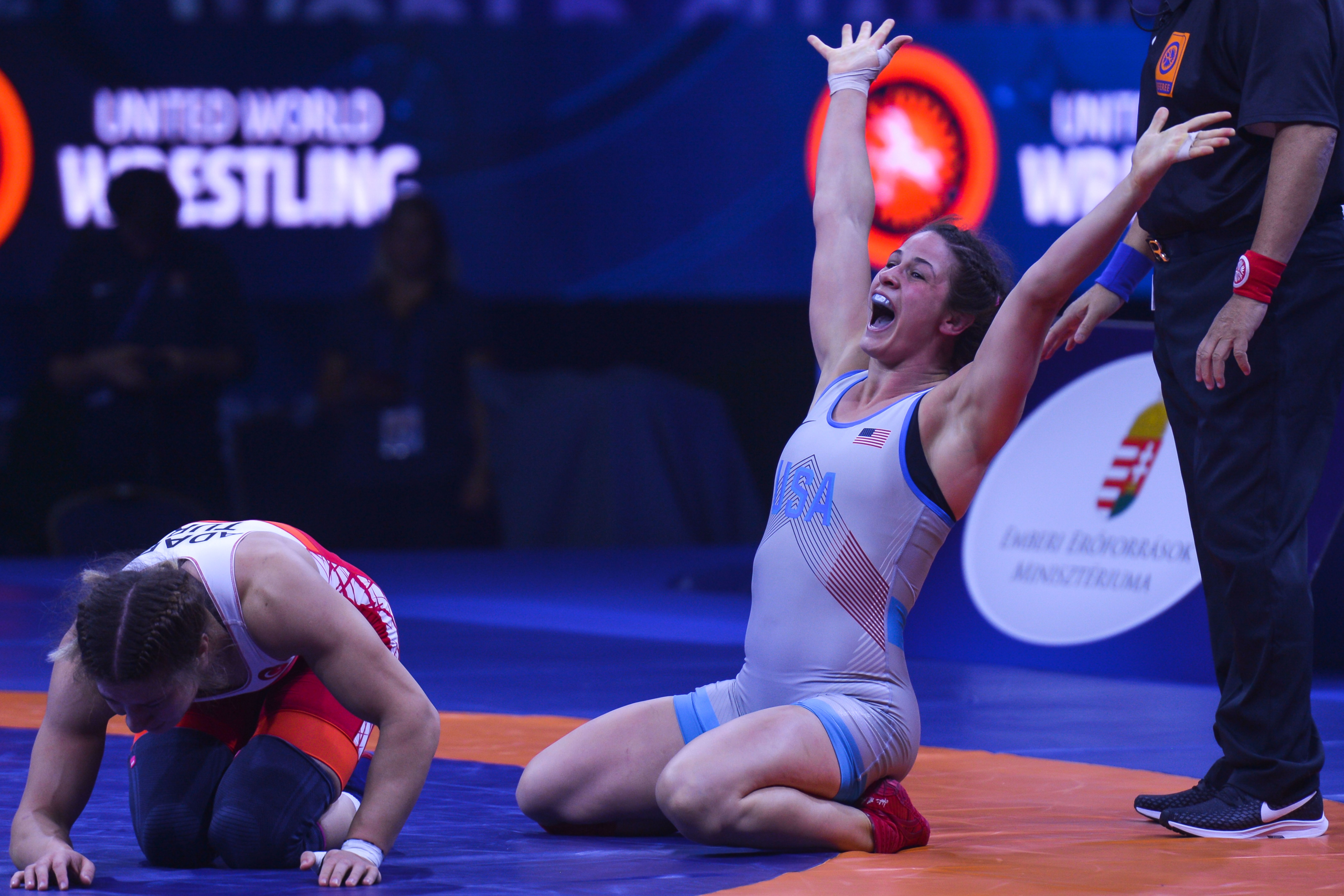 Meet the athletes: Of the four, the one to watch is Adeline Gray, a five-time world champion who finished seventh in the 2016 Games. She started wrestling at age 6.
Gray, 30, is a Denver native, Bear Creek High School graduate and trains in Colorado Springs. She will compete in the 76kg (167-pound) division.
In the 2016 Olympics, she wrestled with an injured shoulder that later required surgery.
When the pandemic postponed the Games, Gray said she delayed motherhood for one more year to compete.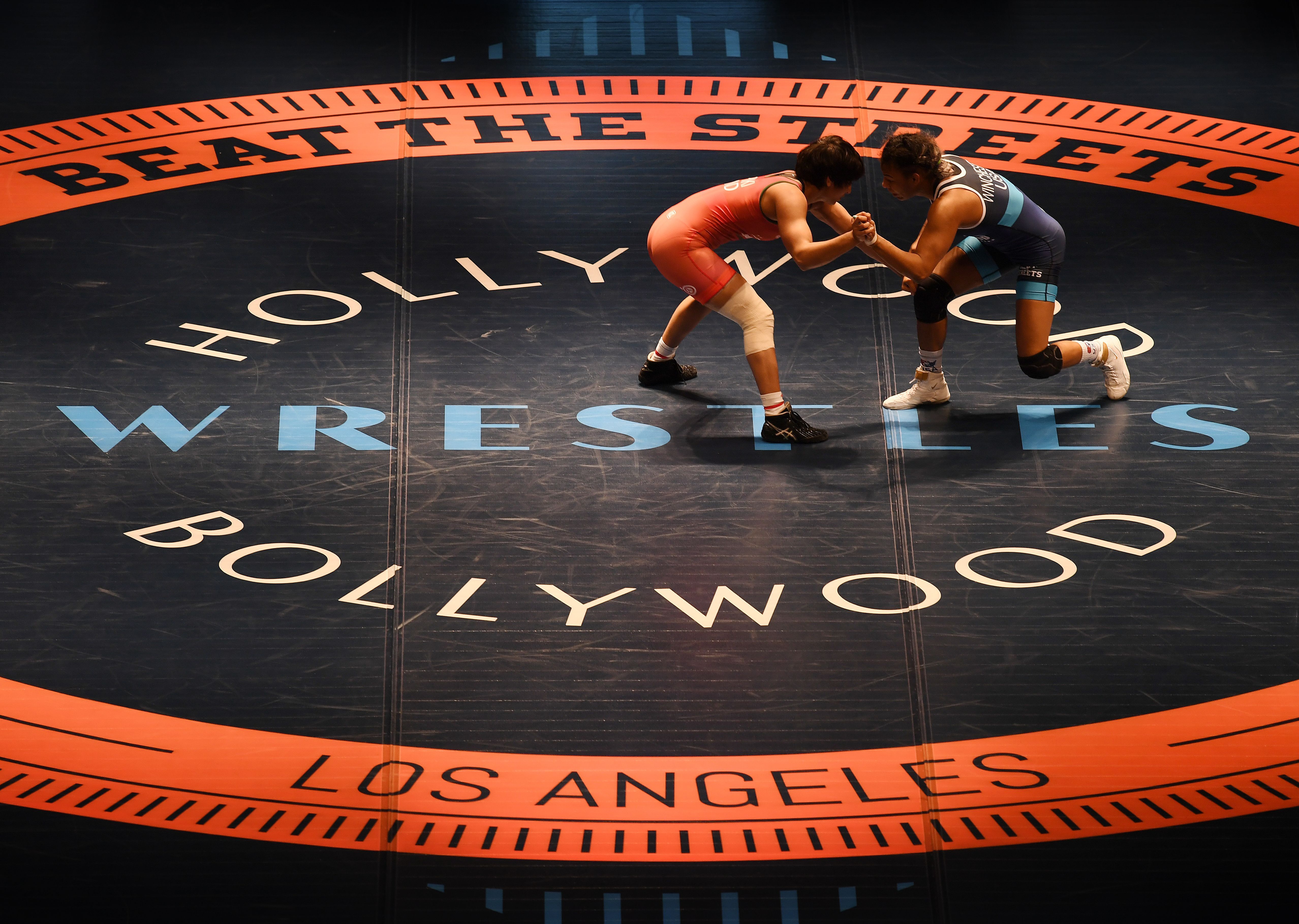 Jacarra Winchester, 28, grew up in California but moved to Colorado Springs to train. This is her Olympic debut after an injury sidelined her in 2016.
She is the 2019 world champion in the freestyle 53kg (117-pound) class.
Winchester says she was bullied as a child due to a lisp, and had to learn how to fight.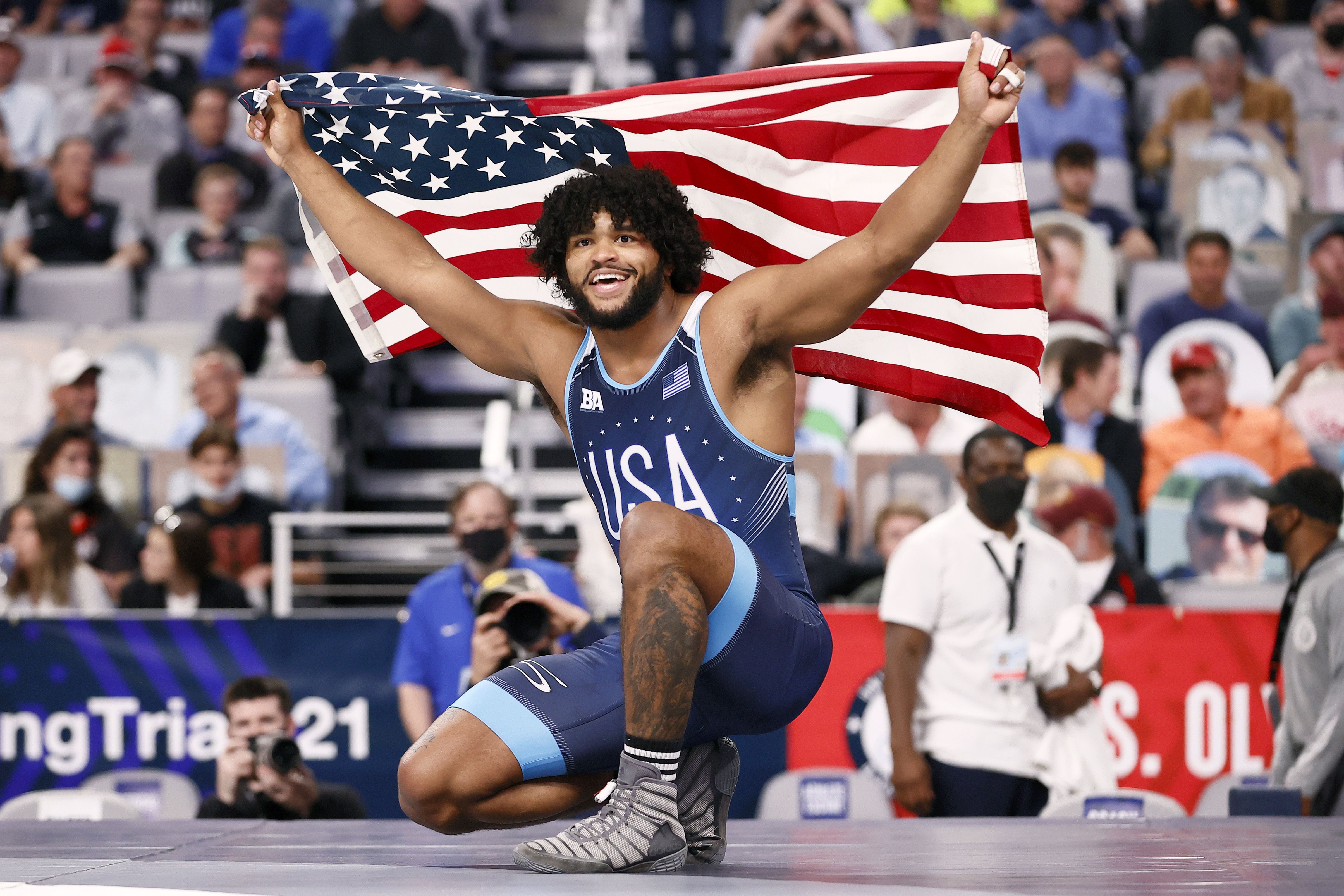 On the men's side, Tracy G'Angelo Hancock is poised for a medal in the Greco-Roman 97 kg (214-pound) weight class.
The Fountain native, who turned 24 on July 24, won gold in the 2020 Pan-American Championships.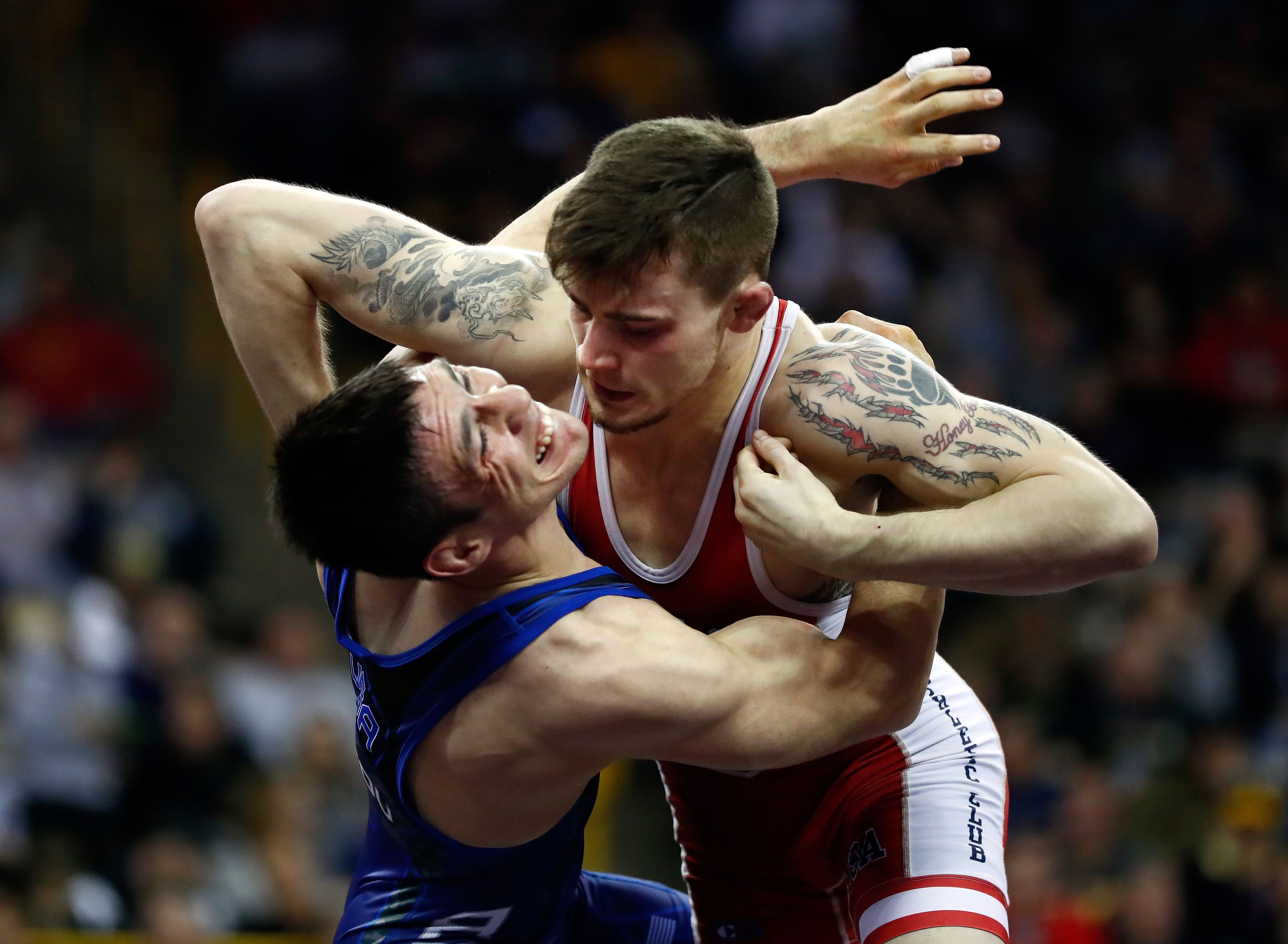 Ildar Hafizov, 32, is an Army sergeant and trains as part of the service's elite athlete program in Colorado Springs.
The Uzbekistan native started wrestling at age 10 after a neighbor who coached the sport invited him to a practice. He competed in the 2008 Olympics for his home country.
He will compete in the Greco-Roman 60kg class (132-pound) and is known for his technical skills.
More Denver stories
No stories could be found
Get a free daily digest of the most important news in your backyard with Axios Denver.