Colorado transportation plan adds $3.8B in new fees to improve roads and rail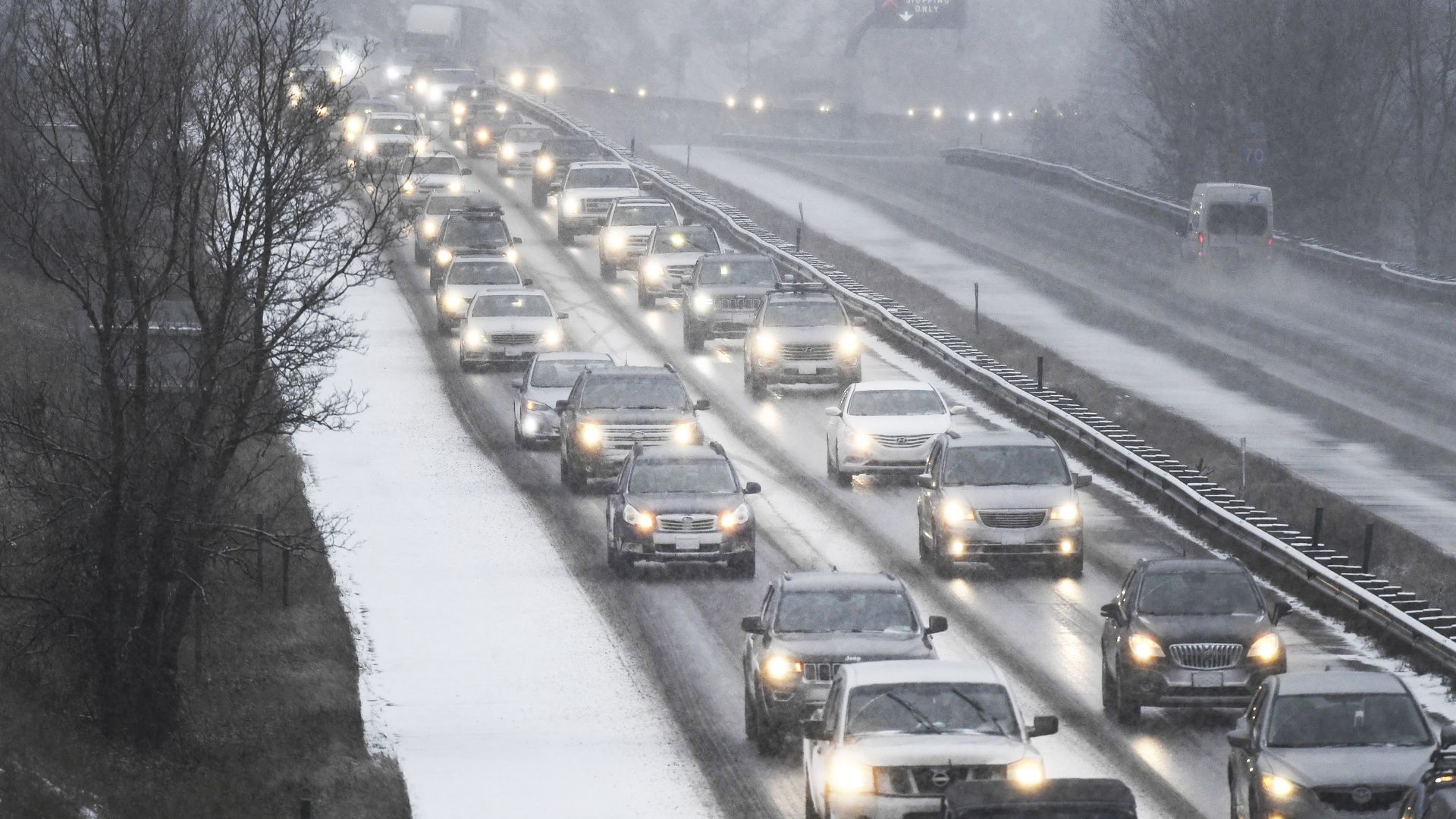 Colorado residents would pay more fees on gasoline, grocery deliveries, ride-sharing services and electric vehicles as part of legislation that generates $5.3 billion for the state's roads, rails and transit over the next 10 years.
Why it matters: The 197-page measure, unveiled Tuesday by Gov. Jared Polis and Democratic lawmakers, seeks to overhaul how the state spends money on its transportation system.
The $3.8 billion in fees are designed to replace stagnant gas tax revenues that left the state's roads congested and crumbling.
"For the first time, we are introducing something that isn't just a Band-Aid," said Senate Majority Leader Steve Fenberg (D-Boulder).
The big picture: Supporters called the legislation a path forward through the political impasse that thwarted prior efforts to inject money into roads through bonds and new taxes.
In Colorado, tax hikes must go to the ballot box, but some new fees do not require voter approval.
One Republican lawmaker is sponsoring the bill, but others are expected to object to using fees rather than the billions available from a state surplus and the federal stimulus.
Context: The Polis administration's 10-year transportation plan identified $3.5 billion in needs, with the initial $1.6 billion covered by existing dollars, according to the state.
The price tag is higher when local road projects are added to the tally.
What's new: The fees included in the legislation are designed to "spread the burden," supporters said.
A new fee on gas and diesel fuel that eventually increases to 8 cents.
A 27-cent fee on deliveries.
A 30-cent fee on ride shares, reduced to 15 cents for electric vehicles, both of which increase over time.
An increase in assessments on electric vehicles by at least $96 and $22 for hybrids.
Yes, but: The legislation temporarily lowers annual vehicle registrations by $5.55 in 2022 and 2023.
In addition, the state would contribute $1.5 billion from existing tax revenues and federal stimulus money.
What they're saying: "It's only right that the users of our highways are the ones that shoulder a substantial portion of the cost," said Colorado Springs Mayor John Suthers, a Republican.
Of note: The projects that top the state's priority list include expanding I-70 westbound and I-25 between Denver and Colorado Springs.
The Eisenhower Tunnel needs significant safety upgrades.
$2.5 million would get set aside for Front Range rail expansion.
The other side: Two conservative organizations, including Americans for Prosperity Colorado, plan to take a measure to the 2022 ballot to reduce the existing 22-cent gas tax to lessen the blow from the new fees.
"Coloradans, their families, and their businesses cannot possibly shoulder another financial burden after the pandemic," said AFP state director Jesse Mallory.
More Denver stories
No stories could be found
Get a free daily digest of the most important news in your backyard with Axios Denver.