Jockeying begins for Colorado's new 8th Congressional District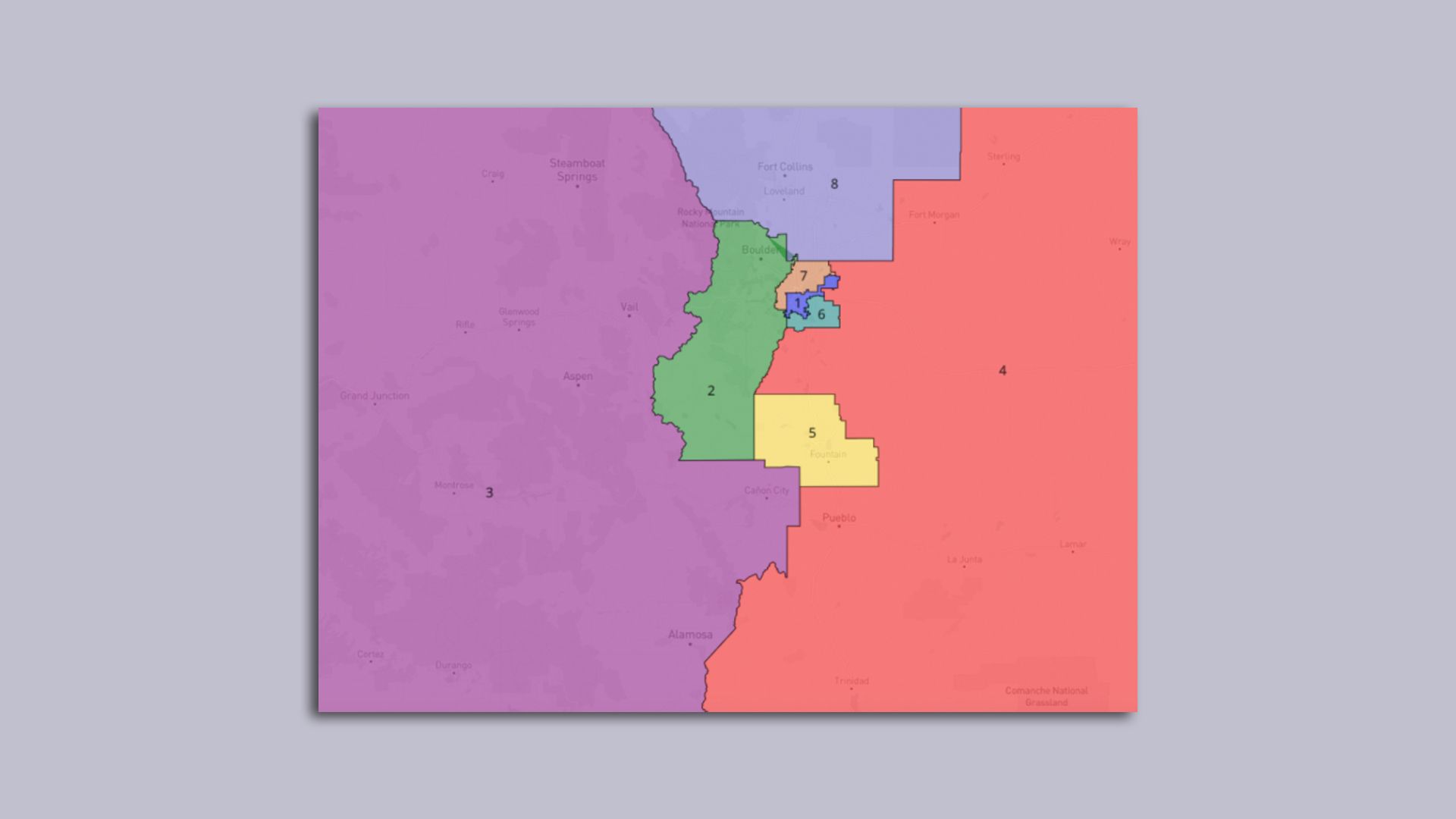 Now that Colorado is getting an additional congressional seat, the attention turns to where to put it on the map.
Why it matters: The 8th District will force the independent commission tasked with drawing the new political boundaries to reconfigure the political picture. And where the lines go will help determine who will run for office.
Sheena Kadi, a Democratic strategist, told Axios that she's confirmed with nine current Colorado elected officials and one former elected official who said they would consider running if they're drawn in the new district.
The big picture: The Denver area's population boom gives it the advantage for landing the new district, experts tell Axios, but it's not a done deal and various interests have their own ideas.
The 12-person commission must ensure the districts represent roughly equal populations, preserve the racial and geographic makeup of communities and remain as compact as possible, per the state constitutional criteria.
Then the panel must maximize the number of competitive districts.
In addition, the lines cannot protect incumbents or dilute the influence of minority voters.
Between the lines: The prioritization of competitiveness is unique compared to other state commissions but the map probably won't drastically change.
Colorado is "more straightforward than other states because there are a couple different sensible ways to draw an 8th District map," said Dave Wasserman, a reapportionment expert at the Cook Political Report.
State of play: Wasserman drew two potential options:
"The first would unite Fort Collins and Greeley in a swingy, compact new Northern Colorado seat, which would've voted Trump '16 and Biden '20."
"The other option might be to anchor a swingy new [district] in the southern Denver exurbs, anchored by Douglas Co. This version ... also would have voted for Trump '16 and Biden '20 — something of a 'fair fight.'"
The other side: In a series of interviews, others have different ideas.
Advocacy groups that represent the Western Slope, Eastern Plains and southern Colorado collectively demanded two rural districts to bracket the Front Range metro area.
Heavily Republican El Paso County has the population to support its own district, said Alan Philp, a GOP strategist.
Drawing the Latino community in the Denver area together would allow "a higher likelihood of being able to help elect a more diverse federal delegation," said Gena Ozols, a Democrat consultant.
More Denver stories
No stories could be found
Get a free daily digest of the most important news in your backyard with Axios Denver.