Cleveland Greyhound in talks to relocate to Puritas Rapid Station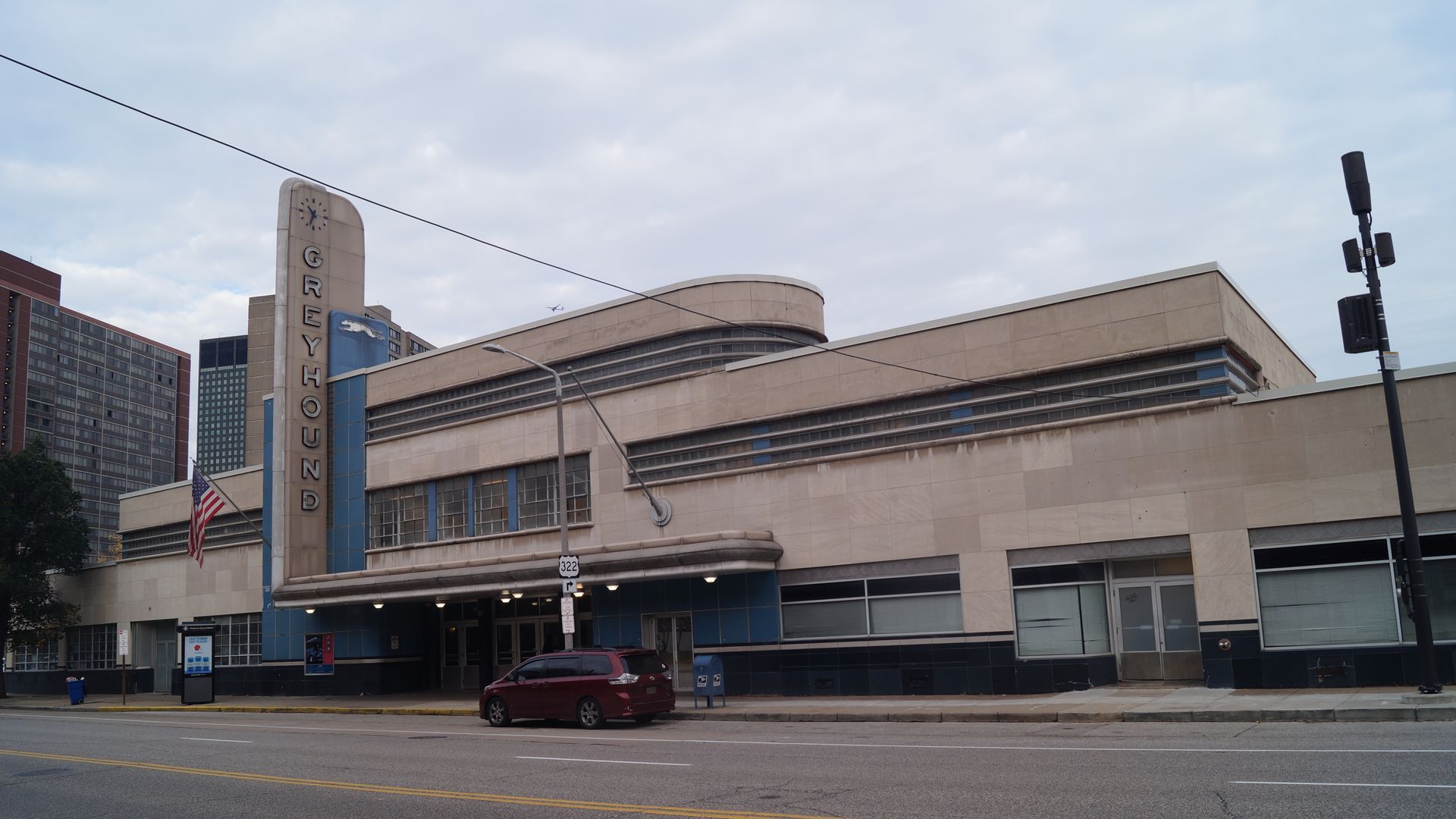 For the first time in 75 years, Greyhound bus service in Cleveland could be based outside of downtown.
Driving the news: The Greater Cleveland Regional Transit Authority (RTA) confirmed to Axios that it is in talks with the local Greyhound licensee to move service from the historic terminal on Chester Avenue to the Puritas Rapid Station on the city's southwest side.
The relocation is expected to pave the way for the downtown site's commercial and residential redevelopment.
Why it matters: The proposed new location is 11 miles — and at least 45 minutes by RTA — from the Theater District where Greyhound has operated since 1948, an inconvenience for many of the thousands of riders that take Greyhound buses from Cleveland each year.
Plus: Much like Amtrak in Cleveland, Greyhound has become almost exclusively an overnight operation, with daily ticketing hours from midnight-noon and most of its daily departures between midnight and 6am.
What's happening: Twenty Lake Holdings LLC, a subsidiary of Alden Global Capital, purchased Cleveland's Greyhound station and at least 32 others nationwide earlier this year.
Some of those downtown stations, including Cincinnati's, closed after the sale.
Chicago's downtown Greyhound station is also expected to shut down.
Of note: Alden Global Capital is the investment firm most famous for its acquisition and subsequent gutting of American newspapers.
What they're saying: Robert Fleig, an RTA spokesperson, tells Axios the details of the agreement with Barons Bus — the Brook Park-based charter bus company and Greyhound licensee in Cleveland — have not been finalized. But discussions have included the lease of "an existing bus lane and bus layover locations" at Puritas.
"Daily service will also include several bus routes that originate/terminate at the Stephanie Tubbs Jones Transit Center," he writes in an email.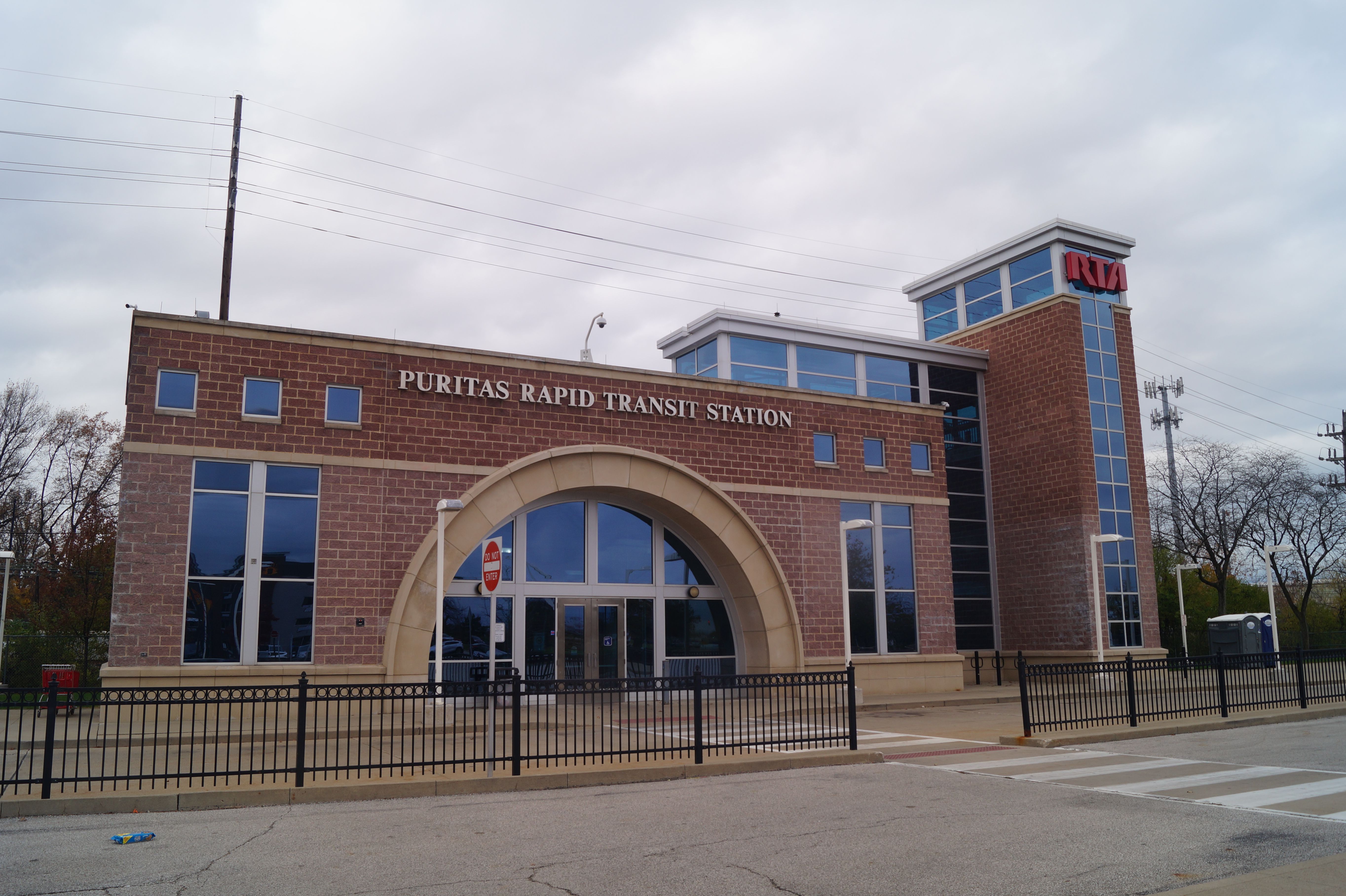 Between the lines: The potential relocation raises equity concerns.
A DePaul University study this year found that Greyhound riders tend to be younger and lower-income than other travelers, and are less likely to have access to a car.
When Greyhound closed its Philadelphia terminal this year, it began operating curbside a short distance away, forcing passengers to wait outside without designated seating or restrooms.
The Puritas Rapid Station has a small indoor waiting area, but seating is limited and the only public restrooms are two outdoor port-a-potties.
The other side: Twenty Lake did not respond to an Axios email and phone call seeking comment, but Crain's reported that representatives from Twenty Lake and Glimcher, a private equity firm, visited Cleveland recently to meet with downtown stakeholders.
They shared early-stage plans for the site that included a tower apartment complex, a jazz bar, a supper club, an "education space" and other amenities.
Axios reached Barons vice president John Goebel by phone, but he was unable to speak due to an imminent meeting.
Meanwhile, Axios has made numerous attempts via phone and email to contact spokespeople from Greyhound and its owner, FlixBus, since early October. No one has responded.
Flashback: Cleveland's Greyhound bus terminal was built in the Streamline Moderne architectural style, an offshoot of Art Deco in which architect William Strudwick Arrasmith designed a number of Greyhound stations.
It was added to the National Register of Historic Places in 1999.
What's next: Though Greyhound has not been an active participant in ongoing lakefront planning discussions, the most recent iteration of the Cleveland Lakefront Master Plan included an expanded multimodal transit hub, which would be designed to accommodate Amtrak, RTA and Greyhound vehicles.
Editor's note: This story was corrected to describe Alden as an investment firm, not a hedge fund.
More Cleveland stories
No stories could be found
Get a free daily digest of the most important news in your backyard with Axios Cleveland.