10 must-see artifacts at the Rock & Roll Hall of Fame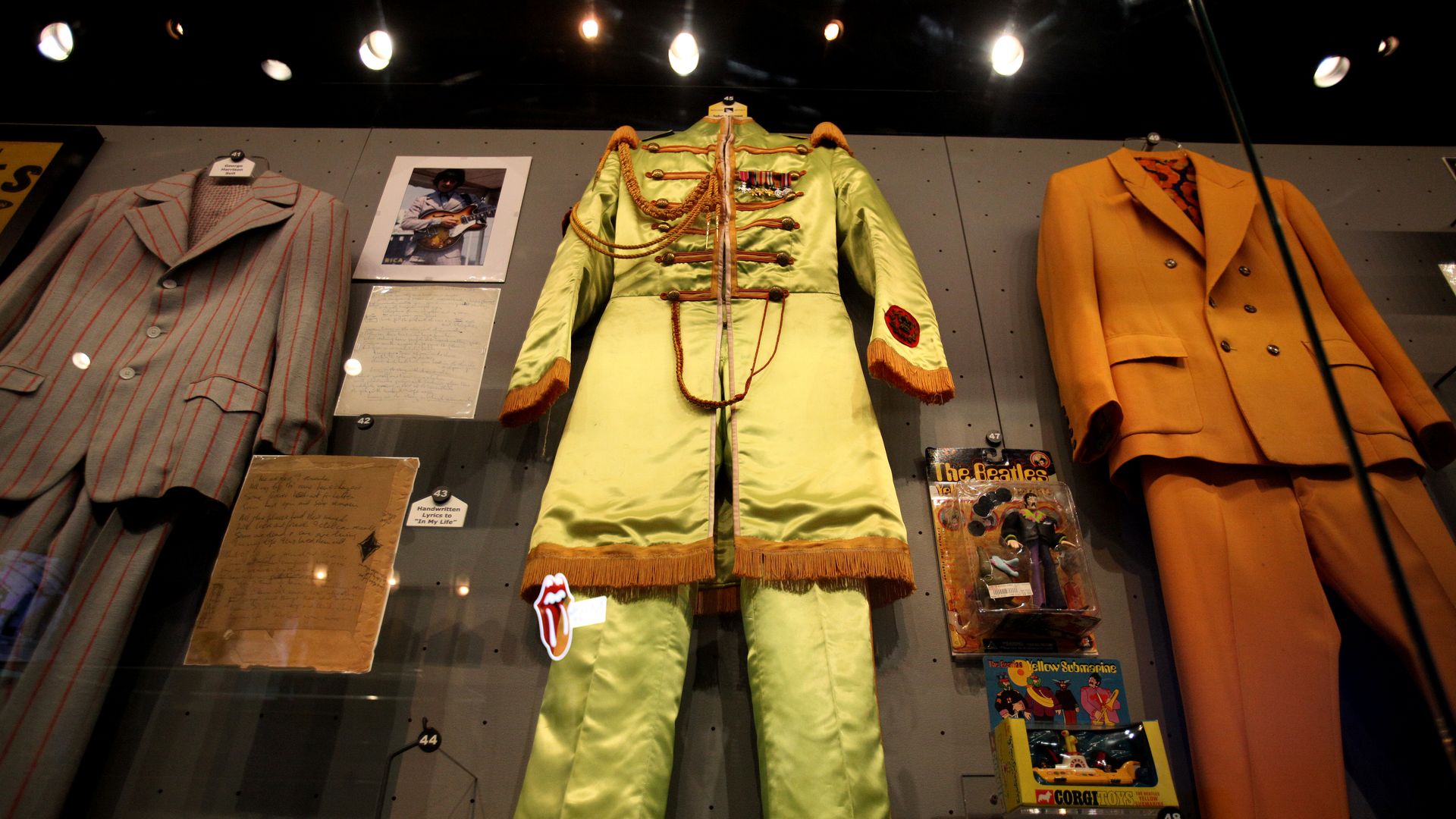 The backbone of the Rock & Roll Hall of Fame will always be its artifacts with hundreds of iconic items on display.
We chose 10 that combine historical significance with a wow factor.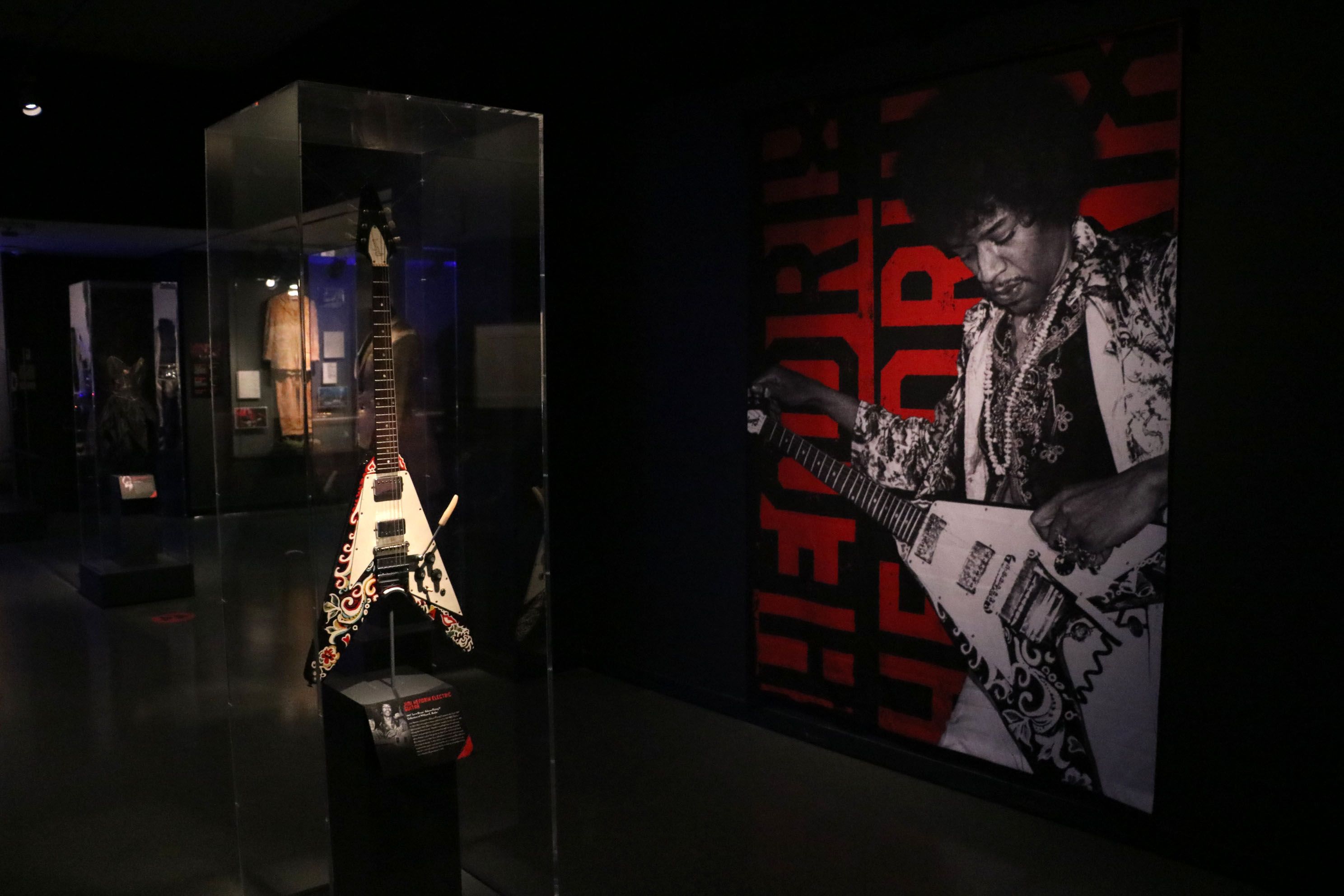 Jimi Hendrix's "Love Drops" Flying V
Details: It's rumored Hendrix used the Gibson Flying V to record "All Along the Watchtower" in 1968.
He painted the instrument himself using nail polish. The paint was removed by a future owner but later restored to its original form.
John Lennon's Sgt. Pepper jacket
Details: Lennon's lime-colored jacket from the cover of The Beatles' "Sgt. Pepper's Lonely Hearts Club Band" has been inside the Rock Hall since it opened in 1995.
Lennon's widow Yoko Ono gifted it as a favor to Rolling Stone founder and former Rock Hall chairman Jann Wenner.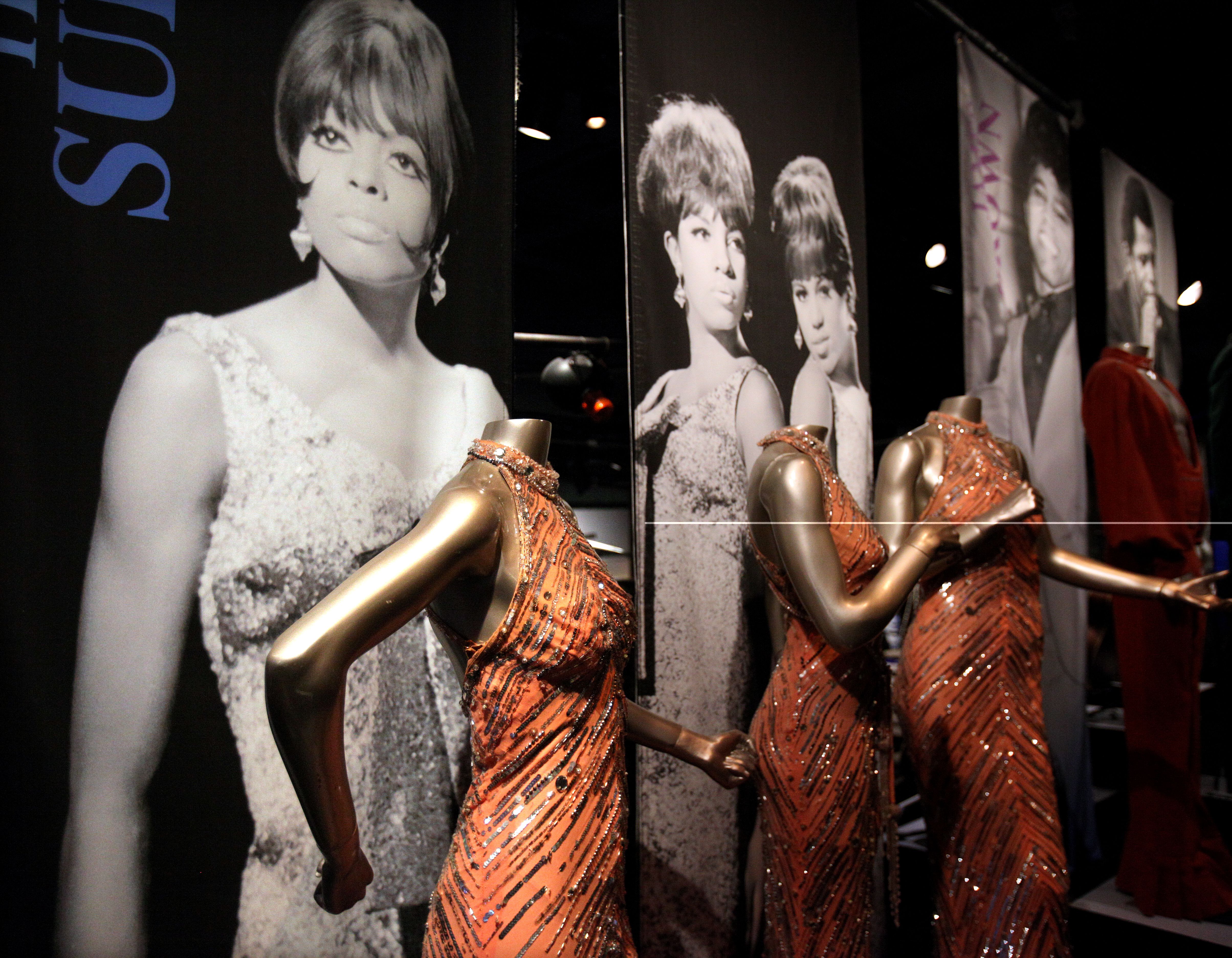 The Supremes' Bob Mackie gowns
Details: The Supremes wore dresses designed by fashion icon Mackie during the 1969 "G.I.T. on Broadway" TV special with the Temptations.
Mackie used silver sequins, bugle beads and dyed-to-match turkey feathers on the outfits.
"God Only Knows" handwritten lyrics
Details: The Beach Boys' Brian Wilson's original, handwritten lyrics to what is considered one of the greatest songs of all time.
The Rock Hall also houses handwritten lyrics to Chuck Berry's "Johnny B. Goode," The Clash's "London Calling" and other classic songs.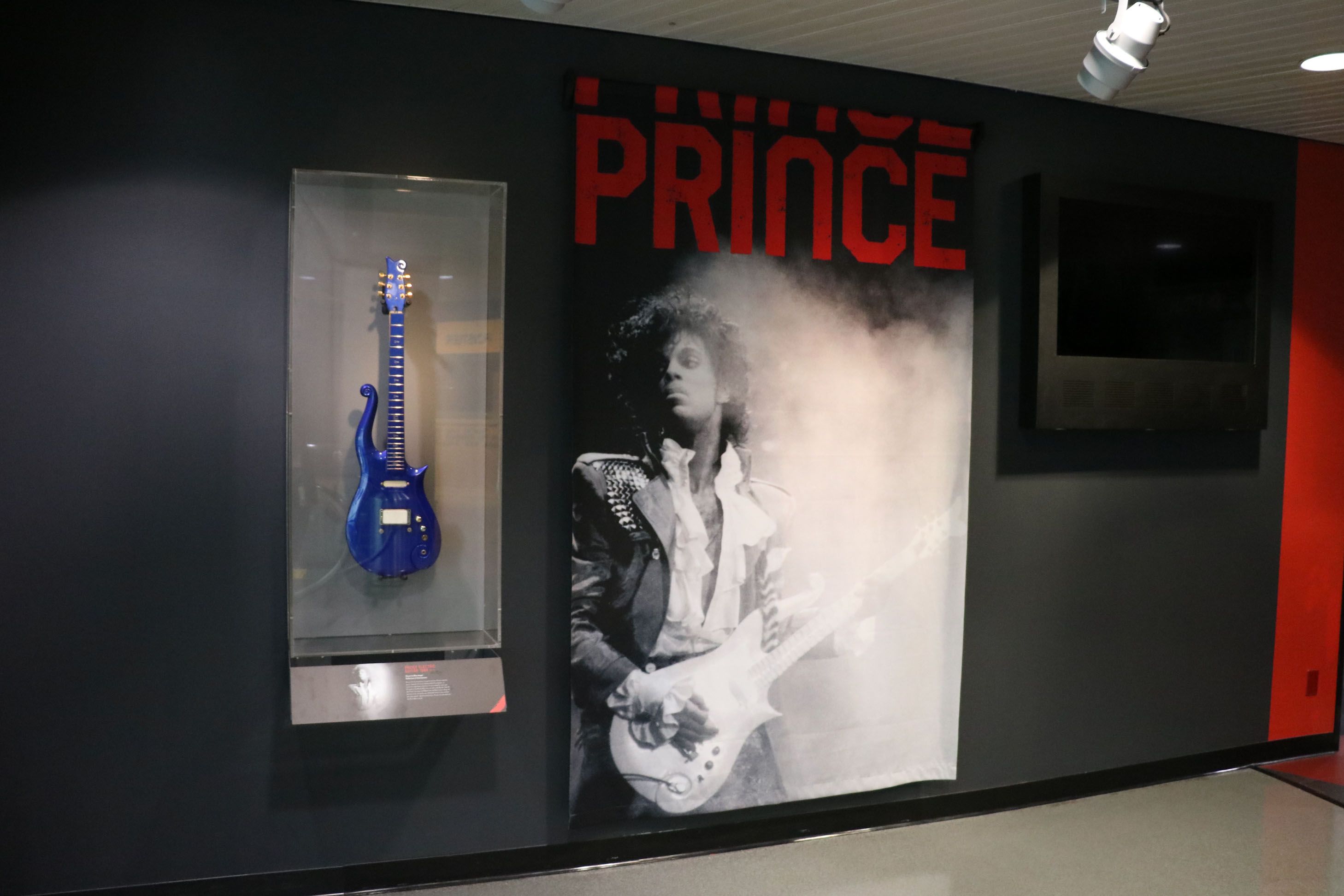 Prince's "Blue Angel" guitar
Details: Prince used his Cloud 2, electric blue guitar on tours for "Purple Rain," "Parade," "Sign o' the Times" and "Lovesexy."
The guitar sold at auction for $563,500 in 2020 by an unnamed buyer who loaned it to the Rock & Roll Hall of Fame.
Otis Redding's airplane
Details: Pieces of the plane that crashed into Lake Monona in Madison, Wisconsin on Dec. 10, 1967, with R&B legend Redding onboard.
The tragedy occurred a day after Redding appeared on Cleveland's "Upbeat" TV show and performed at Leo's Casino downtown.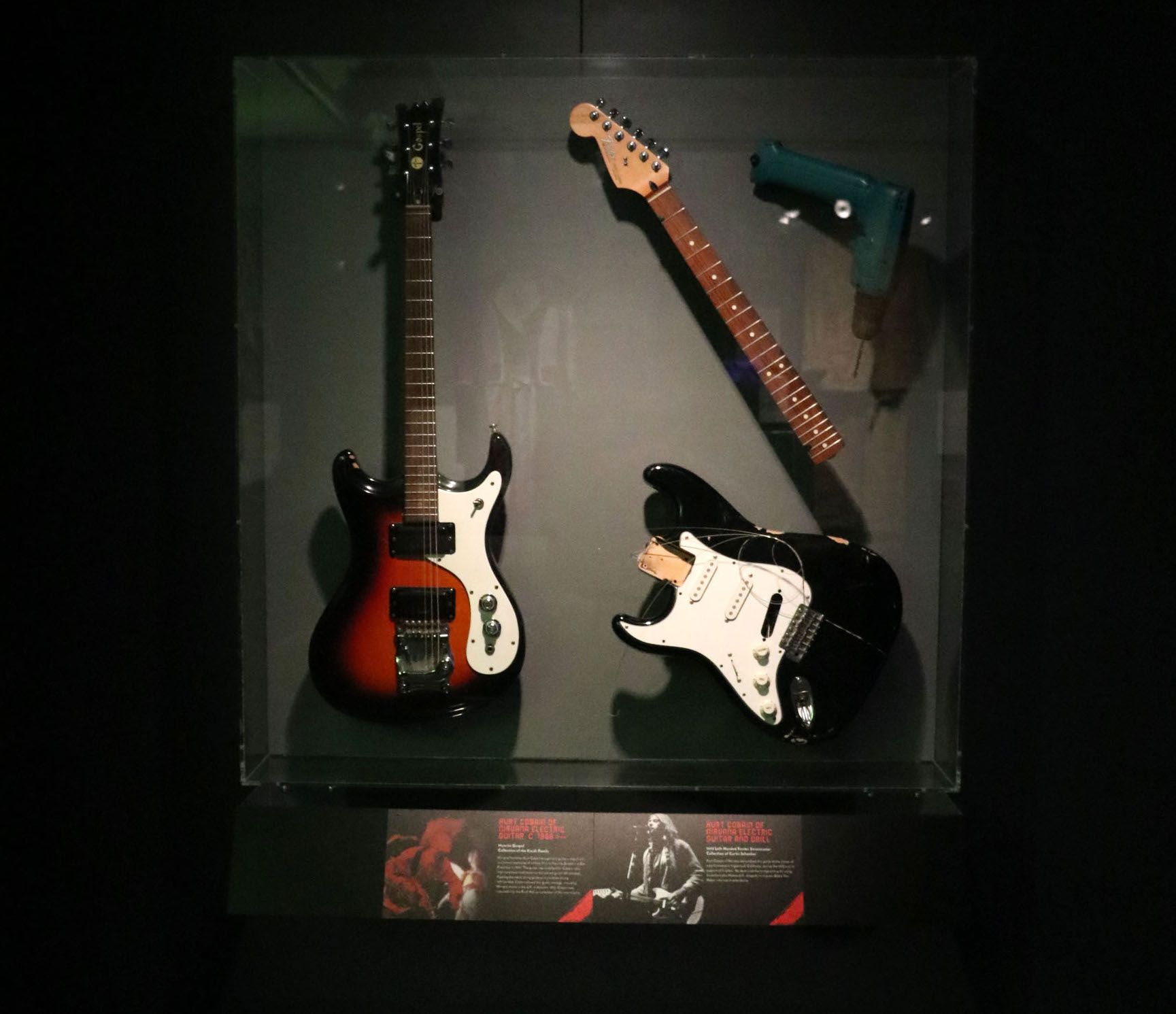 Kurt Cobain's demolished guitar
Details: Cobain took an electric drill to his Fender Stratocaster guitar during a 1993 concert in Inglewood, California on Nirvana's "In Utero" tour.
Cobain allegedly performed the act to impress guitar icon Eddie Van Halen who was in attendance.
Jerry Lee Lewis' piano
Details: The gold-painted George Steck and Co. petite grand piano served as Lewis' home piano from 1957-2017.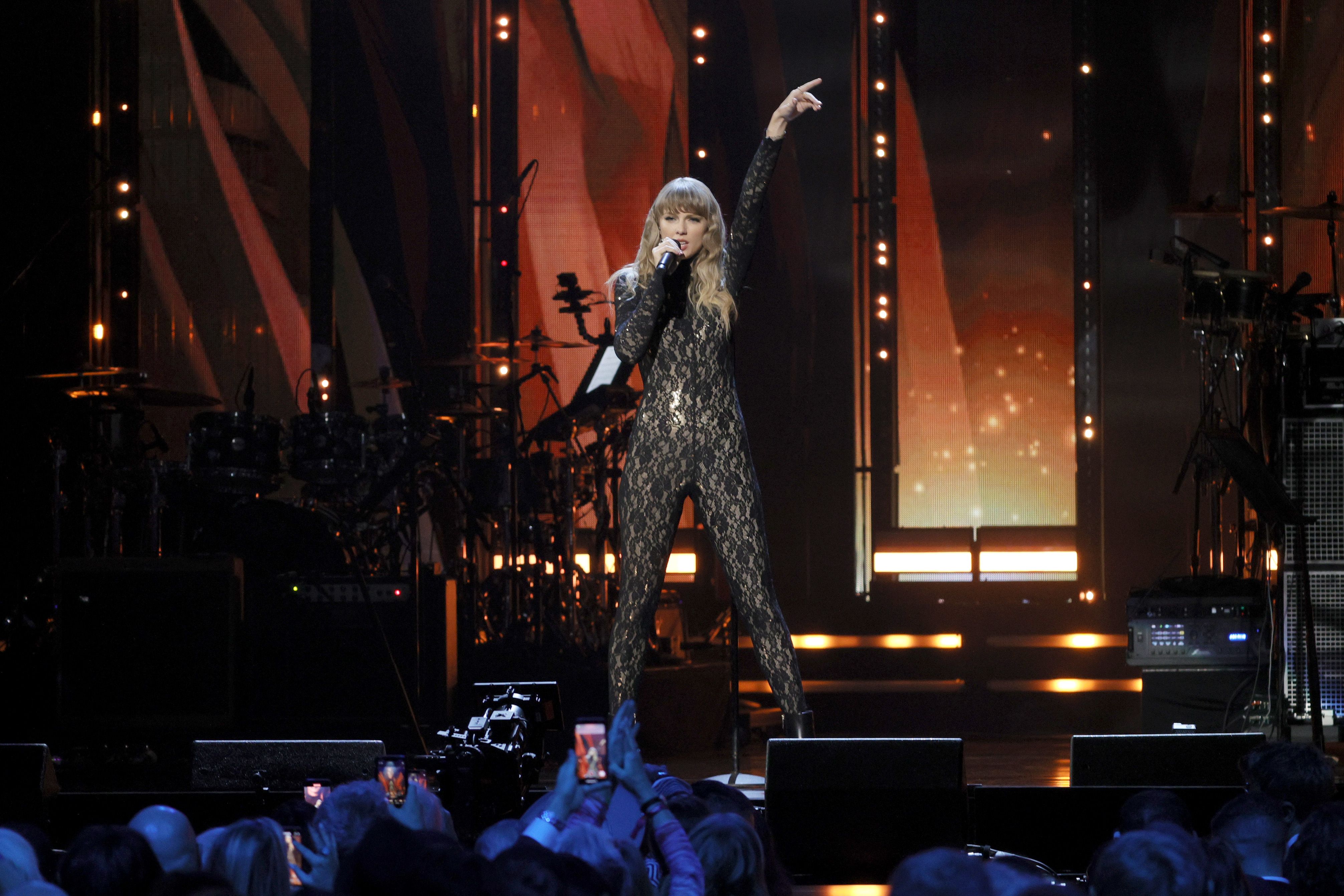 Taylor Swift's catsuit
Details: Swift walked out in a shiny bodysuit to kick off the 2021 induction ceremony in Cleveland, performing Carole King's "Will You Love Me Tomorrow."
Misfits' spiked leather vest
Details: Misfits founding member Jerry Only wore the custom vest with real metal spikes during the band's 2016 reunion tour.
It resides alongside Only's "Devastator" bass in the museum's "Cities and Sounds" exhibit on the main floor.
Subscribe to the free Axios Cleveland newsletter here — launching January 9!
More Cleveland stories
No stories could be found
Get a free daily digest of the most important news in your backyard with Axios Cleveland.