Austin emergency officials grapple with autonomous vehicles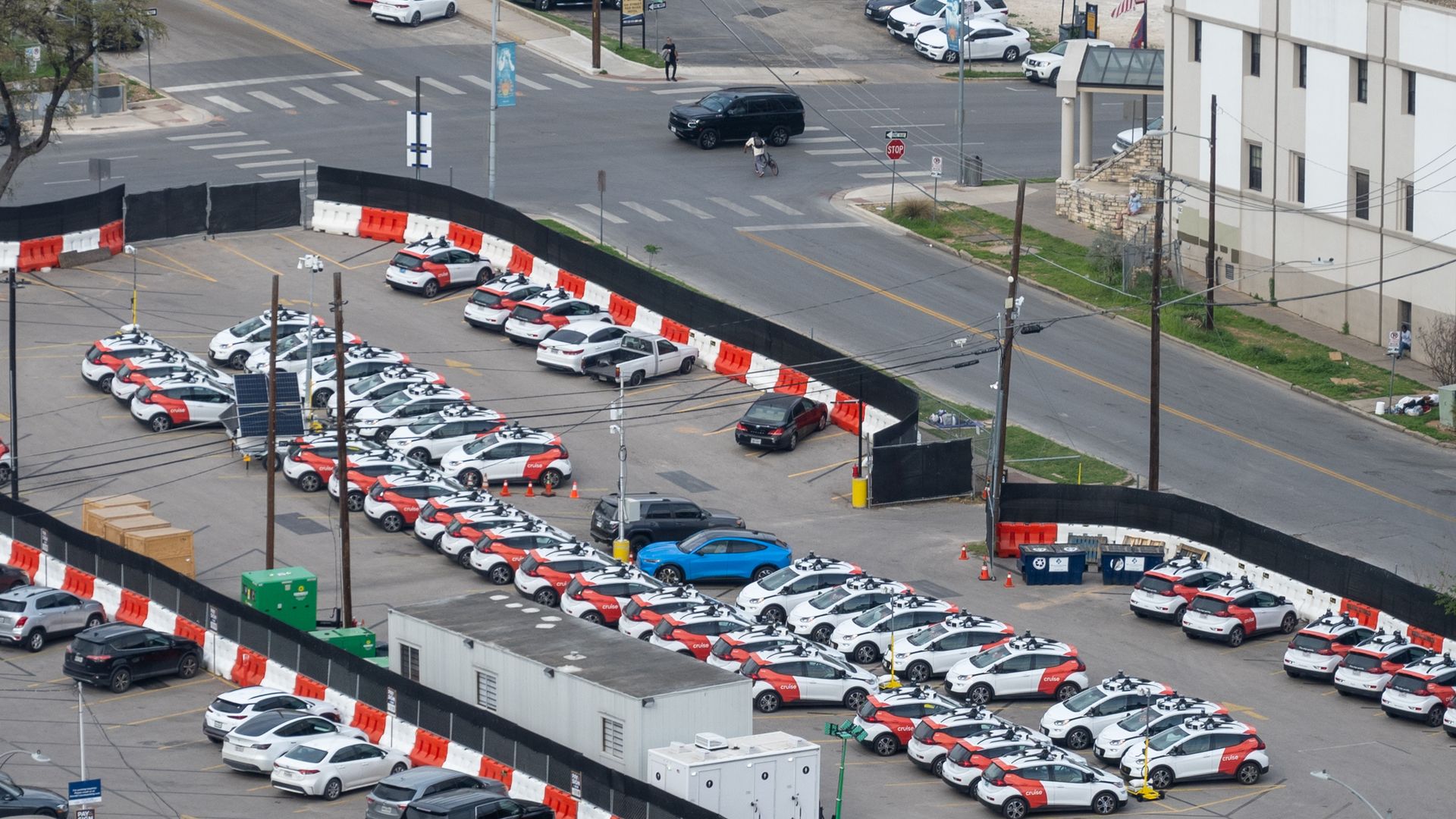 Austin's first responders are grappling with autonomous vehicles hindering rescue operations on city streets, per records obtained by Axios.
Driving the news: Internal emails and complaints reveal how emergency officials are dealing with near misses between driverless cars, pedestrians and safety vehicles — all while learning how to report and remove the cars from the road.
Why it matters: A growing number of cars from Waymo, Cruise and Volkswagen ADMT are on Austin's streets, and local officials have little authority over the companies as they make Austin a testbed for their vehicles.
The big picture: Since July, the city's Transportation Public Works Department has received 40 complaints from residents and first responders about the vehicles, which include reports of near collisions with pedestrians and emergency vehicles.
On top of their regular emergency duties, fire, police and emergency rescue personnel are now training in how to manually remove driverless cars.
Autonomous vehicles "present issues for us trying to exit the station," Richard Porst, a lieutenant at a fire station on Martin Luther King Jr. Boulevard, near the University of Texas, wrote to colleagues in early August, in an email obtained by Axios through the Texas Public Information Act.
On Sept. 20 and Sept. 24, per the incident reports, autonomous vehicles hindered movements by Austin fire engines, events that are logged as "near misses."
What they're saying: An Austin police official escorting a fundraising walk on Sunday reported that an autonomous vehicle attempted to turn onto Congress Avenue from Eighth Street at a red light.
"If I didn't jump out in front and physically make contact with it, it would have possibly hit the walkers. They all stopped and thought it was going to drive into them," says the incident log, which doesn't include the name of the police officer.
"It goes without saying, these vehicles are becoming a major problem and someone is going to get hurt, probably one of us," continues the incident log. "I'm not sure if our [chain-of-command] is aware of all the issues, but it's getting ridiculous dealing with them."
What's happening: Cruise, one of the operators of autonomous vehicles here, made some of its vehicles available for fire, police and emergency medical training on Sept. 20, Austin transportation department officials told Axios.
The sessions are meant for "police, fire and EMS to build familiarity with their vehicles and understand how to best interact with the devices during an emergency," city spokesperson Cristal Corrales told Axios.
Yes, but: The session happened only after Austin officials had grown exasperated over the summer as they tried to schedule training with Cruise.
"Trying to communicate with you is … problematic and frankly you don't respond in a timely manner," Matthew McElearney, an AFD special operations training captain, wrote at the end of August to Mike Shinn, investigations manager at Cruise.
The other side: "We understand the frustration expressed by the fire captain, we strive to be as responsive as possible," Cruise spokesperson Navideh Forghani told Axios. "We have spent the last few months growing our first responder training team and we hope this will not be a future issue. Our goal is to be good neighbors in the communities we serve and meeting with city officials and first responders is a top priority."
The company has supplied Austin emergency officials with links to its first responder landing page and a video guide for first responders, including phone numbers for first responders to call so Cruise personnel can override the vehicle — as well as instructions for on-scene first responders to take control of it. It has also hosted other training sessions earlier in the year, Forghani said. The Sept. 20 training involved "a very productive dialogue," Forghani added.
Details: Reports filed by Austin Fire Department officials in September and obtained by Axios reveal the fixes aren't smooth.
On Sept. 9, Austin Fire reported that after a possible drunken driver ran a stop sign on Rosewood Avenue in East Austin and collided with a Cruise vehicle. The autonomous vehicle "was not able to be put in manual mode by Cruise employees and a wrecker was called to the scene," according to the reports.
On Sept. 13, fire officials reported that the number of people and cars in the intersection of East 12th and Trinity streets, closed to ease Waterloo amphitheater egress, "confused" five Cruise vehicles that "got stuck in the intersection." A call to the company's first responder number "allowed them to take manual control of the vehicles and steer them out manually. Not fast, but it worked."
Zoom out: Austin fire officials have been in touch with counterparts in San Francisco, a hotbed of autonomous vehicle operations — and pressed Cruise, which operates a robotaxi service in Austin, to program its vehicles to prevent obstructions of stations.
"A big takeaway from our call [with] SFFD was the need to consider geofencing around AFD firehouses," McElearney wrote in early August to city emergency officials, referring to the creation of a virtual boundary to manage the vehicles. "My understanding was that there was an incident where an AV parked in front of [a] fire house in San Francisco. The fire company had a call and was delayed in responding and another company was dispatched."
"I suppose that means we should go ahead and include all the police stations because I could foresee it happening there as well," William White, an APD lieutenant, responded.
What we're watching: How emergency officials navigate what promises to be more and more autonomous vehicles.
"At the request of fire officials, we partially restricted the routing in front of one of their fire stations, which means our AVs will choose a different route — unless it was the only option," Forghani told Axios. "As part of our safety design, AVs do not stop or pull over in front of fire or police stations."
More Austin stories
No stories could be found
Get a free daily digest of the most important news in your backyard with Axios Austin.