5 questions with SPIbelt's Kim Overton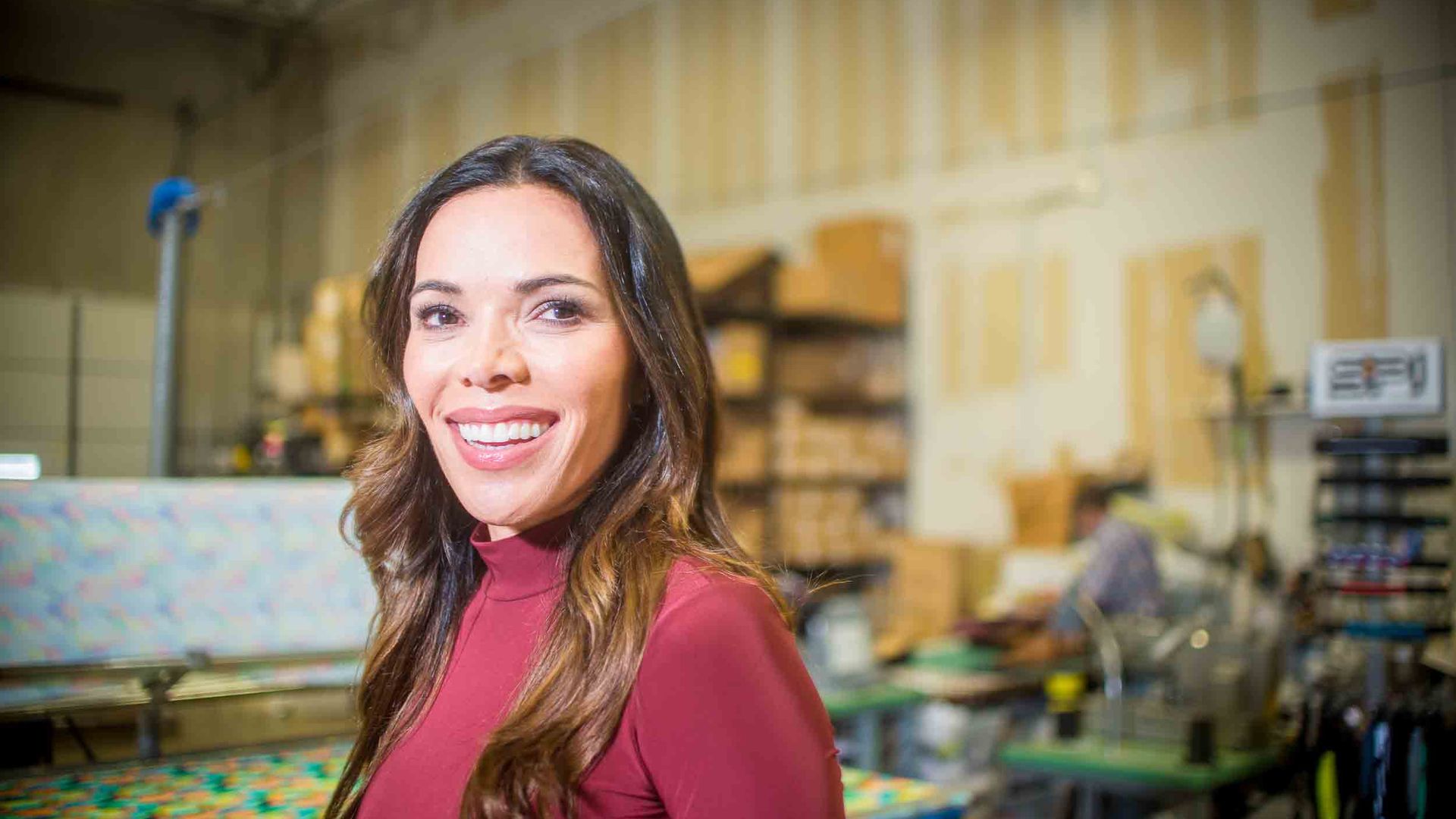 The idea for SPIbelt, the popular running belt for athletes to store their phones and keys, started with an uncomfortable run.
Flashback: Kim Overton, the founder of SPIbelt, recalled putting her car key in her sports bra to go out on a run in 2006.
"This is not comfortable," she recalled. "I went home that day and sewed the first prototype."
By February 2007, she had filed a patent, produced the SPIbelt (small, personal item belt) and launched it at the Austin Marathon.
What they're saying: "At the time, the other belts on the market were really big belts that maybe looked ideal for some trail, long distance run," Overton told Axios. "I just didn't need that. I wanted something sleek."
Catch up quick: The SPIbelt running bags can fit an iPhone, headphones, keys and credit cards while remaining secure around your waist. Newer models of the running belt include dual pockets and sleeves for sports gels.
Now, you can find the belts in thousands of running stores and the brand has expanded to belts for kids, people with diabetes, travelers and more.
We spoke to Overton about how she's grown the local brand, marketing in the age of social media and her life in Austin.
Q: How did you pivot beyond running to make the SPIbelt accessible for everyone?
A: "Shortly after launch, I started hearing from moms of kids with Type 1 diabetes who loved it for their kids' insulin pumps. We built that community just from listening to moms and attending events and tweaking the products specific for kids.
"The theme throughout the company is what do people need? What are they using it for? … We like to stay in the small personal items space. We're really good at that."
Q: SPIbelt has really harnessed the power of influencers and these local running groups and walking groups to market SPIbelt. Is that a new shift for you?
A: "It's sort of been a natural progression with the platforms. Give products to super fans and let them share the information about our product to their audience and let them do giveaways."
Q: You were featured in Forbes last year among the next generation of Black founders. What advice do you offer to Black female founders and founders of color trying to start brands?
A: "Have as many conversations as possible. … There are so many people out there who want to help or want to see people soar regardless of race or gender. Just find that person. Find your cheerleader, they're out there."
Q: During the pandemic, SPIbelt pivoted to masks. Can you talk about that transformation?
A: "Like the launch of SPIbelt, I thought of a mask because we needed them.
"It was very stressful because it was like launching a new product, and we only wanted to release quality product. So to become mask experts was really taxing on our team, but we were also grateful that we were able to continue to work and keep our doors open."
Q: How do you avoid burnout from running?
A: "It ebbs and flows. Every body is different. Some days I just don't feel like doing anything, but if I do miss a workout, I'm super forgiving and I know there's another day."
More Austin stories
No stories could be found
Get a free daily digest of the most important news in your backyard with Axios Austin.