Austin monument protested by neighborhood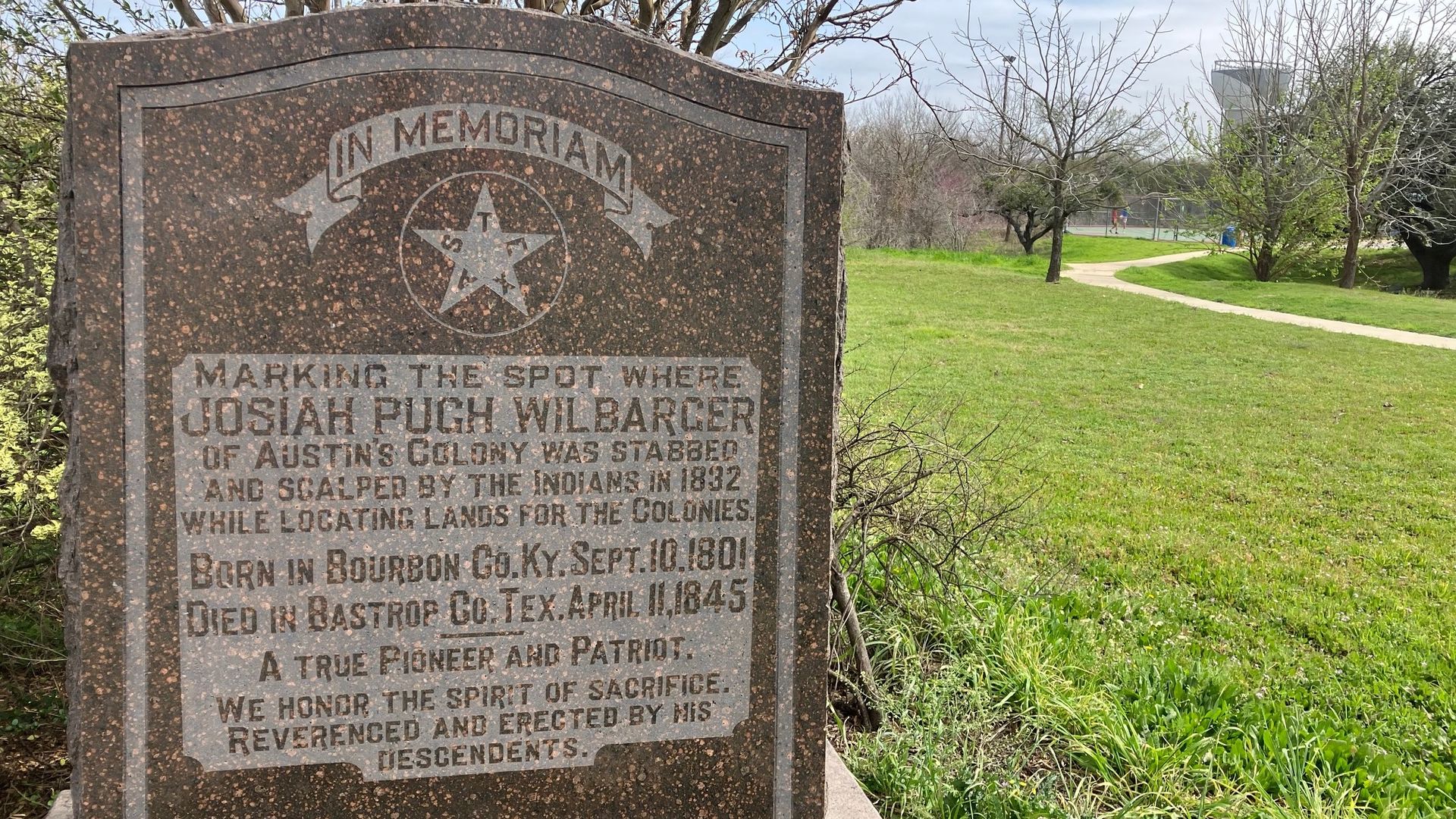 Residents of an East Austin neighborhood are trying to persuade city officials to remove a memorial they say is offensive.
Why it matters: Even as monuments in prominent public places win notoriety as they are removed, statues and plaques glorifying white conquest still dot our communities.
Details: The large granite monument is located near a playground and basketball court at Bartholomew District Park and facing the busy intersection of Berkman Drive and East 51st Street. It memorializes Josiah Pugh Wilbarger, who was "stabbed and scalped by the Indians" in 1832 while "locating lands for the Colonies," as "a true pioneer and patriot."
What they're saying: "I and many others find it disturbing that this memorial is in a city park where our children play," Jacqueline Galván, who lives in the Windsor Park neighborhood, tells Axios. "It venerates colonizers and paints the Indigenous people living in this area as horrible subhumans who deserved to be decimated."
"The monument depicts the aboriginals, my ancestors, as having committed some crime, as if they scalped this guy minding his own business," another neighborhood resident, who goes by White Snake, tells Axios. "What he was doing was no different from coming into your home and taking measurements. It doesn't include that part of the story."
Of note: Bartholomew District Park is in the Windsor Park neighborhood.
Flashback: Wilbarger, who settled with his family in Stephen F. Austin's colony near present-day Austin, was surveying land in 1833 near Pecan Springs when he was "attacked by Indians," per the Handbook of Texas.
Wilbarger died in 1844 and in 1858 a North Texas county was named for him and his brother, another surveyor.
The intrigue: The current spot of the monument apparently doesn't reflect where the incident actually took place.
In 1966, the Austin American newspaper noted that the Travis County Historical Survey Committee "requested that the marker be moved … over to the Mueller Municipal Airport building, where more people could see it and appreciate the fact that wild Indians used to roam where jet aircraft now zoom into the sky."
By 1985, the monument was finally moved to its present location.
What's next: Members of the Windsor Park neighborhood have asked City Council Member Chito Vela, who represents the area, whether it can be removed.
Vela told Axios he has asked his appointee to the Austin Parks and Recreation Board to take up the matter.
"My gut reaction is you move it to the Austin History Center and put it on display, that this was once a feeling and thoughts and opinions have changed. This is part of history and I don't think you erase that."
The bottom line: "I'm OK with it being left where it's at," White Snake tells Axios, "as long as it's tipped over and buried."
More Austin stories
No stories could be found
Get a free daily digest of the most important news in your backyard with Axios Austin.