Axios Austin readers weigh in on student loan debt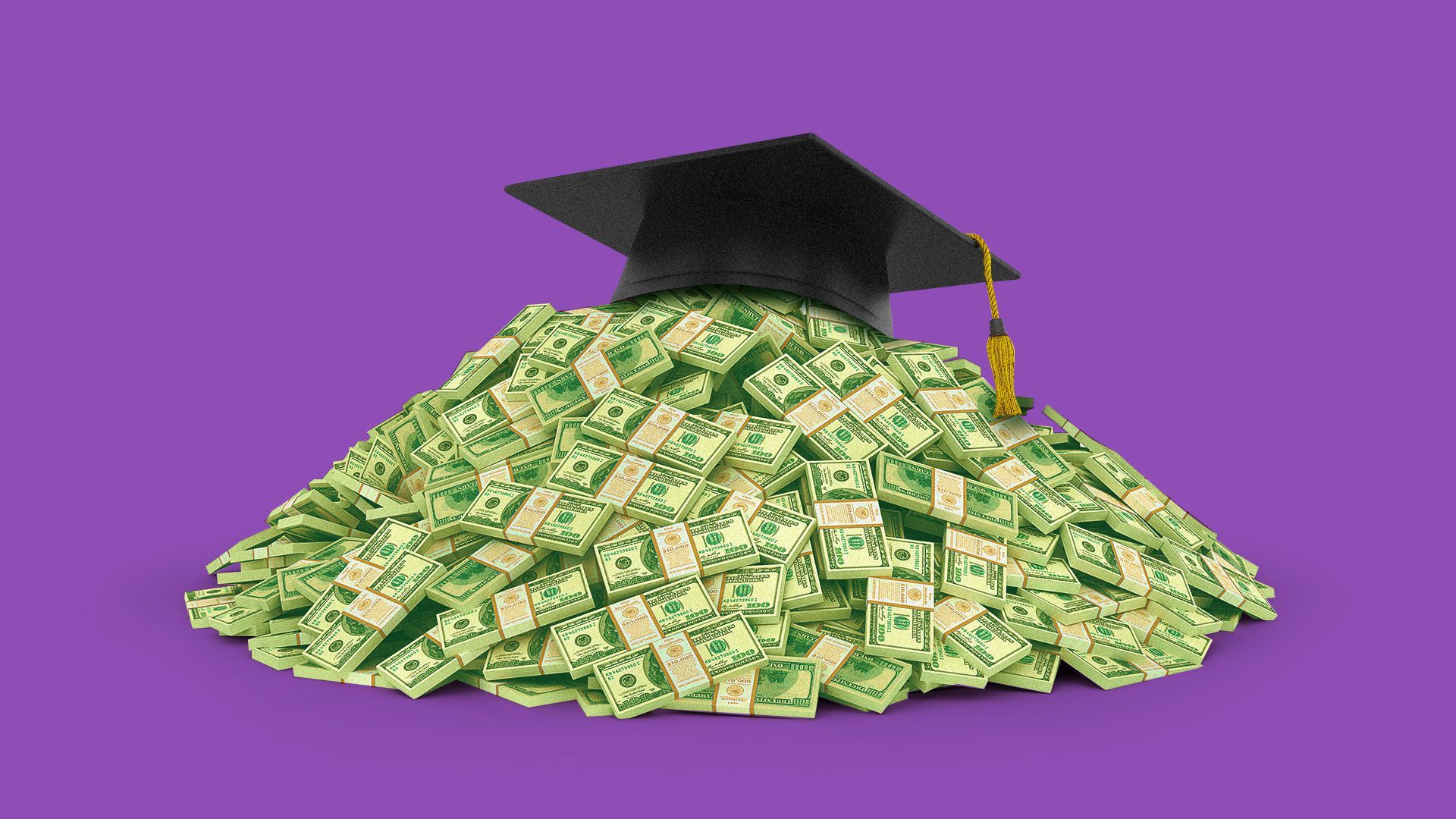 Readers shared wide-ranging thoughts how on student loan debt and the ongoing repayment pause impact them.
Driving the news: Americans were originally scheduled to begin repaying their student loans this week after a nearly two-year pause and 0% interest rates.
Yes, but: President Biden announced in December that payments wouldn't resume until May 1, extending the 2020 hiatus a fifth time amid the onset of the Omicron variant.
Why it matters: More than half of Texas students in their fourth year of college carry student debt, owing an average of $23,584, per a September report by the Texas Higher Education Coordinating Board.
We asked how you were approaching paying down student debt given the prospect of loan forgiveness. Here's some of what you had to say.
"I did finally pay off my student loans last year and was surprised at what a psychological relief it was, and still is," Lilly R. wrote us. "So I'm in the camp of chip away at it, even if there is some debt relief coming. It really does make a difference in your mental state just knowing you're tackling it rather than letting it languish."
"An engineer can readily pay off the average loan in one year if they keep living like a student," writes Hank W. "But it is harder in a high cost location. All the non-crime-zone one bedroom apartments (aka 'luxury') near my daughter in northwest Austin went from about $1000/mo two years ago to $1400/mo now. And it is harder if the graduate is a math teacher like her, given pitiful teacher salaries. She needs to marry an engineer like me."
"The ethical borrower continues to pay because they borrowed in good faith," writes John B. "If someone 'forgives' this debt, take it; or if they have finished the repayment, feel pride in doing the right thing."
"Way back when interest was suspended I kept paying until I got my loan down to the principal amount," writes Ryan W. "Now I'm just waiting on Biden to pay off the rest and putting that extra $71.65 a month toward my larger, costlier private loan."
"I've been saving to pay them all off once payments resume," Jessalyn G. writes. "But if they were forgiven, I could use that money for a house down payment! If they aren't forgiven, homeownership is 3-5 years out for me."
"It doesn't seem like forgiveness is a priority for this administration, so recently I have decided to start paying on my loans again," wrote Chris D.
"Currently building savings hoping for the campaign promise," Justin G. writes. "I have confidence in Biden."
"I chose to spend the money that would have gone to my loans like a drunken sailor," Jared W. writes, "because a) I'm bad with money and b) I figure there's a chance there might be forgiveness, so why potentially throw money away?"
"If you made the loan you need to repay it," wrote James F. "Have some pride."
More Austin stories
No stories could be found
Get a free daily digest of the most important news in your backyard with Axios Austin.