Beto O'Rourke's long shot bid for governor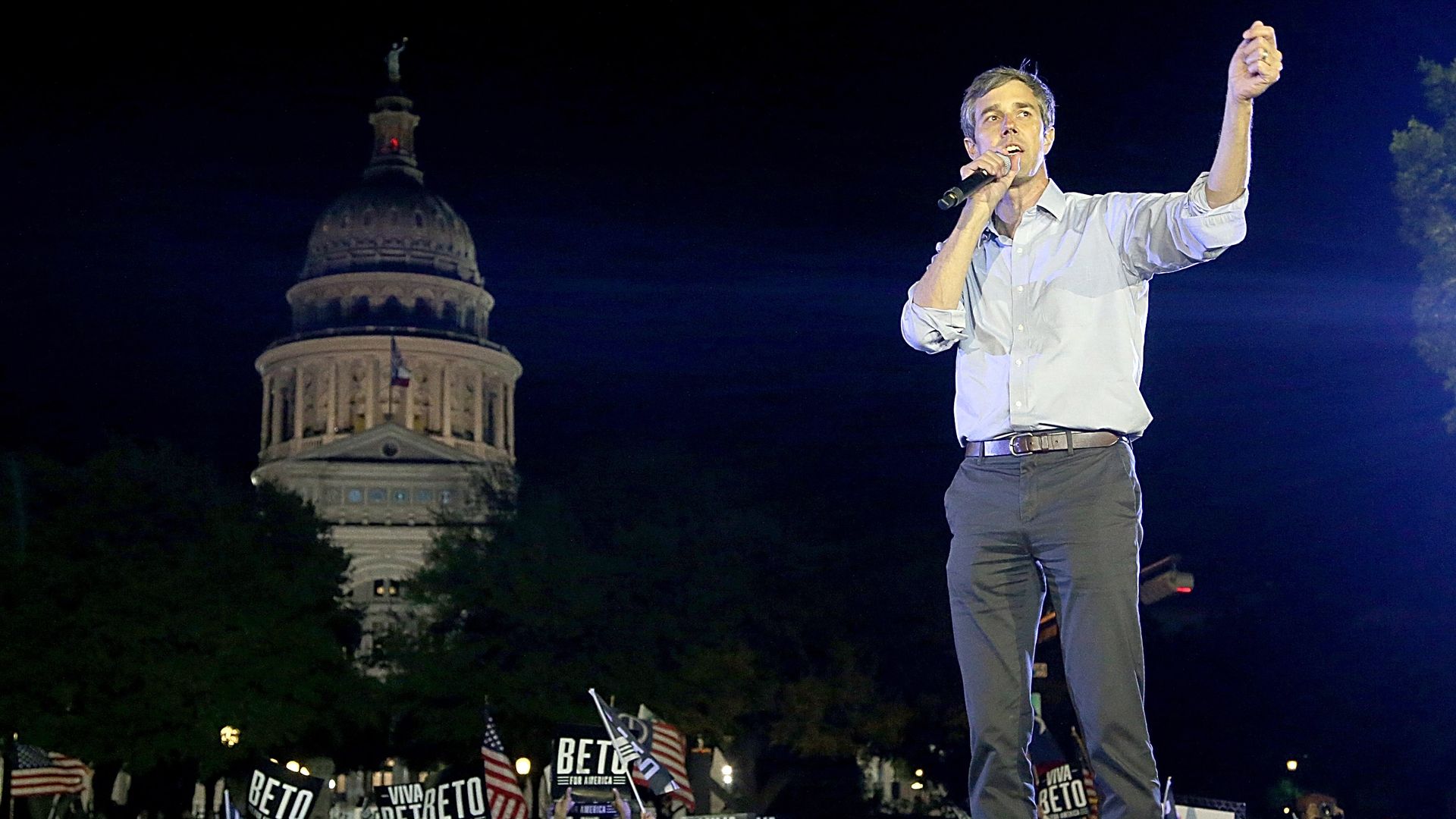 It's Beto o'clock: Democrat Beto O'Rourke has jumped into Texas' gubernatorial race, hoping to unseat Gov. Greg Abbott.
The big picture: O'Rourke has name recognition and fundraising prowess, but the former El Paso congressman comes with plenty of baggage after two unsuccessful runs for higher office.
Plus, Democrats haven't won a statewide race in roughly 27 years. Not to mention, President Biden's popularity has decayed, making things difficult for Democrats.
The governor's race is already heating up, and it's clear Abbott has plenty of material to work with before next November.
Even before O'Rourke hopped into the race, the governor named him "Wrong Way O'Rourke" in an attack ad, pointing to the new candidate's comments in favor of "defunding the police."
In a tweet on Monday, Abbott listed what are sure to be his main talking points on the campaign trail, saying O'Rourke wants to "impose socialism" and "take your guns."

"Bring it," Abbott added.
Joshua Blank, research director at the Texas Politics Project at the University of Texas, told Axios that O'Rourke was "a shiny new object" in 2018, but "things after that have gotten a little more complicated."
"Ultimately, running against [Sen.] Ted Cruz is an easy sell among Democrats," Blank said. "Once he jumped into the 2020 presidential primary, he had to distinguish himself from other Democrats and that just by its nature creates more conflict, even within one's party."

"He's going to both benefit and face some costs by being a known quantity in 2022."
Abbott's campaign wants voters to remember the ways O'Rourke moved further to the left on the campaign trail. The governor's spokesperson Mark Miner told The Texas Tribune that O'Rourke stands at the "extreme left wing of his party," and now, "he'll try to reinvent himself, but he can't run from his past."
Still, polls show a close matchup between the two, although there's still a long way to go until next November, Blank said.
"If [O'Rourke] is beginning this race within 10 points of Abbott, that is very much on the trendline of Democratic progress in state elections," Blank said. "The question is going to be how well O'Rourke can perform between a 10-point loss and trying to narrowly eke out a win."
Our thought bubble via Axios' managing editor of politics, policy and polling Margaret Talev: "While it's too soon to know if Biden's sinking poll numbers will be a definitive factor in the Texas governor's race, it's obvious that if the current situation holds, it will be a drag rather than a boost to O'Rourke."
"While Abbott's job approval numbers are under water, they appear to have leveled off — and they look better than Biden's numbers."
Editor's note: This story has been corrected to reflect that Texas Democrats have not won a statewide election since 1994, roughly 27 years.
More Austin stories
No stories could be found
Get a free daily digest of the most important news in your backyard with Axios Austin.