How COVID politics intruded on the Austin Veterans Day Parade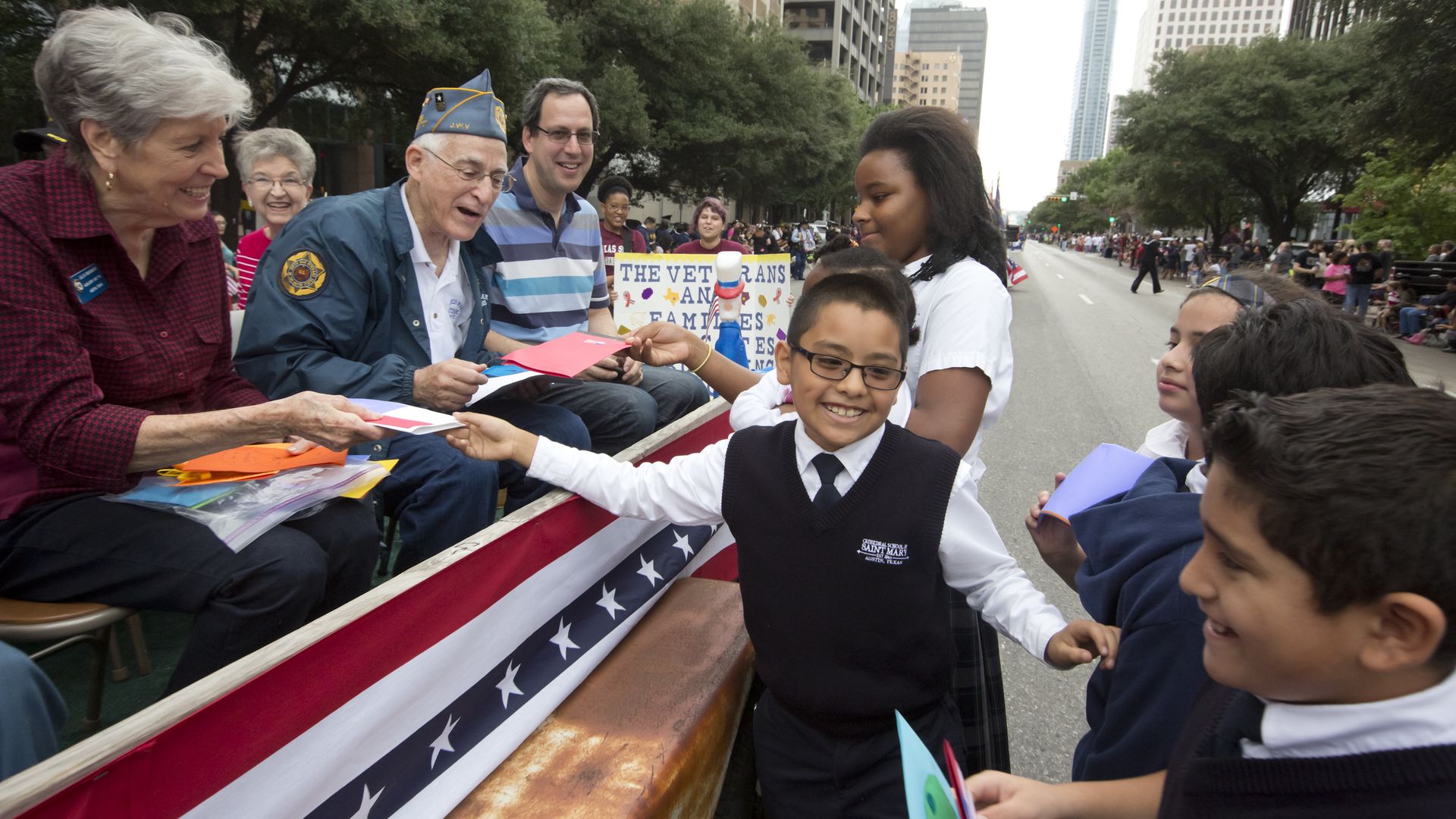 Austin's annual Veterans Day Parade has been pulled into coronavirus politics.
Driving the news: Gov. Greg Abbott kicked off Tuesday by inviting veterans to convene at the state Capitol — and throwing shade on Austin for its COVID-19 restrictions.
Austin Veteran Parade Foundation officials said they had to cancel the annual parade after city officials required them "to verify all participants and spectators to have either a current negative Covid test or be vaccinated," per the AVPF website.
"This is something that we could not do as we anticipated some 30,000 attendees to the parade," they said.
What they're saying: "The City of Austin's overreaching COVID-19 requirements have placed an undue burden on large events like the 2021 Veterans Day Parade, forcing the Austin Veterans Parade Foundation to cancel their annual event," Abbott said.
"That is why I am inviting the Austin Veterans Parade Foundation and military veterans to host a rally on the south steps of the Texas State Capitol to celebrate our nation's heroes," he continued. "The State of Texas will always support our military veterans, and we are committed to ensuring that the traditions of Veterans Day are kept alive in the capital city."
The other side: Austin spokesperson Sara Henry said officials had worked with event organizers over the summer to plan "for this important event to honor the American heroes who made the ultimate sacrifice for our great country."
But the organizers never submitted a required COVID-19 Health & Safety form to Austin Public Health.
In late September, as the Delta variant remained a threat, the organizers, citing the health requirements, notified the city that they decided to cancel the event.
Context: The kerfuffle comes as Austin officials have resisted downgrading COVID risk guidelines ahead of the holidays, despite relatively low numbers of coronavirus hospitalizations.
Some veterans and their supporters were incensed at the parade's cancellation.
"First they turned their back on cops and now on veterans," Luis Rodriguez, head of the Wind Therapy Motorcycle Freedom Riders, a military support group, tells Axios, referring to questions of funding and staffing of police.
"It's a slap in the face to those who served. It's for an open air parade. They allowed Formula 1 to go ahead, and that had five times the number of people as the Super Bowl. They did nothing to shut that down. They're playing politics with the honor of veterans and those who have served this country," Rodriguez added.
Of note: The F1 race was on private property, limiting the city's ability to restrict the event.
In lieu of the official parade, Rodriguez's group planned an informal event, walking up the sidewalks of Congress Avenue to the Capitol on Thursday morning.
Asher's thought bubble: The governor's rhetoric is likely to play well for him politically, since Austin — city of heathens, Californians and liberals — is an easy punching bag ahead of a Republican primary. And no politician, especially a GOP one, wishes daylight between himself and veterans.
What's next: The city will celebrate improvements to a pocket park dedicated to veterans on Thursday at 9:30am at 2200 Veterans Dr.
More Austin stories
No stories could be found
Get a free daily digest of the most important news in your backyard with Axios Austin.