Scoop: University of Texas athletes banking on likenesses and images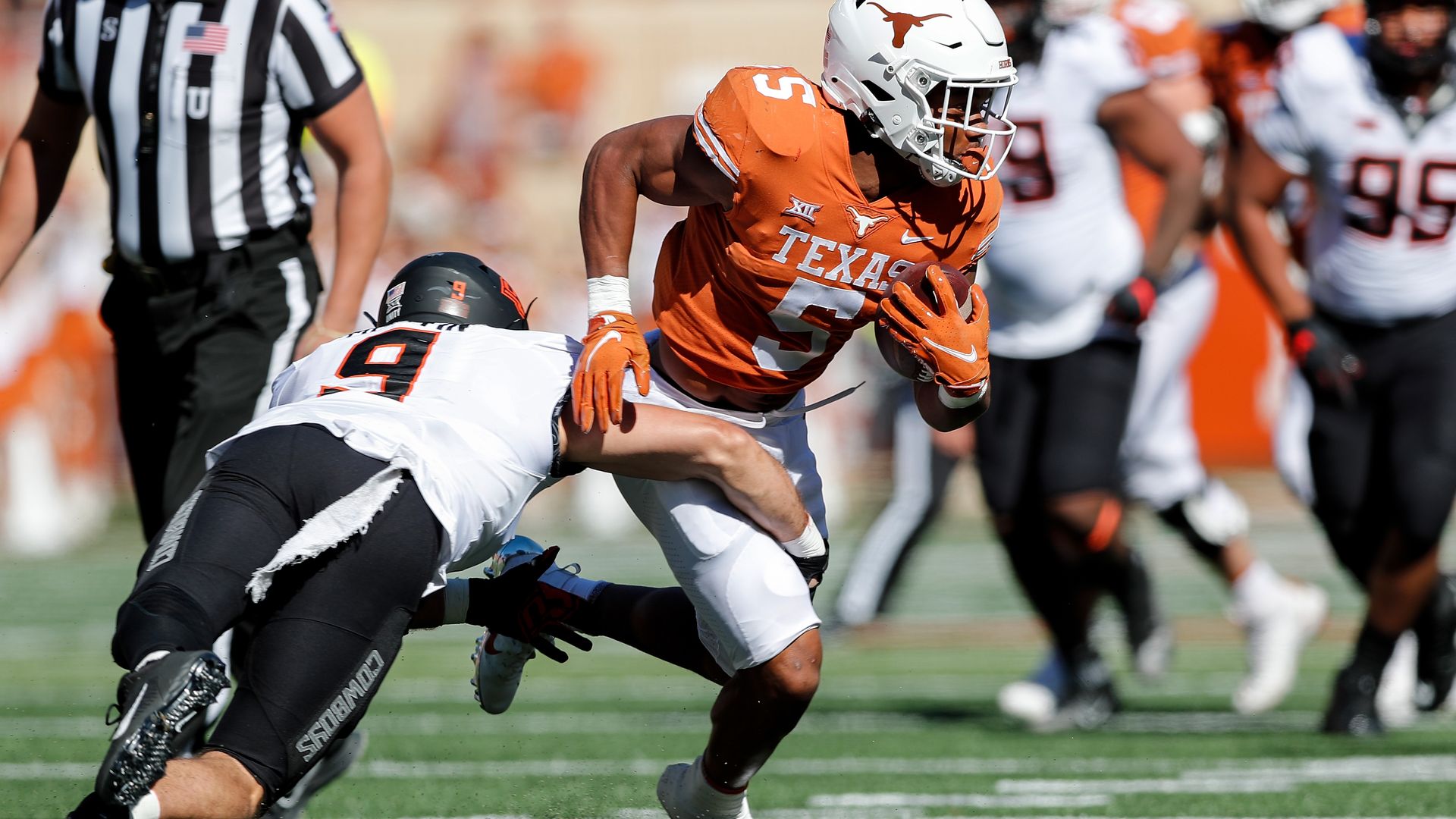 University of Texas football players have capitalized on their names, images or likenesses at least 76 times since the summer, per disclosures made to the school's compliance department and obtained by Axios through an open records request.
Why it matters: The disclosure stats are a window into how a new raft of laws allows student-athletes to finally profit on their own names and images.
While individual contracts are largely insulated from public information requests under federal privacy laws, athletes' social media accounts and internet traffic reviewed by Axios show some of the ways players are capitalizing on their celebrity — and how boosters are happy to oblige.
State of play: Backup quarterback Hudson Card's Twitter profile points potential business partners to his agent.
Card is being paid by Inside Texas to sit for a season-long YouTube series about Texas football.
On Instagram, Longhorns running back Bijan Robinson has promoted Raising Cane's and Athletic Brewing, which "brews great-tasting craft non-alcoholic beer. Go grab you some on your way to DKR!"
Of note: Student athletes cannot engage in any NIL activities related to alcohol or:
• Tobacco and e-cigarettes
• Anabolic steroids
• Casino gambling or sports wagering
• Firearms that cannot be legally purchased
• Sexually-oriented businesses
The Surly Horns, a booster and news site dedicated to the 'Horns, has set up a "Burnt Ends" subscription to pay the Longhorns' tight ends, with an overall fundraising goal of as much as $15,000 per tight end per year.
UT has at least a half-dozen tight ends in its program.
The subscription program aims to seed "recurring yearly endowments to attract and KEEP top TE talent in the program," per the Surly site.
"@SurlyHorns knows how to drop bags the NIL way!" starting tight end Cade Brewer wrote on Twitter, posting a picture of himself and other Longhorns at UT's stadium holding bags of fake cash.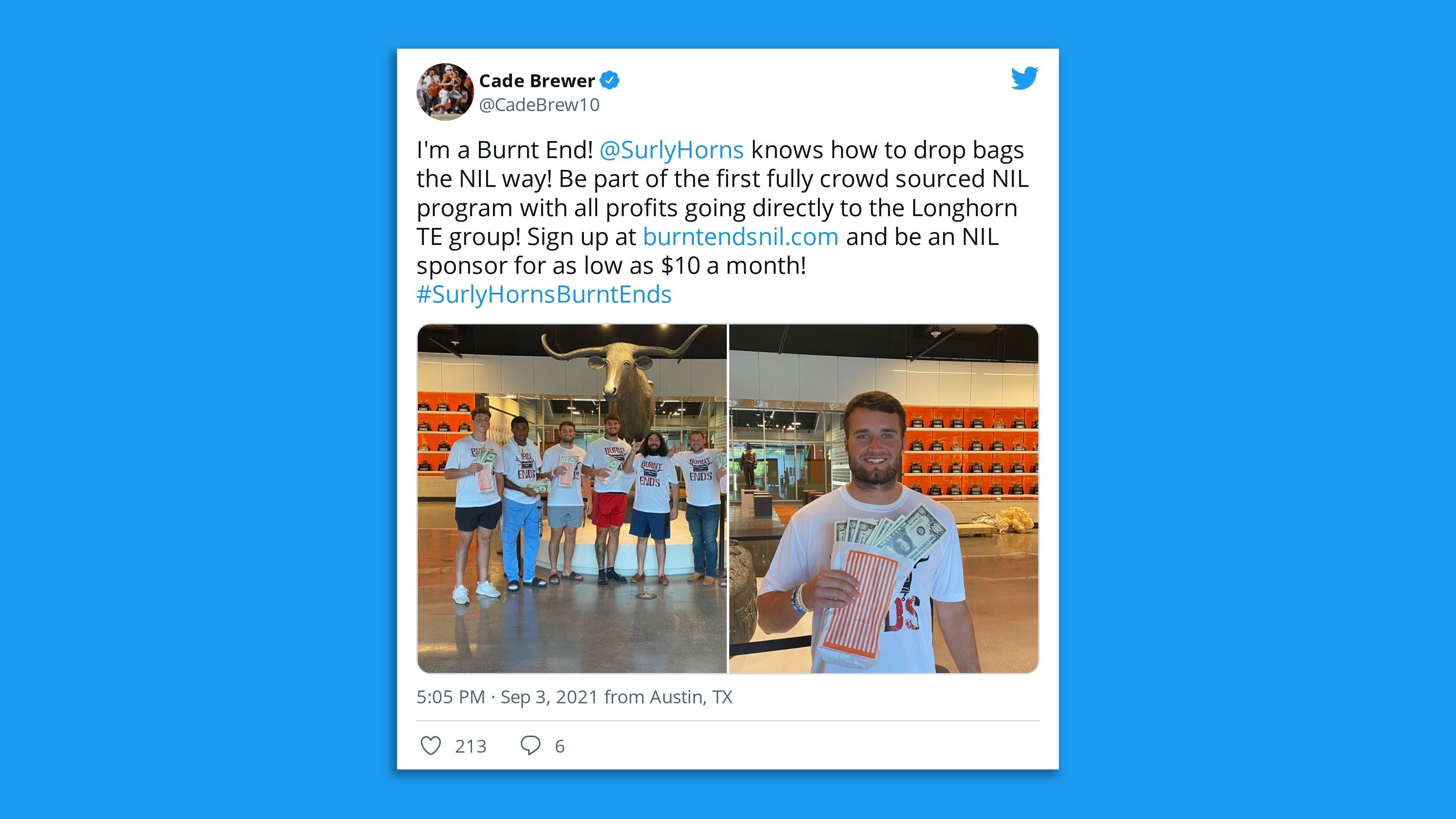 Overall, UT student-athletes have alerted officials to 175 NIL agreements.
Softball players have disclosed 33.
Volleyball, 17.
Baseball, 12.
Men's Basketball, 11.
Women's Swimming, 11.
Men's swimming, 8.
Women's rowing, 7.
Basketball player Andrew Jones links to his own branded merchandise store, AJ1, "a motivational clothing line."
Jones has been treated for leukemia and writes on the store site that "AJ1 boom symbolizes perseverance and determination to overcome adversity."
What's more: There are no NIL contracts for cross-country or diving.
UT redacted the number of NIL contracts for other sports.
Each of the redacted sections represents between one and four students.
"Data like this that applies to fewer than five students is always considered to be identifying and therefore redacted" under federal law that protects students' privacy, UT open records coordinator Bob Davis tells Axios.
At least five UT football players have retained agents, per documents obtained by Axios.
Some athletes who play men's basketball, men's golf, softball, women's basketball, women's swimming, volleyball and soccer also have agents.
Flashback: We reported previously how UT built a directory to connect boosters to students for potential sponsorship deals.
UT athletes, with their visibility and thousands of social media followers, are natural spokespeople.
A state law effective July 1 allows student-athletes at Texas universities to earn money for use of their names, images and likenesses.
More Austin stories
No stories could be found
Get a free daily digest of the most important news in your backyard with Axios Austin.