Austin's pumpkin patch economy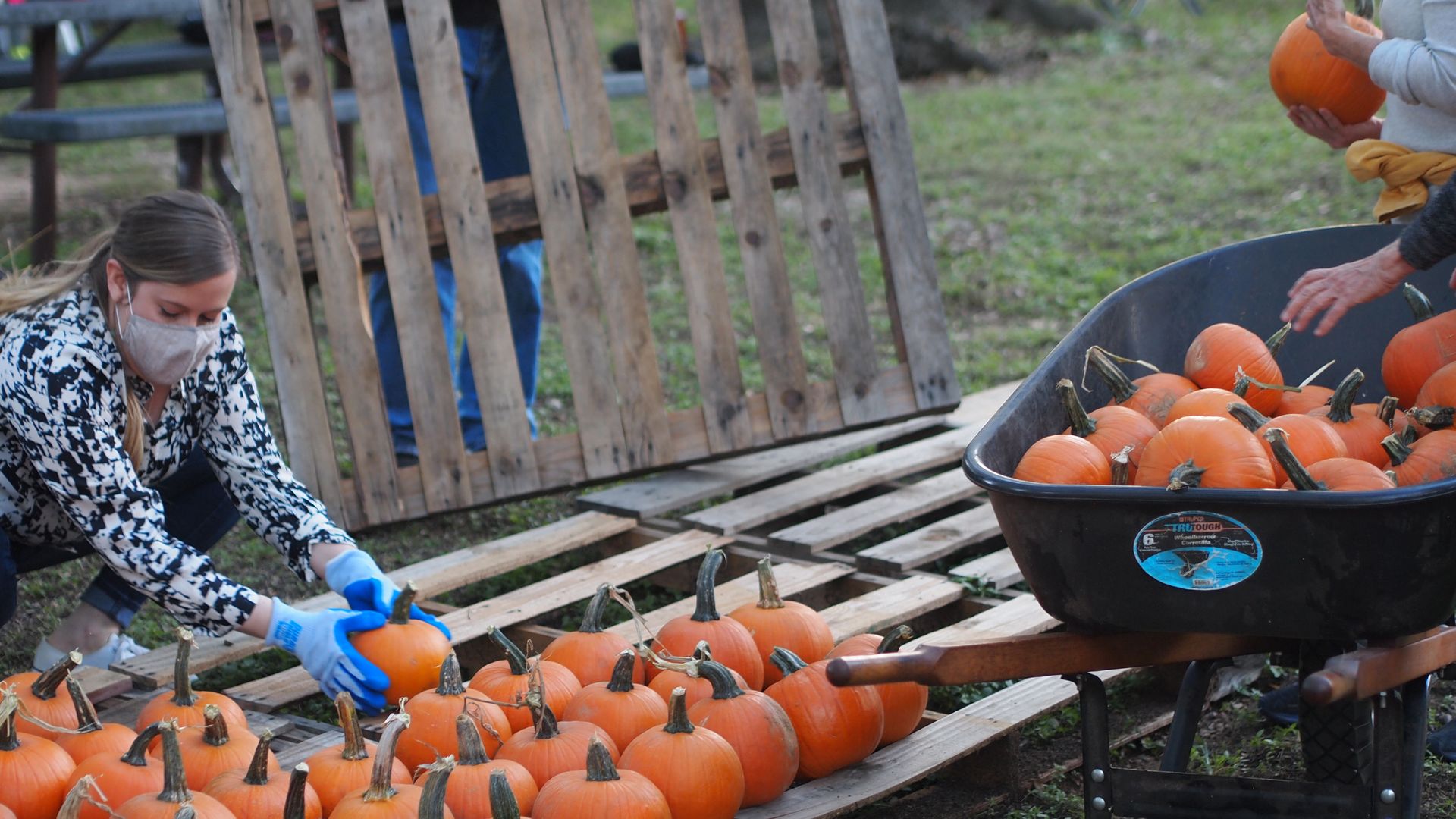 By the time Abel Ponce executed a nimble three-point turn in his 18-wheeler at a narrow, oak tree-lined South Austin intersection on Sunday afternoon — the final maneuver in a 16-hour drive from Farmington, New Mexico — a group of more than three dozen volunteers assembled to offload his precious cargo: pumpkins.
Why it matters: Delays and costs associated with setting up a pumpkin patch this year at an Austin church present a window into a national economy beset with logistics and inflation challenges.
Christ Lutheran Church uses its charming annual pumpkin patch as a way to raise money for a cause.
This year, proceeds go to Water to Thrive, an Austin-based, religious-minded nonprofit that builds water wells in rural parts of Ethiopia, Uganda and Tanzania.
But at Pumpkin Patch Fundraisers, the company that sells millions of pumpkins out of New Mexico, trucking shortages meant that shipments cost 30-50% more than normal — and ran behind schedule, Janice Hamby, one of the company owners, tells Axios.
A truck into Texas, capable of carrying 3,000 pumpkins, cost $1,800 in a pre-pandemic year; now it runs for $3,000.
Laborers at the Farmington site, many of them members of the Navajo Nation, are paid on average $13.57 per hour — up about $1.50 an hour from last year.
Yes, but: At least Pumpkin Patch Fundraisers has a full slate of customers.
Last year, in the throes of the pandemic, Christ Lutheran canceled its patch.
Across the country, Pumpkin Patch Fundraisers was down to 515 congregations from its usual 900.
Pummeled by the pandemic like so many congregations, Christ Lutheran is now down to 70 regular Sunday worshippers, a decrease from at least 110 pre-pandemic.
"We've lost a lot of members, especially families, to filling their time with something else," church pastor John Stennfeld tells Axios.
Christ Lutheran shortened its pumpkin patch by at least a week because church leaders weren't sure they'd have enough volunteers to offload pumpkins and oversee the operation — a third of the volunteers from 2019 no longer regularly attend the church.
"We felt a void in our community," Stennfeld said, adding that he wanted to make sure to have at least some kind of pumpkin patch.
The per pumpkin cost — small "spookies" still go for about $3 a piece, with big orbs running at about $35 — remains the same as pre-pandemic years, but only because Pumpkin Patch wants to keep its customers satisfied, Hamby says.
But the supply chain problems bedeviling the nation are felt in the patch.
A 48-hour delay in transporting the pumpkins — the church was hoping they would arrive last Thursday or Friday — means the church lost a valuable weekend in its pumpkin-selling operation.
Sales were roughly $9,000 on 1,100 pumpkins in 2019, per Jordan Boessling, the church's minister of creative communications and community connections — but could be far less this year because the church ordered about 500 pumpkins to sell during its shorter window.
State of play: In the end on Sunday, everybody seemed genuinely happy. Jolly cardboard pumpkins were pasted about by the University of Texas Darlins spirit group. Kids started peering out of the jack o'lantern cutouts. Hay was laid down by the wheelbarrow. The weather was pleasant as could be. And the pumpkins practically glowed a picture-perfect orange.
More Austin stories
No stories could be found
Get a free daily digest of the most important news in your backyard with Axios Austin.