Scoop: U.S. Rep. Lloyd Doggett teases run in proposed Austin district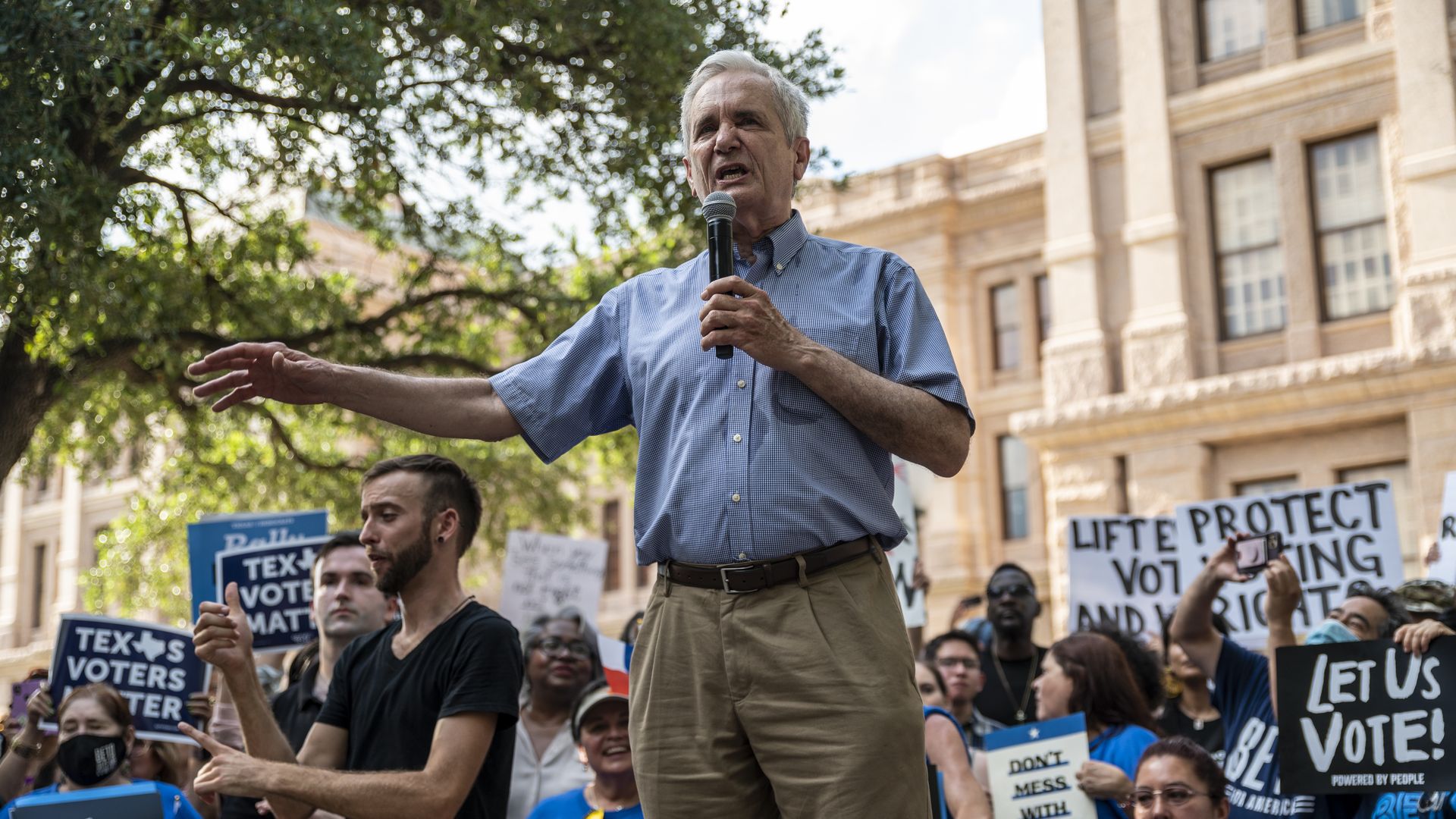 U.S. Rep. Lloyd Doggett, a longtime Democratic congressman from Austin, indicated to Axios that he plans to announce his run for a seat in a newly proposed congressional district in Austin.
Why it matters: The newly crafted district, part of the redrawing of political boundaries every 10 years to account for population growth, is expected to be a safe Democratic seat that will include parts of Travis and Williamson counties.
It's also seen as a natural fit for Doggett, who spent his tenure as a political survivor in gerrymandered districts that have stretched to South Texas.
The creation of the Austin congressional seat is part of an effort by Texas Republican lawmakers to protect GOP incumbents across the state and win back political power in Washington.
What he's saying: "For years, I had the good fortune to represent all of Austin, the only city I have ever called home," Doggett told Axios. "After then being switched across Texas to Rio Grande City, LaGrange, and San Antonio, Republicans have now created District 37, which for now reunites many of the Austin neighborhoods I was first elected to represent."
"Though designed for the wrong reasons and refusing to acknowledge that 95% of the growth in Texas has been from people of color, this new gerrymander seems to at least mean that most Travis County residents will no longer be forced into districts of Trump-supporting Congressmembers," Doggett continued.
"I will be asking neighbors to permit my continued service in Washington as a voice for our shared values."
State of play: Doggett has built deep loyalties and a wide network in his decades in office. Ahead of Doggett's announcement, other possible candidates included:
Wendy Davis, the former state senator who drew national headlines for her 13-hour filibuster over a restrictive abortion measure.
She's sought higher office before, facing a bruising defeat in her 2014 gubernatorial bid against now-Gov. Greg Abbott. U.S. Rep. Chip Roy narrowly defeated Davis in 2020 for a seat representing a slice of Austin and the Hill Country.
Davis, who lives in Austin, has punted questions about a possible run, saying instead she has "serious legal concerns" with the map: "Discussions around who may or may not run for election and in which districts is not the right conversation to have at this time."

A spokesman for Davis declined to comment further.
State Rep. Gina Hinojosa, an Austin Democrat, is also seen as a possible contender for the new seat.
Her state House district fits squarely in the new 37th Congressional District, and she drew national attention when she joined Democrats in fleeing the state earlier this year to break quorum over a sweeping GOP-led voting bill.
Hinojosa previously said it's not the time to discuss possible candidates for the district. She maintained that position Friday, telling Axios she's "trying to protect the voting interests of Travis County" and "will make a decision about next steps once maps are voted out."
What's next: In what amounts to a field-clearing move, Doggett isn't waiting for the congressional map to be finalized.
The proposed map has been approved by the House redistricting committee and is on the House calendar for Saturday.

If they make any changes, no matter how slight, the draft goes back to the Senate. But if the House approves it Saturday, it is final and goes directly to Abbott.

Doggett said he will make his decision about where to run publicly on Monday outside Bryker Woods Elementary, the same location as his original announcement for Congress. He was first elected to Congress in 1994.
More Austin stories
No stories could be found
Get a free daily digest of the most important news in your backyard with Axios Austin.