Demand for legal weed grows in Texas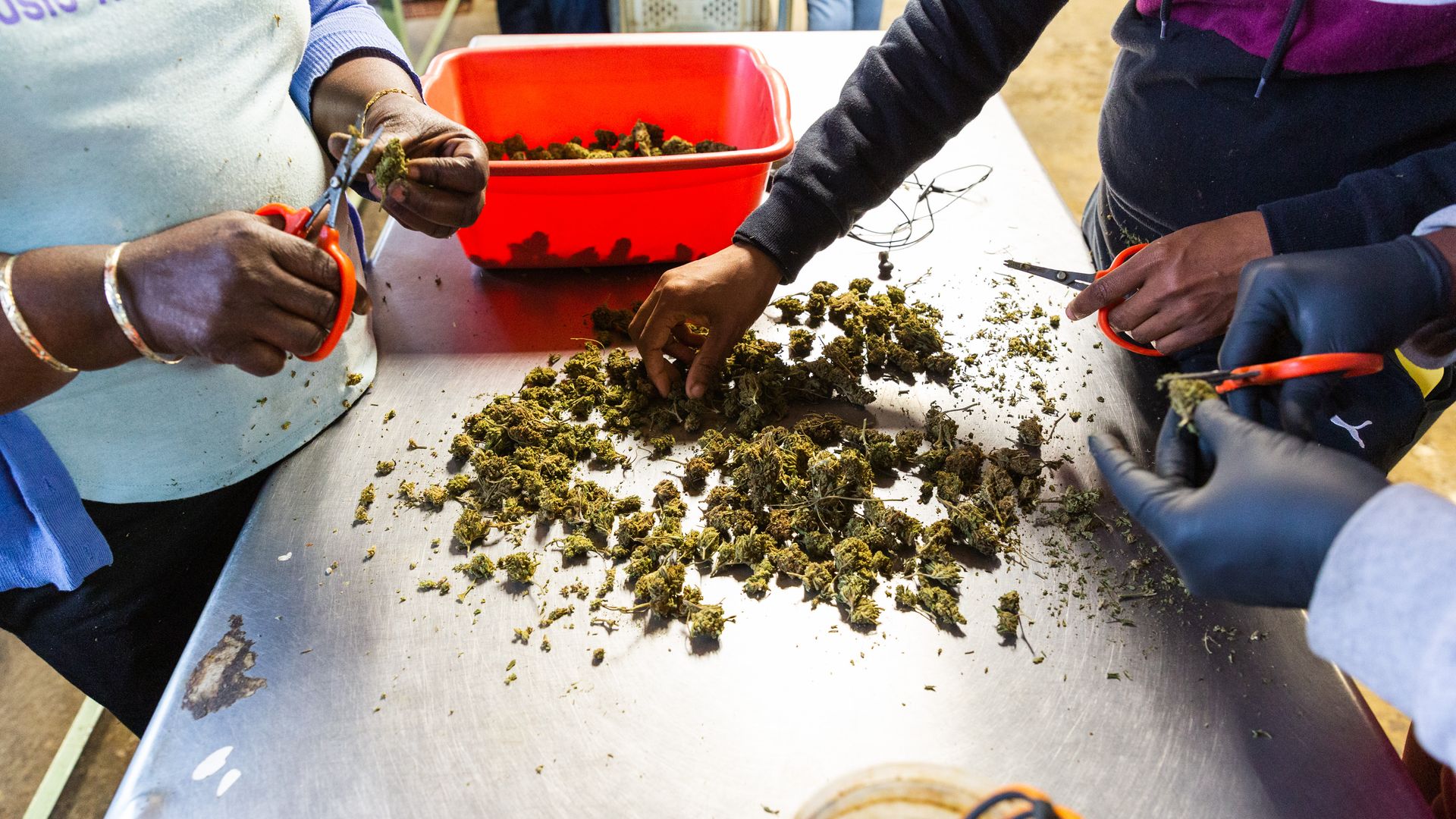 It's hard to miss advertisements on billboards and store windows across Texas promoting "legal THC."
Yes, but: The legality of delta-8 THC, which has a slightly different chemical structure from "regular" marijuana, is murky.
Why it matters: Delta-8 has become a new front line in the state's battle over cannabis legalization. Recreational marijuana is not legal in Texas, but CBD products are more widely available since the state Legislature approved the legal sale of hemp with small amounts of THC in 2019.
Delta-8 is naturally occurring and extracted from hemp, which was legalized as part of the 2018 Farm Bill.
But a representative from the Department of State Health Services testified in May that delta-8 is an illegal substance covered under the Texas Controlled Substance Act.
This legal ambiguity has produced a large, unregulated industry that cultivates and sells delta-8 in flower, vape, edible and concentrate forms.
The natural amount of delta-8 THC in hemp is small, meaning that additional chemicals are often used to convert other cannabinoids in hemp into delta-8 THC, according to the Food and Drug Administration.
Legal hemp and products derived from hemp must contain less than 0.3% THC, the psychoactive compound that gives people the euphoric high.
Legislation that aimed to ban delta-8 in Texas failed during the state's most recent legislative session. More than a dozen other states have restricted its sale or use.
Because of concerns surrounding chemicals in the delta-8 conversion process, some Central Texas businesses are turning to delta-9 — the major cannabinoid found in marijuana — instead.
House Bill 1325, signed into law by Gov. Greg Abbott in 2019, legalized the sale of industrial hemp that contains less than 0.3% delta-9 THC.
Austin's EarlyBird CBD, which is now sold in more than 50 locations, has seen demand for its products surge over the last year. The line's hemp products use less than 0.3% delta-9 THC.
"Delta-8 is kind of the poster child of this whole industry, but we decided from the beginning that we wanted a more natural product," Mark Hulings, co-founder of EarlyBird, told Axios. "We decided we wanted to stay away from producing delta-8 products."
Of note: Delta-8 THC will trigger a positive result in most drug tests.
Be smart: With no oversight, buying delta-8 can put consumers in a precarious position. Some delta-8 products have QR codes from which you can see the lab where it was tested.
More Austin stories
No stories could be found
Get a free daily digest of the most important news in your backyard with Axios Austin.