Greyhound stations are leaving downtowns after sale to notorious investment firm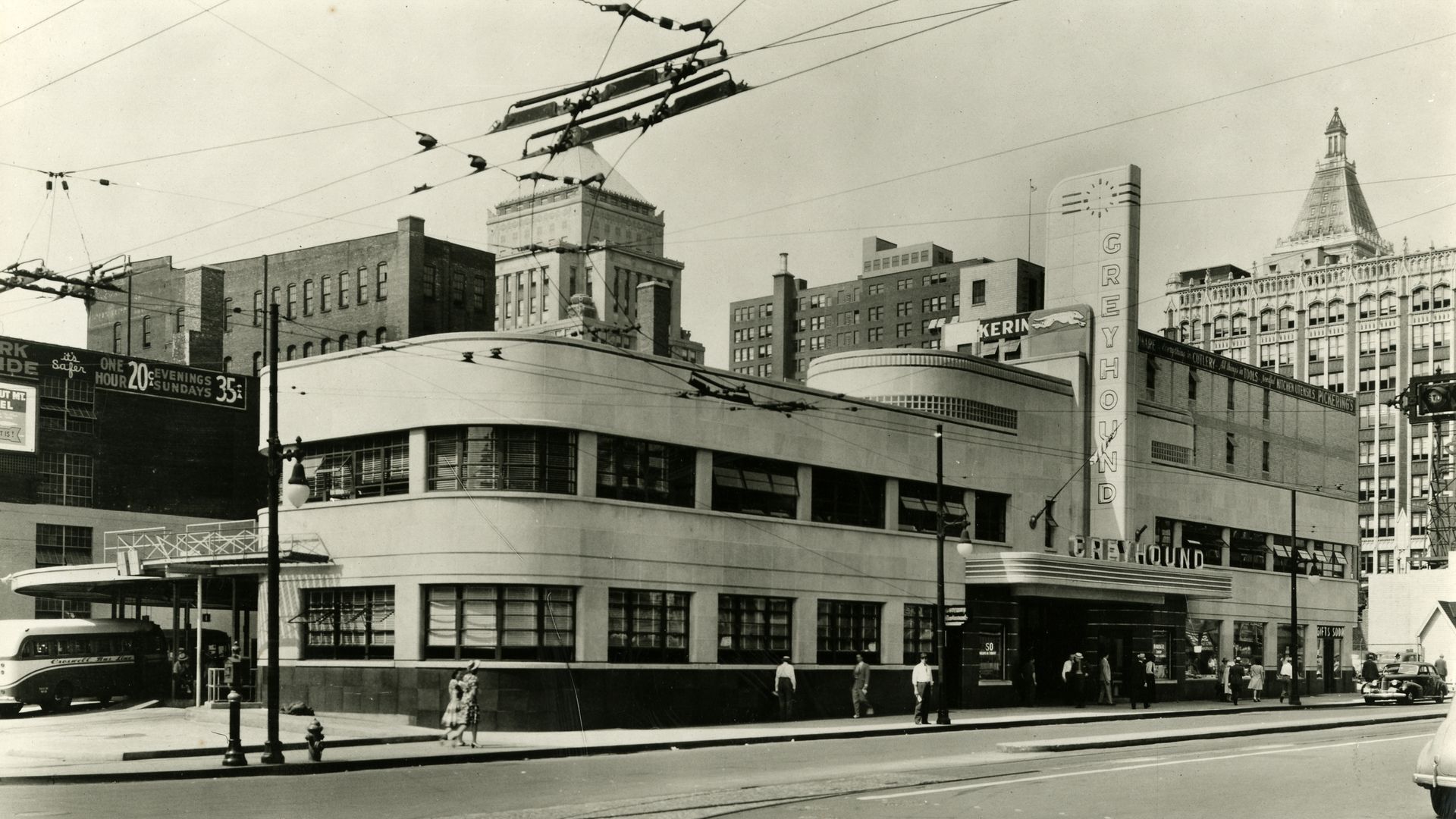 Greyhound bus stations nationwide are closing and relocating outside central business districts after being acquired by an investment firm that rose to infamy for its acquisition and gutting of American newspapers.
Why it matters: Greyhound has long been the brand most closely associated with intercity bus travel in the United States. Its stations, often architecturally and culturally significant, occupy prime downtown real estate that is considered ripe for commercial and residential development.
But Greyhound's passengers, who tend to be younger and lower-income than other travelers, now must wait at improvised outdoor pickup locations or travel to less convenient locations to catch their bus.
Driving the news: Twenty Lake Holdings LLC, a subsidiary of Alden Global Capital, purchased 33 Greyhound stations from the U.K. conglomerate FirstGroup late last year.
FirstGroup acquired Greyhound in 2021 and sold the bus service to German transport company FlixBus for $172 million, but retained the stations until the sale to Twenty Lake.
What they're saying: Twenty Lake did not respond to an Axios email and phone call seeking comment.
Axios has made numerous attempts via phone and email to contact spokespeople from Greyhound and FlixBus since early October. No one has responded.
The big picture: Multiple downtown Greyhound stations closed and relocated to less formal locations after the sales.
What happened: After the Philadelphia terminal closed, Greyhound began operating curbside a short distance away, forcing passengers to wait outside on sidewalks without designated seating or restrooms.
In Charlottesville, Greyhound shuttered its station in 2021 and moved to an unmarked stop in an Amtrak parking lot ahead of listing the property for sale, causing confusion and anger. An LLC with a mailing address registered to Twenty Lake paid $2.42 million for the property in January, per property records.
In Louisville this year, the station relocated with no notice to passengers to a temporary site in a strip mall a mile away.
In Oakland, the historic station had been falling into disrepair even before Greyhound pulled its buses, but since 2021 it has become the site of underground parties and a resting place for unhoused individuals. Oakland passengers now board Greyhound and Flix buses on a strip of land adjacent to a BART station.
Between the lines: The relocation of stations to less accessible, outdoor locations raises equity and safety concerns.
A DePaul University study this year found that Greyhound riders tend to be younger and lower-income than other travelers, and are less likely to have access to a car.
When Cincinnati's station closed, Greyhound relocated to a suburban location 10 miles away, with advocates calling it an "unfair burden" on passengers who would be forced to spend money on an Uber or time on public transit to get there.
The same situation may await riders in Cleveland. The local Greyhound operator is now exploring two new locations, one of which is 11 miles away from the current downtown terminal.
The intrigue: Many of the historic Greyhound sites, located in urban cores close to clusters of downtown amenities, are optimal for mixed-use development.
The vision for Cleveland's Greyhound site includes an apartment tower, a jazz club and a potential "education space."
Twenty Lake snapped up the Richmond Greyhound station at the start of the year for $11.1 million, and immediately re-listed it for sale for an undisclosed amount, Richmond BizSense reported at the time. The station sits on a 5-acre site in Richmond's most popular entertainment district.
In Chicago, the downtown Greyhound station may shut down, and a developer could build two towers on the site.
In Cincinnati, the owner of the former Greyhound site is operating it as a parking lot with plans to sell to a developer, who may opt for office, retail or residential uses.
Axios Richmond reporter Karri Peifer contributed to this story.
Go deeper