Web Summit faces crossroads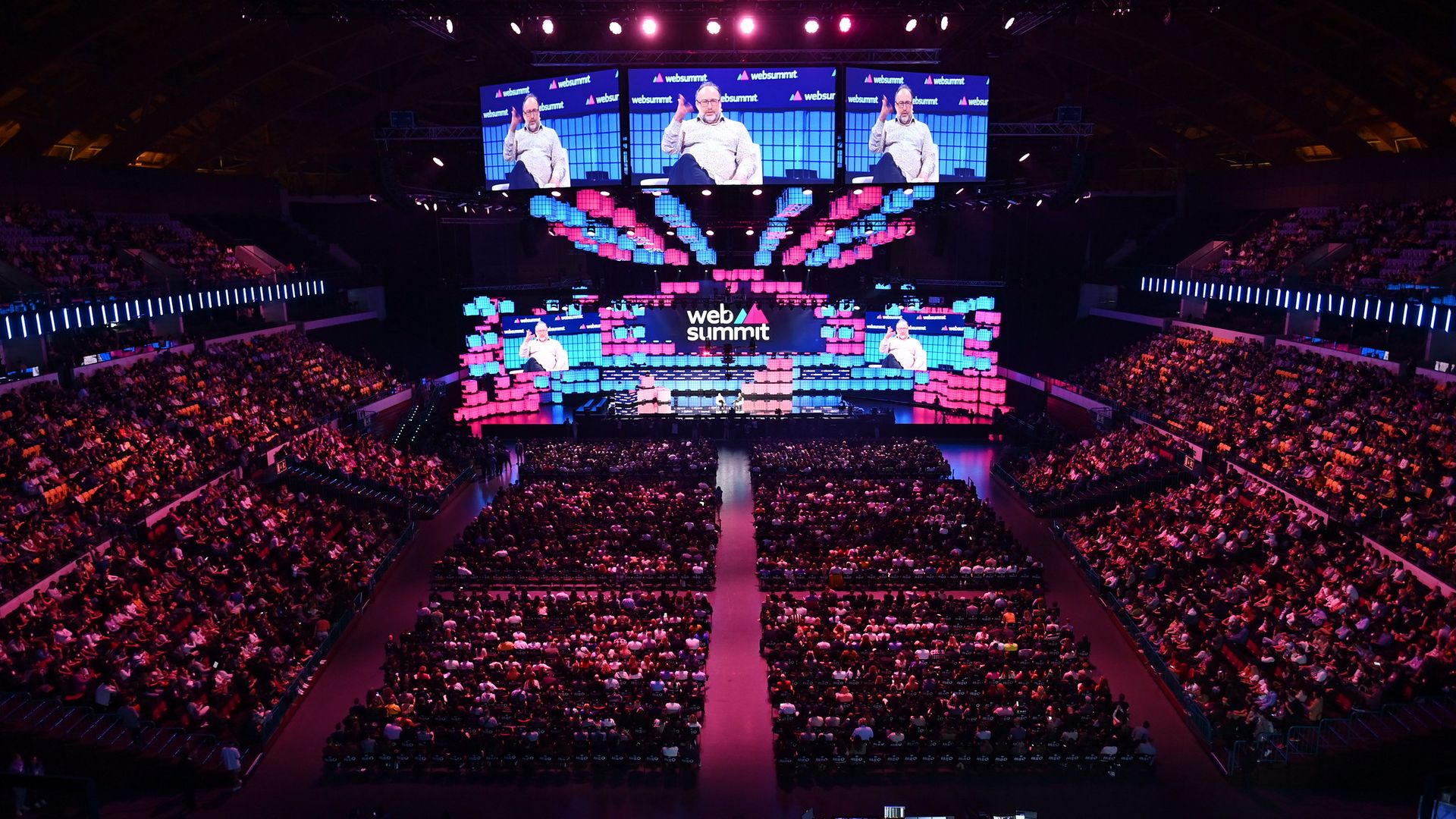 Web Summit has been thrown into an existential crisis in the weeks following the resignation of its founder, CEO and still 81% shareholder Paddy Cosgrave — prompted by an exodus of American companies from the event.
Why it matters: Several million dollars in 2023 sponsorship money and long-term relationships are on the line as companies tussle with Web Summit over refunds and future participation in any of their events around the globe.
What we saw: The marquee Lisbon edition of the global conference franchise this week has been a split screen experience.
Web Summit boasted that 70,236 startup staff and investors turned up from 153 countries, and 2,608 companies exhibited.
Most either did not know or cared little of Cosgrave's controversies, but did note a shortage of big name tech companies and thought leaders, who largely wanted clear distance between Cosgrave and their brands.
Details: Some big companies sent low-key observers, but an Axios review of published speaking lists indicated that most of the high-profile speakers from large tech companies withdrew — including Amazon, Meta, Intel, IBM and Stripe executives, European Union officials and celebrity speakers Amy Poehler and Gillian Anderson.
Of the 20 top-billed speakers on Web Summit's site prior to Cosgrave's comments, none were still listed as of Thursday.
Yes, but: Among those who participated in the conference as speakers, most believed Cosgrave's decision to step down was enough 0f a clean slate for the organization.
"I think by [owning up to the] consequences, and saying I'm taking responsibility for how I approached this... and having Katherine, who I feel is a fantastic new leader, I think it's fine to be here," USV Managing Partner Albert Wenger told Axios' Lucinda Shen on stage.
Axios spokes to several attendees who both know Cosgrave well and are happy to see new Web Summit leadership.
They said Cosgrave's combative public positions and self-importance told Axios had grown tiring. "Last time I met him he had two bodyguards with him," said one senior Portuguese official.
Of note: Despite Cosgrave's exit, lines are being drawn around the conference on the basis of identity — giving Web Summit a much higher bar to clear should it try to win back partners with ties to Israel.
What they're saying: "Without the influence of major US tech companies, it's completely pointless going to future iterations of Web Summit. Lisbon felt small this year and Qatar will feel even smaller," Chris Spillane, head of communications at Barcelona-based VC firm Runa Capital, told Axios.
"We met some incredible young companies and climate tech start-ups," Melanie Nakagawa, Microsoft's chief sustainability officer told Axios, after her Thursday centre stage keynote.
What we're watching: What will Web Summit have to do to bring back sponsors and speakers that abandoned this edition to future conferences. Sponsors who pulled out largely forfeited their money.
Cosgrave is still the majority shareholder, with 81% of the overall business.
"We went through a transition," new Web Summit CEO Katherine Maher told Axios' Felix Salmon this week. "We need to focus on the mission and bring those partners back in."
During a press conference Wednesday, she defended her independence, insisting Cosgrave stepped back entirely from the company he co-founded and ran for 14 years.
Go deeper