Katherine Maher: Web Summit's instant CEO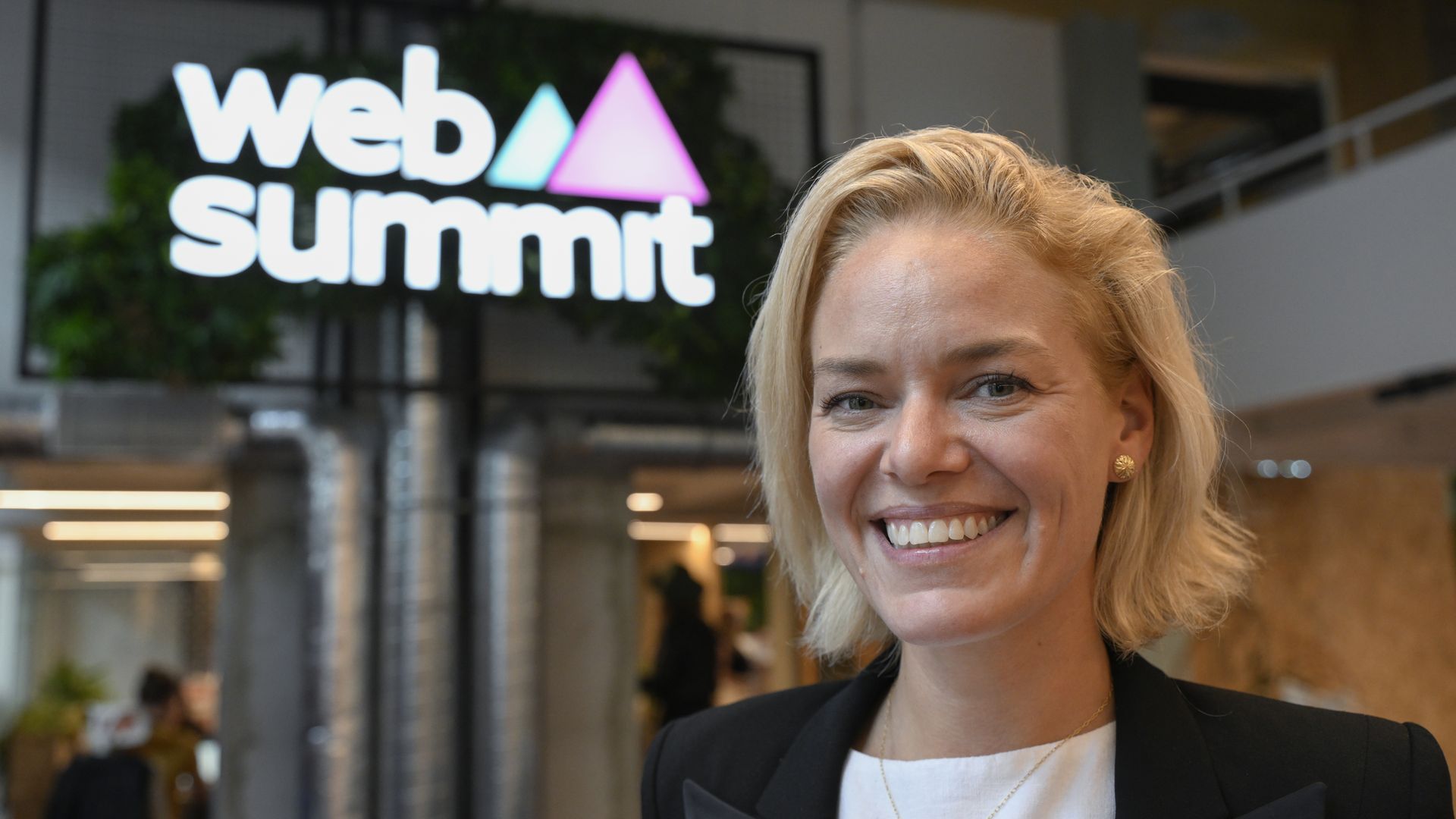 Don't expect big changes at Web Summit, incoming CEO Katherine Maher tells Axios, because it wasn't broken and doesn't need to be fixed.
The big picture: Maher, the former CEO of the Wikimedia Foundation, took the reins at Web Summit — the giant global tech event that begins Monday in Lisbon — in a sudden and unplanned transition, following the abrupt exit of founding CEO Paddy Cosgrave after he made controversial comments about Israel's actions in Gaza.
Maher spoke to Axios in her first interview with U.S. media since becoming Web Summit CEO and provided fresh details about the company's new governing structure.
What they're saying: Given the rushed nature of her appointment — the time from an initial Signal message to her being offered the job was a mere 48 hours — Maher says she was surprised by "how solid the company is" and how "extraordinarily on top of it" the team was in putting together a conference that will attract some 70,000 attendees.
Between the lines: Maher has joined the Web Summit board, but hasn't been granted any equity in the company. The three shareholders, including Cosgrave, remain in what has been described by one of them as an "irremediably toxic" relationship.
None of the shareholders are on the board. "Those shareholders who do not sit on the board are not in charge of the CEO," Maher says. "The board is independent."
"I look at my job and my responsibility here as having a successful company that runs successful events for all the stakeholders," she adds.
Where it stands: Maher extols Web Summit as being "one of the only places in the world where you have such a broad mix of regulators, policymakers, technologists, scientists, academics, corporate leaders, artists, media, all looking at technology in society in a way that's extremely accessible. It's not elite, it's not invitation only."
That's also a key advantage in launching a new conference in Qatar next February, she says. The Emirate's openness to foreign visitors means that entrepreneurs from Africa and other countries can attend without the kind of visa problems they often face when they want to travel to Portugal.
While the Web Summit team goes to great lengths to try to provide value to sponsors, those deals never include guaranteed spots on stage, says Maher.
What's next: The immediate task facing Web Summit is to bring back the major sponsors — including Google, Meta, Amazon and Intel — that decided not to attend this year's conference after Cosgrave made his comments.
"We went through a transition," says Maher. "We need to focus on the mission and bring those partners back in."
After that, the trick will be to do something similar to what Maher accomplished at Wikipedia — in her words, "moving an organization forward from its founder-led period to what makes it a durable success beyond that."
Go deeper