Mexico "sincerely committed" to cracking down on fentanyl, AMLO says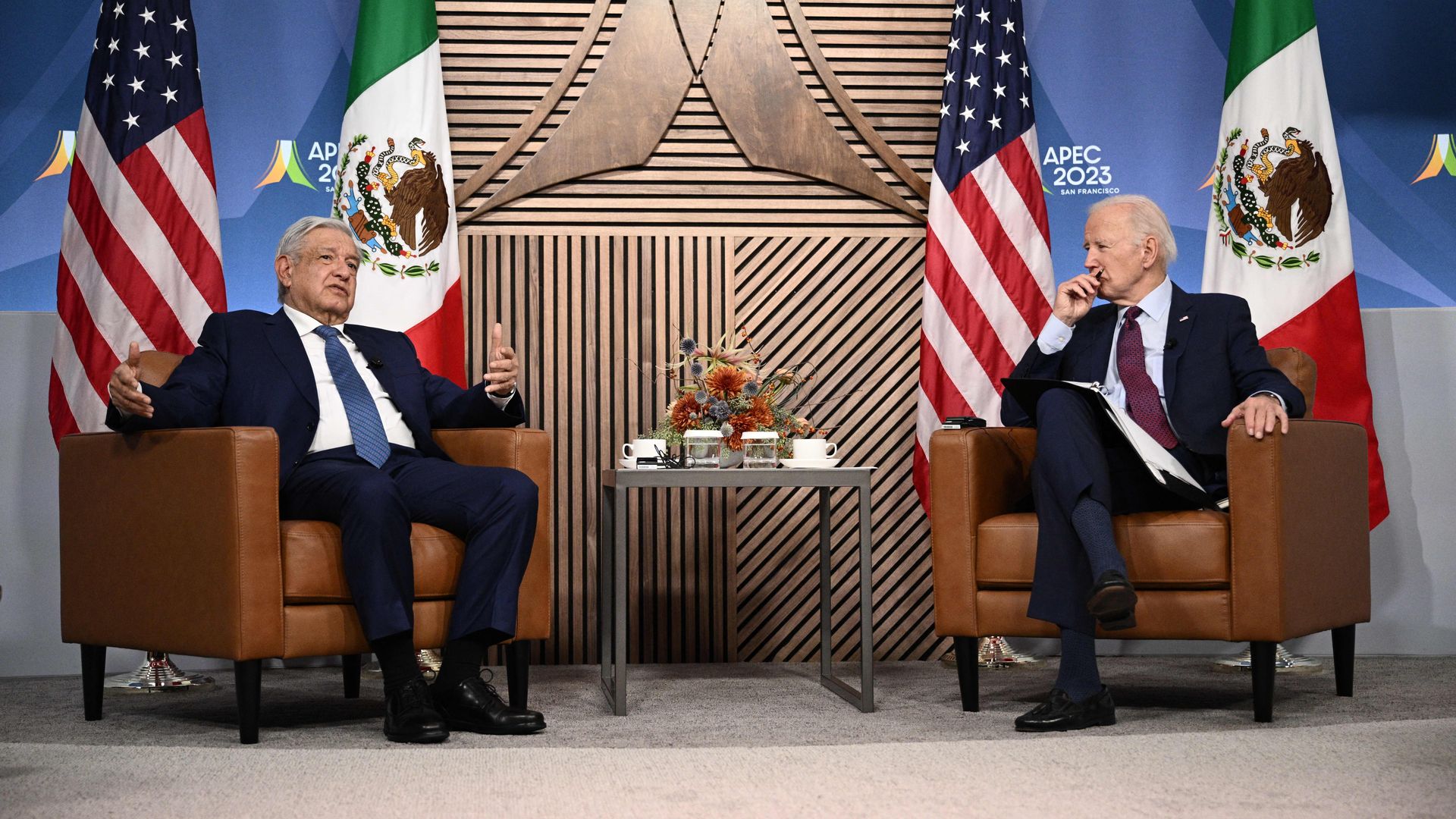 Mexican President Andrés Manuel López Obrador on Friday pledged to stop fentanyl and ingredients used in the deadly drug from passing through his country and into the U.S.
Driving the news: Speaking at a bilateral meeting with President Biden in San Francisco, López Obrador said Mexico was "sincerely committed" to assisting in their "fullest capacity to prevent drug trafficking, namely the entrance of fentanyl and other chemical precursors."
He added that Mexico was "fully aware of the damage" fentanyl poses to young people in the U.S. and said clamping down on fentanyl was a matter of "a matter of humanism."
Biden, in turn, praised López Obrador for his cooperation with the U.S. on a number of issues, including addressing the opioid epidemic and fentanyl.
Biden hinted that the two would discuss the issue more privately, saying he wished to tell him about his "great conversation with Xi Jinping on that issue."
"Nothing is beyond our reach, in my view — I really mean it — when Mexico and the United States stand together and work together," Biden said.
By the numbers: The U.S. overdose death rate involving fentanyl nearly quadrupled between 2016 and 2021, according to a report published in May.
The big picture: The promise from López Obrador's is the second international pledge this week to stymie a source of fentanyl into the U.S.
President Biden and Chinese leader Xi Jinping reached an agreement earlier this week to crack down on Chinese companies that produce the chemical precursors that can be used to make fentanyl.
The Biden administration has long urged both China and Mexico to crack down on fentanyl.
Most chemical precursors for fentanyl come from China, and many are shipped to Mexico, where the drug is produced. Much of the fentanyl brought into the U.S. is smuggled in by cartels.
Go deeper