Audit of Mexico's missing persons list raises concerns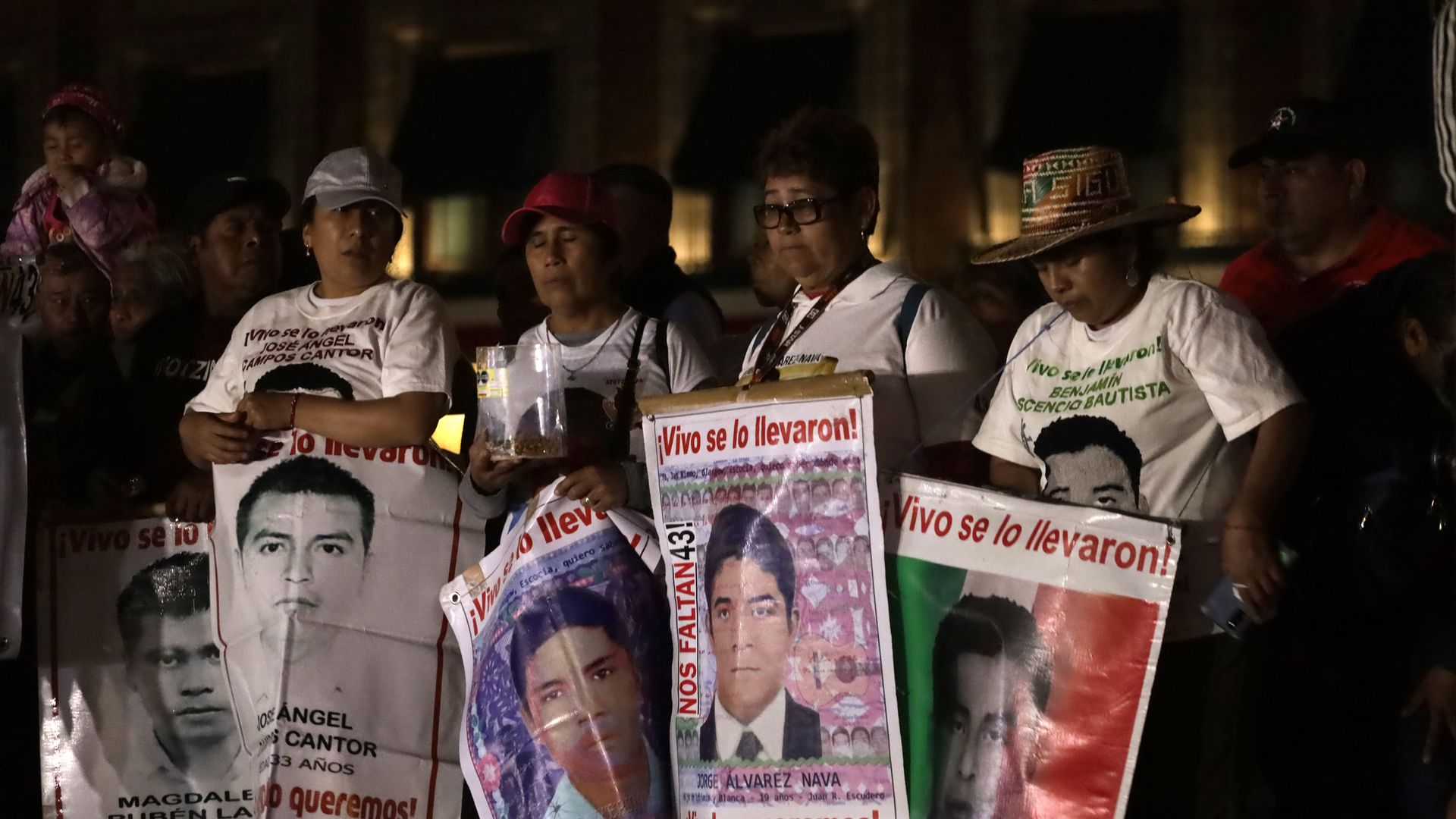 A government-ordered audit of Mexico's missing people database has human rights observers worried it will be used to obscure the extent of the problem.
Why it matters: In the registry, which uses data going back to 1962, the number of people missing or disappeared stands at an all-time high of 113,275.
But President Andrés Manuel López Obrador has long cast doubt on the accuracy of the list, saying without evidence that reports were not being properly kept or updated.
He has also claimed in response to concerns over the audit that specialists at the National Search Commission of the Disappeared, which manages the database, are political opponents who tampered with them to hurt his administration. None have responded to the allegations.
Of the people in the database, 39% were reported missing since López Obrador took office in 2018.
What they're saying: Experts say the audit could undo advances in the search for the forcibly disappeared people.
"The intent is, clearly and regrettably, to lower the numbers of disappeared people" without them necessarily having been found, Karla Quintana, a long-time human rights expert, said during a university seminar last week.
Quintana also said she resigned from her post as director of the search commission in August because she opposes the review and planned changes to the registry. It's unclear what those changes will be when the review is over.
UN officials warned last month the audit could be going against international standards.
How it works: Volunteers and low-ranking government officials are calling or going to the houses of families who reported missing loved ones and making sure they aren't there. They're also checking if that person's government ID number has been used recently.
Several families have said that the officials have told them the missing person was found simply because their ID number was registered in a database of people hoping to get the COVID vaccine in 2021. No other proof of life was provided.
One family was told their son and his friend — who disappeared at different times — were both located through that vaccine database. But the friend's remains were recovered from a mass grave years earlier, casting doubt on the government claims, according to investigative outlet A dónde van los desaparecidos.
According to a 2017 law, only trained officials can carry out such visits or corroborate if the missing person has actually turned up, especially to avoid further upsetting families.
López Obrador said Tuesday that the review will be complete within a month and that it's already found that some people reported missing are no longer so.
Background: The number of missing persons skyrocketed after former President Felipe Calderón launched a "war" on drug cartels in 2006. Experts believe criminal groups and corrupt officials are behind most of the recent disappearances.
Most missing persons cases remain unsolved — only 36 cases have resulted in a criminal conviction, according to a UN report.
In one of the most high-profile cases, 43 students were forcibly disappeared in one night in September 2014.
The students had been protesting in Guerrero state and were last seen being carted away by local and state police officers. Investigations have since found members of the military were also involved and likely working with a drug-trafficking group; some have been arrested but the precise motive isn't clear.
Most of the students remain missing, except for three who are now considered deceased based on the identification of small bone remains.
Subscribe to Axios Latino to get vital news about Latinos and Latin America, delivered to your inbox on Tuesdays and Thursdays.
Go deeper