UAW strike settlement deal with GM going down to the wire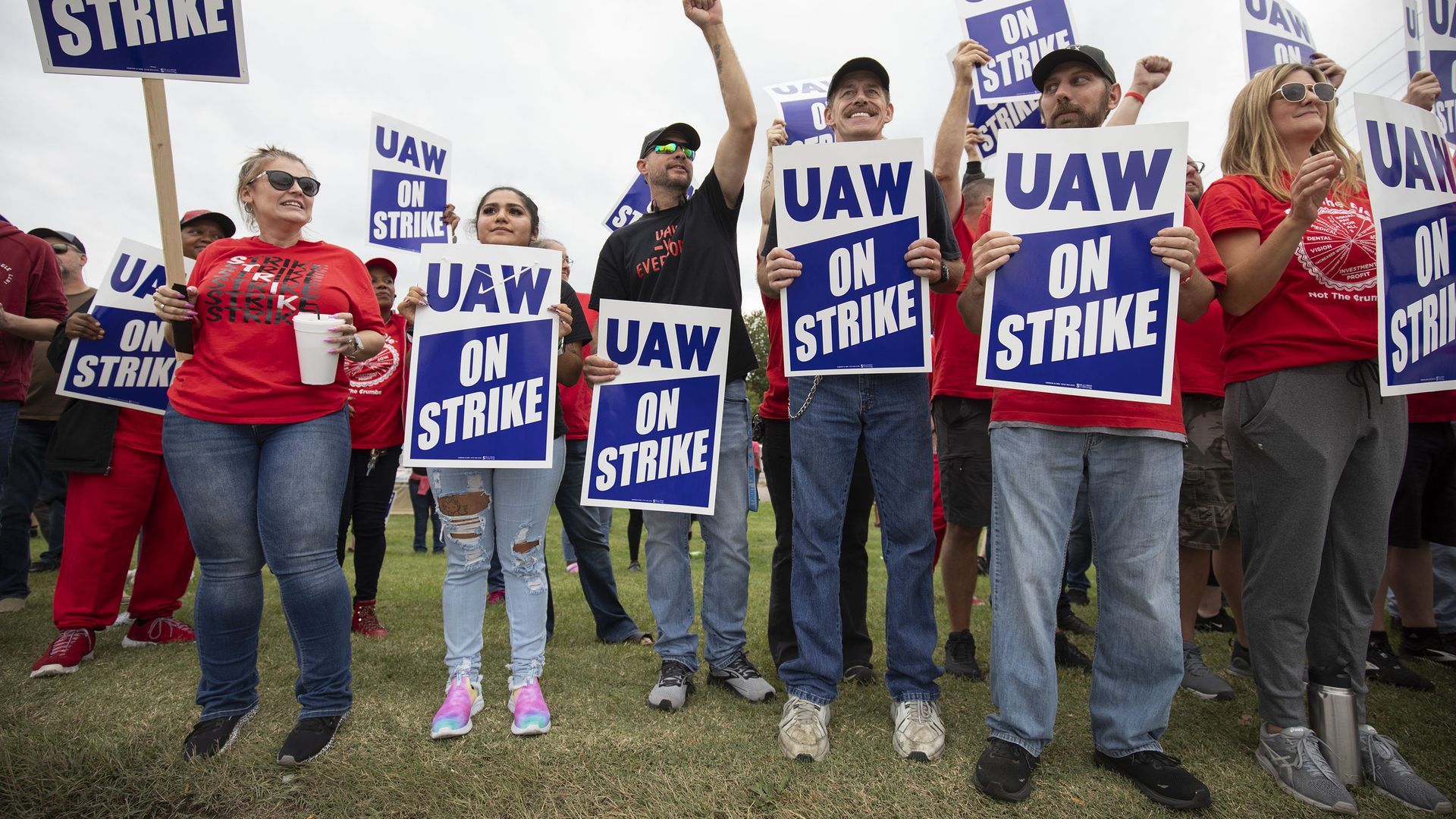 The worker vote on the proposed settlement between General Motors and the UAW is going down to the wire, while the deals at Ford and Stellantis are cruising toward approval.
Why it matters: If a majority of UAW members who work for the automaker reject the agreement, it could reignite the union's strike against GM until negotiators can broker a new deal.
GM and UAW representatives declined to comment while the ratification process enters its final phase.
Driving the news: About 54% of GM votes counted as of Wednesday were to approve the settlement, while 46% were against it, according to the union's tracker.
The deal suffered a series of setbacks when workers at plants in Kentucky, Michigan, Missouri and Indiana voted no.
But the deal regained momentum Wednesday morning when workers at GM's plant in Arlington, Texas, backed the deal by a margin of 61-39.
Only a handful of plants remain to be counted.
Worth noting: The Stellantis and Ford votes are in better shape.
At Stellantis, the vote was 72.5% yes, 27.5% no as of Wednesday afternoon.
At Ford, 66% have voted yes, and 34% have voted no, per the UAW's trackers.
Only a handful of factories are yet to report vote counts.
Between the lines: The proposed settlement includes a 25% pay increase over the 4.5 years of the contract, wage hikes for temporary workers, the elimination of a two-tiered wage system, the right to strike over plant closures and the inclusion of joint-venture battery plants in national contracts.
Critics of the UAW president Shawn Fain's negotiating strategy say he promised workers too much.
"The fact that the vote was up in the air for more than 15 minutes tells you that the workers are not as impressed as Fain thought they would be over a record-breaking agreement," University of Michigan business professor Erik Gordon tells Axios.
Fain last week acknowledged he was disappointed that the UAW didn't win a 32-hour workweek or traditional pensions, but he suggested the union will try again when its new deals expire in 2028.
"We weren't able to get everything we wanted, but it doesn't stop the fight," Fain said on a video address to members. "It doesn't stop us from trying to get those things in the future."
The big question: Why were GM workers more likely to reject the deal than Ford and Stellantis employees?
Gordon noted that Fain repeatedly criticized GM CEO Mary Barra's compensation, more so than her contemporaries at Ford and Stellantis.
Another potential factor is that younger workers got bigger raises than older employees — and GM may have more long-term workers.
Editor's note: This story was updated with the latest numbers from the UAW's vote tracker
Go deeper