Biden bets big on early ads over door-to-door campaigning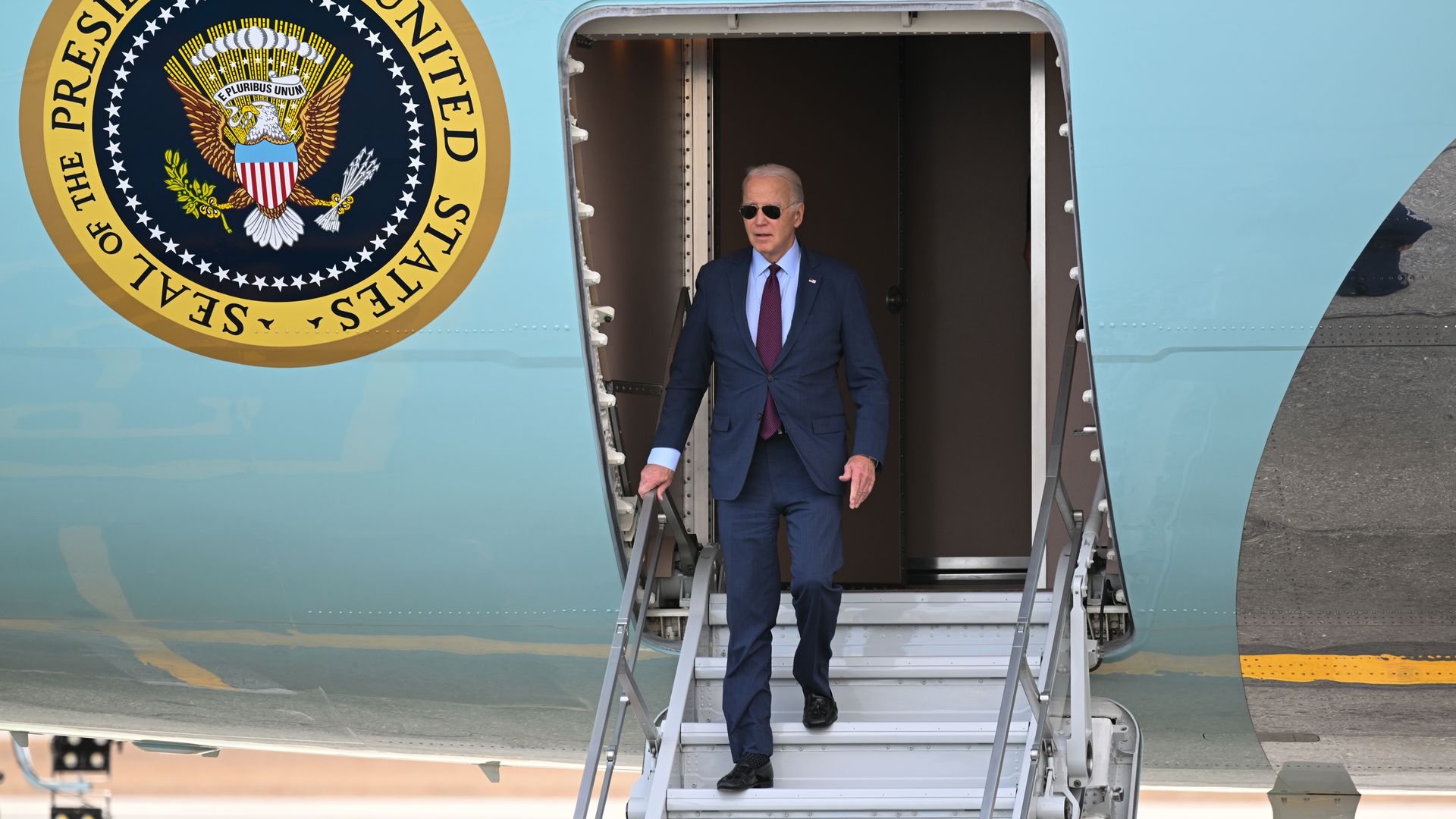 President Biden's re-election team has spent more than $50 million on TV and digital ads in swing states this year — and next to nothing on local organizers to begin reaching voters in person.
Why it matters: The ad-heavy strategy — with unprecedented spending by an incumbent this early — is a departure from Barack Obama's 2012 re-election campaign, which invested millions assembling an army of organizers in swing states to contact voters up to 18 months before that election.
Biden's team is focused on the idea that Americans are online and on their phones more than ever — and that meeting people there is just as important as meeting them on their doorstep.
The campaign believes that a ground game can be established next year and be as effective as Obama's.
"Today's political organizing environment is dramatically different from 2011 and even from 2019, and we are building a campaign to win next November — not past elections," Biden campaign spokesperson Seth Schuster said.
By the numbers: By about this time during the 2012 election cycle, Obama — the last Democrat to seek re-election as president — had nearly nine times as many people on his campaign's payroll as the 38 workers Biden reported in the third quarter of this year.
For now, Biden's team — which includes people from the Democratic National Committee (DNC) and Future Forward, a super PAC that backs Biden — is focusing on an advertising blitz in some of the eight or so politically divided swing states likely to decide the election.
Biden's team had spent $39 million on TV as of Nov. 2, according to AdImpact, and more than $10 million on Facebook and Google ads, per Bully Pulpit Interactive.
Between the lines: A senior DNC official told Axios they expect to have the campaign's field programs established in early 2024.
Obama campaign veterans say organizing local teams was a key part of Obama's political identity in a way that it is not for Biden. Some are skeptical that Biden could mobilize a similarly large crew of low-paid field organizers.
"What Obama was able to generate was unique to him," one Obama veteran said.
Biden's strategy is being overseen by White House deputy chief of staff Jen O'Malley Dillon, who also oversaw Obama's field program in 2012 as a deputy campaign manager.
O'Malley Dillon was not made available for an interview.
It's unclear how effective the strategy has been so far. Polls suggest Biden, 80, faces a close race with likely GOP nominee Donald Trump, and the president is grappling with Americans' concerns about inflation, two wars, and whether he's too old to serve another term.
Zoom in: As part of its push to reach voters on digital platforms, Biden's campaign is launching pilot initiatives for content distribution and "micro-influencer programs" in Arizona and Wisconsin.
The campaign says it's hiring two dozen staffers for the programs in two swing states, focusing on Black and young voters in Wisconsin, and Latino and women voters in Arizona — groups Biden has been struggling to attract, according to recent polls.
The campaign will open an office in Milwaukee and two offices in Maricopa County, Ariz.
By mid-December 2011, Obama's campaign had eight offices in Iowa alone. The Obama campaign ultimately opened 800 offices across the country in 2012 — and more than 130 in Ohio.
Zoom out: Biden's strategy reflects a larger debate among political consultants about whether sprawling field programs are worth the cost.
Biden won the 2020 Democratic primary with much smaller grassroots operations than Sens. Bernie Sanders and Elizabeth Warren, two rivals in that race.
Biden also won the White House in 2020 with limited in-person canvassing because of the pandemic, while then-President Trump's team continued knocking on doors.
Having teams in the field "has always gone up and down in people's estimation of how important it is," said Hahrie Han, a political science professor at Johns Hopkins University and co-author of "Groundbreakers: How Obama's 2.2 Million Volunteers Transformed Campaigning in America."
A senior DNC official noted that the large canvassing operation supporting Florida Gov. Ron DeSantis in the GOP presidential race hasn't helped his polling numbers in early primary states.
Trump's team this year has field operations in those early states — especially Iowa — but hasn't announced its efforts in the expected battleground states because he's still vying for the GOP nomination.
Go deeper