Exclusive: New partnership aims to help doctors harness AI to diagnose patients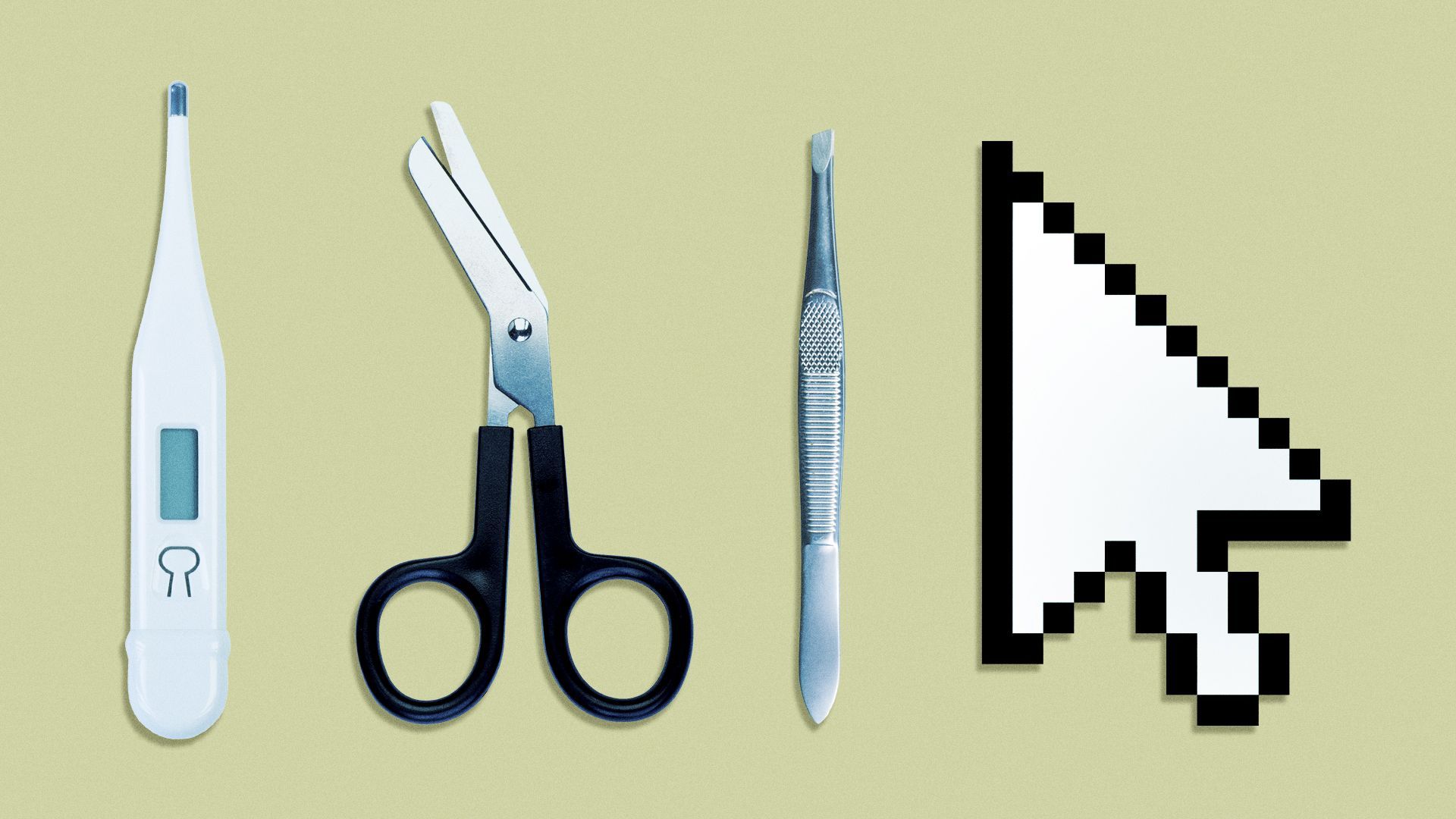 Scientific information and data analytics giant Elsevier is partnering with a medical startup to give doctors the ability to use generative AI to access the most up-to-date medical research as they treat patients in real time.
Why it matters: Experts say the adoption of AI could dramatically improve the quality of care patients receive — while also lowering costs, cutting wait times and expanding access.
"Most things don't create a net aggregate benefit," said Daniel Nadler, founder of OpenEvidence, the Cambridge, Mass. AI startup that's training on Elsevier's massive collection of medical journal data.
Usually someone wins and someone else loses, argued Nadler. But this is "a net aggregate benefit to every participant in the system."
How it works: Elsevier is working with OpenEvidence to create ClinicalKey AI, a tool that allows doctors to input symptoms, explore drug interactions and get results that include data and information from hundreds of medical journals and other verified sources.
Elsevier Health president Jan Herzhoff sees ClinicalKey AI as a potential "game-changer," estimating that half of all medical decisions can eventually be supported by generative AI.
Elsevier said it is working with 1,000 clinicians this month in an early access program with plans to release the tool more broadly next year.
The big picture: What's happening in medicine is indicative of how AI is poised to reshape many industries.
It's not about typing into a generic AI system like ChatGPT or Bard, but rather combining the power of the models with domain-specific data.
The result is that far fewer errors and "hallucinations" can occur than when querying a generic tool trained on the broader Internet.
What they're saying: Danny Tobey, a doctor and lawyer who heads DLA Piper's AI practice, said the ability of doctors to use AI to marry the symptoms they see in patients with the latest research will be incredibly valuable.
"What it's going to do is elevate the floor, which I think is very helpful," Tobey told Axios. "Not everyone has access to the best doctors."
Between the lines: In the rapidly evolving landscape of medicine, doctors train only once, then spend the rest of their careers trying to keep up with constant change.
Uneven training means that presenting the same set of symptoms to various doctors will often lead to different diagnoses, says AI pioneer Daphne Koller, co-founder of Coursera and current CEO of medical AI startup Insitro.
Yes, but: While less prone to hallucination, AI tools trained on specialized domain data like medical journals will still reflect other problems in the research, like findings from small populations that don't translate to broader, more diverse populations.
"It's still biased by all the preconceptions of what people wrote," Koller said.
And some recents studies show that doctors still don't trust AI and worry that it might increase their legal liability.
Flashback: Founded during the COVID-19 pandemic, OpenEvidence initially focused on providing information to drugmakers — and later became the first AI tool to score above 90% on a standard medical licensing exam.
Nadler sold his prior AI startup, Kensho Technologies, for $550 million in 2018. He says he wasn't planning an encore but was inspired to start OpenEvidence after witnessing the flood of new research in the weeks following the outbreak of COVID-19.
"You're going from not having a needle to now you have a needle, but it's buried in a haystack that's like doubling in size every couple weeks," Nadler said.
Though initially targeted to big pharmaceutical research, Nadler said OpenEvidence found tremendous demand when it opened its engine to broader use. Its site received more than a million visitors, including queries from 30,000 licensed U.S. doctors.
Go deeper