House votes against impeaching DHS Secretary Mayorkas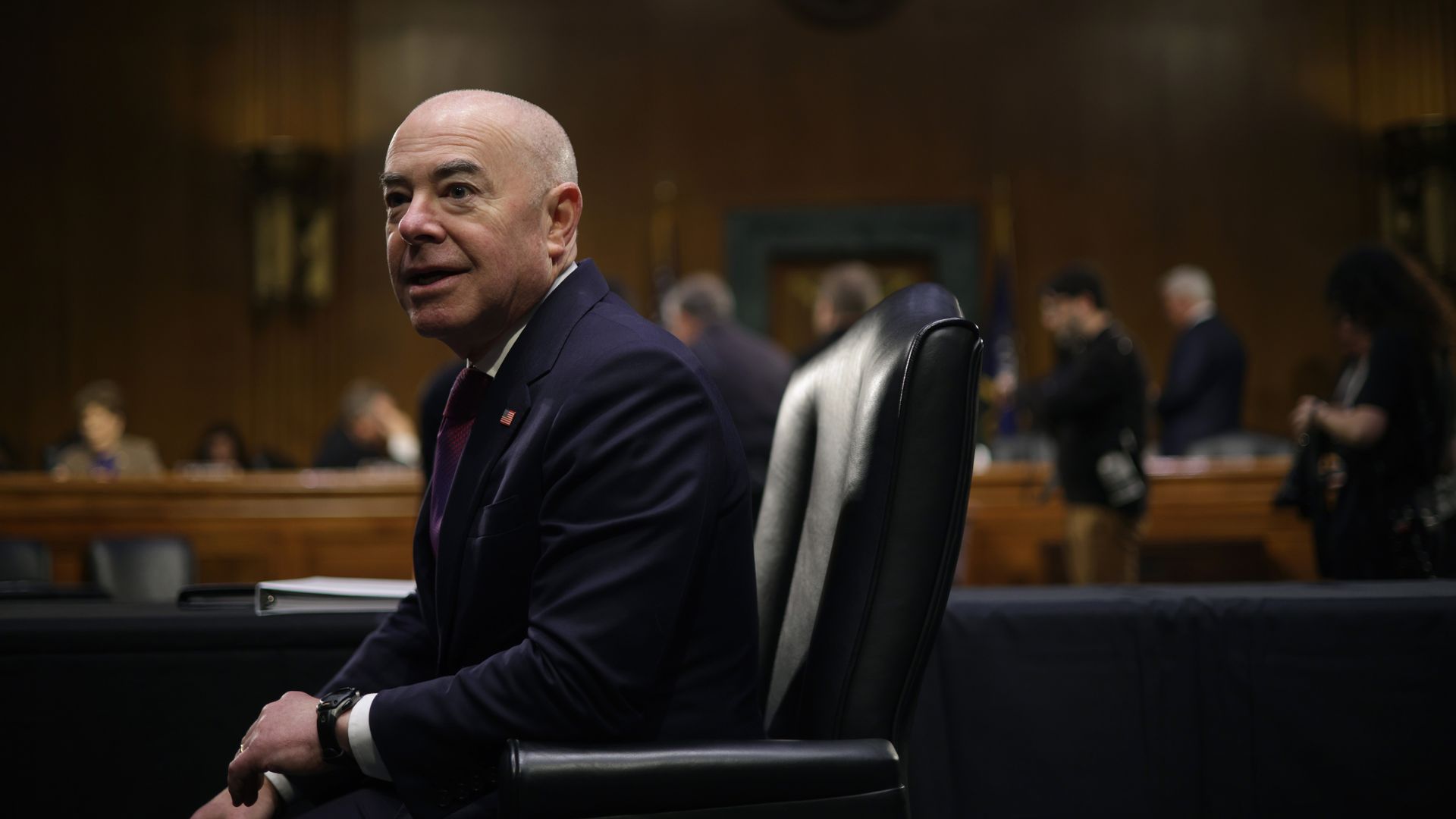 The House on Monday voted to kill a resolution introduced by Rep. Marjorie Taylor Greene (R-Ga.) to impeach Secretary of Homeland Security Alejandro Mayorkas.
Why it matters: Greene's decision to force a vote on impeaching Mayorkas forced vulnerable Republicans to take a politically risky vote on an impeachment many still view as half-baked.
Rep. John Duarte (R-Calif.), who represents a district President Biden won in 2020, told Axios ahead of the vote that he opposed an impeachment that "hasn't gone through regular order."
There was also concern that an impeachment debate and vote would eat up precious time with a government funding deadline on Friday. "We don't have time to waste," Duarte said.
Driving the news: The House voted 209-201 in favor of a Democratic motion to refer Greene's seven-page resolution to the Homeland Security Committee, which is already investigating Mayorkas.
Eight Republicans voted with Democrats to block the measure: Duarte and Reps. Cliff Bentz (Ore.), Ken Buck (Colo.), Darrell Issa (Calif.), Patrick McHenry (N.C.), Tom McClintock (Calif.), Virginia Foxx (N.C.) and Mike Turner (Ohio).
The resolution accuses Mayorkas of violating a 2006 law requiring the government to maintain "operational control" over the U.S.-Mexico border as well as a clause of the Constitution guaranteeing states protection from "invasion."
What they're saying: "Every day, the men and women of the Department of Homeland Security work tirelessly to keep America safe," A DHS spokesperson said in an emailed statement Monday evening.
"They need Congress to stop wasting time and do its job by funding the government, reforming our broken immigration system, reauthorizing vital tools for DHS, and passing the Administration's supplemental request to properly resource the Department's critical work to stop fentanyl and further secure our borders. 
"Secretary Mayorkas continues to be laser-focused on the safety and security of our nation.  This baseless attack is completely without merit and a harmful distraction from our critical national security priorities."
The backdrop: Mayorkas emerged as the GOP's most likely impeachment target as early as last April, serving as the figurehead for the Biden administration border policies Republicans routinely rail against.
But as summer turned to fall this year, Republicans stepped back from Mayorkas and put all their chips into an impeachment inquiry against President Biden.
The intrigue: Greene send out a fundraising email ahead of the vote in which she urged supporters to call her Republican colleagues and urge them to "stand with MTG and IMPEACH Mayorkas now!"
"I am sick and tired of weak-kneed politicians who say one thing on the campaign trail and then refuse to take action once they take the oath of office," the email said. "No more strongly worded letters. No more sham committee hearings."
What we're watching: Rep. Mark Green, the chair of the Homeland Security Committee, told reporters ahead of the vote he supported "whatever it takes to get that guy out of office" but "would really like to finish" his probe of Mayorkas.
"We're digging in with our transcribed interviews," the Tennessee Republican said. "I really would like to see this work itself out ... We want to do it right."
Editor's note: This article has been updated with comment from a Department of Homeland Security spokesperson.
Go deeper