Florida plans to burn more garbage for fuel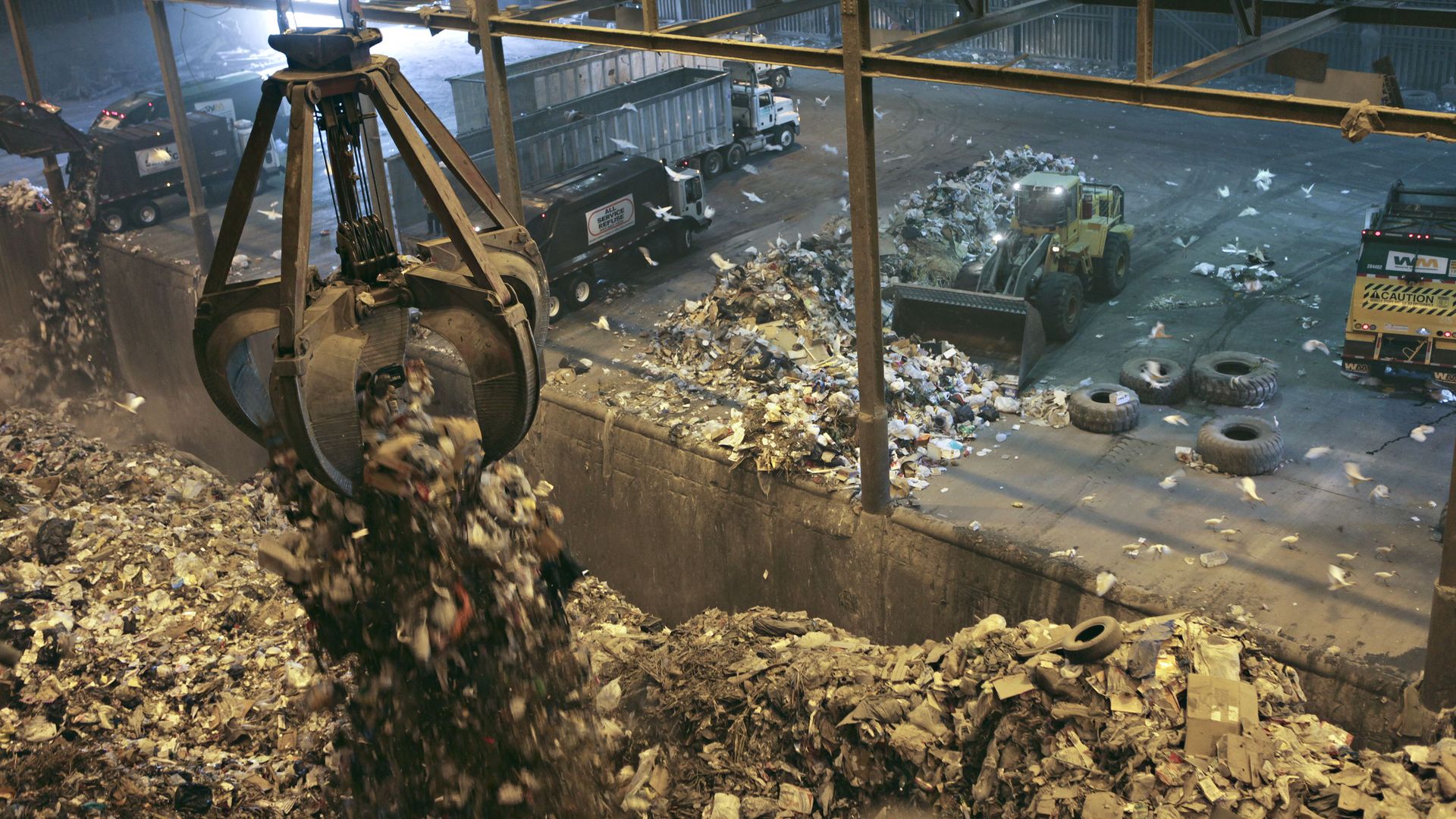 Short on land and swamped in garbage, Florida is gearing up to burn more junk for energy to help manage an influx of trash that followed the state's recent population boom.
Why it matters: The move would solidify the state as the waste combustion capital of the U.S., though it's opposed by some environmental groups and residents over pollution and health concerns.
How it works: Waste-to-energy (WTE) plants produce electricity by burning solid waste to heat water and generate steam that drives electric generator turbines.
Between the lines: The Energy Protection Agency considers the controlled burning of trash for energy less advantageous than recycling or reducing resource usage but preferable to landfilling garbage, which can negatively affect the environment in multiple ways.
However, trash combustion accounts for only a small portion of the U.S. waste management strategy, as burying garbage is typically financially cheaper and many parts of the country have an abundance of undeveloped land.
That's not the case, however, in densely populated areas like Florida, where vacant land has only become scarcer as the state has grown.
By the numbers: The amount of trash generated specifically in Florida has increased by 5 million tons annually since 2017.
Each year, the state combusts about 8% of its waste and landfills around 50%, with the remaining waste being recycled.
Joe Kilsheimer, executive director of the Florida WTE Coalition, said that at least two Florida counties, Pasco and Miami-Dade, have approved plans to either expand existing facilities or build new ones.
At least six other counties are considering expansions or new builds, he said.
Yes, but: Despite the state's efforts to burn trash for fuel and space, the amount of landfilled waste has still jumped by around 5 million tons annually since 2017.
And WTE facilities and their expansion aren't without concern or pushback, as residents across the country have said they believe existing and planned plants pose a health risk, NBC News reports.
Heightening their concerns was a trash fire at a combustion plant in the city of Doral that burned for around three weeks and raised fears of unhealthy air pollution and may have sickened residents.
Advocacy groups, too, claim combustion plants in Florida and other parts of the U.S. are more often located near communities of color and low-income communities, which means they face a disproportionate threat of developing potential health effects from being exposed to pollution.
What they're saying: "I absolutely say with confidence that there's not a single solid waste director in Florida that would operate a facility that had a chance of public health," Kilsheimer said.
The Doral fire was an anomaly in the waste energy industry that got out of control, he said, though he added that trash fires in general are becoming more common from the disposal of lithium-ion batteries.
He said he believes awareness of WTE plants and waste management in general is low and that municipalities should increase public engagement on where garbage goes.
The big picture: Americans are among the most wasteful people on Earth, throwing away almost five pounds of trash each day on average, according to the EPA.
Though the country's population has less than doubled since 1960, its trash production has more than tripled.
And while recycling rates in the country have increased, they haven't kept pace with the growing amount of trash.
The bottom line: According to the EPA, the most effective way to manage waste is to not create it in the first place — though that's often easier said than done.
Though a majority of consumers are concerned about plastic and other forms of waste, they may struggle to find suitable products that allow them to make better purchasing decisions.
Go deeper: AI-powered robots could fix recycling's biggest problems
Go deeper