GOP contenders cast Biden as too weak on Iran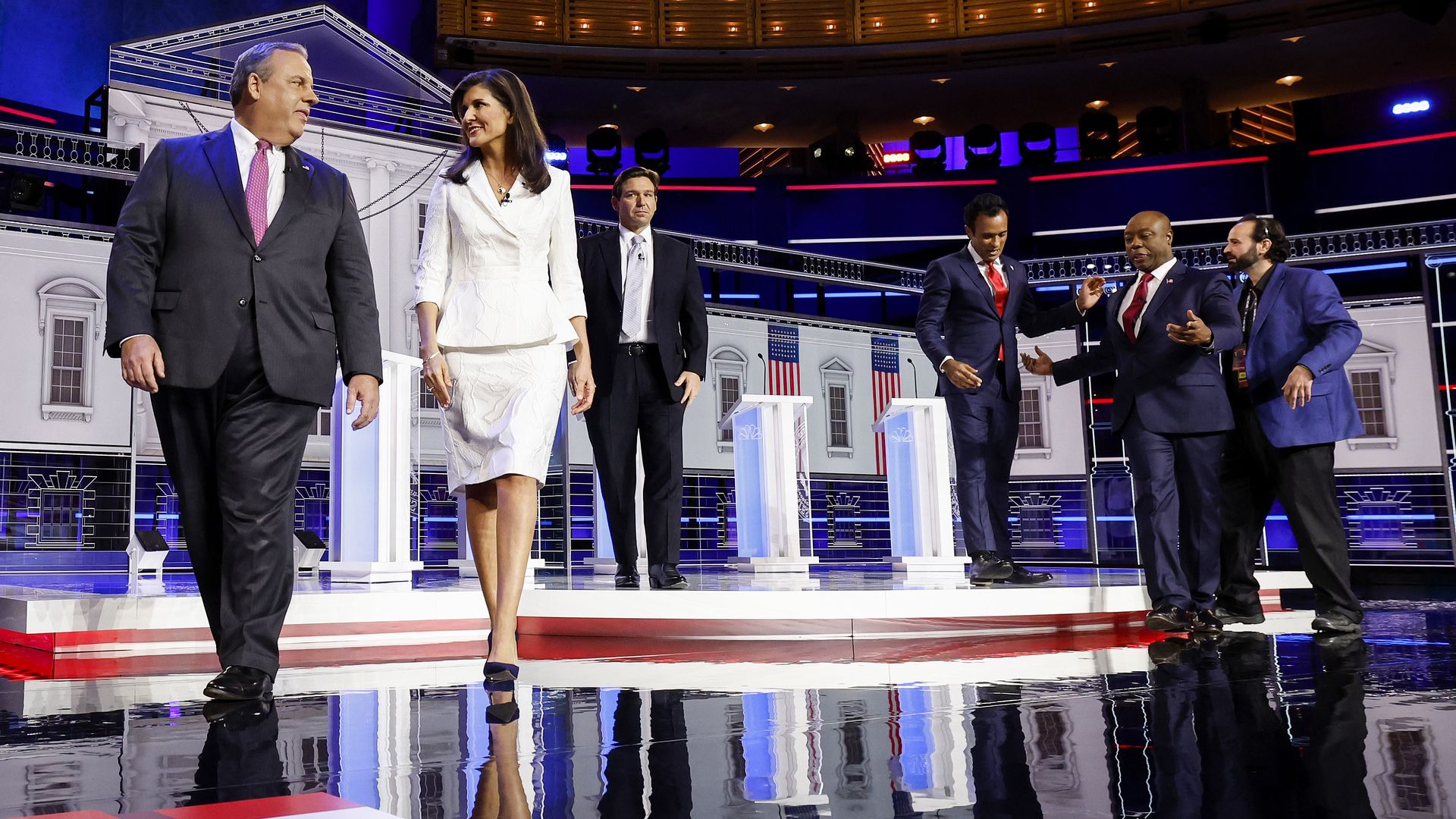 Four of the five GOP presidential candidates in Wednesday's debate voiced strong support for Israel in its war against Hamas, with only Vivek Ramaswamy warning against the U.S. being drawn into another war in the Middle East.
Why it matters: President Biden's robust support for Israel didn't leave the Republican contenders much room for criticism, so instead they mainly criticized him for not doing enough to stop Iran — Hamas' main supporter — from fueling havoc in the Middle East.
Driving the news: "I will tell Bibi to finish the job once and for all and destroy the butchers from Hamas," Florida Gov. Ron DeSantis said when asked what he would tell Israeli Prime Minister Benjamin Netanyahu if he were president.
DeSantis did call Biden's reaction to the war slow when it came to evacuating U.S. citizens — a criticism that gave DeSantis a chance to remind the crowd in Miami that he had sent planes to Israel to bring 700 Floridians home.
DeSantis also said Biden isn't doing enough to protect U.S. soldiers in the Middle East from Iranian attacks.
Former UN Ambassador Nikki Haley also said she would urge Netanyahu to do what it takes to destroy Hamas — and said Hamas wouldn't exist without the support it gets from Iran.
But, she said, "the last thing we need to do is tell Israel what to do."
Haley claimed Biden "tiptoes" around Iran and said that Iran will stop attacking U.S. forces in the region only if the U.S. uses force to prevent it.
Sen. Tim Scott (R-S.C.) said Israel has the right and the responsibility to wipe Hamas off the map. He called on Biden to be more aggressive in attacking Iranian assets.
"We need to attack Iran, not just warehouses in Syria," Scott said, an apparent reference to the U.S. airstrike on a facility controlled by the Iranian Revolutionary Guards Corps (IRGC) and affiliated groups in eastern Syria.
"We need to cut the head of the snake — Iran — not its proxies," he said.
Former New Jersey Gov. Chris Christie said he would have told Netanyahu that the U.S. will give Israel whatever it needs to protect itself, but stressed that the Israeli intelligence community failed the Israeli people before the Oct. 7 attack by Hamas that killed 1,400 people.
The other side: Ramaswamy was relatively reserved in his support for Israel. He stressed Israel's need to protect itself and seemed wary of much U.S. involvement.
He also took a different approach from the others when asked about antisemitism attacks against Jewish students on college campuses.
He compared Israel's need for border security to the need for the U.S. to protect its southern border.
And while other the other candidates threatened sanctions against universities that allow pro-Hamas protests, Ramaswamy called that censorship that would make things worse.
Go deeper