Mississippi Republican Gov. Tate Reeves wins re-election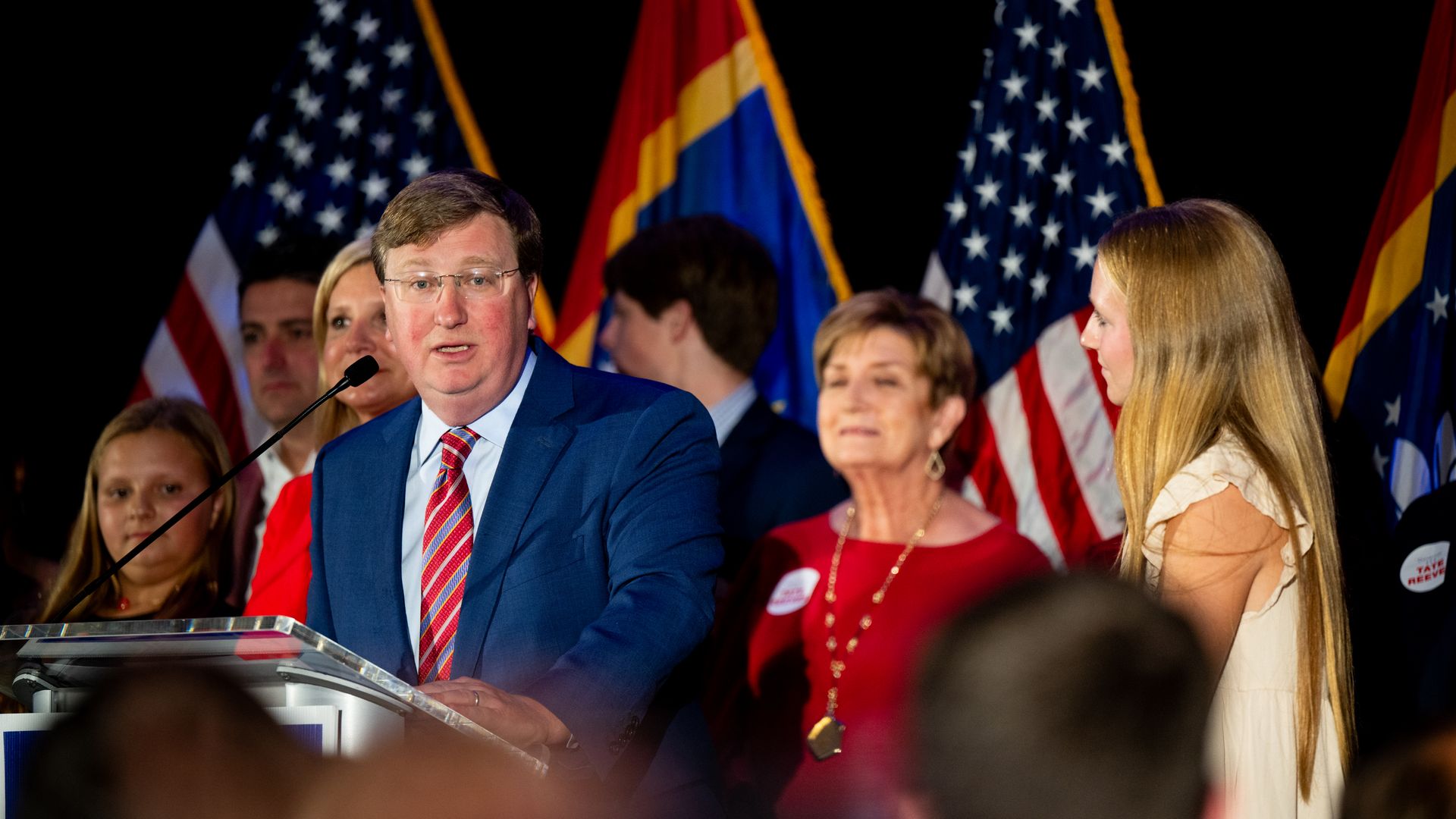 Republican Gov. Tate Reeves won re-election on Tuesday in Mississippi, staving off a challenge from Democratic candidate Brandon Presley, the Associated Press reports.
Why it matters: Reeves faced an unexpectedly serious challenge from Presley in the deep-red state that has not had a Democratic governor in almost two decades.
The big picture: Reeves, 49, was state treasurer for two terms and lieutenant governor for two terms. He was first elected governor in 2019.
Presley, 46, was mayor of his small hometown before being elected to serve on the Mississippi Public Service Commission.
Presley, who pulled in more campaign fundraising than Reeves, also boasted name recognition as the second cousin of the late Elvis Presley.
Republicans control both chambers of the state legislature and most statewide offices.
State of play: Democrats eyed Mississippi's gubernatorial race as a potential pick-up opportunity, citing Reeves' relatively low approval rating.
The nonpartisan Cook Political Report last week shifted its rating of the gubernatorial race from "likely" to "lean" Republican.
"Reeves still has the edge ... but it's morphed into a competitive fight with added intrigue heading into Election Day thanks to an unusually strong challenger in Brandon Presley," analyst Jessica Taylor wrote.
Zoom in: Presley, who presents himself as anti-abortion, sought to cast Reeves as corrupt, pointing to at least $77 million in welfare money misspent in part on projects for wealthy, well-connected people in the state.
The money was redirected between 2017 and 2020 when Reeves was serving as the state's lieutenant governor.
Reeves, who had an advantage going into the race as the incumbent, said that "to believe Brandon Presley in anything that he says, you've got to believe that everything in Mississippi is bad," during a debate last week.
Go deeper: Abortion seizes the spotlight in 2023's off-year elections
Go deeper