Airbnb's new "Guest Favorites" could push hosts to step up their game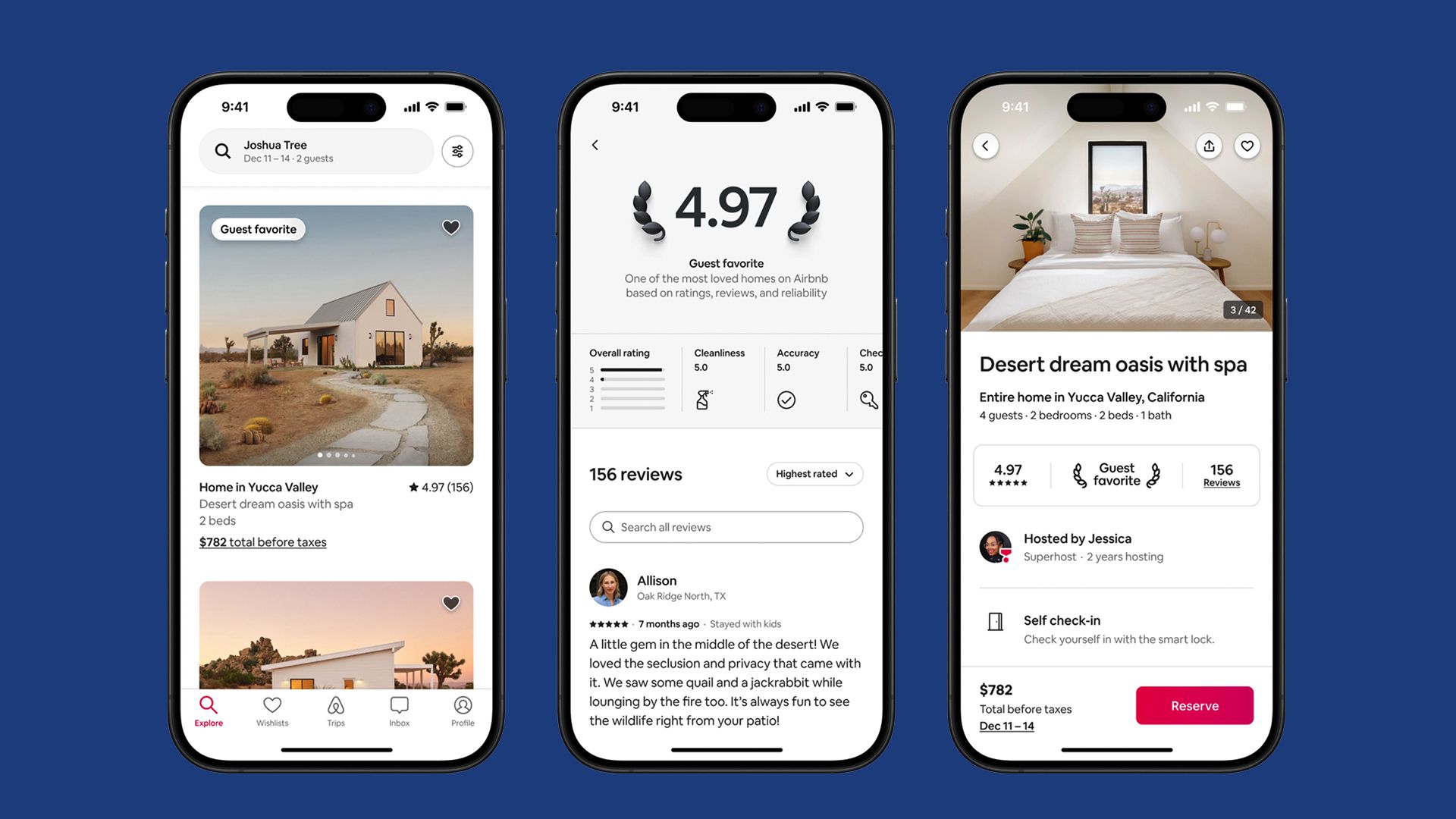 Airbnb is rolling out a handful of new changes meant to further address some of the recent criticisms lobbied against the vacation booking platform, as travelers continue hashing out the great vacation home-versus-hotel debate.
Driving the news: The big headline is a new "Guest Favorites" feature meant to highlight outstanding homes and rooms on the platform.
Details: "Guest Favorite" listings — those with reviews of 4.9 or better, outstanding customer service from hosts, and so on — will be marked with a special badge.
It's similar to Airbnb's "Superhost" feature — though that highlights hosts, not individual properties. (Airbnb expects plenty of Superhost/Guest Favorites crossover, though.)
Guest Favorites are meant to give Airbnb users — especially newbies — "much more reassurance and confidence that they're getting exactly what they want," Jay Carney, Airbnb's global head of policy and communications, tells Axios.
Plus: Reviews can now be sorted by recency, and will include more salient details about the author.
For example, someone booking a trip with their kids can more easily scan for reviews from fellow parents or caretakers with information that might be more relevant to them (Are there games? A TV? What about dangerous staircases?).
Yes, but: You still won't be able to filter reviews based on who wrote them — though you can search reviews by keyword.
Meanwhile: Hosts are getting new features too, including a way to better see how other nearby hosts are pricing their listings.
They're also getting tools — some powered by AI — to more easily create and modify listings, as well as integration with several smart lock brands to make it easier to set up and share timed access codes with guests.
Between the lines: The new features are the latest in Airbnb's efforts to respond to complaints of high prices, misleading listings and more.
Unlike big hotel chains, Airbnb only has so much direct control over pricing and hosts' other decisions — so it's effectively using product changes to encourage hosts to act in a certain way.
For example, hosts could use the new pricing tool to undercut their local competition, theoretically driving down prices for users.
Hosts may also strive to get their listings featured as a "Guest Favorite" by being especially responsive and attentive to users' needs, improving the overall guest experience.
💬 My thought bubble: It's been fascinating to watch Airbnb respond through product tweaks as travelers question whether it's a better option than hotels.
It would be easy for the company to stick its proverbial head in the sand. Instead, CEO Brian Chesky and other leaders have been candid about what's not working — and what they're doing to fix it.
The bottom line: "Perfection is always elusive," Carney tells Axios. "So we'll always be working, getting it just right, and improving it and improving it and improving it."
"But that begins with acknowledging that it's less than perfect, instead of just telling everybody it's the greatest thing since sliced bread."
Go deeper