Airbnb's plan to stop you from booking a hotel this summer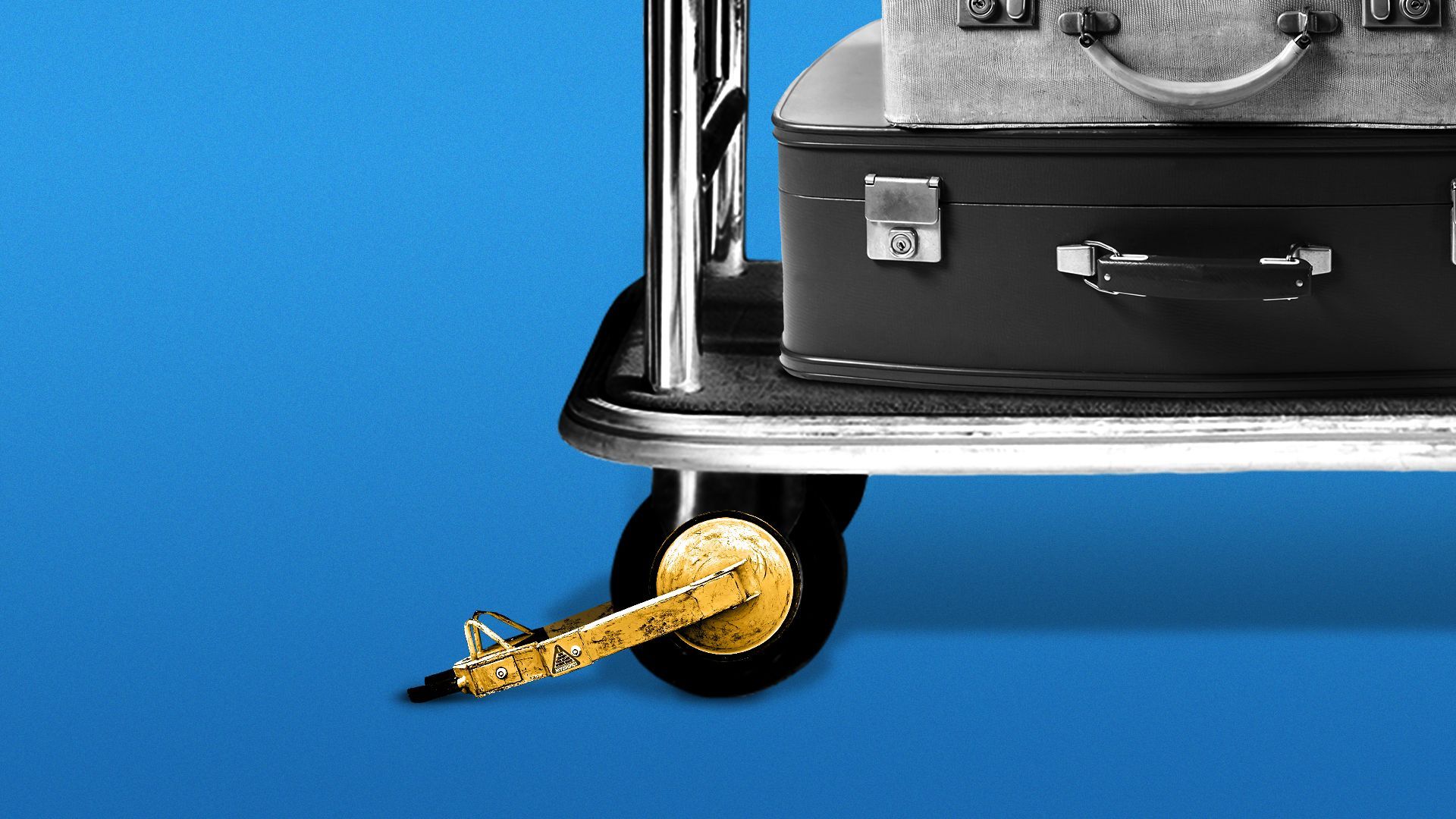 Airbnb is rolling out a host of new features this week meant to improve affordability, boost price transparency and otherwise better compete with hotels ahead of what's expected to be a record-setting summer travel season.
The big picture: Airbnb took off — and popularized the entire "sharing economy" — largely because their offerings were often cheaper than hotel rooms.
But prices have increased over time, due in part to cleaning and service fees, as well as the rise of career hosts who make some or all of their living renting out entire properties.
That hosts increasingly make guests clean up after themselves has also helped swing the pendulum back in hotels' favor.

For some trips, it's simply easier to pop into a hotel, crash for a night or two, then bounce (after leaving a tip for housekeeping, of course).
Driving the news: The highlight of Airbnb's new update: Airbnb Rooms, a new category showing individual rooms in a host's home.
When booking a single room, users will be able to see a "Host Passport" with details about the owner — including how friendly they'd like to be while hosting guests.
Room listings will also indicate whether bedrooms have a lock, if the bathrooms are shared or private, and other key details.
What they're saying: Airbnb Rooms, says global head of policy and communications Jay Carney, goes back to the company's roots at a time when people are trying to save money where they can while traveling.
The company also expects some lodgings "in part based on who the host is and how interesting that person is," Carney says.
The Host Passport gives "guests a chance to understand more about who the host is, what they're like, what their interests are, what their background is, the languages they speak, things like that," he adds.
Yes, but: While some travelers — especially younger ones looking to connect with locals while out and about — might be eager to book a single room to save a buck, privacy and safety concerns will no doubt keep others from even considering it.
Meanwhile: Airbnb will now show the total price for a given stay directly in the search results, rather than keeping certain fees hidden until the booking page.
Users can also see what'll be expected of them upon departure before booking a location — giving them a chance to decide whether a certain location seems like too much work.
The company is also promising faster customer service during trips, as well as an instant credit if a host cancels a stay within 30 days ahead of arrival.
Many of these tweaks, Carney says, are direct responses to pushback against "departure chores" and other complaints.
"It's answering the mail we got, basically — we're responding to the concerns and the feedback we've seen."
The intrigue: Airbnb's latest tweaks follow a big push from the company highlighting its funkiest listings (UFOs, anyone?) and other offerings that distinguish it from traditional hotels — like the ability to book an entire home for a big, whole-family vacation.
Airbnb rival Vrbo, meanwhile, has also been promoting the privacy of its listings.
The bottom line: Despite commotion over fees and chores, Airbnb had a record fourth quarter last year — and these new features could help it go toe-to-toe with hotels heading into what promises to be an absolutely bonkers summer of travel.
Go deeper