DOJ asks Supreme Court to review Tennessee's ban on gender-affirming care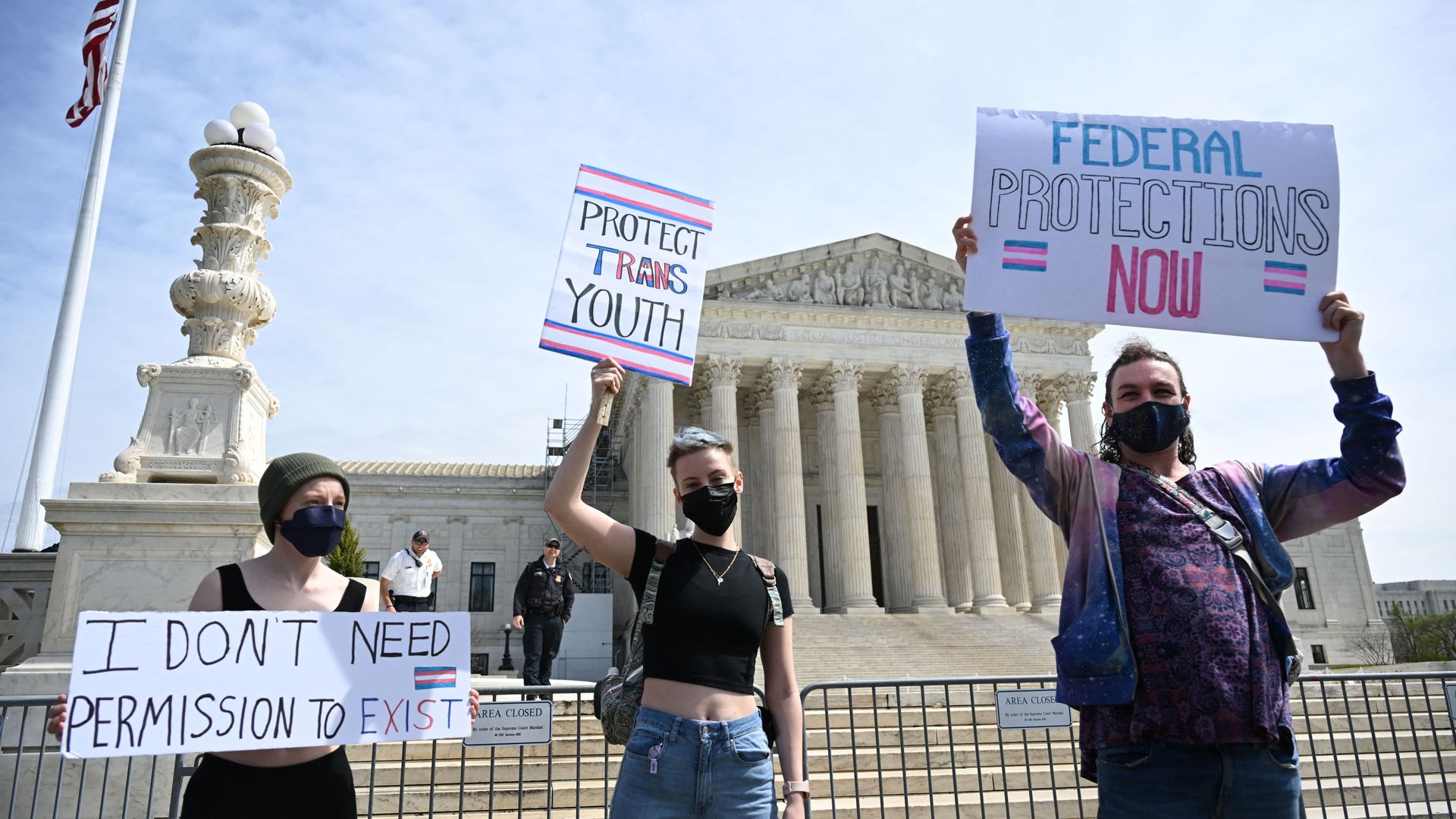 The Biden administration on Monday urged the Supreme Court to reverse Tennessee's ban on gender-affirming care for minors, saying any delay in review would endanger youths who are or will be denied critical medical care.
The big picture: The Justice Department petition comes after lower courts allowed bans in Tennessee and two other states to move forward this summer.
If justices agree to take the case, any ruling would have major implications for the 19 states that have enacted laws restricting transgender youths from receiving transition-related care.
A group of Tennessee families and doctors last week asked the Supreme Court to block the state ban.
The Justice Department's filing argues the Tennessee ban violates the 14th Amendment's Equal Protection Clause.
Catch up quick: Tennessee's law, which Republican state lawmakers advanced this year, states that a health provider cannot "perform or offer to perform" any sort of gender-affirming care to trans minors.
It would, among other things, bar transgender minors from getting prescriptions for hormones or puberty blockers or receiving gender-affirming surgery.
In July, a panel of judges on the 6th U.S. Circuit Court of Appeals lifted an order that blocked part of the ban and allowed it to take effect.
Another panel of judges from the 6th Circuit subsequently allowed Kentucky to continue enforcing a similar ban, saying there weren't enough differences with Tennessee's prohibitions to merit a different decision.
Later, the 11th Circuit U.S. Court of Appeals reinstated Alabama's ban on puberty blockers and hormones.
What they're saying: "If these laws are allowed to go into effect, transgender adolescents in large swaths of the country will lose access to medically necessary care, resulting in 'predictable and significant harms' like escalating distress, anxiety and suicidality," the Justice Department wrote in its petition.
The filing was first reported by Law Dork.
Go deeper