Adaptations, Innovations, and the Future of Work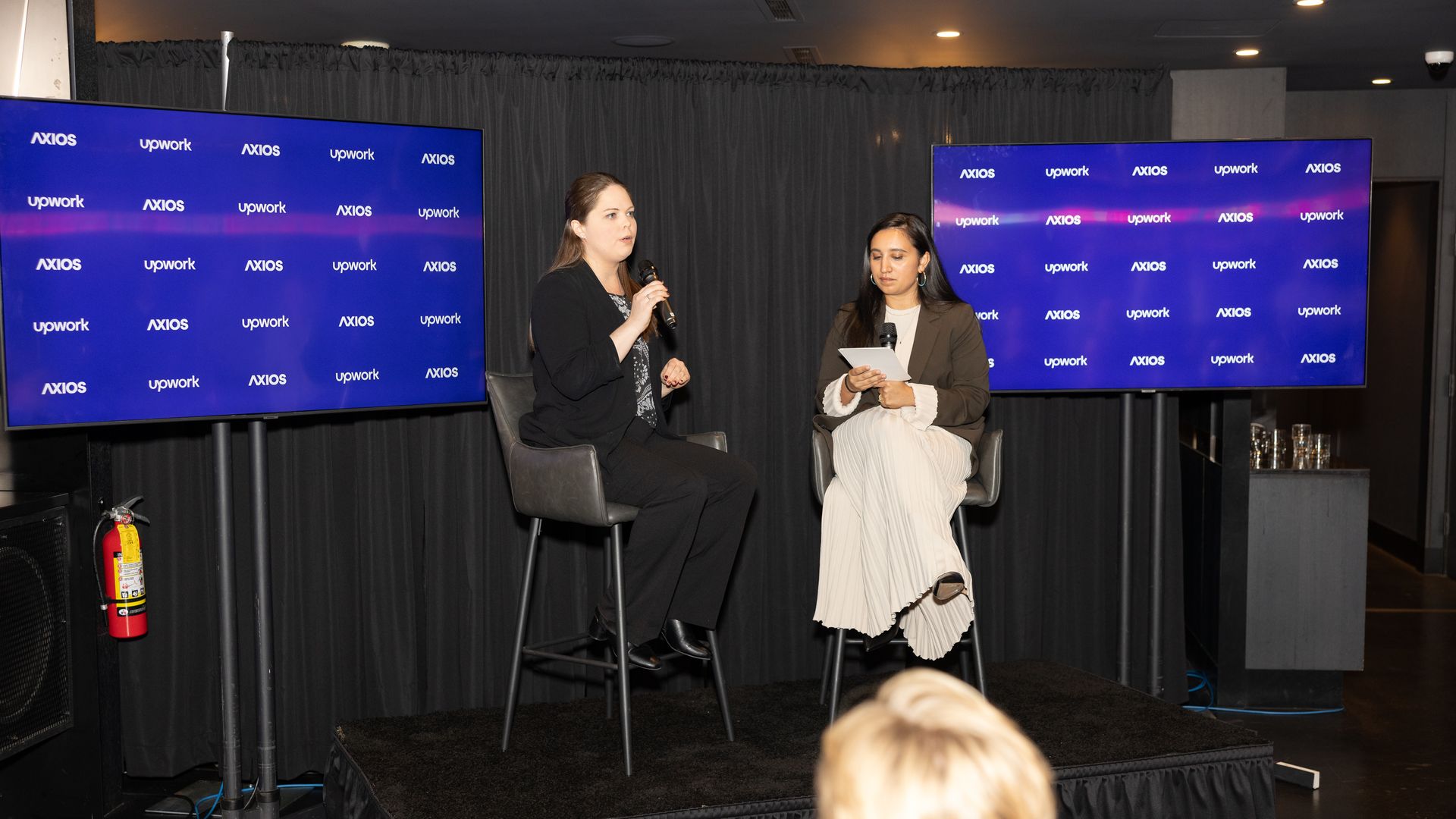 The big picture: On November 2, Axios brought high-level professionals together for a reception in San Francisco to explore how the U.S. workforce is adjusting to a post-pandemic reality of hybrid work and advancing technological trends.
Axios senior reporter Erica Pandey hosted one-on-one conversations with Aneesh Raman, the Vice President and Head of The Opportunity Project at LinkedIn, and Rebecca Hinds, the Head of The Work Innovation Lab by Asana.
Why it matters: AI's rapid boom is forcing companies to shift how they do business in order to adapt to the times. In turn, this has led to an increased demand for employees with AI skills.
By the numbers: IBM recently surveyed 3,000 executives and more than half of them estimated that 40% of their workforce will soon need to be reskilled for AI and automation.
Meanwhile, remote work is declining as more companies adopt a return-to-office approach. However, some Americans see a flexible work environment as the most important thing to consider when looking for a job.
Raman said AI could change the way people approach job opportunities.
"AI is going to make it easier for people to understand how to get ahead. Part of what makes the labor market so opaque is no one who isn't born into the right networks or goes to the right schools to learn the how-to of success has any idea. AI is going to build radical transparency."
Hinds believes the current workforce has the ability to decide how AI will impact future jobs.
"We have enormous power right now as workers, regardless of who we are, to decide how AI is going to shape our roles and how we as humans can shape that evolution of our jobs…AI is at its worst it will ever be in terms of sophistication, in terms of performance, in terms of potential right now and look how powerful it is. The more we can learn with the technology as years go on, the more we're going to set ourselves up for success as individuals…Our jobs are going to be redefined. We have enormous power and potential right now to really control that narrative and figure out who we want to evolve as workers."
Sponsored content:
Upwork President and CEO Hayden Brown shared insight on what business leaders should focus on in today's economy.
"I think leaders are faced with a choice: retrench and go to that mindset of scarcity and the old toolkit that maybe worked well in the past era, but frankly is not going to work in today's landscape, or embrace the abundance mindset of actually what's possible on the other side of making further changes and leaning into newer ways of working, newer technologies, newer cultures and behaviors."
When it comes to AI, Managing Director of the Upwork Research Institute Kelly Monahan voiced how she thinks it could help businesses.
"I think there's three business problems that are evergreen, no matter how advanced technology gets. It's dealing with complexity, ambiguity and uncertainty. AI is going to be our best friend when it comes to navigating complex problems. When it comes to uncertainty, ambiguity, I still encourage humans at the forefront of that decision making."
Thank you Upwork for sponsoring this event.
Go deeper