Buildings with AI brains could cut carbon emissions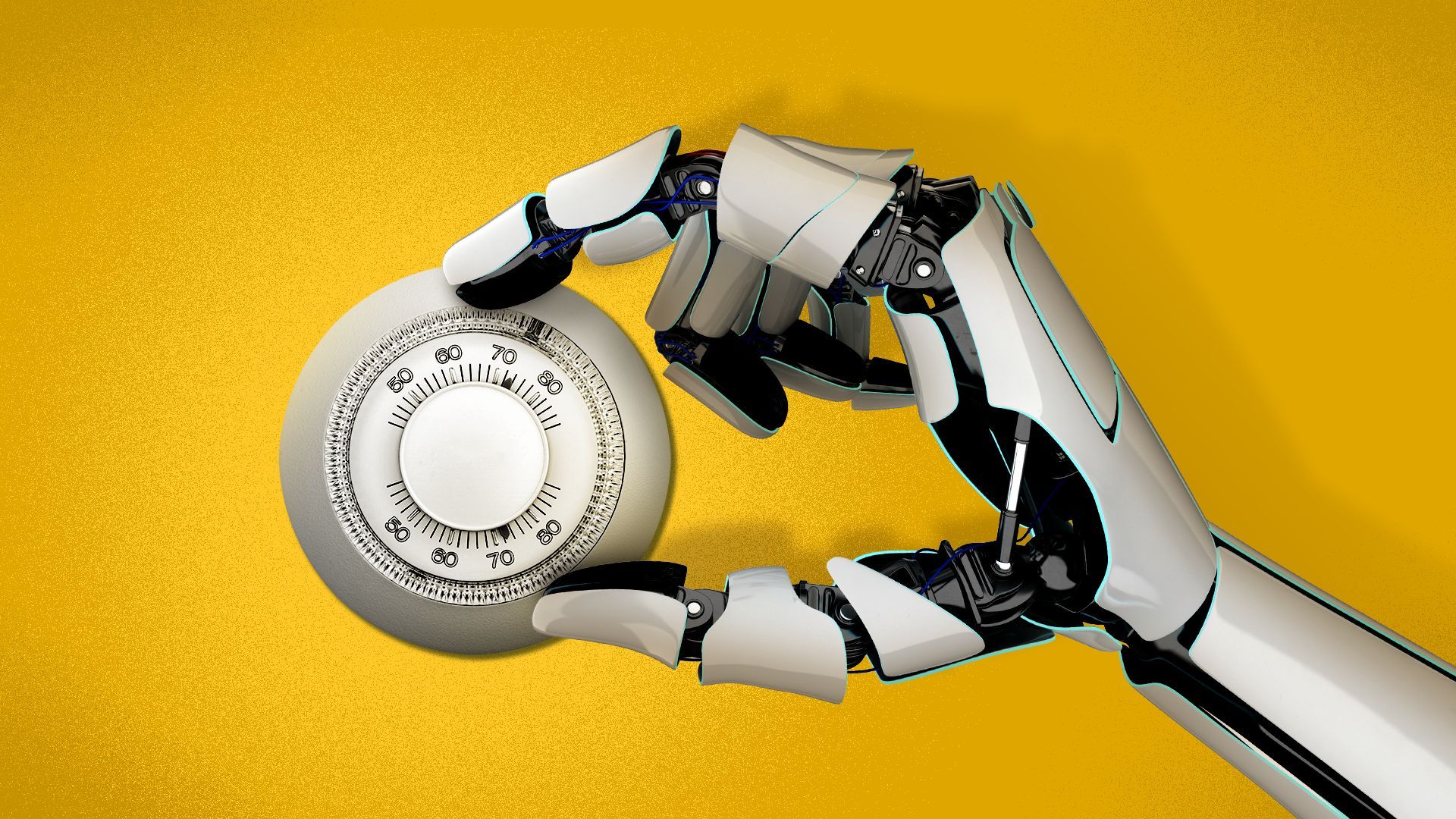 A start-up collaborating with Apple and backed by Nvidia's venture arm has launched what it calls the world's first "fully autonomous" platform that applies generative AI to heating and cooling systems.
Why it matters: Americans spend around $190 billion a year powering buildings — generating around one-third of total U.S. carbon emissions — and the company claims it can cut building energy costs by around one-third.
Details: PassiveLogic says its customizable "generative autonomy" systems manage building infrastructure from a few hundred sensors and controls for small buildings to 1 million for large commercial towers.
Shifting buildings to autonomous energy systems could slash bills and make energy managers the center of gravity in the market, instead of energy providers.
Buildings are the biggest source of wasted energy in the country, PassiveLogic founder and CEO Troy Harvey tells Axios.
Harvey insists that most "smart" thermostats don't qualify for the label.
Between the lines: PassiveLogic claims that buildings need to become autonomous in order to achieve major energy efficiencies because "existing solutions just don't scale," per Harvey.
The company's "Quantum Lens" technology can deliver these gains without the need to retrofit items like windows and insulation or install big equipment like heat pumps.
The generative AI works alongside open standard "digital twin" technology — a digital simulation of a real life object — to predict a building's operational needs and then optimize the delivery of energy, with an efficiency humans cannot match on their own.
Each building owner can assemble a tailored autonomous system out of pre-trained modular AI components, trained on digital twins of common building systems.
PassiveLogic collaborated with Apple and assembled what it calls the world's fastest AI language to speed up the training of its AI.
The intrigue: Every building is different — and multiple systems and competing interests add to the complexity and cost of achieving energy efficiency.
The systems can range from heating and cooling and ventilation (HVAC) to energy generation and storage in many different occupancy zones.
The interests range from residents or workers who want different temperatures, to suppliers working to maximize what the building spends on energy and maintenance.
Yes, but: Harvey's mantra is "autonomy for everyone," but he concedes that can't yet happen.
It will be at least another year before PassiveLogic has the capacity to expand supply from today's large customers to single family or even mid-sized residential buildings.
The other side: Incumbent players including Honeywell, Siemens, Schneider Electric and Johnson Controls already offer services such as 24/7 data monitoring and automated fault detection in HVAC systems, dominating a market worth around $75 billion each year.
Honeywell is at an "early stage" of testing generative AI and the more dynamic systems it could support, the company's chief product officer Manish Sharma told Axios.
Sharma said there is plenty of scope with current technology — like its Honeywell Forge system — to cut emissions by upgrading old HVAC systems to products that allow temperature and air quality to be controlled at "the zone, room and building level."
What they're saying: Harvey compares the building world to the auto industry before Tesla: stagnant and needlessly complex.
"The newest platform in building automation is now 25 years old. It was a startup from the '90s that Honeywell bought," he said.
Go deeper