Nobel laureate Mario Vargas Llosa says he's done writing novels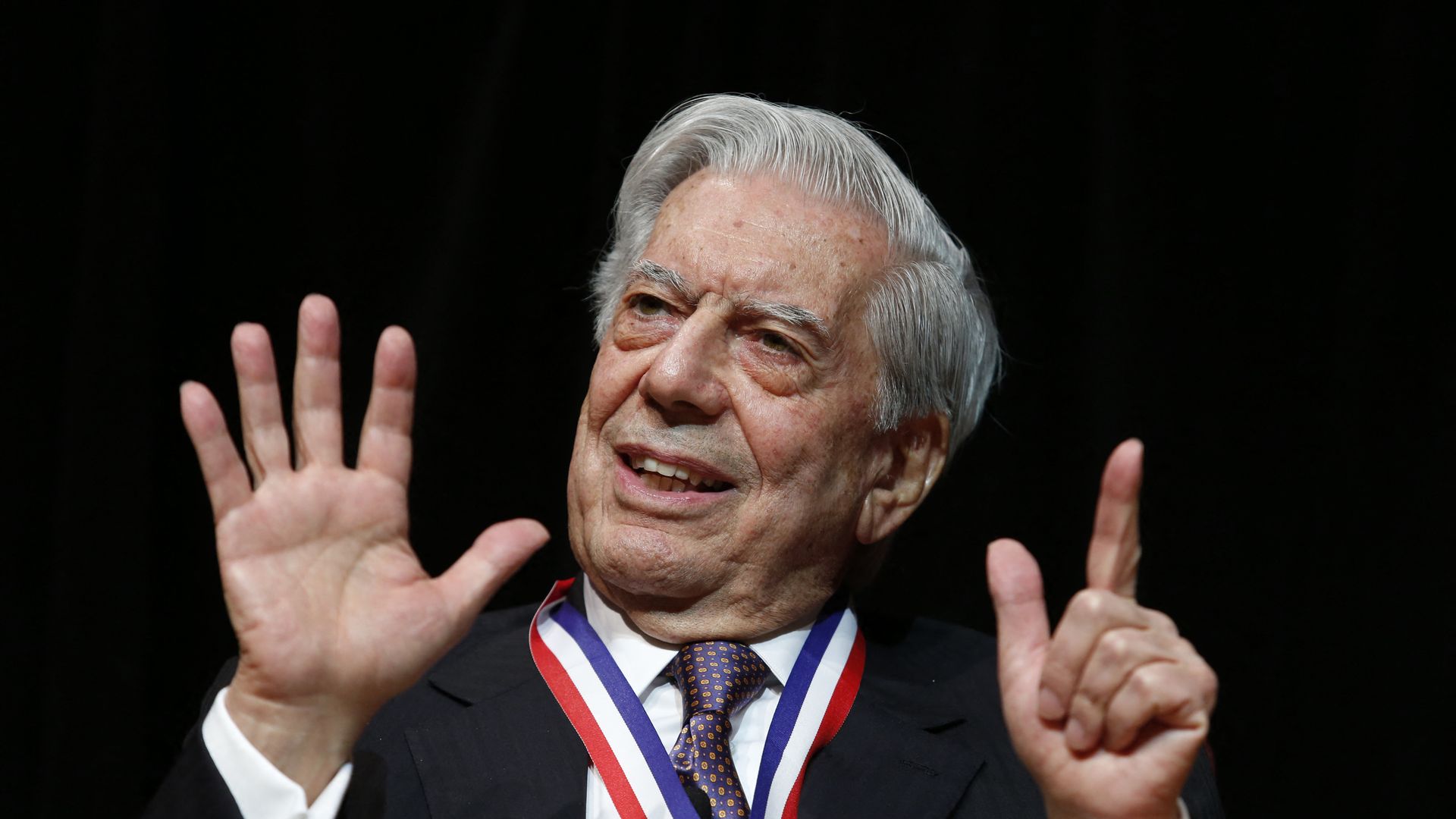 Peruvian novelist and Nobel literature laureate Mario Vargas Llosa has announced his most recent novel will be his last, and he will retire from writing after publishing an upcoming essay.
Why it matters: Vargas Llosa is the last surviving member of Latin America's 20th Century literary Boom generation — writers who mostly used magical realism to critique society and often wrote from exile.
Details: The 87-year-old wrote in the postscript of his new book, "Le dedico mi silencio" ("I Give You My Silence"), that he is done writing novels after more than 60 years. The book was released last week.
"I think I've finished this book. I'd now like to write an essay on (Jean-Paul) Sartre, who was my teacher as a young man. It will be the last thing I write," he wrote.
His latest novel is a love letter to Peru and a homage to the nation's música criolla.
"I'm 87 and, although I'm an optimist, I don't think I'll live long enough to work on a new novel, especially because it takes me three or four years to write one," Vargas Llosa said last week to La Vanguardia, a Barcelona, Spain, newspaper.
Background: Vargas Llosa came onto the literary scene with his first book, "The Time of the Hero" ("La ciudad y los perros"), in 1963, but it was his second novel, "The Green House" ("La casa verde"), that earned him international praise.
Along with Colombian writer Gabriel García Márquez, Vargas Llosa helped shape the Latin American literary canon with sharp critiques of society through examinations of race, authoritarianism, displacement and sexuality.
He was awarded the Nobel Prize in Literature in 2010 "for his cartography of structures of power and his trenchant images of the individual's resistance, revolt, and defeat."
Of note: Vargas Llosa ran unsuccessfully as a candidate in the Peruvian presidential election of 1990.
Over the years, he shifted from a supporter of leftist causes to a leader of the center-right party Movimiento Libertad and supported other conservative movements.
Subscribe to Axios Latino to get vital news about Latinos and Latin America, delivered to your inbox on Tuesdays and Thursdays.
Go deeper