Seattle companies' big climate pledges are big question marks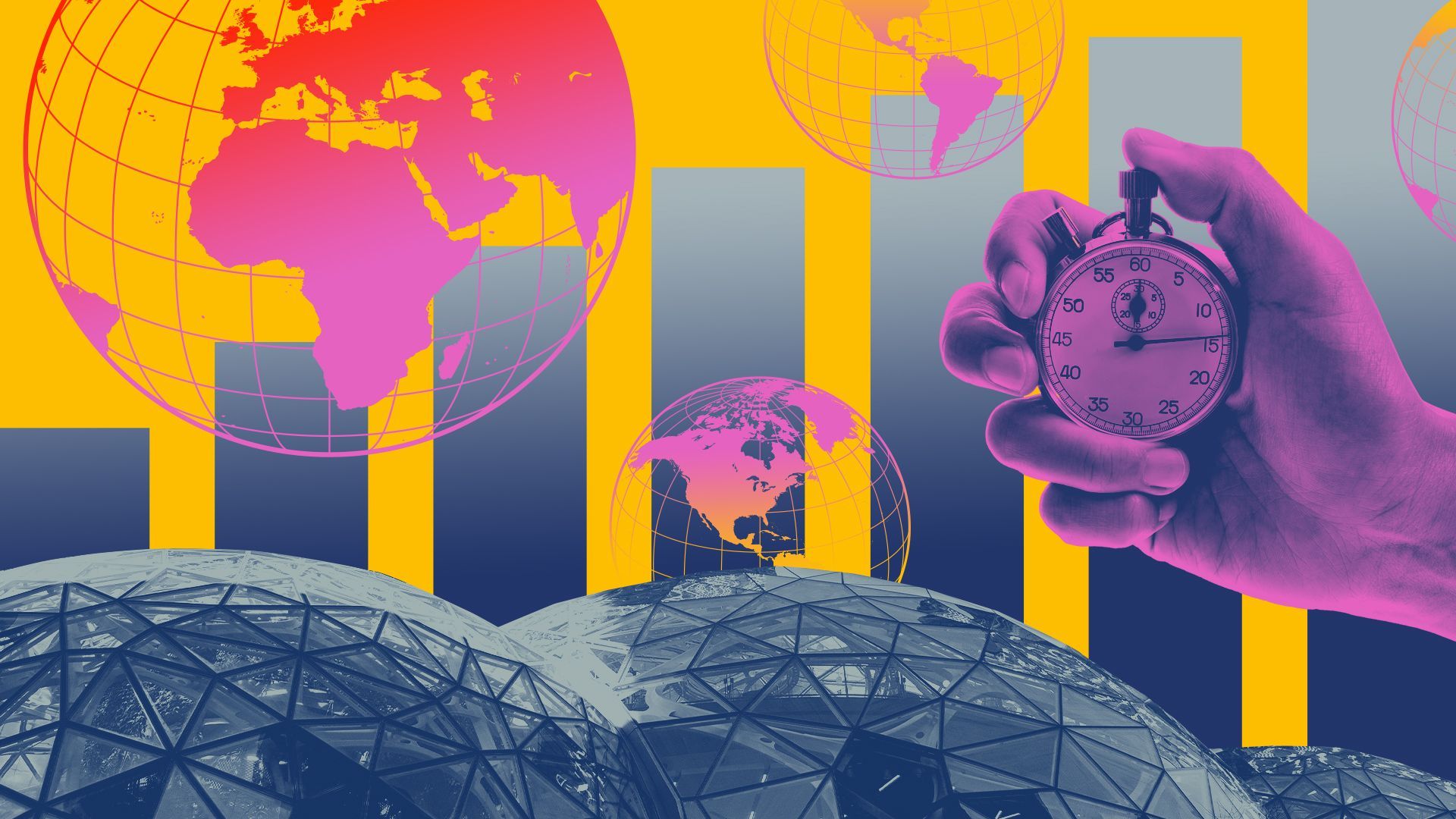 It's looking increasingly uncertain that major Seattle-area corporations will be able to meet the ambitious emissions-reduction pledges they've made.
Why it matters: Cutting global emissions enough to limit global warming's worst impacts will require big changes from major corporations, many of which emit as much greenhouse gas as small countries.
Catch up quick: Amazon is aiming for "net zero carbon emissions" by 2040; Microsoft has pledged to go "carbon negative" by 2030; and Starbucks promised to cut its emissions, waste and water footprint 50% by 2030.
Yes, but: None of these companies have significantly reduced their emissions since making those pledges in recent years, according to their own reports.
What they're saying: All three companies contend they're actually making progress because their reported emissions either declined slightly from 2021 to 2022, or grew at a much slower rate than their businesses did.
Starbucks spokesperson Betsy McManus says the company isn't expecting big emissions reductions just yet, as it's still working to "identify, test and scale solutions across our global operations."
Between the lines: Aseem Prakash, director of the University of Washington's Center for Environmental Politics, says Amazon has done a decent job of reducing emissions from its own facilities and is buying cleaner electricity.
But the company is underreporting supply chain emissions, he argues, as well as those from consumers using the products it sells, which are its biggest sources of emissions.
Amazon is "basking in the warm glow of corporate environmentalism," he says, without investing the resources necessary to make hard changes.
Amazon spokesperson Elizabeth Fine says the company accounts for more of its emissions than many other businesses, adding "we're proud of the progress we've made so far."
Of note: Amazon recently abandoned an earlier pledge it made to make 50% of its deliveries carbon neutral by 2030, and was removed from a U.N.-backed watchdog's list of climate-conscious companies.
The retail giant said that it had ditched the shipping goal in favor of a broader "Climate Pledge" to reach net zero carbon emissions by 2040.
Microsoft generally gets higher marks for its decarbonization efforts, appearing on an "A List" of companies compiled by CDP, an environmental nonprofit formerly known as the Carbon Disclosure Project.
But Microsoft's strategy relies in part on investments in promising yet unproven emerging technologies, like carbon removal.
Reena Skribbe of the NewClimate Institute — who co-authored a recent report analyzing corporate climate promises — says that's a concern because "we're running out of time."
"We're just so far past this point where we can just wait for new technology to magically appear," Skribbe tells Axios. "We need immediate climate action right now."
Brandon Middaugh, senior director of Microsoft's Climate Innovation Fund, said company officials "are laser-focused on meeting our ambitious objectives," which is why the company is investing $1 billion to accelerate new technologies.
Meanwhile, Starbucks has reintroduced a plan to make all of its cups recyclable, reusable or compostable, with 2030 as its new target.
It had previously pledged to have a fully recyclable cup by 2015.
What we're watching: Whether these companies step up their efforts as consumers pressure big corporations to make tough-but-necessary changes.
Go deeper: Seattle is emerging as Fusiontown, U.S.A.
Go deeper