JetBlue's future is on the line in Spirit Airlines court case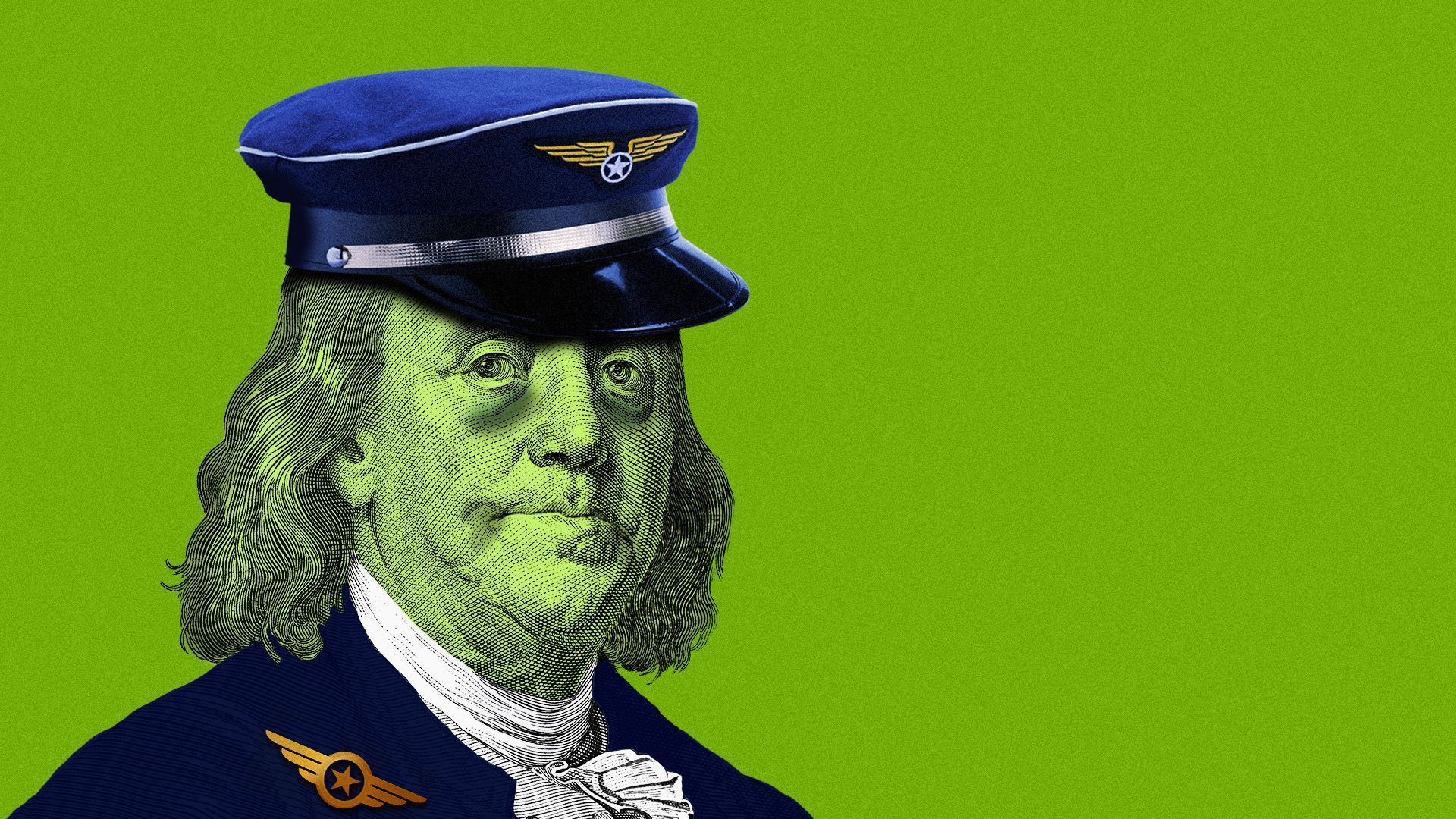 JetBlue on Tuesday began defending its proposed $3.8 billion takeover of Spirit Airlines, over the U.S. Department of Justice's antitrust objections.
Why it matters: The deal would create America's fifth-largest airline, and be the domestic industry's first major merger since Alaska Air bought Virgin America in 2016. But if JetBlue loses in court, its long-term survival becomes an open question.
State of play: As its trial was opening in Boston, JetBlue reported worse-than-expected Q3 financials and Q4 guidance, sending shares spiraling to a 12-year low of just $3.76 per share.
For context, JetBlue's COVID-era floor was $7.15 per share. Its current market cap is just $1.25 billion, versus more than $20 billion for market leader Delta.
The Big Four airlines also have seen stock price declines in 2023, but only Southwest (-32%) has experienced anything like JetBlue (-42.5%).
The 23 year-old company has $1.28 billion of cash on hand and around $4.5 billion in debt. Were it to lose the antitrust case, JetBlue would be obligated to pay $470 million in termination fees.
The big picture: Lawyers for each side are expected to focus a lot on ticket prices. DOJ will argue that the merger would increase average consumer costs, by removing an independent ultra-low-cost carrier from the mix.
JetBlue, meanwhile, will argue that the merger would force the Big Four to lower some of their prices (i.e., the "JetBlue effect") because it will increase competition on certain routes.
But there's also more than a hint of desperation in the legal filings from JetBlue, which already was forced by DOJ to dissolve its partnership with American Airlines.
JetBlue talks about how its "routes are concentrated on the East Coast" and that it cannot currently hope to compete on a nationwide basis. What it doesn't mention is that the vast majority of JetBlue flights don't offer first-class or business-class seats, putting it further behind its rivals in terms of both the top and bottom lines.
The company founded as a VC-backed, discount disruptor now operates in a no-mans land of mid-tier amenities and pricing, with an aging fleet and rising pilot pay.
What to watch: One thing JetBlue does have going for it, beyond the Biden administration's mediocre antitrust record, is a lot of attractive assets. Particularly its gates in big metro markets like Boston and New York (despite LaGuardia's pricey slots and "staggering" delays).
Were DOJ to prevail, it's hard to imagine another carrier would be able to buy JetBlue without another antitrust fight.
That would leave three options: (1) JetBlue figures out how to right its ship, despite its own apparent doubts. (2) JetBlue doesn't right its ship, and decides to break itself up; (3) Private equity, which has some history with commercial airlines, begins kicking the plane tires.
Go deeper