China's military ambitions are mostly regional, not global — for now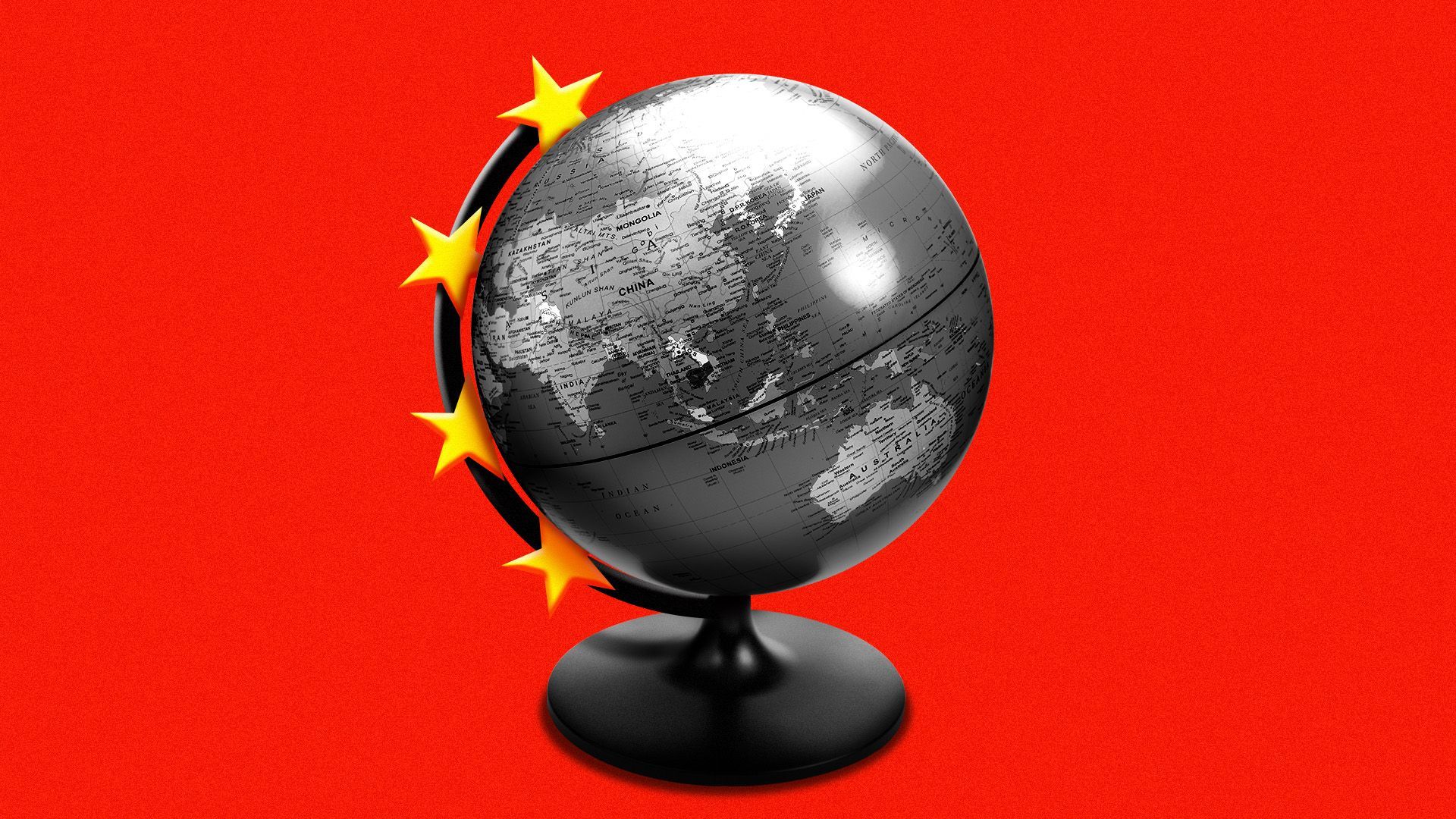 The goal of China's military modernization plan is to ensure China has the ability to win a war against the U.S. in the Indo-Pacific, not to replicate America's global military power projection capabilities, experts tell Axios.
Why it matters: Becoming Asia's dominant military power would support China's bid to be the center of regional trade and influence, and help secure its territorial claims. But Beijing is reluctant to seek that kind of dominance globally because it would risk embroiling China in responsibilities far beyond its borders.
"China certainly has global ambitions, but I don't think it has global military ambitions the way the U.S. does," says Raymond Kuo, director of the RAND Corporation's Taiwan Policy Initiative.
"It doesn't want to get involved in conflicts that are peripheral to its interests."
Driving the news: Officials from more than 100 countries have gathered in Beijing this week for China's annual defense forum, where Zhang Youxia, the vice chairman of China's Central Military Commission, accused the U.S. of "continuing to stir trouble around the world" and interfering in other countries' affairs.
Zoom out: Last year Chinese President Xi Jinping introduced the Global Security Initiative, which he is pushing as an alternative to the U.S.-led order.
The initiative has seen China expand its military cooperation with numerous countries around the world and become more involved in global conflict mediation efforts.
But Beijing seeks to expand its global military influence through means other than direct intervention in armed conflict, Kuo said, such as by increasing arms sales and putting itself at the center of international norms and decision-making.
Background: Xi has set goals for China's military to modernize by 2035 and to become a "world-class military" by mid-century. He's also said the armed forces must be able to "fight and win a regional war."
China is "trying to reach towards fairly secure, even uncontested military dominance within the region," said Kuo. "That's mostly aimed at the U.S., but to a lesser extent also the Philippines, Japan," and other countries in the region.
By the numbers: The People's Liberation Army (PLA), China's armed forces, is the largest military in the world, though not yet able to match the technological, operational and power projection capabilities of the U.S.
The PLA has more than 2 million active duty personnel, compared to America's 1.4 million, and about 340 warships, while the U.S. has less than 300.
The PLA has 3 aircraft carriers; the U.S. has 11.
China now has more than 500 nuclear warheads, and the U.S. Department of Defense projects that number to grow to 1,500 by 2035. The U.S., meanwhile, has more than 5,000.
Yes, but: The PLA faces significant obstacles to achieving the goals Xi has set. It has no real combat experience; the last time China engaged in a significant armed conflict was in 1979 when China invaded Vietnam.
Between the lines: Modernization efforts involve developing high-tech weapons and cyber capabilities, as well as reforming the structure of the armed forces to make it more agile and stream-lined.
The PLA is a "political military, not a national military," Meia Nouwens, senior fellow for Chinese security and defense policy and head of the China Program at the International Institute for Strategic Studies, tells Axios.
In practice, that means each PLA theater has both a political commissar and a military commander, with additional political commissars all the way down through the ranks to the company level.
"[Y]ou have a representative of the party watching what you do at all times, and you're trying to be a military that responds flexibly and in the moment — but still having to check and see if your decision is politically approved, Nouwens said. "That doesn't make for a very effective military."
What to watch: The Biden administration's approach to China's regional military ambitions so far has been to deepen its military and diplomatic engagement in the Indo-Pacific.
Go deeper