NYT tech workers to walk out in protest of return-to-office policies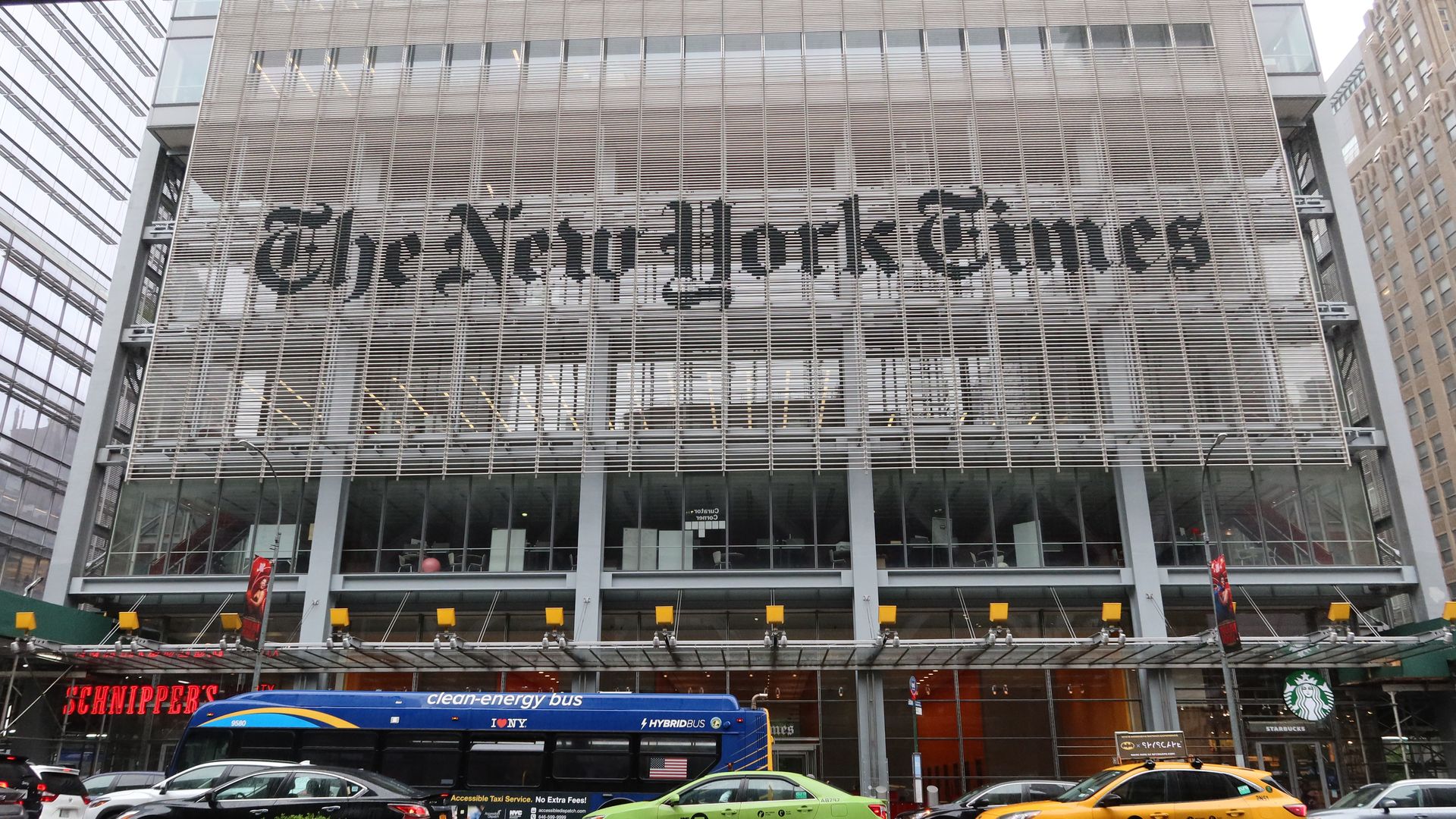 Tech workers at the New York Times plan to walk out Monday afternoon to protest the company's return-to-office policy.
Why it matters: The Times' Tech Guild, which represents more than 600 staffers, is trying to negotiate its first contract with management after voting to unionize in March 2022.
Catch up quick: The guild has argued that new remote-work policies violate the terms and conditions set when their union was ratified in 2022.
A Times spokesperson told Axios in August that the company's return-to-office policies were introduced before the Tech Guild was recognized.
The New York Times Guild, which represents the majority of the Times' newsroom workers, joined the Times Tech Guild in sending cease-and-desist letters to management in August over the issue.
Details: The Tech Guild — which includes nearly 700 software engineers, data analysts, project managers, product managers and designers — will begin to walk out at 1 pm ET, according to a statement from the NewsGuild.
They will hold a rally, followed by an afternoon of picketing around The Times' building.
Remote workers will sign off at 1 pm to participate in a digital rally and picket via Zoom.
A spokesperson for the NewsGuild said roughly 500 people are expected to participate, both in-person and through Zoom.
What they're saying: "The Times is now not only refusing to recognize our rights to bargain on return to office but is now going a step further and using it as a tactic to intimidate us," The Tech Guild's unit chair, Kathy Zhang, said in a statement.
"This afternoon's work stoppage is to send The Times' senior leadership a strong, unmistakable message: We will not stand by and allow you to trample on our rights."
The other side: "We believe that allowing people the flexibility to work together in the office at times and remotely at other times benefits everyone by ensuring that we maintain the strong, collaborative environment that has come to define our culture and drive our success," a Times spokesperson told Axios in a statement.
"We want to ensure that The Times remains an attractive destination for tech talent for years to come and are committed to working with the TechGuild to quickly reach a contract that we can all be proud of."
Flashback: The Times Tech Guild led a half-day walkout in August 2022 over what they argued were managerial efforts to stifle their unionization campaign.
The big picture: The return-to-office policies at The Times have become the subject of a National Labor Relations Board complaint that was initially filed of behalf of both unions last year.
The New York Times Guild, representing mostly editorial workers, dropped its complaint after reaching a contract deal with management in May, but the complaint on behalf of the Tech Guild still stands.
Times management rejected an informal settlement offer in September, a company spokesperson said.
"The National Labor Relations Board has not ruled against our approach," the Times spokesperson said. "The board has indicated that it intends to hold a hearing to review the Tech Guild's charge. There has been no hearing or decision in this matter."
Go deeper