Hearst makes its gaming move, in a bid for the Wordle and crossword crowd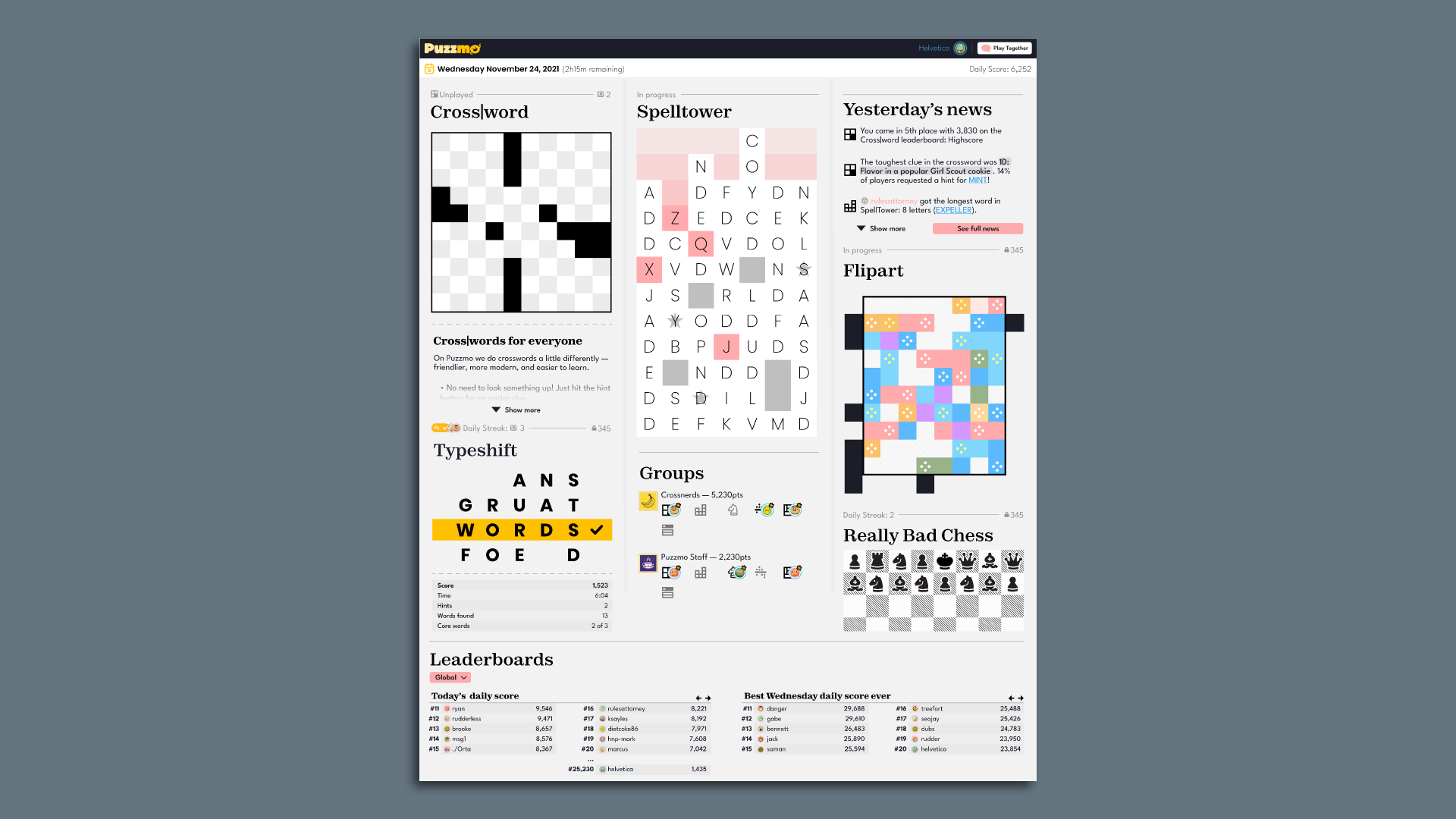 The New York Times' Crossword/Wordle/Spelling Bee gaming juggernaut is getting some competition from newspaper rival Hearst through a new puzzle project called Puzzmo.
Driving the news: The collection of daily puzzles, presented in a format that resembles a printed newspapers's puzzle page, launched yesterday in "private preview" with a handful of online puzzles and some notable twists.
Details: Games include a riff on the classic crossword puzzle that will include hints for each clue and a note from the puzzle's creator about their thinking behind the puzzle, part of an effort to add more personality to the puzzle-solving experience.
Other games include Spelltower, Really Bad Chess and Typeshift, all previously released by the prolific and acclaimed game maker Zach Gage, who built Puzzmo alongside engineer Orta Therox.
A new game from Gage, called Flipart, is inspired from rearranging sock drawer or loading a dishwasher, he tells Axios.
What they're saying: "Newspaper game players deserve better," Gage writes in a manifesto that was created to accompany Puzzmo's launch and conveys a whiff of rebellion against the market leader and any puzzle construction status quo.
"The New York Times, who basically have the preeminent product in this space, doesn't have a very extensive product," Gage tells Axios. "If you look at what they're doing, it's basically links to games."
Gage casts Puzzmo as a tightly knit alternative, a full-on virtual puzzle page meant to evoke the excitement he recalls his mom would have when she solved one puzzle in the newspaper and had her eyes drawn to others printed beside it.
"There's this really magical thing that happens on the physical newspaper games page," he says.
The big picture: Digital games are lucrative business for the Times, which has boasted of more than 1 million subscribers to its premium Games offering, and that's before it bought Wordle in 2022.
State of play: Hearst isn't yet ready to say how it'll tie Puzzmo into the rest of its news business, which includes the San Francisco Chronicle and the Houston Chronicle, but is bullish on the eight-person team behind the project.
"News and games is a very powerful combination in publishing," the company's VP of games, Andrew Daines, tells Axios. "It builds really good, healthy habits like healthy for the publisher and also healthy for the person."
Puzzmo's digital page of games can be played on computers and phones for free, but Hearst is also charging a subscription for added services and one bonus, experimental game.
The intrigue: To get access to Puzzmo, players need to be among the first 500 people each day to solve one simple puzzle, after which Hearst will physically mail a printed puzzle to that player. If they then solve that, they are given a code to access the Puzzmo site.
Hearst said they hit the 500-person limit in under an hour on day one.
"We have way more people than we know what to do with," Daines said.
Sign up for the Axios Gaming newsletter here.
Go deeper