House GOP's "broken" conference sees no way out of speaker crisis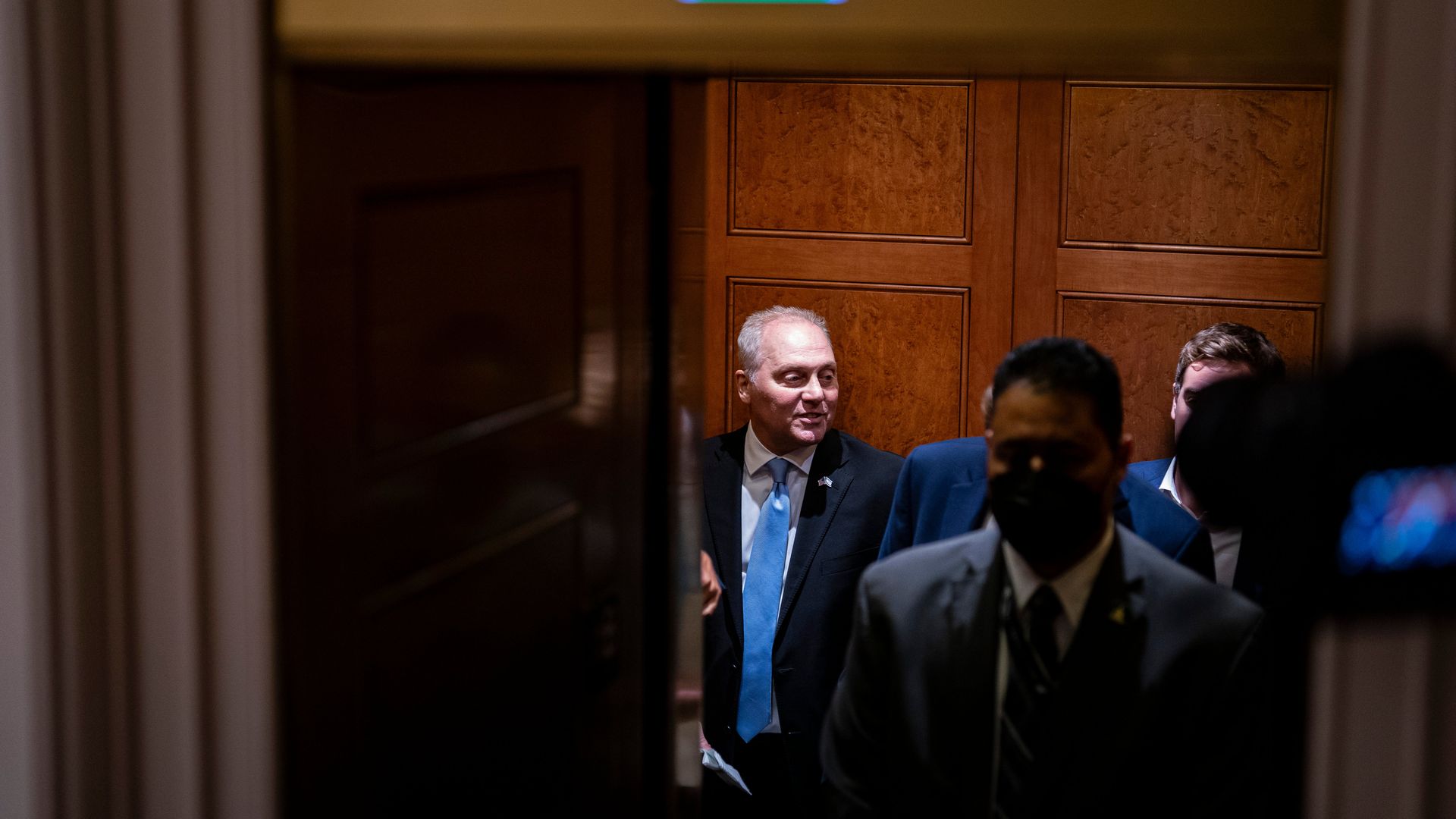 "We are a broken conference," Rep. Troy Nehls (R-Texas) declared Thursday after leaving a closed-door, two-hour meeting in which House Republicans made no progress in their efforts to unite behind a new speaker.
Why it matters: Just one day after defeating Rep. Jim Jordan (R-Ohio) to become the GOP's speaker nominee, House Majority Leader Steve Scalise (R-La.) withdrew from the race — seeing no path forward to winning the 217 votes necessary to be elected speaker on the House floor.
Driving the news: Scalise actually appeared to have lost support in the 24 hours since he defeated Jordan, 113-99, in an internal vote among Republicans.
Former President Trump, who endorsed Jordan for speaker, told FOX News Radio's The Brian Kilmeade Show he was concerned about Scalise's "very serious" cancer diagnosis and called on the majority leader to focus on his own health.
After Trump's comments, Rep. Anna Paulina Luna (R-Fla.) revealed she was no longer supporting Scalise. She was not the only one.
Yes, but: Jordan, whom most of the Scalise holdouts support to be speaker, likely does not have a path to 217 votes either — sending the GOP conference back to square one.
Between the lines: The power centers within the House GOP conference seemed uninterested in saving Scalise's speaker bid.
Former Speaker Kevin McCarthy (R-Calif.), whose allies are still smarting from his ouster, told reporters that Scalise was facing "a big hill": "He told a lot of people he was going to be at 150 [votes]. He wasn't there," McCarthy jabbed.
Freedom Caucus chair Scott Perry (R-Pa.) told reporters he did not currently see a path for Scalise to win the gavel.
Rep. Marjorie Taylor Greene (R-Ga.) echoed Trump's concerns about Scalise's health and called for Republicans to regroup next week: "When you're in a tight game, you don't put an injured player or a sick player on the field."
Zoom in: A sampling of conversations from outside the GOP conference meeting shows just how despondent many Republicans have become about the state of their party.
"I see a lot of threats out there. One of the biggest threats I see is in that room," House Foreign Affairs Chairman Michael McCaul (R-Texas) told reporters.
Rep. Mike Rogers (R-Ala.) came out of the room fuming at the eight "traitors" who "paralyzed" the House on Oct. 3 by voting to oust McCarthy, warning a GOP speaker candidate will never reach 217 votes without Democrats' help.
"If you see smoke, it's not a speaker. Someone just set the place on fire," quipped Rep. Ronny Jackson (R-Texas).
"I don't think the Lord Jesus himself could get 217 votes," Nehls claimed one Republican told colleagues in the closed meeting.
State of play: Scalise met with holdouts Thursday afternoon, as rumors swirled about outreach to Democrats or temporarily empowering interim Speaker Patrick McHenry (R-N.C.) to conduct important House business.
Scalise then convened a second GOP conference Thursday night, where he broke the news to his colleagues that he was dropping out.
Scalise said he would remain majority leader and did not endorse an alternative speaker.
The bottom line: Rep. Andy Ogles (R-Tenn.) circulated a letter calling on Republicans to lock themselves in the room during Thursday night's conference meeting until a consensus can be reached.
Editor's note: This story has been updated with news that Scalise dropped out of the race.
Go deeper